'Tis finally the festive season. For those of us in the Northern Hemisphere this means layering on the warm clothes (bonus points for ugly Christmas jumpers), darker evenings and a constant desire for a warming cup of soup or hot chocolate to wrap our hands around. For those in the Southern Hemisphere however, Christmas is the hottest time of the year, and the festive cheer is paired with chilled summer vibes.
Both come with their own set of traditions and rituals, but the question is – which is better, a winter or summer Christmas? To settle this once and for all, we asked two very merry members of the six-two team. Both are from opposite sides of the world and love their own hot and cold versions of Christmas. Here, they battle it out for the Christmas crown. Keep reading for the final festive score – as judged by six-two Editor, Amy…
Team UK: Gabriella Chaudri
I'm a producer for Contiki, helping to create the video and images that you'll see across our brochures, website and social channels. I'm a born and bred Londoner and my family, friends and work life are all really important to me. I love travelling and chasing the sun, but Christmas is the one time of the year when I'm all about the cold. Christmas getaways are out of the question. For me, it's the time of the year to hibernate, eat loads and catch up with family and friends.
Team Australia: Bunty Partridge
I'm a de
sign project manager for Contiki – designing the brochures and keeping the Insta looking fresh. I'm an Aussie lass and I'm just about to head home for my first hot Aussie Christmas in four years (how time flies!). I'm a bit of an expert at making Christmas work wherever I am, whether it's India, Australia or London. But home in Melbourne in the sunshine with the fam will always be the ideal Christmas for me.
Round 1: the Christmas countdown
Gaby 
The lead up to Christmas starts wayyyyy in advance. By mid-November, the UK is pretty much in full swing with the Christmas spirit. We're talking mince pies, mulled wine, Christmas films, ice skating dates, Christmas markets full of sparkling lights and using Christmas as an excuse to catch up with friends over a few glasses of vino by the fire. And the best part about all of this? For some reason indulging during Christmas feels totally guilt-free.  
Festive factor: 9/10
Amy says: "When it's cold and gloomy outside, there's NOTHING more festive than snuggling up by a roaring fire with a Christmas film. This deserves a near-perfect score." 
Bunty
Christmas comes too early every year, but in Australia it's also getting into summer (sings: "Ce-le-bra-ate" **hands up emoji**). There's naturally a big emphasis on catching up with mates, getting outside, going to the beach and exploring all the cute pop-up markets selling handmade goods. And the biggest bonus: you can wear all the sparkly, fun dresses you like to the Christmas parties without getting frostbite! Plus, Mum trots out three Christmas cakes that we devour in the lead up to the big day (I see it as training…), and there are always mince pies in the fridge.
Festive factor: 9/10
Amy says: "On the flip side, outdoor markets and no need for winter thermals sounds dreamy. It's good to hear that mince pies feature heavily in both hemispheres too…"
Round 2: Christmas eve prep
Gaby 
My Christmas Eve tradition has been the same for around a decade. By Christmas Eve, I'm back at my parents house, which is just outside of London in a sweet village in the countryside (hi, The Holiday!). In the morning I'm usually wrapping presents while watching Christmas films with my brother (usually Harry Potter on repeat). And maybe having a quick rush around for some last-minute presents. 
By around 3pm I'm in a local pub, Christmas jumper on, surrounded by all my old school friends. We have a pub lunch, do the annual Secret Santa and get a little merry as we drink and dance into the evening. There's usually a shockingly terrible (but kind of amazing) DJ dressed as Father Christmas who comes on around 9pm and ends up break-dancing, which is always a treat. Then it's back to my parents for a little midnight snack (read: massive amounts of cheese). 
Festive factor: 9/10
Amy says: "Wrapping presents + pub lunches + DJ Santas = the perfect, cosy Christmas Eve." 
Bunty
For Christmas Eve, I go into serious holiday mode. It's usually a bit frantic trying to see everyone (there's always a mate or two who have just got home from being away) and grab any last-minute presents. But we'll always have a big family dinner with a few drinks and we'll decorate the tree (one year this was actually a eucalyptus tree because we forgot to get a proper Christmas tree…!). 
My brother, any cousins hanging around and I will usually stay up way too late chatting and catching up before we finally get in an early, "Merry Christmas!" and head to bed. 
Festive factor: 7/10
Amy says: "All the family and drinks sounds like a winner, but a few points deducted for forgetting the Christmas tree (whyyyyy, Bunty?!)." 
Round 3: Christmas lunch or dinner
Gaby
The big day means one thing… time to stretch that stomach! I'll tuck into some chocolate around 8am, followed by a full English breakfast and some Bucks Fizz (which is two parts Champagne or Prosecco and one part orange juice). 
For starters, it's prawn cocktail and avocado (a Chaudhri tradition). Then for main, controversially we have roast chicken instead of turkey, and beef with ALLLLL the trimmings. We're talking roast potatoes, parsnips, cauliflower cheese, roasted veg, Yorkshire puddings, red cabbage and lots of gravy. I'm a big gin fan all year round, but red wine, mulled wine, and Baileys after dinner will also make an appearance. Then we usually lie in a food coma by the fire, before playing some board games. 
Festive factor: 8/10 
Amy says: "Totally respect the chocolate snack pre-8.30am. This is an absolute feast with a big emphasis on festive drinks – that post-dinner Baileys is a must." 
Bunty
NO MORE SLEEPS! It's here. I love waking up and knowing the whole family is in one house (especially as it doesn't happen very often any more). Dad always makes me a coffee (from the espresso machine – we're from Melbourne, duh). Then, I get to work on the starter, as I munch on mince pies and homemade sausage rolls. Food is basically the focus of the day.
I've made the salmon, cream cheese, lemon and dill starters every year since I could wield a butter knife. Then for mains, we studiously make our way through a turkey, a ham and sooo many trimmings – stuffing, roast potatoes (perfectly crispy), cauliflower cheese and more, all drowning in gravy. 
Then, we sit around and open a present or two until the Christmas pudding (made months in advance by Mum) is lit on fire and brought out. We add custard or cream (depending on which side of the family you're on, or both if you're a cousin). Then after a nap, we'll have a game of backyard cricket or go for a walk on the beach until the Queen's speech. 
Festive factor: 10/10 
Amy says: "I'm giving this round to Bunty for the classic traditions – from the posh salmon starters through to backyard cricket and the Queen's speech. PERFECT SCORE." 
Round 4: Boxing Day
Gaby
Boxing Day is usually theatre day! My mum books a show in London for the four of us (my mum, dad, brother and me), so we usually head up to London and have a pre-theatre lunch in some fancy restaurant and then watch a show in the West End. It's one of the rare times that we just get to spend a day out together. 
The rest of the holidays means catching up with friends, spending time with my boyfriend and his family and indulging in more food and drinks before rolling into the New Year. We also love going for long walks in the wintry countryside. If we're really lucky, we may even get to play in the snow – every year we're always hoping for a white Christmas!
Festive factor: 9/10 
Amy says: "LOVE this theatre tradition and might steal it for myself. Plus the SNOW potential– you can't argue with that."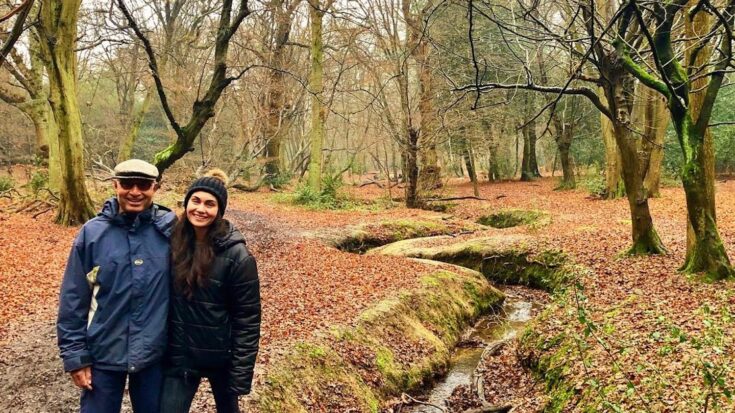 Bunty
The cricket is on. Mum and dad won't sit down to watch it, but if you change the channel you'll lose a hand. Mum and I might try and find somewhere to go shopping, otherwise I need sunshine so I'm probably off to the beach for a bit of sunbathing and surfing. The old surfin' Santas ALDI advert basically sums the day up!
Lunch is leftovers and so many mince pies. After that, dad gets the boat going and we all head to Metung Pub for a few drinks where we can dock right out the front. Then it's pretty much rinse, repeat and digest until I seek out my mates for more good times at New Year's Eve.
Festive factor: 8/10 
Amy says: "You had me at surfin' Santas." 
The verdict…
Gaby 
Do I even need to say it? It's pretty obvious right? Who wants mulled wine, mince pies and board games by the fire in 30-degree heat? All the real Christmas traditions are made for the cold. Sure, January can be pretty dark (when we're all skint), but Christmas in the cold is an absolute must!   
Total score: 35/40 – WINNER!
Bunty
I'm inclined to say who needs Christmas when you've got an Aussie summer? But that's the brilliant thing about a hot Aussie Christmas – it's all the delicious festive food, all the catching up with friends and family, all the amazing festive vibes but with none of the bulky coats, sweaty London tube rides and probably torrential rain. And let me tell you, Christmas dinner sits way better in a summery dress than woolly tights!
Total score: 34/40
The editor says…
"It looks like Gaby's winter Christmas wins it by just one point! Sure, an Aussie Christmas is brighter, balmier and probably a lot less faff (and I do love the idea of surfing and cricket on the beach) but you just can't beat the cosy Northern Hemisphere feels with its chestnuts-roasting, Jack-Frost-nipping kind of weather. Okay, so I might be a bit biased as I'm from the UK but I think I'll always be with Bing Crosby on this one – the white Christmas dreams just can't be beat."
Either way, spending Christmas in both parts of the world is bound to be memorable. Check out Contiki's Winter Europe trips or their Australian adventures for all the festive inspo you need.