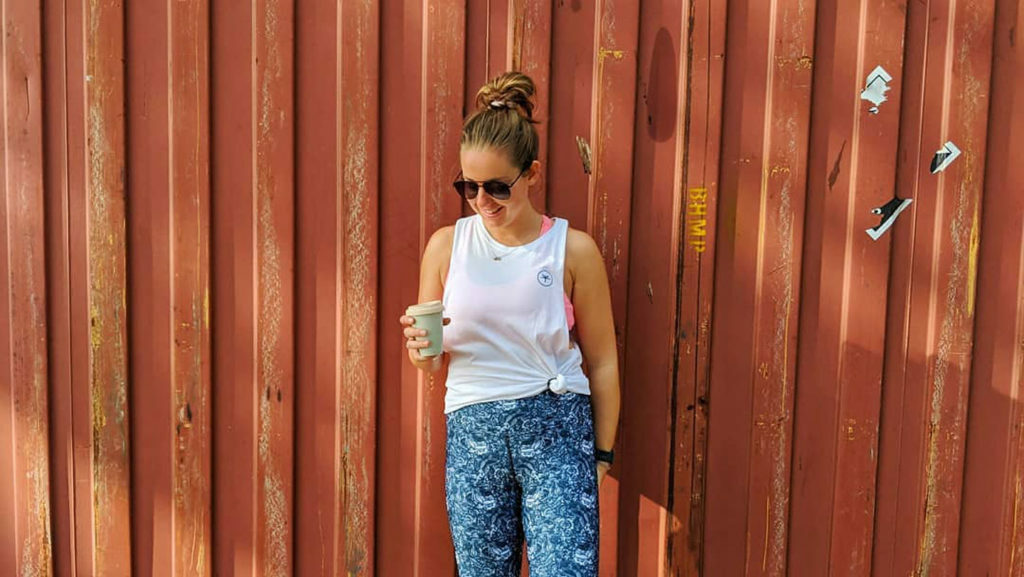 Side-hustles are taking over the world. Forget the stereotypes, millennials are pushing the limits and taking multi-tasking to a whole new level. Say goodbye to just one job title, because having multiple and being what is affectionately known as a "slashie" is the new norm. Whether it's starting your own blog, making your hobby profitable or chasing your passion, there's no better time be your own boss. No one knows this better than Lottie Dalziel, a writer/blogger/zero-waste ambassador and founder of TWO businesses.
Lottie didn't quit her full-time job to make her side hustle dreams come true. She took the leap into the realm by quitting the 9-5 and launching her business, Banish, an eco-friendly marketplace that sells and educates people about going zero-waste. Lottie says she's by no means a seasoned pro (despite working full time and running two business on the side) and continues to learn more every day, but here are seven things she wishes she'd known before starting a side hustle.
1. You don't know it all
One of the biggest things that has helped me along the way has been the support of others. When you start your own business, not only do you get the fancy title of CEO but you also get accountant, copywriter, designer, cleaner, stock manager and social media pro. No one expects you to be able to nail it all so don't trudge through in the dark. Every person that I have spoken to since launching my side hustles has been so accommodating and has given me some of my most valuable tips. Don't be afraid to ask.
https://www.instagram.com/p/B13O6AaAd8Q/
2. Motivation is key
I always added "highly motivated" to my resume but little did I realise it is a key to having your own side hustle. Passion is key when it comes to your hustle because there's no one else but you to hold you accountable. I wake up every morning and as cliche as it sounds jump out of bed because I am so excited to work on Banish. Set yourself goals and deadlines along the way to keep motivated and accountable.
https://www.instagram.com/p/Bitfzd0BanY/?taken-by=lottiedl
3. Know your worth
'Branding' seems to be one of the trendiest words of 2018 and I now know why. It's a competitive world out there, so how are brands setting themselves apart? Authenticity. Don't sacrifice your authenticity for anyone. Have a funny feeling about something? Or are you stretching to include a new product just to follow a "trend" and not your heart? Don't do it. When I first started Banish, one of my biggest fears was that no one would be able to fit with my strict product requirements (no plastic packaging, recyclable shipping methods, palm-oil free, cruelty-free, the list goes on) but sticking to my guns and following these guidelines is what now sets Banish apart. Customers can trust that I've done hours of research into finding the best, most reliable products so they don't have to.
https://www.instagram.com/p/BlPnrcRFXEd/?taken-by=banish.au
RELATED: 5 THINGS YOU NEED TO KNOW TO TURN YOUR PASSION INTO A SIDE HUSTLE
4. Take a break
It is so easy to get caught up in your own hustle-bubble and not put you first. Starting your own business doesn't have to mean saying goodbye to your friends, savings and travel plans. Book a trip in advance, you'll be amazed at what you can do if you've got a set goal to work towards. For example, I recently went on the Turkish Sailing Contiki trip and with a bit of preparation, my businesses continued to run smoothly whilst I was away.
https://www.instagram.com/p/BmX-zUYHY3I/?taken-by=lottiedl
5. Be your own boss
Well if you started your own business you are… right? You're partially correct here but in order for your business to succeed you need to treat yourself like a valued employee. I try to give myself one day off – it's a no go day, no emails, no calls, no nothing! When I first started I found this really hard to do because my to-do list is never done but you've got to work smart. If you get sick or get run down so will your business so make sure you put your health first.
https://www.instagram.com/p/B1gJmGPAMFA/
6. Keep loved ones close
It's not like I never appreciated my friends and family before starting my own side hustle but now they are my rocks and colleagues. One of the most important things to know is that having an amazing support network can make or break you. Having people there to celebrate your wins and work through your losses is invaluable.
https://www.instagram.com/p/BdKNnplApAi/?taken-by=lottiedl
7. Step outside of your comfort zone
The saying "magic isn't made in your comfort zone" is something that has really stuck with me through my journey. The situations where I have had to push myself and really step-it up have been some of the most challenging and most rewarding. Don't say yes to everything but think twice before saying no.