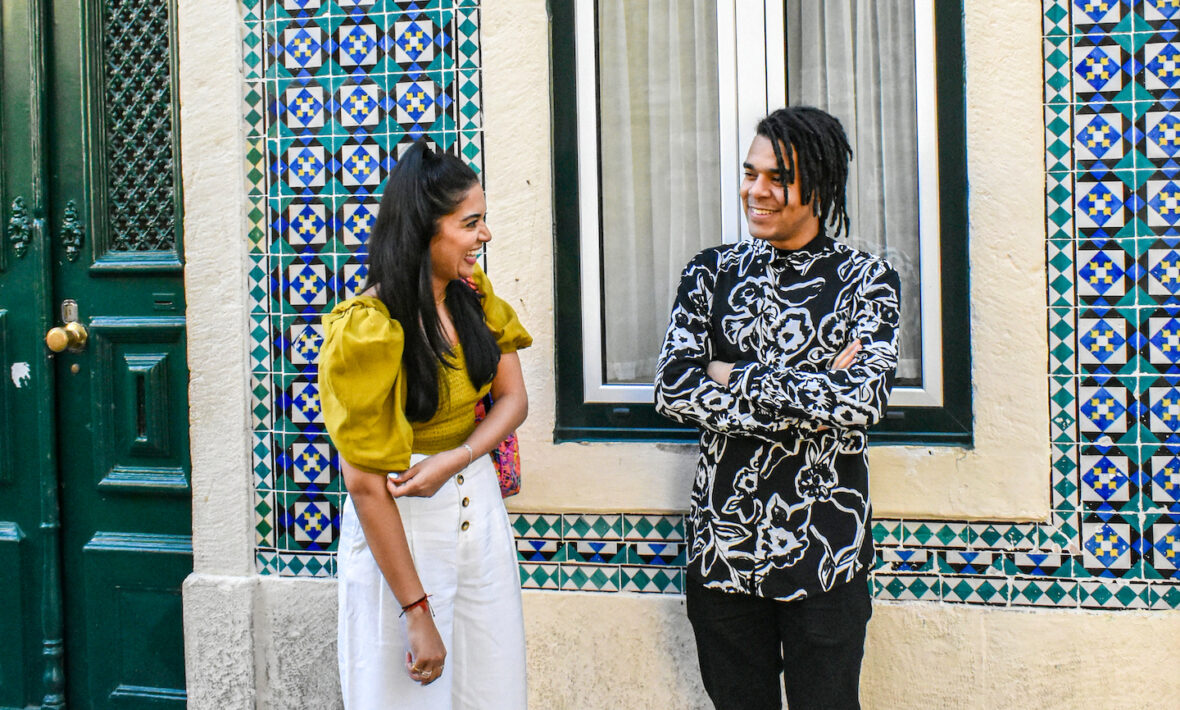 What's the best way to explore a new city? Through the food, of course! We took a trip with Chef Priyanka (in partnership with Tastemade) to experience all the eclectic bites that Lisbon has to offer – from the creamy and golden pasteis de nata to punchy piri piri, authentic local eats to the coolest creative markets. Here, she shares how to spend the ultimate 48 hours in Lisbon and the best food and drink spots. You can get a slice of the (foodie) action on our Portugal City & Surf trip – first stop, Lisbon!
Day 1
What can you eat in Lisbon in two days? A whole lot, that's for sure! And you can practically visit every country around the world while eating all that Lisbon has to offer. Bom apetite!
1. Pastelaria de Santo Antonio
First up, you HAVE to try a 'pastel de nata' (a sweet and custardy Portuguese pastry) and this is the place to do it. This iconic bake was first cooked up by monks in the 19th century and now they're practically part of Portuguese DNA. I'd never tried one until I visited here and it really lived up to the hype, trust me. The dough is super flaky and delicate, and I'd say they're quite similar to croissants, only filled with a light and sweet egg custard and topped with cinnamon and powdered sugar. With the rise of veganism, there are plenty of vegan versions to try, too. Add a strong coffee and you've got the ultimate breakfast stop.
Find it: R. Milagre de Santo António N.10, 1100-351 Lisboa, Portugal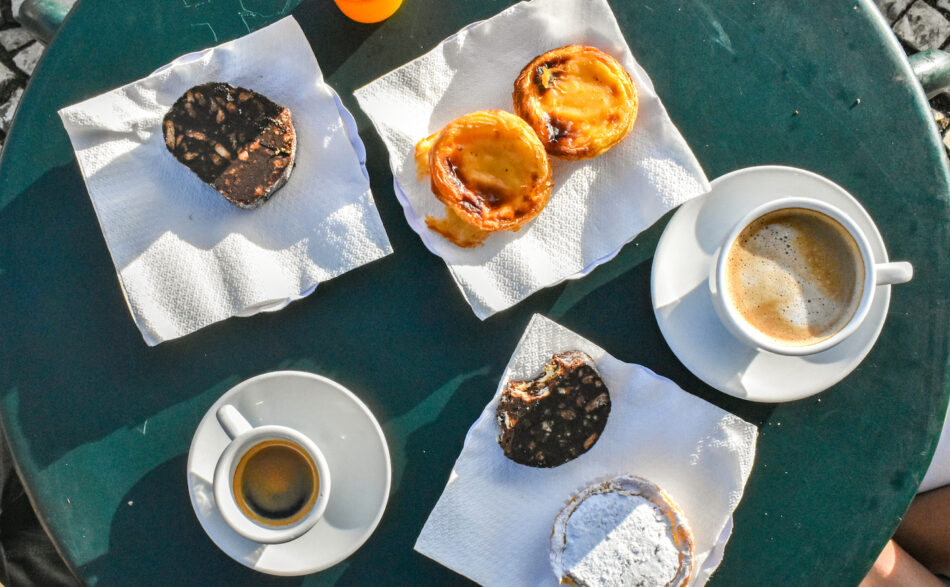 Image source:Contiki
2. Casa do Alentejo
Spend the morning exploring this foodie neighbourhood or check out Feira da Ladra – the city's coolest vintage market, open on Tuesdays and Saturdays. But make sure you save time for a lunch stop. The building where Casa do Alentejo is set will blow you away – think Moorish-influenced architecture with an open central patio and lush palm trees. The food to try here is a traditional Moorish dish called 'migas de porco,' which is fried pork with bread – it's an old peasant dish. Or if you want to impress your friends, order the flaming chorizo! 
Find it: R. das Portas de Santo Antão 58, 1150-268 Lisboa, Portugal
3. Jasmim da Mouraria
After exploring the city's prettiest architecture and pastel-coloured streets, for dinner it has to be this cute little restaurant. Jasmim da Mouraria is owned by two brothers and has a super cosy feel, it's basically the perfect date location! The sky-blue French doors open up into a casual lounge where we were served some of the best 'bacalhau' – salted cod ceviche – I've tasted. Did you know that cod was originally a sailors' dish? They would use the salt they had to preserve the cod for their long journeys. 
Find it: R. João do Outeiro 54, 1100-132 Lisboa, Portugal
4. LX Factory
Final stop of the day? The achingly cool LX Factory. This industrial neighbourhood was once home to Lisbon's booming fabric factories. Now, young creatives have revived the dilapidated spaces with a colourful mix of cafés, bars, art spaces, vintage shops, tattoo studios, yoga studios and music venues. If there's a spot to be seen, this is it! The shopping is chic, the wall art is bright and the sardine store is its own wonder. 
Try LXeesecake for divine cheesecakes or Cantina with its wood-fired delights, plus there are plenty of local wines to try. I loved the rooftop bar at Rio Maravilha. It has stunning views of the River Tagus and is an amazing spot to watch the sun set with some ice-cold drinks. If you have more time, come back during the day for freshly brewed coffee and to mingle with the WeWork crowd.
Find it: R. Rodrigues de Faria 103, 1300-501 Lisboa, Portugal
Day 2
On your second day, I'd recommend living like a true local and checking out some of the city's amazing markets. Lisbon is really walkable so you can easily fit in a few stops throughout the day.
5. Mercado de Campo de Ourique
Start the day bright and early and do as the locals do – hit the local produce market. In one of the prettiest residential parts of town, the mercado is a short walk from the Basilica da Estrela. It's packed with foodie treats like cured meats, local cheeses and fresh fruit and veg – you MUST see the huge tomatoes and squash! 
The vendors are really friendly and there's plenty of history here – the market has been held in the same beautiful domed building since the 1930s. Pull up a chair in the middle seating area if there's room. True foodies should also check out Mercado da Ribeira, which is a bigger local produce market where local chefs source much of their restaurant fare.
Find it: R. Coelho da Rocha 104, 1350-075 Lisboa, Portugal
6. Cafe Martinho Da Arcada
Where better to eat breakfast than the oldest restaurant in Lisbon? This cafe dates back to 1784 and walking in you can feel the history in the intricate tile work and wooden archways. My favorite dish was the largest pastry behind the counter – an apple filling topped with a huge, charred meringue and drizzled with caramel. Bring your sweet tooth.
Find it: Praça do Comércio 3, 1100-148 Lisboa, Portugal
View this post on Instagram
7. Time Out Market
Looking to eat something from literally anywhere in the world? This is the place to be. In 2014, the team behind the lifestyle magazine transformed half of this 19th-century market hall into a bustling market with hundreds of global vendors. It's no wonder that it had 3.9 million visitors last year! 48 hours in Lisbon wouldn't be complete without a visit and my advice is to try as much as you can. Take a seat at one of the long tables and hang out for a drink, snack or lunch. This is where I had one of the best veggie burgers ever – oh and the Pad Thai was amazing too.
Find it: Av. 24 de Julho 49, 1200-479 Lisboa, Portugal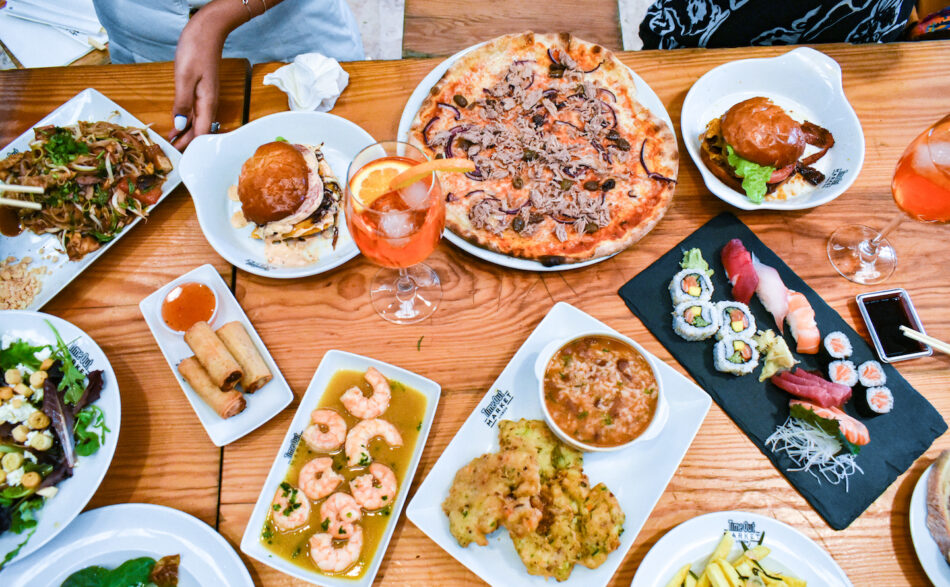 Image source:Contiki
8. São Jorge Restaurante
In the afternoon, I'd recommend going for a stroll – Lisbon is really hilly but the views are worth the climb! If you need an afternoon pitstop, this restaurant is ideal. For starters, it serves local GREEN wine! I had it for the first time here and it tastes very similar to Prosecco – very refreshing. 
This is also the place to try fried whole sardines. These tasty, silver fish are 100% the most popular fish to eat in Portugal. During Lisbon's Sardine Festival in June, 13 sardines are eaten every second! I also had a dish called 'peixinhos da horta,' which translates as "little fishes from the garden." This is basically the veggie version of Lisbon's sardine dish – tempura battered green beans. 
Find it: Calçada do Marquês de Tancos 1, 1100-340 Lisboa, Portugal
9. Cantinho do Aziz
Your 48 hours in Lisbon may be nearly over but there's one last dish you need to try! Time to turn up the heat with Portugal's infamous piri piri sauce. Cantinho do Aziz is in Mouraria, a Moorish-influenced neighbourhood, which is even more beautiful when the sun sets. This was one of my favorite spots – the restaurant is so relaxed and hit close to home for me with the Indian and Mozambique influences. Their samosas are crisp and delish and their piri piri sauce is as spicy as can be! I discovered that the red chilies for this sauce are originally from Mozambique via India?! Plus, I had a blast cooking with their chefs making samosas.
Find it: R. de São Lourenço 5, 1100-530 Lisboa, Portugal
View this post on Instagram
Feeling inspired by our 48 hours in Lisbon guide? Tastebuds tingling? Follow more of Chef Priyanka's culinary adventures on her blog and check out our City & Surf trip to Portugal to see what food fun and more we've got in store. 
In partnership with Visit Portugal