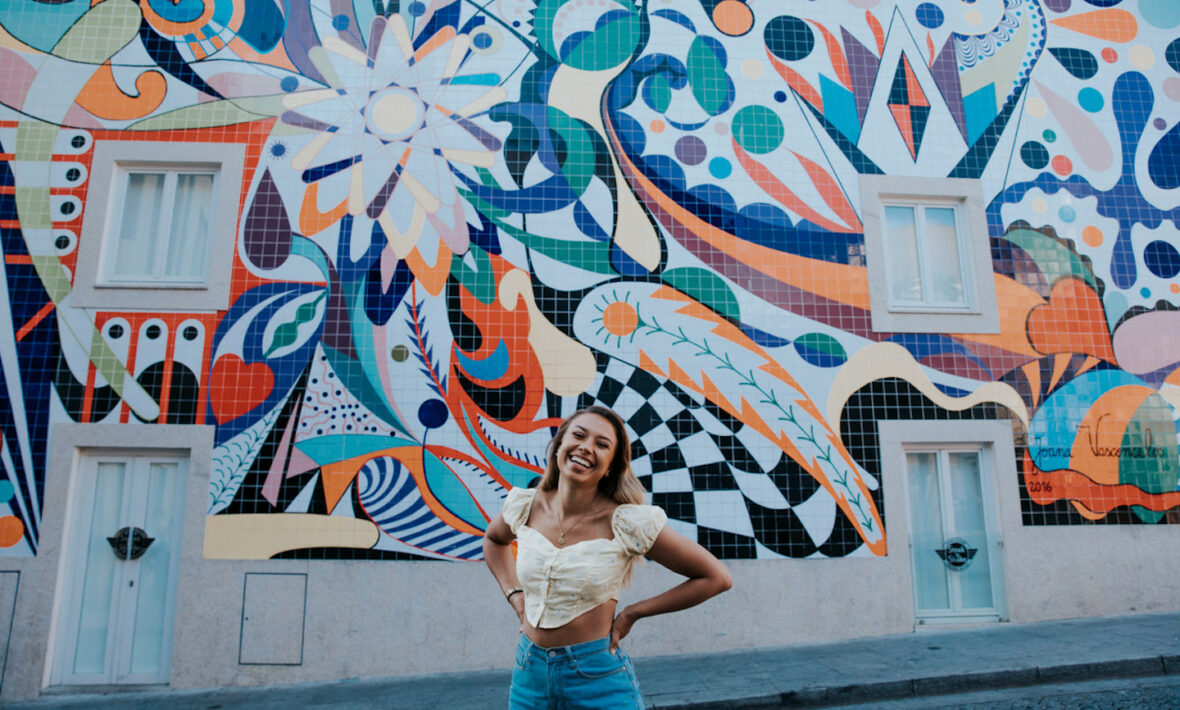 From Porto's valleys to Lisbon's pastel-hued prettiness, Portugal packs a punch when it comes to show-stopping natural and cultural beauty. But along with the indulgent cuisine, gorgeous beaches, historical wonders…we could go on…it's also emerging as one of the world's best spots for all things health and wellness. 
Why, you ask? Well it's partly thanks to a host of new surf and yoga retreats popping up along the coast. We'll get to those in a minute. But it's also down to the relaxed but curious Portuguese culture, which is all about sharing delicious food together, finding joy in unexpected places, and hiking and cycling whenever possible. Sounds dreamy, eh? 
So, with thousands of tourists beginning to catch on, it's time to get ahead of the curve and explore this country's natural beauty and gorgeous cities for yourself – even better with a group of new friends on our Portugal City & Surf Trip. Here's why Portugal is the best place to unwind and unplug…
1. The surfing is unreal
Did you know Portugal is home to some of the world's best surf spots? In fact, in 2011, surfer Garett McNamara caught the biggest wave (30m / 90ft) ever surfed to date at Praia do Norte. Not Hawaii. Not Australia. Portugal!
But don't worry, there's some softer swells for beginners, too. Try the sunny Algarve coastline or the surf strands of Peniche which attracts newbies, as well as seasonal pros. You'll get access to the best surf gear, lessons with qualified instructor, and guaranteed fun whatever your level.
2. The healthy eating scene is flourishing
Okay, so the 'pastel de nata' (delicious, flaky custard tarts) and crispy fried croquettes aren't exactly the healthiest national dishes… But the Portuguese also know that life is all about balance.
The vegan and veggie restaurant scene is booming in Lisbon and Porto – check out Zenith for healthy brunch or O Bontanista's plant-based menu. Plus, you can munch on the freshest seafood in the coastal towns or stock up on organic veg in the countless farmer's markets.
3. The street art is the ultimate mood-booster
We're all familiar with Lisbon's classic blue and white Azujelo tiles (honestly I just want to cover my entire flat with them), but there's also a vibrant street mural scene within the capital, Porto, Covilhã and Lagos. Bursting with colour and character – a stroll down the street is guaranteed to raise a smile.

4. Eating together is basically their self-care routine
In true Mediterranean style, the Portuguese are as passionate about their mealtimes as the French or Italians, and they wouldn't think twice about spending a long, languid lunch with the whole family in tow.
It's this style of slow and more mindful eating that we could all try more often, and in Porto you can do just that with a new initiative called EatWith. As the name suggests, you can just pull up a chair and eat with a Portuguese family; tucking into fresh, succulent sardines and creamy local cheese together. It doesn't get any more authentic than that.
5. There's a new breed of wellness-focused hostels
Selina's hostels in Porto and Lisbon are refreshingly cool – check out the secret garden yoga, rooftop pool and surf sessions. Then, there's The Passenger Hostel in Porto, the only five-star hostel offering colourful lounge areas and chilled walking tours.
Call yourself a digital nomad? Lisbon is being hailed as the new Berlin when it comes to Insta-friendly co-working spaces too – check out Second Home and Todos.
6. Lisbon's city walks are challenging – and beyond beautiful
Legend has it that Lisbon was born like Rome, between seven hills. The locals will tell you that each one has a story to tell, and by climbing each one you'll get a unique viewpoint of the hidden corners of the city. So yes, the hiking is challenging but breathtaking.
Take on São Jorge, one of the highest hill towns and you'll be treated to sweeping views of the city's castle fortress at the top.
7. There are stunning cycle routes aplenty
Portugal may not be home to the world-leading cycle-friendly cities (we're looking at you, Copenhagen and Amsterdam). But there are so many beautiful river, beach and harbourside cycle loops to try, making it easy to get your heart pumping. Check out cycling route planner Komoot for the best trails to follow.
For those of you wondering about those seven (pretty steep) hills in Lisbon, fear not. E-bikes are now on the rise in the city, so you can enjoy the views without sweating too much.
8. Stand up paddle boarding is a thing in Portugal
If you haven't heard of SUP (stand up paddle boarding) yet, have you been living under a rock? It's one of the fastest-growing water sports in the world and involves balancing on a board with a single paddle to propel yourself along. It also happens to give you a full-body workout. Win!
The chilled-out Santa Cruz and Peniche coastlines with its mix of still waters and waves are the best places to try it out.
9. You can climb Porto's bridge
According to author and motivational guru, Gretchen Reubin, 'We're happier […] when we kind of go out of that comfort zone." What better way to do that than taking on the amazing Porto Bridge Climb? Work up a sweat by walking nearly 300 steps, then take in the jaw-dropping views of the city.
10. The natural parks and reserves are insane
Waterfalls, dramatic cliffs, protected coastlines, stunning marshlands and labyrinthine canals – Portugal has its fair share of natural beauty. And none of it is far from the country's main cities. Peneda-Gerês in the northwest, is the country's stand-out National Park, home to rugged mountains and wild Garrano horses. Or head a little way out of Lisbon to Arrábida – where the green-covered hills seemingly melt into the turquoise ocean. And… breathe.
11. Boat tours will help you embrace a slower pace
Hailed 'the Venice of Portugal', you have to check out the old seaport town, Aveiro. The winding canals are best travelled by 'barcos moliceiros' – traditional flat-bottomed boats originally used for collecting seaweed from the lagoon. This will give you the best views of the fish markets and tiled cottages, and ambling along is the perfect way to while away the afternoon.
Check out all the wellness experiences on our new trip, Portugal City & Surf.
In partnership with Visit Portugal