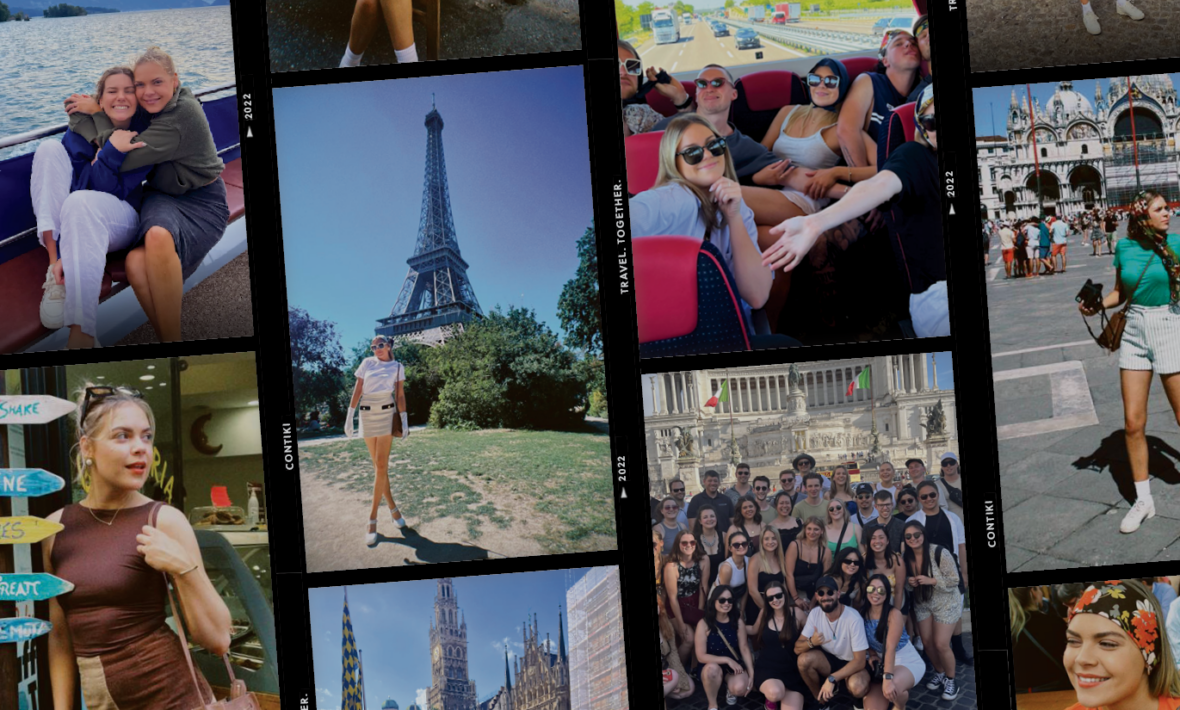 You've probably heard it through the grapevine, but did you know that 2022 marks 60 wildly wonderful years of Contiki? And travel sure has changed since our very first trip around Europe in 1962. With no Google Maps and no auto-translate – how did travellers in the 60s do it?!
To celebrate our milestone anniversary (and entertain ourselves with a cheeky blast from the past style challenge), we sent TikTok sensation Millie Ford on our 12-day European Discovery with one big twist. She was tasked to travel just like our OG Contiki pioneers did back in the 60s. In 60's fashion. With 60's tech. And to timeless destinations that have held their place on our trips for the last six decades.
So, what was it like to travel in the 60s? Let's break it down in this guide to travelling like it's 1962.
The fashion
During the 1960s, groovy patterns, plaid, and paisley prints were a plenty. Audrey Hepburn popularised trousers for women. Fashionable young men imitated the outfits of groups like The Beach Boys and The Beatles. And one of the most iconic fashion staples of the 20th century was invented – yep, we're talking about the mini skirt.
For her trip, Millie channelled styles from the three main fashion trends of the era – the ladylike elegance that continued on from the 50s (think of First Lady Jacqueline Kennedy), the fun and youthful designs of the "Swinging Sixties", and the late 1960's hippie style. Check out some of the retro fashion Millie rocked around France, Italy, Switzerland and more!
The dance moves
If you ask us, dance halls and discothèques from the 60s look like an absolute vibe. For travellers hitting the dance floor in the 1960s, it would be hard to go for a night on the town without whipping out some ultra-cool dance moves like 'the twist', 'the hitchhiker' or 'the locomotion'.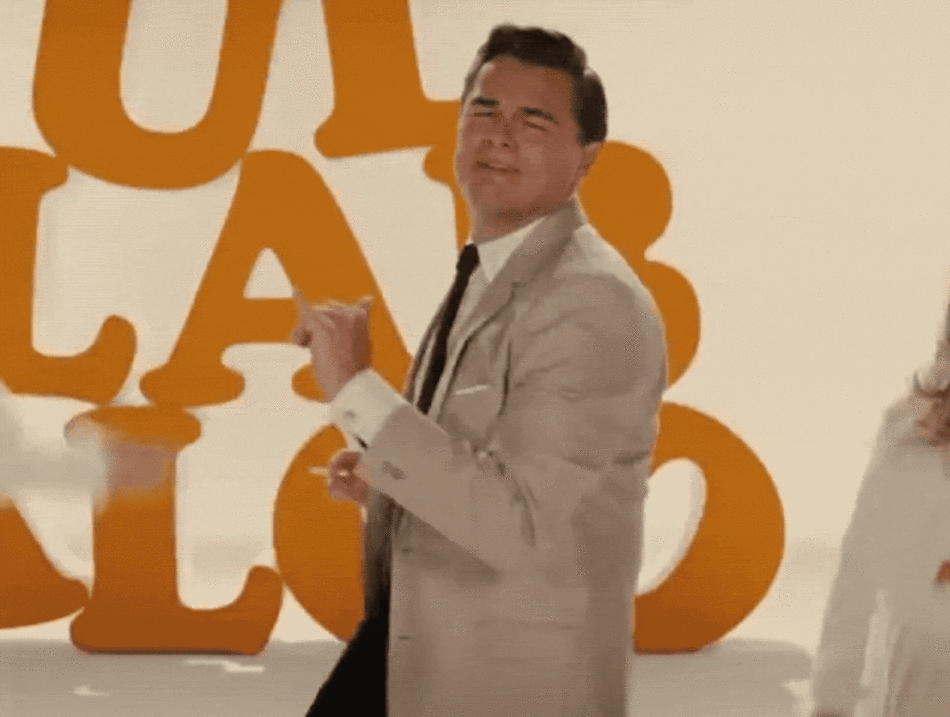 Image source:Giphy
These days, you'll catch us at a nightclub or karaoke bar, and our dancing probably looks a whole lot different (but totally just as fun).
The destinations
The Eiffel Tower. The Trevi Fountain. Amsterdam's iconic canals. They're staples in our itineraries today, and they were just as popular in the 1960s.
Millie saw all of these attractions (and a whole lot more) when she joined our 12-day European Discovery trip. We still visit traditional German beer halls, explore breathtaking mountain ranges, ride private boats through the Venetian canals and see the sights of London. But if you really want to know what it's like to travel on an OG Contiki trip, you should check out The Big Original – an epic one-off itinerary inspired by the very first Contiki back in 1962.
The tech
To truly travel like it was 1962 we packed Millie a real Sixties Suitcase full of real 60s swag, like a travel alarm clock, a polaroid camera, a Super 8 video camera and a radio for groovy tunes.
By powering off her phone and saying goodbye to Google Maps, auto-translate apps and social media, Millie was thrown into an authentic 60s travel experience. Without earphones, Millie had to listen to her old school radio on the coach (or you'no, spend time talking to her fellow travellers). Without her phone, guess what made her wake up on time to board the coach each morning… a travel clock. Yes, that is a real thing. And honestly, we were just as confused by it as Millie when she first opened it. And, even in the 60s, capturing memories was important to our travellers. Polaroid cameras have stood the test of time and are still a popular method of snapping mem-worthy shots on our trips today.
"I didn't need a phone to meet people on the bus, I didn't need a phone to connect with people"
Back seats = best seats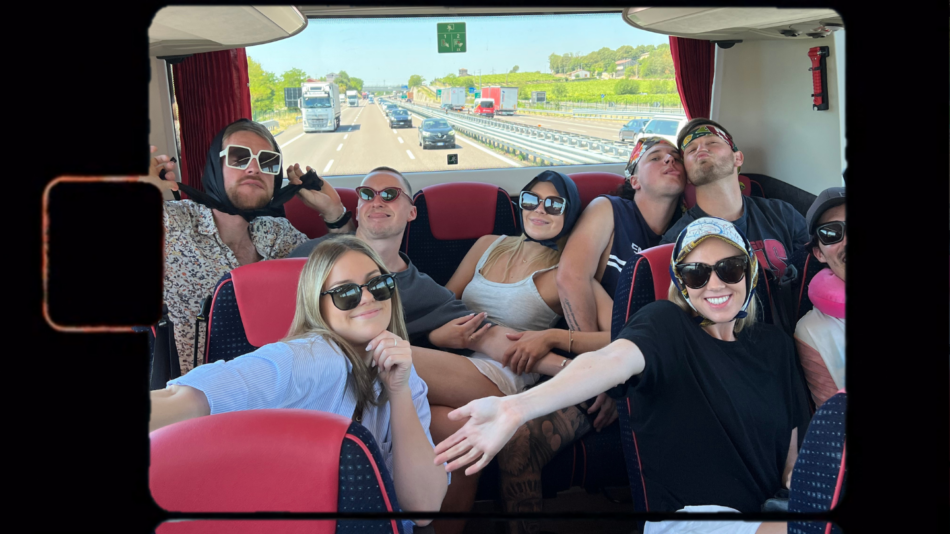 The music
The top song of 1962? A tune called 'Stranger on the shore' by Acker Bilk. Take it from us, don't waste your time searching for it on YouTube. However, some other notable mentions from the Billboard chart are still bangers today. "The Twist" by Chubby Checker, The Beach Boys "Surfin' Safari", and "Can't Help Falling in Love" are some of our top picks from 1962. But there was one catch… to listen to the hottest music, you would have needed a trusty radio just like Millie's.
All we have to say is, thank goodness for Spotify and AirPods. Agree Millie?
The friendships
While so many aspects of travel have changed over the last 60 years, there is one thing that has remained timeless. The friendships.
Experiences are heightened when they are shared with likeminded travellers around the world. And it's this social travel magic that quickly fosters lifelong friendships on our trips. Want the proof? This Contiki fam travelled with us in 1975 and just had their 50 year reunion.
Even without technology, Millie made friendships for life on Contiki
So, there you have it. Now that you know about the fashion, fads and fav travel experiences of the 1960's, do you think you have what it takes to take on the Sixties Suitcase Challenge and travel like it's 1962? Check out the full video of Millie's challenge here.