This Contiki fam just had their 50(!) year reunion
Share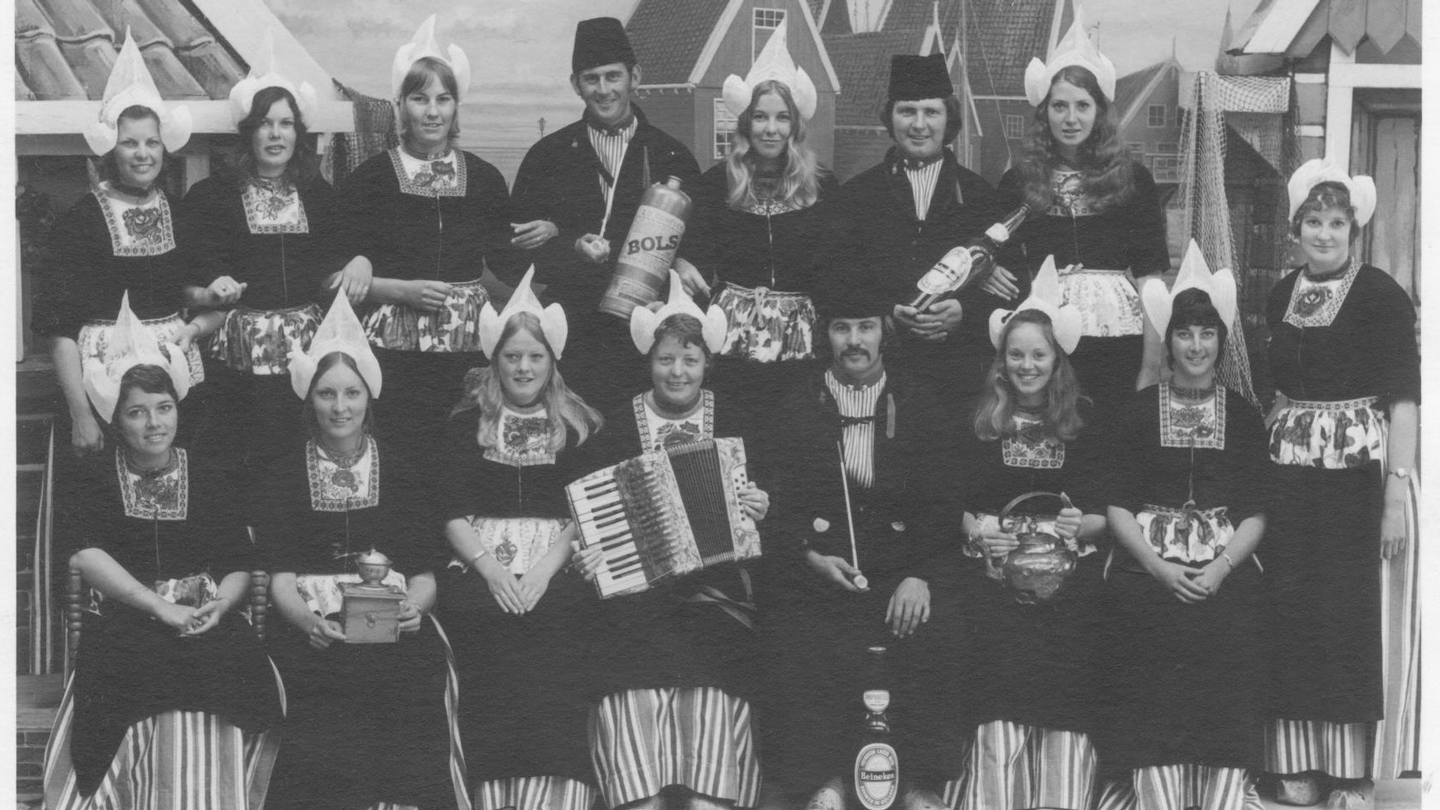 As you may have heard, Contiki is celebrating its 60th birthday this year! But we're not the only ones in the party mood. Because recently we've been chatting to a lady named Carol Turner, and she and her friends just celebrated a very special anniversary indeed.
On the 29th April 1972, a red Contiki Ford Mini Van departed from London filled with 14 young, inexperienced and excited travellers from Australia and New Zealand. Carol was on-board that day. And the fact that she and her Contiki fam got back together this year for a 50th anniversary suggests that they all had quite the adventure.
So, with this in mind, we spoke to Carol about her memories of that trip, the people she met, the places she visited, and what it felt like to get together after all these years. Here's what we learned…
Contiki wasn't quite as comfy back then…
Nowadays, we're pretty proud of our fleet of sleek and comfy coaches, but in the 70s let's just say you couldn't expect reclining seats, charging ports and WiFi…
"Contiki 1E6 departed a Red Ford Transit Mini Van." Carol explains, "We were crammed on-board (with our suitcases and camping gear packed on the top of the Van!).  We were at the hands of our illustrious first time Driver/Navigator/Guide."
And as for the accommodation…
These days we hand-select some of the best hotels and hostels in Europe for you guys to rest and restore (oh, and don't forget our 16th Century Château). But back in the 70s Contiki wasn't quite as luxurious. And Carol's group clearly didn't mind: they were looking for an epic, no-holds-barred adventure (soft linen be damned).

"This was a 9 week European Camping trip," she explains, "visiting the exciting countries of: France; Andorra; Spain; Monaco; Italy; Greece; Turkey; Bulgaria; Yugoslavia; Hungary; Austria; Liechtenstein; West Germany; Switzerland; Netherlands; Belgium."
Phew, that's quite an itinerary. Also, West Germany!…as good a sign as any that Contiki has been around for a looong time.
Maybe there's a reason we moved away from camping…
We no longer offer camping trips across Europe, and though conditions had improved significantly by the 00's, back then things sounded a bit…well, we'll let Carol explain:
"At Les Thermes, France, we did not arrive at our campsite until very late at night in teeming rain," she remembers. "We were inexperienced at putting tents up at this stage and it was a challenge to put them up in the shocking conditions and try and get some sleep after a wonderful day sightseeing through France. This is when we found out that our tents were not waterproof…"

Ooof. But you all still had fun, right?
"It was 9 weeks of fantastic fun!" Carol assures us, "But it was definitely character building, with all the cooking disasters, carousing, crazy escapades…"
All part of the adventure, I guess.
Who cares about the digs with memories like these?
To show us that their adventure wasn't just about wet tents and cold showers, Carol kindly asked her group to tell us their personal highlights of the trip. Here are a few of our faves:

"Catching the train up the Jungfrau, Switzerland, which is known as "The Top of Europe" and skiing at the top of the Lauterbrunnen-Murren Mountain Railway."
Hey, that does sound pretty awesome. Maybe that's why we still do it today!
"Driving our Contiki Red Van around the Monte Carlo Formula 1 circuit itself, and getting to see the famous British racing driver, Jackie Stewart's car. We were also able to wander around the Pits and ogle at the amazing F1 cars and experience a little of the high life of a Grand Prix. Probably couldn't wander the Pits now…"
Uhh, yeah…this sounds incredible to be honest, but I'm not convinced F1 would give us this kind of access these days. So unless a Contiki driver goes very rogue, I'm afraid this isn't going to be on an any itineraries next year, sorry folks.
"Pyjama Day. We all participated in wearing our PJ's for the travel day into Kavala, Greece. We were to make sure we had our 'under garments' on though! The looks we were given, by the locals, when we would all disembarked from our little red Contiki van in PJ's was so hilarious!"
Love it, this is very Contiki. And, Carol and crew, you'll be happy to know we're keeping the fancy dress magic going! Some things never change…
Travelling without Google Maps wasn't a problem
Question: do you think you'd get by on a 1972 Contiki? I like to think of myself as a seasoned traveller; but I've always had my phone on me, which is starting to feel like a bit like cheating. Especially when Carol tells us about all the techniques her squad used to find their way in foreign lands…
"Mobile Phones and Google Maps were not around in 1972." She says, "But this was not a problem, at all. There were always good Paper Maps/Books available; you could hitch a ride to the nearest town if you broke down; asking the locals in the fields and streets, was another way to get to know them! Though back then, English wasn't spoken as widely in Europe."
We really do rely on our phones for so much these days. Maybe it would take being thrown into the deep end for us to see what we're really capable of. And maybe, sadly, we'll never know.
There's a reason they all still meet up…
The fact that these guys still meet up after all these years is pretty amazing right? Here's Carol:
"Contiki bought us together to have this 'special' bond with each other that we still have today.  Who would have thought that 50 years on we would be celebrating our 50th reunion in the Beautiful Harbour City of Sydney, Australia, eating and exploring the areas of Barangaroo and the lovely harbour/ocean suburb of Manly." Nawww.
And they want to keep the memories going
"We have held regular reunions, approx. every 3 years, in both New Zealand and around Australia," says Carol, "We are a unique group, all with a great sense of humour, great camaraderie and when we catch up we just pick up from where we left off. At our reunions our wonderful treasured memories become even bigger and better stories!"
"Looking back we realise the trip was an exercise in 'bonding', long before that was a trendy thing to do. Every day on tour was a wonderful adventure and sharing the experience with great people was a bonus."
We couldn't agree more (though we think this whole 'bonding' thing is a bit trendier these days – we like to call it social travel!). And we know there are currently Contiki reunions happening all over the world, whether from trips that happened last month, last year or decades ago.
And honestly, that's what Contiki is all about. It warms our hearts to bring people together and create the kinds of bonds that last a lifetime. You inspire us Carol!
And do these Contiki legends have tips for future travellers?
"Just Have a Blast and go with the flow."

"Travel light, who cares if you have worn your jeans all week! Buy travel undies and t-shirts that dry overnight."

"Be prepared to experience new things and adventures, but do it all within the standards you normally live by at home."

"Most importantly, travel with an open mind and be kind to others and the environment."
As someone who has been on a Contiki, I can tell you that this advice stands the test of time. So thank you Carol, and all your Contiki fam, for the memories, and for reminding us why we do what we do.