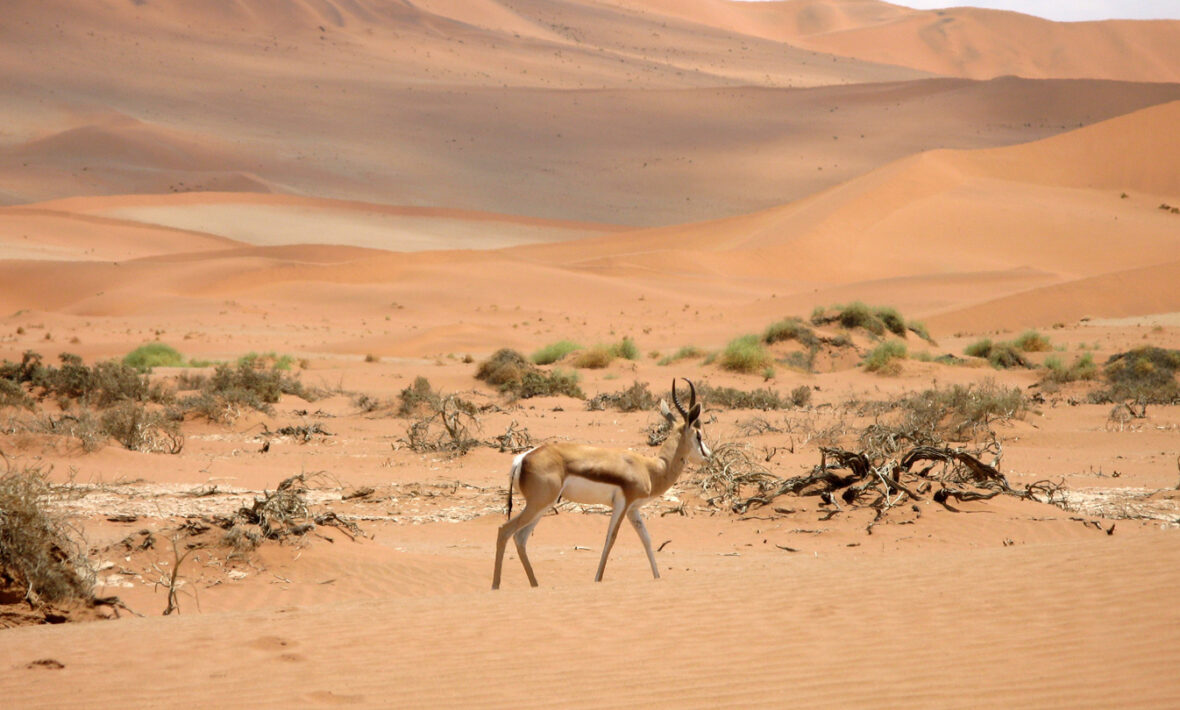 The moment you touch down in Namibia, an unforgettable adventure begins. From the dunes of Sossusvlei to the scorched beauty of the Skeleton Coast, you'll find mesmerising plains, clear blue skies, abundant wildlife and adrenaline-pumping activities. So, where to begin? Here's our pick of the seven best places to visit in Namibia.
Etosha National Park
One of Africa's oldest national parks, Etosha is also widely regarded as its best. The park is as scarce in drinking water as it is rich in roaming wildlife: elephants, black rhinos, lions, impalas, oryx, giraffe, zebra, wildebeest, antelope, and uda, to name a few. This means that the thirsty animals who live here like to congregate in masses around waterholes, so safaris are always effortless. Just park up next to a source of water and the wildlife won't stop coming.
Etosha is also home to the biggest salt flat in the world, the Etosha Pan. Visible from space, it teems with flamingos and pelicans during the wet season, while in the dry season you can cruise the flat in a 4×4 and pose for some seriously unique Insta opportunities.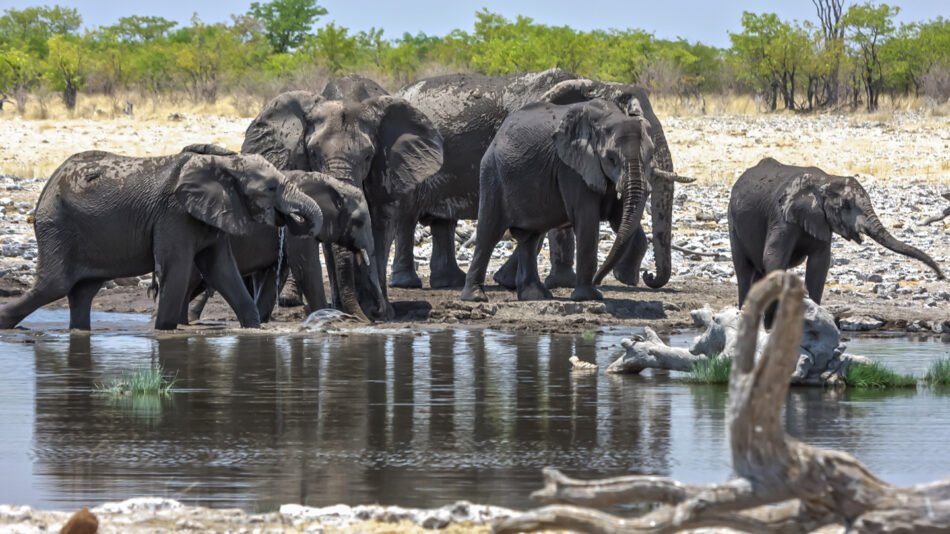 Image source:Contiki
Caprivi
In stark contrast to the rest of Namibia, the Caprivi strip is all about water. Surrounded on all sides by three rivers, the Zambezi, Okavango and Kwando, it's a wondrous stretch of waterways that's also the only place in the world where four countries meet (Namibia, Botswana, Zambia and Zimbabwe). 
As well as being a fisherman's haven, Caprivi is the place to be in Namibia if you're into birdlife – it's home to over 70% of Namibia's birds. From here you can also spot native hippos, elephants, lions, giraffes and wild dogs. It's the perfect place to stop off on the way from Botswana, and is only a stone's throw away from Victoria Falls, the Okavango Delta and Chobe National Park.
The skeleton coast
One of the most unusual coastlines in the world, the Skeleton Coast arcs dramatically across the northern tip of Namibia, dotted with the windswept hulls of wrecked ships and carcasses of beached whales. As rugged and wild as it is, it is still a popular attraction due the fact it forms the crest of the world's oldest desert, the Namib.
You can drive along the coast at your own pace, stopping off at seal colonies and gawping at the scenery. Or, if you're willing to part with a bit more cash, take an air safari and soar over the coastline in a plane, spotting rhinos and shipwrecks before heading back to somewhere a bit more… hospitable.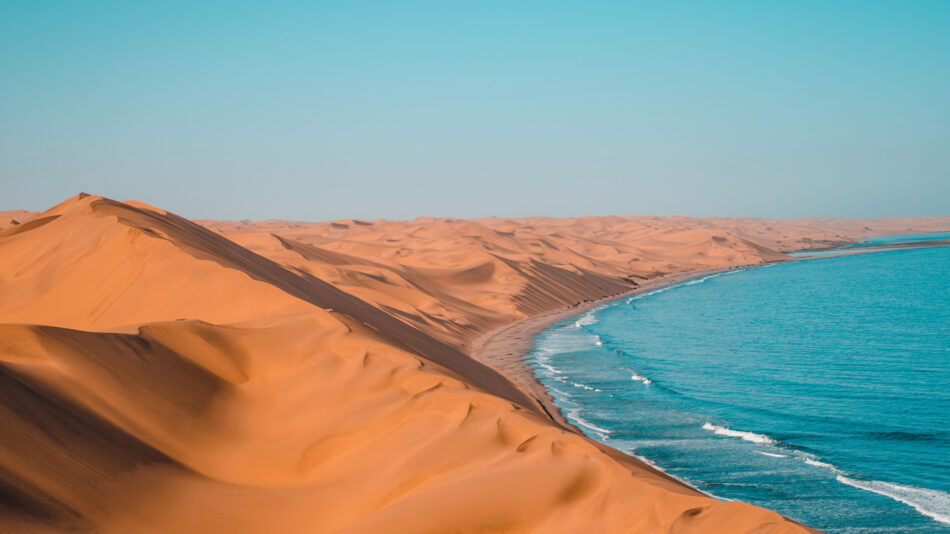 Image source:Contiki
Damaraland
Where dry woodlands meet arid plains and deep-red mountains, Damaraland is one of the most beautiful places in Namibia. Incredibly, black rhinos and elephants manage to walk this desolate landscape, while indigenous communities still dwell in Twyfelfontein, which features some of Africa's best-preserved rock art and engravings.
Swakopmund
As well as its rich indigenous history, Namibia also has a complex history of oppression under colonial rule. That's why German architecture and cultural influence can still be found in all of its towns and cities, and German is still widely spoken.
Often called the adventure capital of Namibia, Swakopmund is a coastal, former colony that's retained its German feel whilst remaining distinctly African. The bright, Bavarian-style architecture contrasts crazily with the dunes of the Namib and the crashing waves of the Atlantic. There's plenty to keep you busy here, from quad-biking and sandboarding to skydiving over the Namib desert or kayaking at Pelican Point.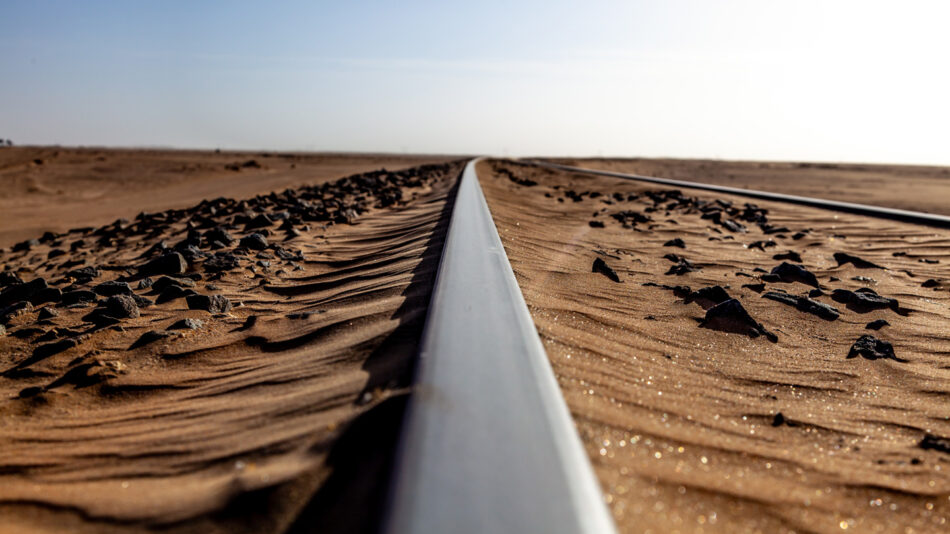 Image source:Contiki
Sossusvlei
Sossusvlei is all about the dusty-red dunes that stretch into the sky, punctuated with twisted petrified trees. In fact, the dunes here are among the highest in the world, with the 'Big Daddy' stretching an incredible 380 metres high. All of this amounts to a dreamland for photographers- it's one of those places where it's almost impossible to take a bad snap. You can also hike Big Daddy and his smaller brothers, quad bike across the sands or take an air safari in a hot air balloon, which is the best way to understand the sheer scale of the place.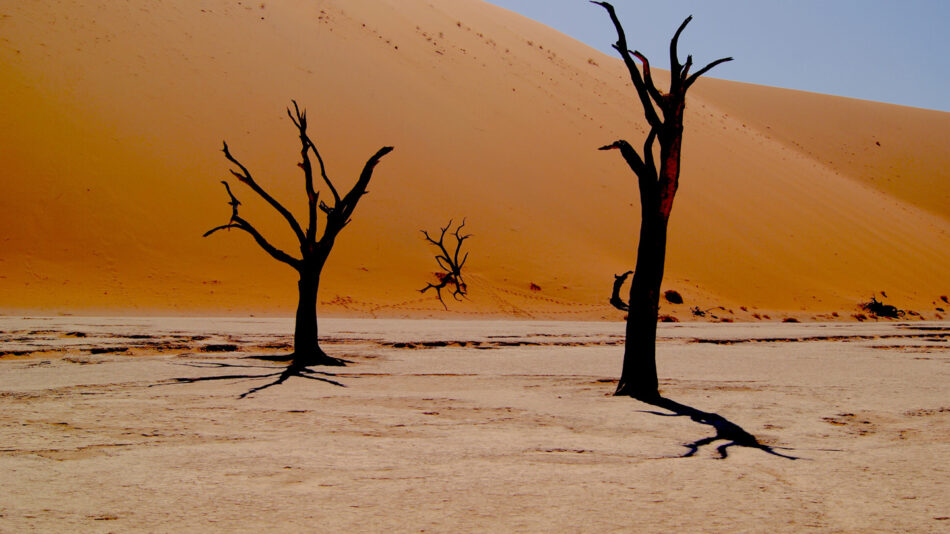 Image source:Contiki
Windhoek
Nestled between ochre valleys, Namibia's capital has strong European influences with its pretty colonial buildings and traditional German cafes. It's also much, much greener than the rest of Namibia, with a lush central park and and botanical gardens. Throw beerhouses and museums into the mix and you've got a gorgeous place to retreat for a few days – especially after a gruelling hike or safari.