10 Action-Adventure Film Locations You Can (And Totally Should) Visit in Real Life
Share
If you love the world of cinema, then visiting real-life film set locations should definitely be on your travel bucket list! If action-adventure is one of your most favourite genres, then consider checking out these epic natural and historical movie hotspots from all across the world…
Aït Benhaddou, 'Gladiator' (2000)
In this epic film, Maximus is captured and sold into slavery in the ancient Roman Province of Zucchabar; in reality, this Ksar (fortified village) in Aït Benhaddou is found near Ouarzazate in Morocco! This UNESCO World Heritage Site is iconic for its red mudbrick Kasbahs and was a primary trading post for ancient merchants travelling between Marrakech and the Sahara. The fortress is an impressive example of ancient Moroccan architecture and worth a spot on your bucket list!
Kauai, 'Jurassic Park' (1993)
As kids, we were amazed and terrified by the big, scary and realistic AF Tyrannosaurus Rex in Steven Spielberg's legendary dinosaur film, Jurassic Park. This catastrophic dino park was built on a fictional island called Isla Nublar but in real-life, this is actually Kauai, Hawaii. In addition to the Jurassic Park sights, Kauai offers a wide range of water, aerial and cultural activities for intrigued travellers. You won't find any breathing dinosaurs here but Kauai is teeming with adventures!
Angkor Thom, 'Lara Croft: Tomb Raider' (2001)
On the big screen, archaeologist-treasure hunter Lara Croft sets off to retrieve the Triangle half in an ancient Cambodian tomb; this is Angkor Thom, the capital city of the Khmer Empire in the 12th century. In the exact centre stands the symbolic Bayon Temple, encircled by a jayasindhu (moat); carved into towers are very intricate faces, possibly depicting King Jayavarman VII or bodhisattva, Avalokiteśvara – a legendary Buddhist figure. Ta Prohm is also featured in the film; a beautiful atmospheric temple shrouded by jungle overgrowth (aka that scary moment where Croft plummets through the earth). The temple complexes of the Angkor region are must-see sights when visiting Cambodia!
RELATED: IF YOU'VE SEEN ANGKOR WAT AT SUNRISE, YOU'LL RELATE TO THIS
Wollaton Hall, 'The Dark Knight Rises' (2012)
Ah Wayne Manor; home to Gotham City's masked vigilante, Batman! In Nottingham, England stands Wollaton Hall which was the set of Bruce Wayne's mansion Christopher Nolan's masterpiece, The Dark Knight Rises. The house itself is a remarkable example of Elizabethan architecture. If you loved Batman Begins, Mentmore Towers in Buckinghamshire was instead used to portray Bruce Wayne's home, but their appearances are very similar! The next time you're in Nottingham, take some time to go see Wayne Manor! Whoops – Wollaton Hall.
Zhangjiajie National Forest Park, 'Avatar' (2009)
Through James Cameron's stunning visual effects and incredible motion capture techniques, we were introduced to the moon of Pandora, home to the Na'vi; a native human-like species… aka the tall blue people. Remember the picturesque Hallelujah Mountains during the epic air battle scenes? These were inspired by the Zhangjiajie forest found within the Wulingyuan Scenic Area of China! The park is most notable for its colossal 'pillar' rock formations which give the illusion of floating (hence the Avatar inspo) but other natural beauties like caves, streams, waterfalls and forests can be explored too.
Hobbiton (The Shire), 'The Lord of The Rings'/'The Hobbit' film series
LOTR super fan or not, it's hard not to recognize the iconic rolling green hillsides of The Shire – home of the Hobbits. In 1998, director Sir Peter Jackson discovered this beautiful farm landscape in Matamata, Waikato whilst searching for film set locations in New Zealand; the land was, and is still today, owned by the Alexander family. On your Hobbiton tour, you'll see amazing sets from the films including the colourful Hobbit-holes, Bag End, Party Tree, Old Mill and the Green Dragon Inn; you'll even get to taste specially brewed ales and ciders unique to Hobbiton and the LOTR universe!
RELATED: YOU CAN ACTUALLY GET MARRIED AT HOBBITON SO SOMEONE PROPOSE TO ME NOW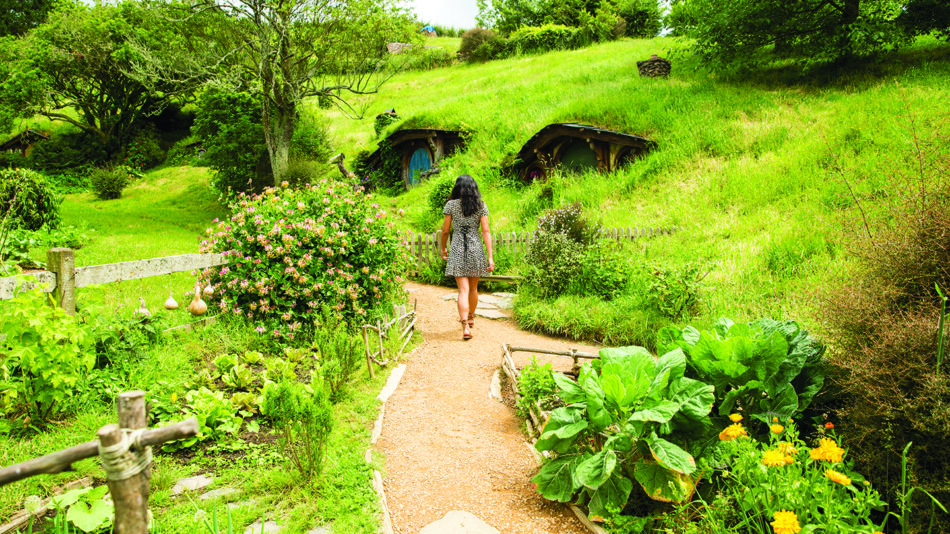 Kananaskis Country, 'The Revenant' (2015)
Watching a vengeful Leonardo DiCaprio excruciating journey across the wilderness as real-life American frontiersman, Hugh Glass, made us skip breaths; the film was a partial rendition of Glass' epic story of survival in 1823 and won countless awards. The cold, unrelenting Missouri landscape depicted in The Revenant was primarily shot in the Kananaskis Country in Alberta, Canada. This expansive region consists of various provincial parks which together create a stunning array of mountains, forests, lakes, rivers; hiking, fishing, skiing, horseback riding and sightseeing tours are just some of the many activities you can also do here.
Hatley Castle, 'X-Men' film series
If you're a fan of all things Marvel then you've probably dreamt of attending Xavier's School for Gifted Youngsters. The bad news? You're not a mutant however, the GOOD news is that you can still visit the X-Mansion, known in real-life as Hatley Castle. You'll find this impressive historical site in Colwood, British Colombia which is both a museum and part of the Royal Roads University campus, meaning you can even study here! (but not your untouched superpowers, unfortunately). Aside from its Instagram-worthy front façade, you can stroll through the surrounding magnificent gardens and explore its vintage interior on a guided tour.
Villa del Balbianello, 'Star Wars Episode II: Attack of the Clones' (2002)
In a galaxy not so far away at all, you find the gorgeous Villa del Balbianello resting upon Lake Como in Lombardy, Italy; you'll recognize the breathtaking scenery as the fictional planet of Naboo and the villa being where Anakin Skywalker escorted Padmé after her failed assassination. Once a Franciscan monastery, the villa is now a popular wedding venue due to its spectacular lake views and green terrace gardens – hmm, anyone fancy getting married in Italy?
RELATED: 12 REASONS WE'RE OBSESSED WITH LAKE COMO THAT HAVE NOTHING TO DO WITH GEORGE CLOONEY
Himeji Castle, 'You Only Live Twice' (1967): James Bond film series
Calling all classic James Bond movie fans! Those who've seen You Only Live Twice would most likely recognize Himeji Castle as the set of Tanaka's ninja training school, but it is actually one of the most significant UNESCO World Heritage Sites in Japan. It is perhaps the country's most well-preserved castle and is a brilliant example of traditional Japanese architecture.
Have you been inspired to travel by your favourite movies? Share your stories with us here and you could see your work published on six-two…