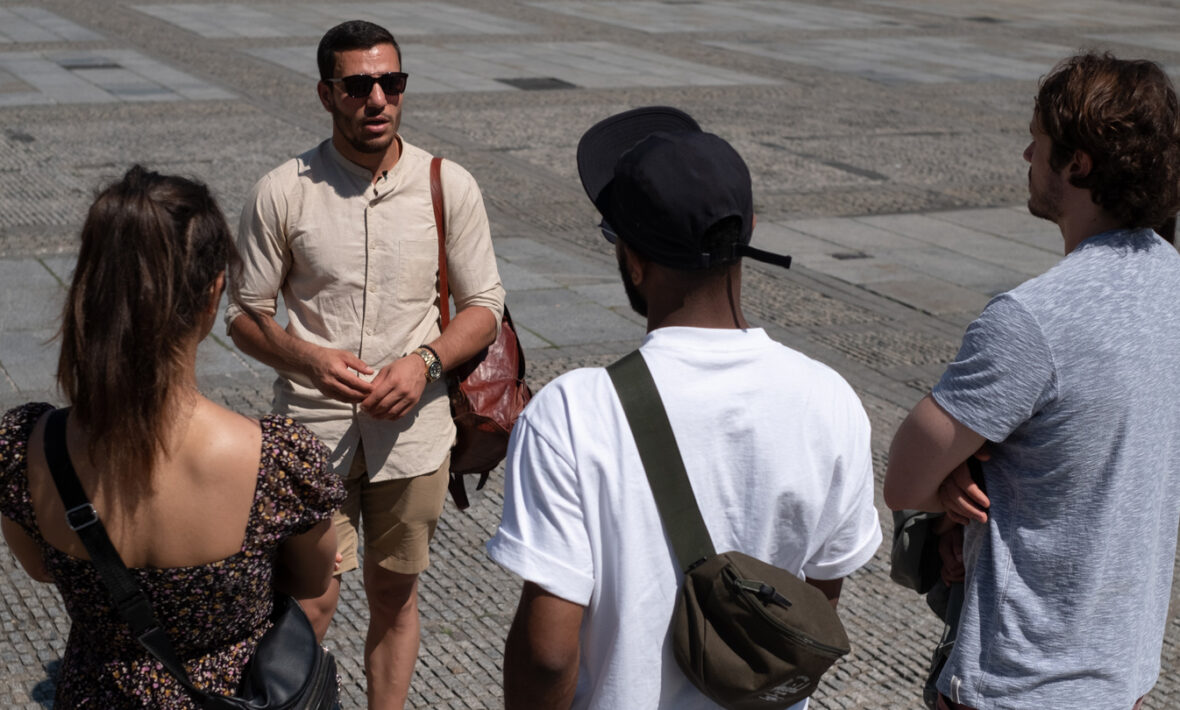 Walk down the hipster Kreuzberg district in Berlin, and you could be forgiven for forgetting about the city's troubled recent history. Today, the German capital is future-facing, culturally quirky and liberal – a far cry from the rubble, barbed wire and armed guards of the 20th century. 
Our Berlin walking tour Refugee Voices – available on our Berlin to Budapest (2021), Amsterdam to Berlin (2022) and London to Berlin (2022) train trips – doesn't want you to forget. It wants you to think about the horrors Berliners faced in the 20th century, and reflect on those facing similar struggles in today's world.


Here to bring this to life is award-winning storyteller, Hesham Moadamani, who will guide you on a fascinating journey through the city, sharing parts of his own story too. Hesham's personal experience as a refugee fleeing the Syrian civil war draws parallels between Syria and Germany's civil unrest, in what is both a heroic and heartbreaking account of his struggle. His incredible ability to narrate just won him the coveted Lonely Planet Community Storyteller award.
Image source:Refugee Voices Tours
When Allied forces marched on Berlin in 1945 they left a trail of destruction in their wake, and despite Hitler's plea to fight to the death, many Berliners desperately fled the rubble. After the war, the German capital became two cities, divided by the snarling barbed wire and bricks of the Berlin Wall. East Germans who were desperate to rejoin their families or find their fortune were often killed or arrested in their attempts to escape to the west. 
But 80 years later, when similarly displaced refugees escaped the horrors of the Syrian civil war, one city gave them a warmer welcome than any other European capital. Today, Berlin is a place to flee to, not flee from – and this becomes apparent with this unique Berlin walking tour.
It's an interesting parallel that shows that no place is safe from conflict, but also that no place is beyond rebirth and reconstruction, as long as we can learn from the past. By comparing the struggles Berliners faced in the 20th century and what Syrian refugees face in the 21st, Hesham highlights the importance of avoiding these same mistakes. When we observe how some media outlets portray fleeing refugees as 'vermin', and notice the troubling rise of Far Right parties across Europe, it's a lesson that's as vital as ever. 
Want to fit out more about the Berlin walking tour, Refugee Voices? Check out our Berlin to Budapest Train Trip for more info and other unforgettable experiences. From 2022, you'll be able to experience this on our Amsterdam to Berlin and London to Berlin train trips.