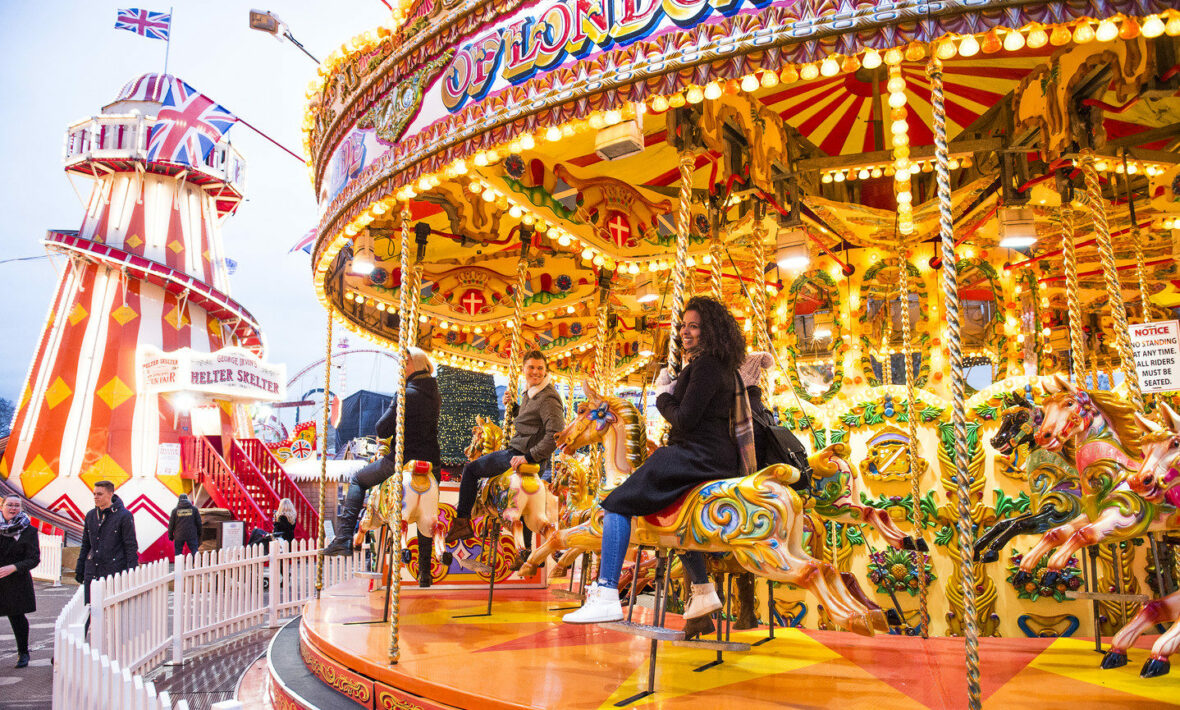 Christmas at home is pretty great, but Christmas in Europe is like no other. What other continent transforms its cutest cities and towns into magical holiday snow globes, all in the name of Saint Nick?
There's a lot of debate around where has the best Christmas markets in Europe, but if we're lucky enough to actually be at the Christmas markets, we're all winners right? Twinkling lights, endless gingerbread, quirky craft stalls, live music, ice skating rinks – all you need to do is pick your favourite from our top 20 recommendations and get your mulled wine on all winter long…
20. Copenhagen, Denmark
The Tivoli Gardens are a riot on any day, but when Copenhagen gets its Christmas on, it's out of this world. Combine the infamously intense rides of this amusement park with new Christmas thrills. There's a Christmas tree decorated in Swarovski crystals, honey cakes, roast pork and endless Christmas lights for a memorable experience at the Copenhagen Christmas markets.
19. Stockholm, Sweden
If you're gonna do the Christmas markets right, you might as well get as close to the North Pole as possible, and the Stockholm Christmas markets are an amazing choice. There are several to choose from in the area but highlights include a great tree at Bollnäs Square, DIY Christmas decorations and amazing foods like sugared almonds and marzipan at Skansen. Plus, check out the amazing crafts unique to Sweden for sale near the Royal Palace.
View this post on Instagram
18. Birmingham, UK
When you think about an authentic German Christmas Market, chances are you don't think about the UK, but that's what makes the Frankfurt Christmas Market in Birmingham that much more magical.
As the self-proclaimed 'largest authentic German Christmas Market outside of Germany or Austria', this gem in Birmingham's Victoria Square has more than 80 stalls of traditional German foods like delicious pretzels, schnitzel, weissbier and glühwein. Bonus – there's a nearby Christmas Craft Market to indulge in some of the best homemade holiday goodies the UK has to offer.
17. Krakow, Poland
A snowy and beautiful Christmas market experience is pretty much guaranteed when the North Pole comes to the Christmas markets in Poland. The big must-do is found in Krakow's main square of Rynek Glowny. Famous for stunning antiques, hand-painted and hand made crafts, it's a great place to pick up something unique for the holidays.
View this post on Instagram
16. Florence, Italy
Another stunning city, another cluster of awesome markets. Florence's shining market star is definitely in Piazza Santa Croce, which offers the best handicrafts and food with a German-Italian flair. Visit Piazza del Duomo for a stunning tree and nativity scene as well.
15. Seville, Spain
A lil' bit of Christmas, a lil' bit of Mediterranean sunshine – that's why Seville Christmas market is the best of both worlds. Nativity scenes are a big part of holiday history in Spain but Seville specifically is one of the best places to find unique nativities to take home with you. Check out the Feria Del Belén to buy these amazing nativity scenes and Christmas decorations, plus enjoy some amazing food and tapas while you're there.
View this post on Instagram
14. Cluj-Napoca, Romania
As the unofficial capital of Transylvania, Cluj-Napoca is one of those cities that you've probably never heard of until you have, and then once you see what you're missing you can't wait to visit. As the highlight of Romanian Christmas markets, the Cluj-Napoca Christmas Fair has great skating, shopping, eating and concerts to give you the fill of holiday cheer, with a young and artsy vibe that's a cool twist on the classic.
13. London, UK
Such a big and buzzing city should mean that the Christmas market scene is pretty epic, and thankfully London doesn't disappoint. With several to choose from, Winter Wonderland in Hyde Park is a favourite for many for its sheer size, karaoke, observation wheel and the biggest outdoor ice rink in the UK. Leicester Square is also an adorable highlight in the city, with a traditional vibe that feels straight out of a Christmas holiday movie.
12. Amsterdam, Netherlands
The 'Dam is full of Christmas cheer, and in true Amsterdam style, there's more than one quirky Amsterdam Christmas market to choose from. Hit up Ice*Village in the Museumkwartier for epic skating, shopping and foodie finds like Dutch donuts called 'oliebollen'.
Visit Winter Winterparadijs for curling, tubing and rides. Or go to the Amsterdamsche Kerstmarkt for all of the classics. Regardless, Amsterdam delivers on the Christmas goods.
View this post on Instagram
11. Prague, Czech Republic
Too many options isn't always a good thing, and that's why Prague Christmas markets are ideal. Prague keeps it quaint and walkable with the two big festivities taking place in both Old Town Square and Wenceslas Square. Marvel at their beautiful big tree, enjoy endless trdelník cakes and some mulled wine and appreciate Christmas done right.
10. Aachen, Germany
It may be the stunning cathedral backdrop; it might be the 6-metre-tall gingerbread men (!), but Christmas markets in Aachen are a surprising favourite for many of the biggest market enthusiasts. Wander around the Aachen Cathedral and town hall area for the best stalls and enjoy the local gingerbread (or 'aachener printen') and mulled wine.
9. Zagreb, Croatia
The Zagreb Christmas markets are best known for doing three holiday essentials very well: great ice skating, awesome street food and lots of live Christmas music. Gravitate towards either Jelačić Square or Tomislav Square for the highlights of this beautiful city in the wintertime.
View this post on Instagram
8. Brussels, Belgium
The Brussels Christmas market goes by the name of the Winter Wonders, and this epic festival pulls out all of the stops. There are more than 200 wooden stalls to wander through and all of the Belgian waffles and beers you could ever want. Check out the ferris wheel and the epic light and sound show projected onto the Grand-Palace. Plus they've switched over to reusable cups to try and reduce their litter levels, so you can feel better about every Christmassy sip.
7. Warsaw, Poland
If the Christmas markets in Poland seem to be punching above their weight on this list, it's because they're the surprising Christmassy underdog. Take Warsaw – a the big city that has mastered the art of the Christmas light spectacle and has decked out their best streets, gardens and squares with stunning light displays for the holidays. Come for the lights and stay for the chocolate, ice rinks and Polish Christmas carols.
6. Berlin, Germany
Berlin is big, so it's no surprise there are a ton of choices when it comes to Christmas markets – over 70 to be exact. For that reason alone, Berlin claims a top spot on our list and it also has many of the top ten Christmas markets in Germany. For a fan favourite, check out picturesque Gendarmenmarkt and its amazing fairy lights.
View this post on Instagram
5. Vienna, Austria
Christmas Dream is beautiful and everything you'd expect from the Vienna Christmas markets. Located in front of the City Hall, it has all of the traditional and exciting elements like reindeer rides, a merry-go-round and nativity scenes, combined with a glowing heart tree and the advent traditions that make the holidays in Austria so unique.
View this post on Instagram
4. Strasbourg, France
Strasbourg calls itself the 'Capital of Christmas', and with the oldest Christmas markets in France and some of the oldest in all of Europe, they can wear that crown pretty proudly. This giant winter wonderland of markets features over 300 stalls and divides Christmas into different themes – 'Magical', 'Alternative' and 'Family'.
Visit the Magical Christmas area for 'bredele' biscuits and mulled wine, an amazing Christmas Tree with lights and music and an ice skating rink – all found in Place Kléber. The Alternative Christmas area is focused on sustainability, recycling, local, organic and fairtrade items, and has its own alternative tree made of wood and LED tubes.
Lastly, check out the Family Christmas for tree decorating, elves workshops and lots of shows.
3. Budapest, Hungary
The ability to combine great Budapest Christmas markets with some quality time warming up in the Szechenyi Baths is SO appealing. But baths or not, Budapest does Christmas the right way. With the combination of Christmas and advent celebrations, the legendary chimney cakes available and great market food in general, Budapest just gets it. Hit up both Vörösmarty Square and Szent István Square for all the highlights.
2. Tallinn, Estonia
The capital of Estonia may not be on everyone's radar, but the Tallinn Christmas Market has put Tallinn on the map. Taking place in the Town Hall Square, this is one of the most traditional-feeling markets of all and the star of the show is the historic Christmas tree. With traditions dating back to 1441, this tree display is thought to be the oldest in Europe.
Christmas fanatics will also love the chance to visit Santa in his house (sure!), mingle with some reindeer, buy local crafts and enjoy local Estonian holiday dishes like black pudding, sour cabbage and gingerbread. Bonus – this Christmas market runs into January to accommodate for Orthodox Christmas.
View this post on Instagram
1. Paris, France
Because we really needed another reason to go to Paris… The snow, the lights, the beauty – is there any place better suited for the holidays? Christmas markets in Paris take celebrations to another level – La Defense is a giant paradise of Christmas joy. The Jardin des Tuileries Market brings the rides and good eats. The Forum des Halles is the perfect place for a Parisian holiday shopping spree. And all the while, you're in Paris! Could life be any better?
Feeling ready? Go to Paris on the Paris for Christmas Contiki Trip!