You've heard South East Asia is cheap, but how cheap exactly? What does cheap mean? What if you want to stay in opulent hotels, get tailor made suits and travel anywhere in your own pimped out private tuk-tuk? Will that be cheap?

We've figured out how budget for 2 weeks in South East Asia to answer all of these questions, and more…


Where would you like to stay?
Look, compared to most other regions of the world, accommodation is going to be cheap. But travel isn't one size fits all, and there's going to be a big difference in price depending on what kind of experience you're looking for. I recently did 6 months in SEA, so hostels were the natural choice. In backpackers' hostels, dotted all around the region, you can get a dorm room for around £5 a night, which is as budget-friendly as it gets.
If you've never stayed in an Asian hostel before, I know what you're probably thinking. You may have a hellish image of loose live wires and bunkbeds lined in rows of 30. But in fact the hostels I stayed in – even the extremely cheap ones – were generally clean, modern, well-staffed and comfortable. Services such as Hostelworld often have ratings from hundreds of guests, so you can pick and choose which hostel is for you. Overall, the places I stayed in South East Asia were actually more pleasant than hostels I visited in Europe, Australia and New Zealand – for about a fifth of the price.
Hostels also present a fantastic way to meet like-minded travellers, so if you're solo travelling or just want the most social experience, this is the way to go.
https://www.instagram.com/p/BnQnst8lFiu/?taken-by=theyardbangkok
That being said, this is a guide for two weeks in South East Asia, not six months, so unless you're looking for the social aspect or are on a seriously tight budget, hostel dorms shouldn't really be necessary. Hotels in this part of the world are also seriously affordable, and there are some unique homestay opportunities for those on the hunt.
To give you an idea, when I was tired of the endless hostel dorms, I took a night in a luxurious 5-star hotel in Bangkok. I had my own suite, a concierge, free transport into town, jacuzzi, swimming pool – the works. It set me back £40 for the night. It was admittedly out of season, but if you budget £40 a night for accommodation you're likely to be sleeping in style.
How would you like to get around?
The most popular mode of transport in South East Asia is a motorbike or moped, but I wouldn't advise this if you haven't ridden before and don't have a qualification or license. Still, if you're confident it's the quickest way to get around, and you can easily hire bikes almost everywhere you go for around £5 a day.
If you're planning on a longer trip, you can even buy your own motorbike for around $250 US. But again, this is only a good idea for experienced drivers; I saw some pretty horrific injuries in my time in Asia.
Buses are a cheap way to get around, as are trains and night trains. These will cost you a few pounds, depending on where you go. But internal flights are also a great option if you've only got two weeks and want to be whizzed everywhere speedily. Even last-minute flights within a country or to neighbouring countries should cost around £30 – not a bad deal if you're in a hurry.
What would you like to do?
This is where a lot of your money can go when you're in Asia. It may be an inexpensive place to travel, but SEA is still a poor region that's positioned to maximise money from tourists, and rightly so. if you're ziplining, embarking on fancy boat tours, doing crazy orangutan experiences in the trees of Borneo and drinking cocktails in the fancy rooftop bars of Ho Chi Minh then your money isn't going to go as far.
You should set aside around £30 a day for activities like this. What's the point of going to Asia if you aren't going to have experiences of a lifetime? My trip could have been cheaper, but I never missed out on something I really wanted to do, and I have absolutely no regrets.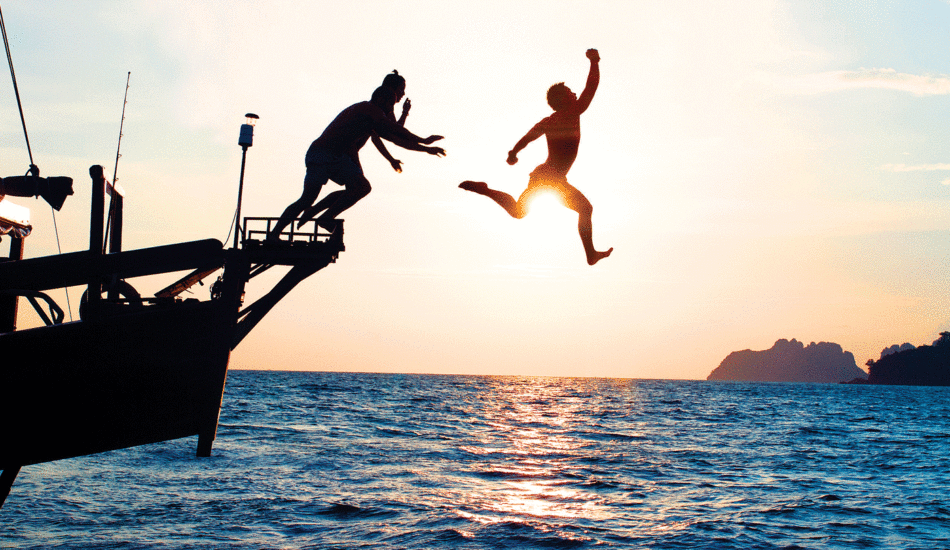 What would you like to eat?
You can find fancy and expensive restaurants throughout South East Asia, just like everywhere else. But in this instance, I ask, why would you? Your food budget should be low, because the street food is tasty, healthy, unique and seriously cheap. Your budget for these meals should be around £2-3. Again, you may have preconceptions about the street food making you sick, but it's always cooked fresh, right in front of you. I only got food poisoning once when I was in South East Asia, and that was from a nice, clean-looking canteen in a shopping mall.
Street food is one of Asia's biggest joys, you'd be crazy to miss out, and you'd be crazy to spend more than you need to on food.
Beer lovers, you'll be happy to know that cold lager is everywhere and is dirt cheap (around 10 pence to a pound for a can). Spirits differ in price compared to whether they're local or imported, but generally will be a lot cheaper than back home. Wine is a different matter. If you can find anything that doesn't taste like vinegar then it'll cost you upwards of £30 a bottle.
Always bring wiggle room money
So, you shouldn't spend a fortune unless you're staying in the most decadent resorts, but aways make sure you have extra cash for unexpected expenses. You might fall in love with something in a market, or decide to get some tailor-made clothing in Hoi An (I couldn't resist a tailor-made cashmere suit that only set me back around £100).
You might decide that you want to do a long boat tour, or splash out on a nice bottle of red after all. At the end of the day, there's no problem in coming home with some leftover money.
Looking for an Asian adventure like no other, check out where we go…