Christmas in Paris: 10 reasons why it's a must
Share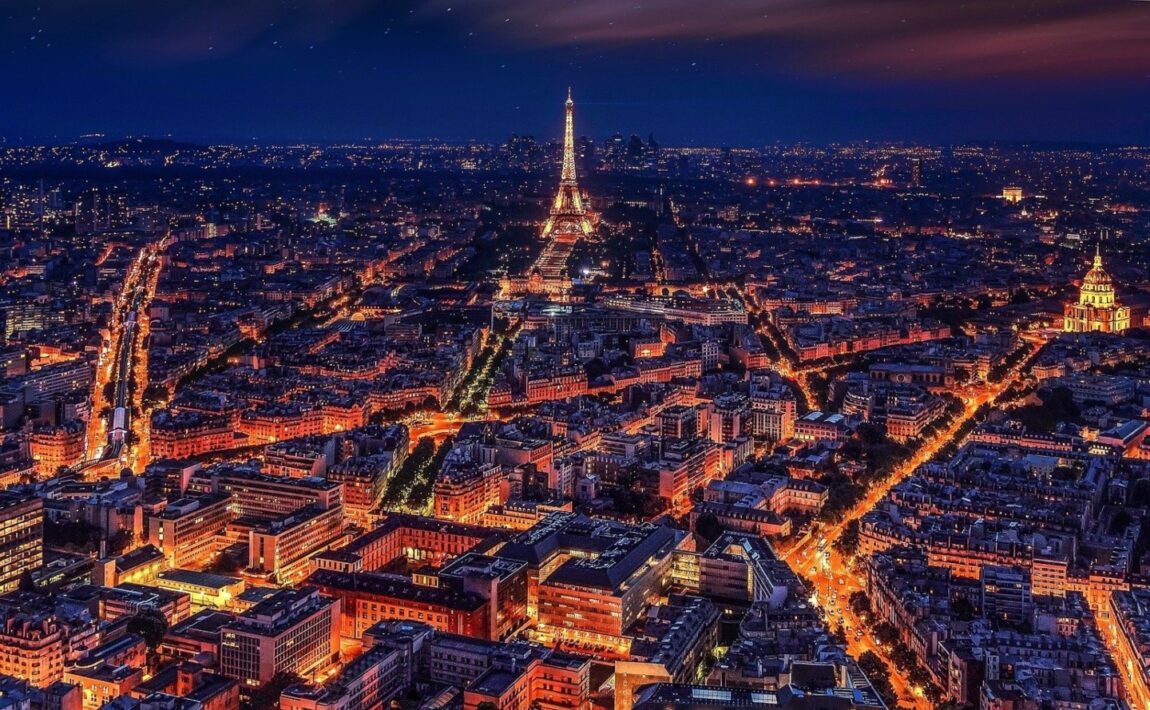 Most things in life are just better in the City of Lights, and Christmas in Paris is absolutely no exception. Paris is magical on a regular day, and winter in Paris is like something straight out of a fairytale. So, you can only imagine how that magic is amplified around the holidays.
Come for the all-around experience but stay for these 10 special elements that make Christmas in Paris a must-do.
The lights
Paris is the City of Lights. Christmas is the holiday made even more magical with lights. See where we're going here? If the math isn't quite mathing yet, picture this. The gorgeous Eiffel Tower and Left Bank illuminated at night, as fluffy snowflakes dance down from the heavens. The Champs-Élysées, Arc de Triomphe, and sites of the city all decorated with a holiday-inspired glow. Endless bridges, streets, shops, and cafés shining with Christmas light displays and glistening icicles. This is the essence of a Christmas in Paris.
The magic of Paris at night is only amplified by a city that goes all out with its Christmas lights, and the end result is picture-perfect, Disney-level holiday dreaminess. Plus, it's Paris, so there's nothing cheesy about the execution. You just know everything Christmas-light-show-related here is done in the most classy, colour-coordinated way possible. Trust us, your IG page just isn't prepared for what's coming.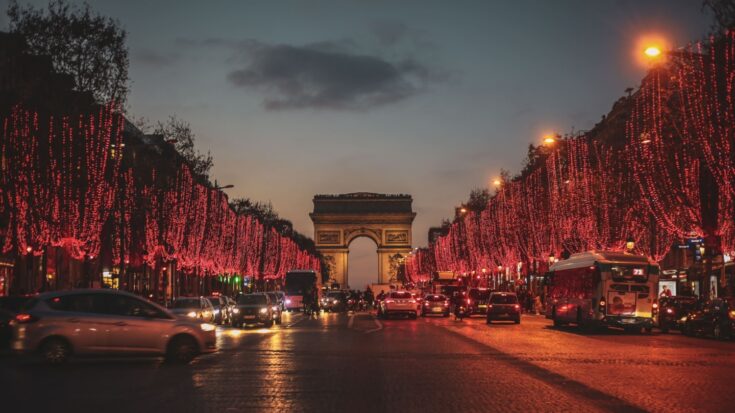 Image source:Unsplash – Dyana Wing So
The parties
The holiday season is one big, long celebration, and let's be real – no one celebrates quite like Paris. Besides the bars and dinner soirées, you can take your festive celebrations to the streets and the river. A definite Christmas celebration favourite is taking a dinner cruise on the Siene River, where you can experience the lights and sites from a new angle.
The food
French food is the definition of comfort food, and there's no more comforting time of the year for good eats than Christmas. All of the cream, butter, rich flavours and sauces that make French cuisine so beloved are turned up to the next level at Christmastime, and it's all. So. Good.
Old world decadence meets cozy vibes on a cold day with a warm bowl of cassoulet or steamy and cheesy French onion soup. Let boeuf bourguignon and ratatouille warm your soul with their rich and hearty flavours.
Sick of turkey? France is the master of Christmas proteins, and you can find an amazing duck, lamb, pheasant, prime rib, hen, roast beef, goose, or pork chop on every corner. Plus, nothing says celebratory appetizers like paté, charcuterie, fondue, baked brie, soufflé, and escargot. The Christmas seafood options are also overflowing with scallops, oysters, and lobsters.
Christmas in Paris is the time to indulge, and just like a Christmas miracle, everything about Parisian Christmas eats is so fresh and refined that you can literally stuff yourself like a turkey with minimal regrets (or indigestion) to be had.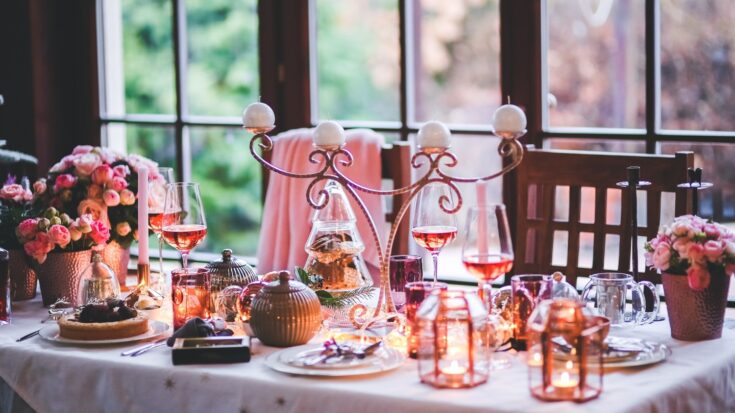 The markets, fairs, and villages
Christmas markets are undoubtedly an essential part of the European holiday experience, and Paris is no stranger to the tradition. The Christmas markets and Christmas villages in Paris are some of the most beloved in all of Europe, and they truly epitomize Christmas spirit and joy.
Paris' holiday markets have amazing eats, fun rides, and endless handmade crafts and treasures. Don't miss market favourites like Saint-Germain-des-Prés and the Tuileries Gardens during your visit.
The skating
If we're really going to embrace the Parisian holiday season, we have to embrace the weather as well -and its sports. And while it's tempting to stay cozy indoors, the beauty of wintery Paris is best enjoyed from outside. Christmas time is the perfect time to lace up your skates in Paris, as the city truly transforms into a skater's paradise. Skating rinks can be found all around during a Christmas in Paris, and it's an essential part of the festive experience.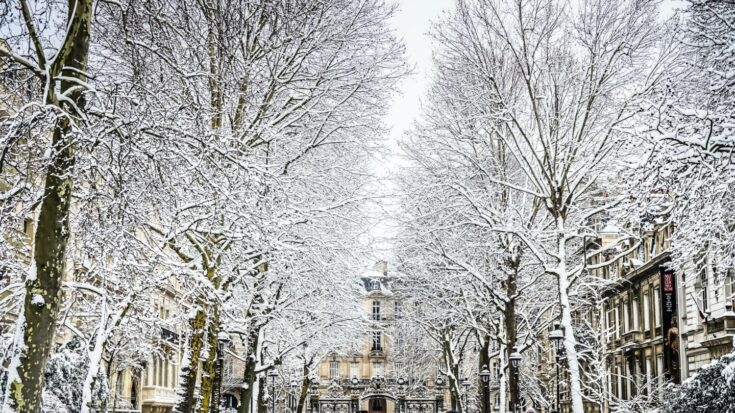 Image source:Unsplash – Norbu GYACHUNG
The desserts
The Christmas season is about so many things, but an essential component of many ideal celebrations involves desserts. And while desserts following Christmas dinner are key, one of our favourite components of Christmas is the other times for dessert-eating. The holiday season means desserts can be eaten at virtually any time of day. Christmas cookies for breakfast? Absolutely. Cake at 2am? Of course. And since the French are big proponents of dessert, Paris and Christmas are a match made in sweet heaven.
Spending a Christmas in Paris means you'll have some of the best desserts in the world at your fingertips. In addition to your typical holiday favourites, try out some of these Parisian versions as well. Find macarons in holiday-inspired flavours like cinnamon or cranberry. Slice into beautiful and delicate yule logs dripping with chocolate. Stack up the crêpes and truffles, and top it off with a festive crème brûlée. You truly can't go wrong with your dessert choices here, especially at Christmas.
The shopping
Despite its endless appeal, many tourists go to Paris just for the shopping alone, and the holiday season brings even more shopping appeal. Paris has an amazing mix of department stores, high-end boutiques, and markets, and they all go all out for Christmas time.
Spending Christmas in Paris is the perfect way to finish your gift shopping or treat yourself on Santa's behalf. Plus, Paris' Christmas window displays are nothing short of legendary and make window shopping in the city so much more enjoyable. Regardless of what you shop for, you're guaranteed a shopping experience decked out in festive décor and cheer.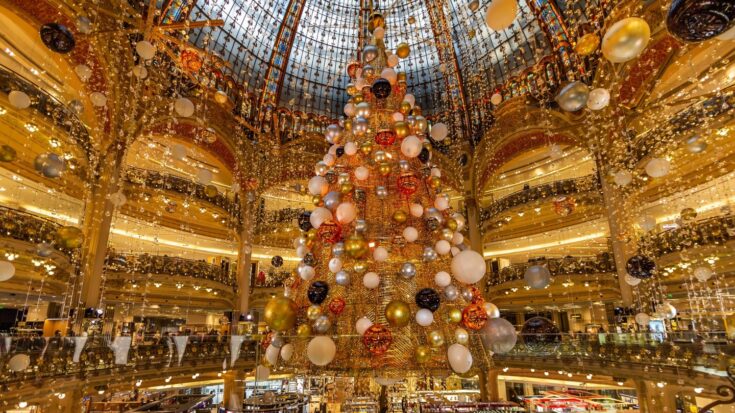 The drinks
Holidays are made for cheers-ing with family and friends, and so was champagne. Coincidence? I think not. Christmas beverages in Paris are every bit as classy and rich as you'd imagine, but even if you aren't a bubbly lover, there's more than enough to choose from.
Christmas in Paris is incomplete without trying a cidery Kir Normand, and at least a few glasses of mulled wine. Plus, Parisian hot chocolate is rich and divine enough to warm even the Grinch's cold heart. Parisians know how to celebrate and drink in style, and there is no better time to experience peak Parisian joy than during the holidays.
The church services
Religion aside, Paris has some of the most beautiful cathedrals and churches in the world, and Christmas is a great time to fall in love with them. From traditional masses and nativity scenes to choir performances and concerts, there are so many beautiful traditions to participate in. And even if you don't attend a mass, you'll be awed by the beautiful church bells that set off a symphony of sound to commemorate the holiday.
The trees and festive displays
Like everything Paris does at Christmas, their love for a glamourous Christmas tree is evident on every street. From the real trees adorned with lights that line the roads and parks, to the artificial trees that bring festivity to shops and hotels, there is so much tree beauty in Paris. Paris is known for having some of the biggest and most beautiful Christmas trees in Europe, and you're guaranteed to get your tree fill regardless of where you find yourself in this beautiful city.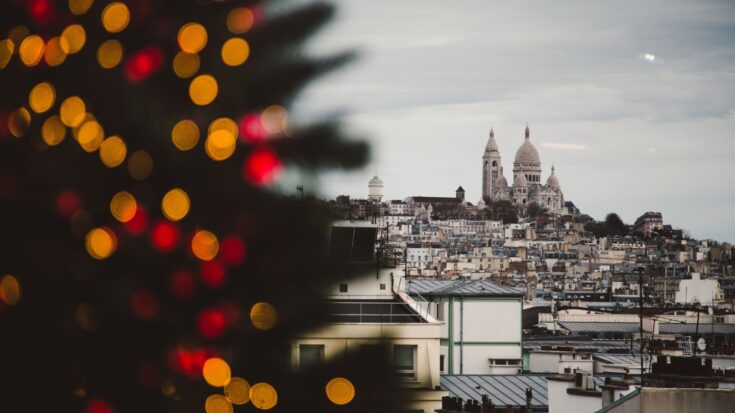 Image source:Unsplash – @fevrierphoto
Need more than 10 reasons? Start packing and unveil all of the Christmas in Paris magic on Contiki's epic 4-day Paris for Christmas trip.