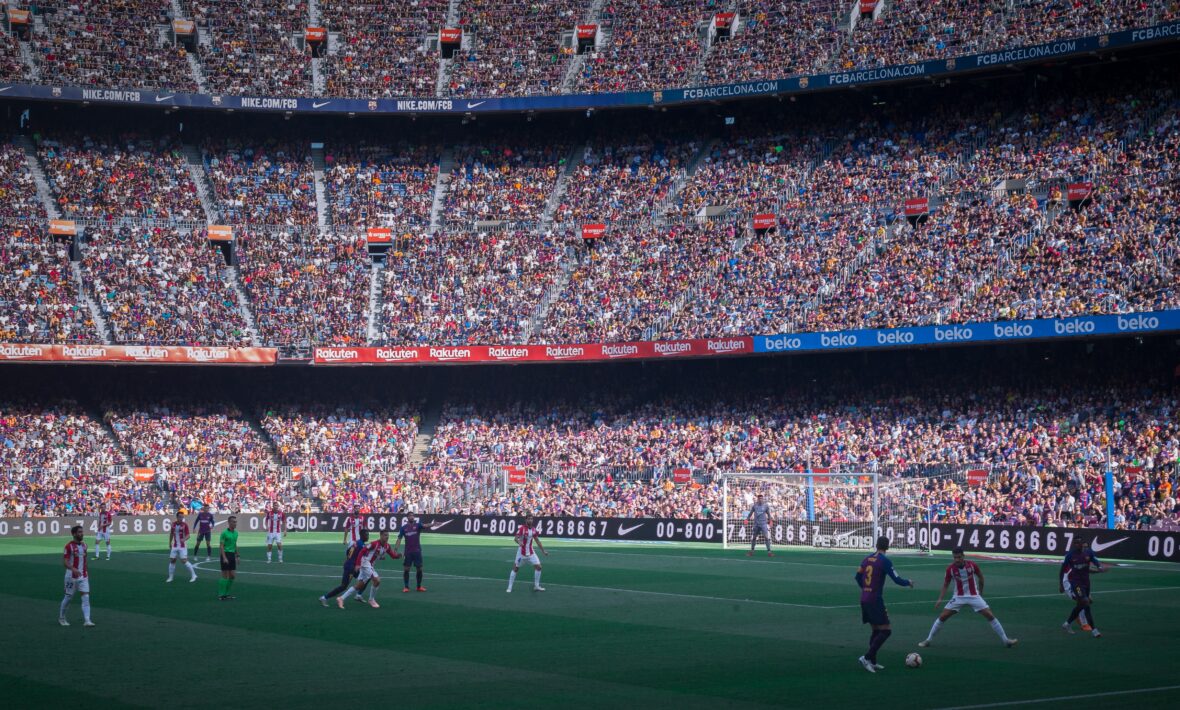 Whenever you think of the most jaw dropping architecture across Europe, what comes to mind? The Sagrada Família in Barcelona, the Centre Pompidou in Paris, or the Colosseum in Rome maybe. But what about football stadiums? Sitting as empty bowls nearly every day, transforming into cauldrons of noise for a couple of hours every two weeks as fans pass through the turnstiles to cheer on their team.
Whether you like football (or soccer depending on where you're reading this in the world) or not, you can't argue that stadiums are pretty damn impressive. But which ones should you go to when you're in Europe? Enter our groundhopping guide.
What is groundhopping?
Firstly, what is groundhopping? It's simple really – it's going to as many football matches at different grounds (or stadiums) as you can to watch a match, but also soak up the atmosphere, marvel at the architecture, and maybe even enjoy some food and drink.
Yup, we're looking at you, Brighton & Hove Albion – who not only sell regional beer in their ground (the Amex Stadium in the south of England) but also put a different beer on tap for away fans which is local to their club so they feel at home. Soz Brighton, you haven't made our suggested list, but that's a solid effort on hospitality.
But what grounds have made the cut? Read on to see which stadiums we think you should head to in Europe, and even if you can't get to a game, we hope just seeing them in the flesh will give you goosebumps – whether they're big or just a bit quirky.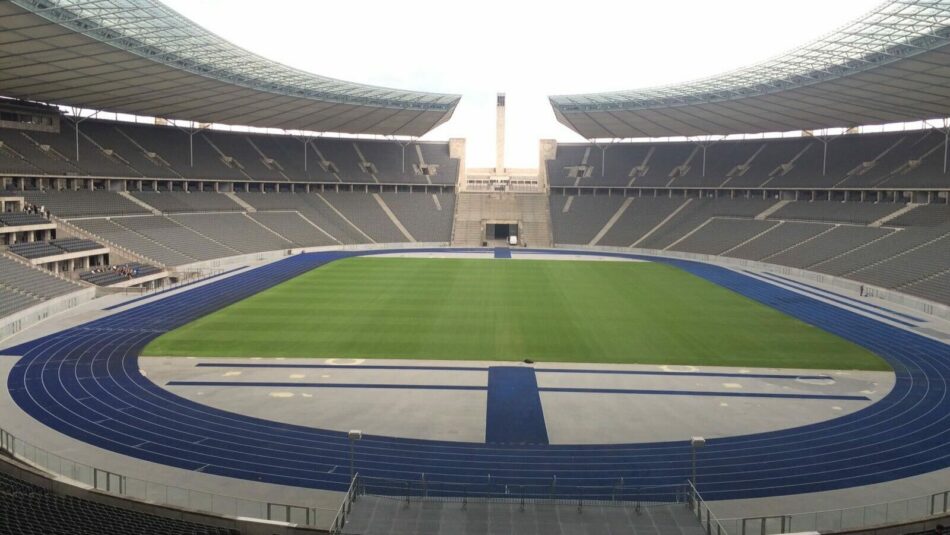 Image source:Nicholas Roberts
Signal Iduna Park, Dortmund, Germany
If you can catch a game here, do. It's as simple as that. The atmosphere at the home of Borussia Dortmund is widely considered to be one of the best not just in Europe, but in the world. Grab a bratwurst and a beer before heading into the ground and marvel at Die Gelbe Wand, or The Yellow Wall – the end of the ground holding 25,000 of some of Dortmund's most vocal fans.
Camp Nou, Barcelona, Spain
We're kicking off with a biggun. I mean literally, the biggest football stadium in Europe – the Camp Nou in Barcelona. This mammoth ground holds just under 100,000 fans, and it's currently being renovated to add an extra 5,000 seats, plus modernise with a new roof being built. It's due to be back open during the 2025-26 season, and when it is, we'd recommend a tour so you can see all the old and new features including a chapel in the tunnel.
If you're in the city though, and desperate for some groundhopping action – maybe with a day or two to spare before a Barcelona to Rome Quest – how about a visit to FC Barcelona's temporary home during the renovations, the Estadi Olímpic Lluís Companys? As the name suggests, this was the principal stadium for the 1992 Olympic Games so it's well worth seeing along with the rest of the Olympic Park.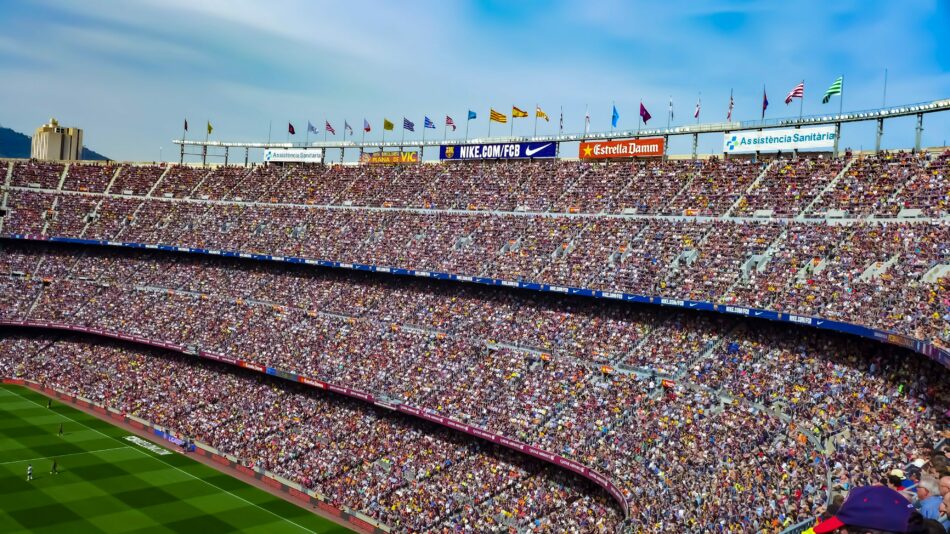 Image source:Vangelis Kovu / unsplash
Olympiastadion, Berlin, Germany
We know Berlin has so much to offer, but we really recommend taking the U-Bahn or the S-Bahn out to the Olympiastadion. Hertha Berlin are the tenants here if you wanted to watch a match, and Union Berlin are also playing their games in Europe's most prestigious competition, the Champions League, at this stadium. Or if you're lucky, see if you can get a ticket to one of five Euro 2024 matches it will host, including the final.
Even if there isn't a game on, it's still well worth visiting. You can either go on a guided tour, or just pay an entry fee and wander round the cavernous bowl, sit down with a drink from the cafe and look onto the vast green turf and iconic blue running track below. You can also learn about some of the more sobering history of the ground and the surrounding Olympic park from the 1936 Olympic Games for which the stadium was built under the instruction of Adolf Hitler.
San Siro, Milan, Italy
The first thing you should know about the San Siro is that it's home to two huge clubs in European football, AC Milan and Inter Milan. It's super rare to ground share in football, let alone for two teams who have achieved as much as these ones.
It's as unique as it is steeped in history, with four stands all with different coloured seats, plus cylindrical walkways to get to your seat in the upper tiers which have an optical illusion when you look at them that people are on the biggest travelator you've ever seen. (Feel free to procrastinate watching this mesmerising action on TikTok after you've read this article).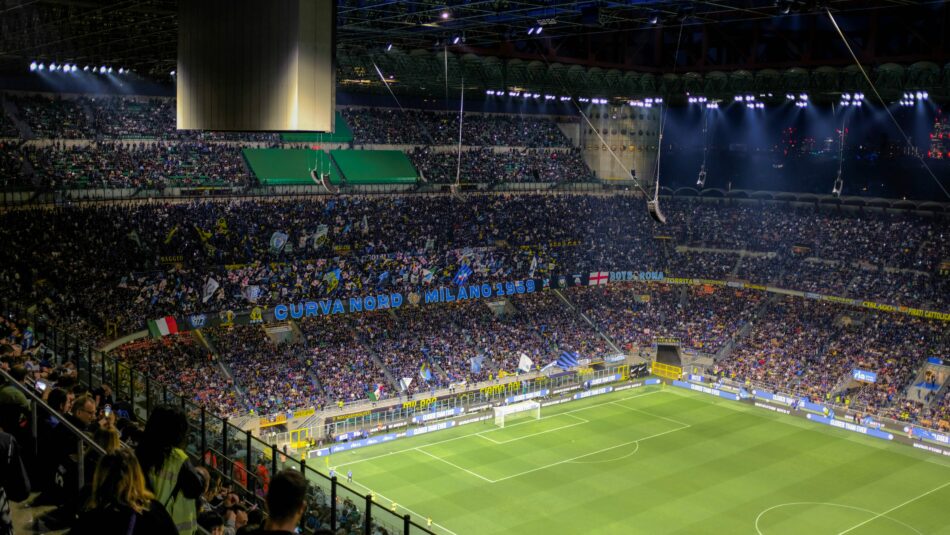 Image source:Zach Rowlandson / unsplash
De Kuip, Rotterdam, Netherlands
Ok, so this isn't technically the official name for this ground which Dutch heavyweights Feyenoord play in – it's Stadion Feijenoord, but nearly everyone in Rotterdam will call it De Kuip, or The Tub in English. If you go to see a game, you'll have a completely clear view of the action. While this seems normal and expected now, back when it was built in 1937, this was pretty revolutionary as you'd often have to lean either way to avoid a pillar.
It has a fiery atmosphere (literally, you may see a flare or two), and is not to be missed if you're a football fan. Why not head south after a trip to Amsterdam?
Kenilworth Road, Luton, England
If you want a traditional English football ground, this is probably one of the best options around. It has an old school charm to it with floodlights towering into the sky and its many backless seats. Also, if you want to head into the away end, it will feel like you're going into someone's house. Once you're past the door, you'll have an entrance to the stand in front of you up the stairs, and someone's washing line in their garden either side of you.
Feeling peckish before the game? Head to Norm's Caribbean shack where the speciality is curried goat – English football cuisine's GOAT if you will…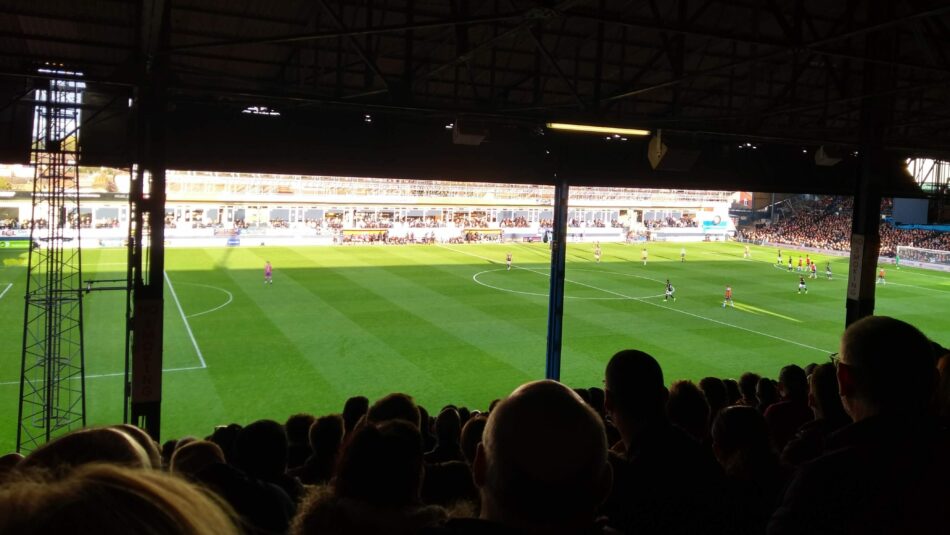 Image source:Nicholas Roberts
St James' Park, Newcastle, England
As you head into Newcastle in the north of England, it's impossible not to immediately notice St James' Park. With more and more stadiums being built outside of city centres, the ground proudly sits bang in the middle of the hustle and bustle.
The team are currently flying high in the Champions League, so it may be hard to grab a ticket, but if you can, either try going in the Gallowgate End to be part of the vocal support or at the top of the Milburn Stand to see the city in the background. A quick note – this ground is not to be confused with St James' Park in Exeter in the south-west of England which is about a fifth of the size…
Tottenham Hotspur Stadium, London, England
London is full of great grounds, but if we had to choose one right now, we'd suggest going to the Tottenham Hotspur Stadium. Opened just four years ago, it has acoustics that will give you shivers when the home team Spurs score. It also has Europe's longest bar in the concourse behind one of the goals. And a cheese room. And a retractable pitch for NFL games (if you prefer a different type of football).
Image source:Nicholas Roberts
Stadio Pier Luigi Penzo, Venice, Italy
If you research public transport options to stadiums, you'll often see bus, rail, subway/metro, tram, foot… But Stadio Pier Luigi Penzo may just be the only ground that you can get to by vaporetto. Yup, that's right, you can hop on a waterbus to the football which is pretty cool.
And if you're a lover of football kits as much as you are of groundhopping, try to get your hands on a Venezia FC shirt. You may genuinely get it confused with Gucci garms.
Stade Vélodrome, Marseille, France
Marseille is still a bit of an untapped jewel in France, but slowly people are coming for the beautiful Calanques National Park that hugs the coastline next to the city, and the beaut renovation of the quarter by the port which includes the iconic Mucem – a museum dedicated to Mediterranean culture. But what's also had a facelift is Marseille's stadium, the Stade Vélodrome.
Previously open to the elements, it reopened in 2014 with a new white, translucent roof added, meaning that even during night matches, it glows as a beacon that locals can see from across the city. The Marseillais are fiercely behind their team, so you can be sure of a lively atmosphere when you head to the ground. Spot the graffiti art that the city is famous for both inside the stadium and around the city celebrating players past and present.
Image source:Nicholas Roberts
Stadion Voždovac, Belgrade, Serbia
You know we said we may chuck in a few grounds you should go to which are a bit different? Well, what about one which is on the roof of a shopping centre? Yup, Belgrade team Voždovac play in Stadion Shopping Center as some call it. So ahead of kick off, you can wander round a department store to browse before heading upstairs to watch the game.
Allianz Arena, Munich, Germany
Bayern Munich is one of the most successful teams in European football, and this is their home ground. So, obviously the team has some of the best players in the world who you can see close up, but the exterior is super impressive too. As far away as the Austrian mountains, you can see the luminous external facade shining red in honour of Bayern, or white for the German national team.
And while typically, you'll find new stadiums on the outskirts of cities surrounded by industrial estates, just over the other side of the road is the very tiny, very pretty, Holy Cross Church which is Munich's oldest church.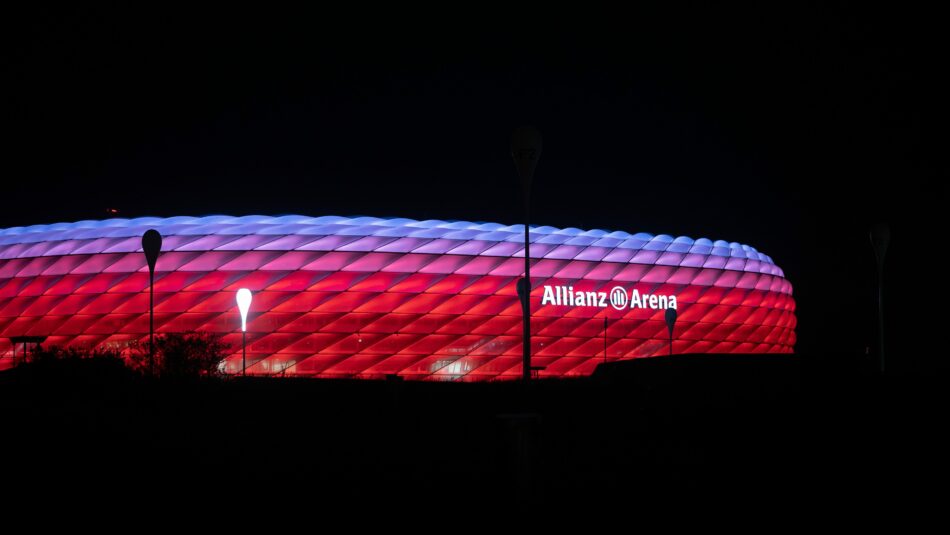 Image source:Maximillian Kuntswadl / unsplash
Estádio Municipal de Braga, Braga, Portugal
Up in the north of Portugal, you can find a stadium with only two sides. Why? Because it's built into a quarry. Glance to one end, you'll see a giant rockface. Turn your head the other way and you can see the small area to the north of Braga called Dume.
Considering it's a 30,000 seater stadium, it's a very impressive architectural feat, and 20 years after it was built, it still looks as innovative as it did when it opened for Euro 2024.
Ibrox, Glasgow, Scotland
While the top division in Scotland might be smaller than most with just 12 clubs, it is one of the most passionate footballing countries in Europe. You can see this in Glasgow where the sport is threaded through the city and divided into two fanbases – Rangers and Celtic.
Celtic's stadium (Celtic Park) is well worth a visit – especially on a night when they play in the electric atmosphere of a match against some of Europe's best teams, but Rangers's ground, Ibrox is also a special one.
Whether you're heading to a game or not, stand outside the main entrance and marvel at the red brick facade which is also a listed building, and try not to imagine you're in some sort of Wes Anderson football biopic. We'd thoroughly recommend a visit to explore Glasgow before or after a Real Scotland trip.