If you still see failure as a negative you need to meet podcaster, Dylan Nicholson
Share
This November – as part of Contiki's partnership with Movember – we took five influential men in the male mental health space to Australia's Blue Mountains, where they shared some of their most vulnerable moments and talked about the power of opening up. Here, we catch up with podcaster and marathon runner, Dylan Nicholson to talk positive thinking, gratitude and working through our mental health issues as a team.
Hi Dylan! Tell us a little about you and your work…
I'm 19 years old and I live in Byron Bay. I'm passionate about running and surfing – but I'm probably most passionate about inspiring young people to chase their dreams, getting out of their comfort zones and achieving things they didn't know they were capable of.
That's what my podcast, Dyl Journey is all about. My goal is to inspire young people into believing that anything is possible. You can't let society tell you otherwise. When you're young you're encouraged to play it safe; I think we should try as many things as we can and figure things out for ourselves. It's all about enjoying the journey, right? 
https://www.instagram.com/p/B5AQSGiFsJz/
Why is there so much power in speaking out when we're struggling?
To grow we need to open up about how we're feeling and get things off our chest. When you can share your struggles and get a positive response, you start to care less what other people's opinions are. Being vulnerable is actually a great show of strength – it's through vulnerability that you can forge your own path and do your own thing without worrying about what everyone else things. Sharing makes us stronger. 
What's your experience with mental health issues?
I had a really rough start to the year – I moved to America to follow my water polo dream, but the entire trip was a failure. I felt lost, sad and confused. The only way I found to deal with it was by opening up, sharing with loved ones and then focusing on personal development.
Then recently, my best mate opened up to me about his experience with depression. So, we made a pact and started running. It made us both feel completely different and I really realised that physical activity can be so important to our mental health.
We started small at first but now I have run a few marathons. When I did my first one I thought, 'wow, if I can do this, I can do anything.' There's something about pushing yourself to extremes that makes you feel bigger – like you can achieve anything you put your mind to.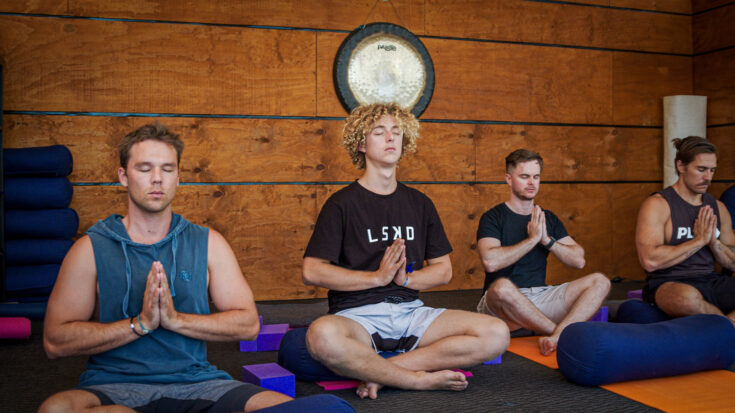 What did you take out of the Movember X Contiki day?
The most fulfilling part of the day was definitely the chat with five fellas on the deck. My best friend has recently gone through some serious mental health issues, and I've helped him as much as I could in that tough time. I was really nervous, but we were giving each other hugs by the end; everyone let it all out. The day had been building up to that one moment and we really connected through our most deep and personal stories.
You're a big believer in the power of positive thinking – how can we teach ourselves to think more positively?
I'm really grateful for the little things in life. It's only through pain and discomfort that I've achieved growth. Marathon running makes you feel connected to your body, your breathing and your mental flow. You learn a lot about yourself in those tough moments – it's one of the most character building things you can do. 
You're right. I'm all about positive thinking. It's one of the best attributes you can have – taking a positive away from every situation. In the USA, I had a tough time but I also learned how to look after myself better, and I couldn't take away the fact that I'd had a real go! On reflection I discovered the things about myself that I could be proud of. 
I recommend taking a moment to be more self-aware in negative situations. Just take a moment to ask yourself: how can I take positives out of this?
What does gratitude mean to you?
Mindfulness and gratitude have helped me immensely and it's not difficult either! Anyone can write down three things that they're grateful for every day. Trust me, it really helps you to focus on the amazing positives you have in your life.
I run Instagram sessions, inviting people to join a little group and share. Everyone has things to be grateful for.
What would you say to encourage someone who is feeling completely unmotivated?
10 months ago I hit rock bottom. So, I reached out to a mentor within my community: a person I looked up to. It can be anyone, a role model, a person on your street who is friendly, a family member… they can help you put things into perspective and create goals around the life you want to lead. For me, the biggest game-changer was running a marathon! 
How can we dismantle this idea that men admitting when they're struggling is a weakness?
I think doing what Contiki did with Movember – bringing men together to share stories – is so powerful. You assume everyone has so much going for them and haven't experienced hardship, but through these conversations you realise that we all go through the same sorts of things. It's a ripple effect. When one man shares their story, another might feel comfortable to share theirs, and so on. If my friend is struggling, I can tell him I know how he feels. We can go for a run together. Work through it as a team. 
Mental health issues, for me, aren't something to hide away from. It's an experience that pretty much all of us go through. I look back on my darkest day and treat it as rock bottom – now let's go up.