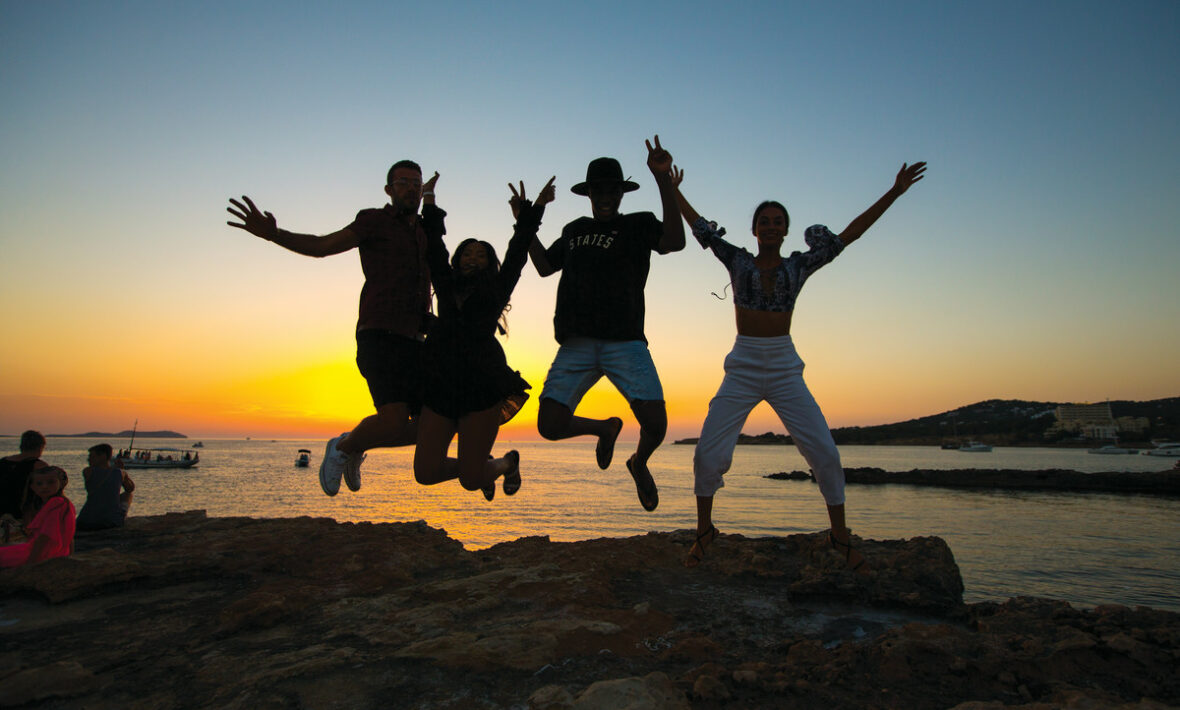 If you've never experienced Ibiza travel, you probably have a pretty lively perception of the place. Banging basslines, ethereal lightshows, beautiful people raising their hands to the sky and the sun rising over proceedings, with the party showing no signs of ever stopping.

It's fair to say you're not too far off, but celestial superclubs aren't the only things this jewel of an island has to offer.

Here's our guide to where to eat, drink, party and relax – before doing it all over again.
Partying
If you like the clubbing life, you've come to the right place.
There are three main clubbing resorts on Ibiza: San Antonio, Play d'en Bossa and Ibiza Town.
San Antonio is famous – or should I say infamous – for its parties. This is the place that has probably unfairly given Ibiza a slightly sleazy reputation, with its iconic sunset strip with lively bars and smaller nightclubs. Poolside clubbing is always readily available and you'll find people offering you free shots of sickly liquids everywhere you go, attempting to drag you into their club to spend money at the bar. There are some historic, iconic super-clubs to be found in this area, however, including Eden, Es Paradis and Ibiza Rocks. You may not feel very sophisticated in this part of town, but if you're after a wild day and night, this is the place to be.
Play d'en Bossa is home to the longest beach on the island, decorated with iconic outdoor clubs like Ushuaia and chilled beach bars. Here you can expect laid-back music from DJs during the day, with delicious food, and watersports facilities. At night, it's easy to let loose, dancing in the sand at Bora Bora, watching the sun go down and then up again at Ushuaia and rocking to the underground EDM vibes at Sankeys.
Ibiza town is the polar opposite to San Antonio, and demonstrates that Ibiza actually has quite a bit of class away from the sunset strip. It's a far more expensive place to spend your days, but here's where you'll find fancy restaurants, shops and bars, as well as the gorgeous Old Town. Despite the relaxed vibes in these parts, superclubs Pacha and Heart are right at your doorstep.
Eating
If you're looking for views…
-Check out Es Boldado, where you can enjoy some cava sangria, octopus carpaccio and a world class paella whilst breathing in the spellbinding waters around Es Vedra rock.
https://www.instagram.com/p/BXx4VWxA4fz/?taken-by=fberni1375
–Sunset Ashram provides a sublime terrace where you can enjoy dinner and watch the sun set over Cala Conta.
https://www.instagram.com/p/BnJayuEhcAO/?hl=en&taken-at=2616315
If you're on a budget
Head to the old market, Mercado Viejo for delicious homemade food served from the stalls. Or maybe head to the fruit and veg market Es Tap Nou for some delicious baked goats cheese and smoked salmon. All of this will set you back less than 5 euros. For dinner, head to nearby Comidas San Juan for hearty local food at low prices.
https://www.instagram.com/p/Bln3ylYgAKf/?tagged=mercadoviejo
If you're stinkin' rich
Welcome to the most expensive restaurant in the world. Submolition can be found inside the Hard Rock Cafe, Playa d'en Bossa, and dinner can cost up to 1700 euro per person. So what do you get for this eye-watering price? Well, dinner will be served by five world class chefs who have 8 Michelin Stars between them. And you don't just get dinner – this year you can expect a full sensory experience including soundtracks by famous musicians, magic illusions, illustrations and hand made crockery.
https://www.instagram.com/p/Bmtfgiwgv7q/?hl=en&taken-by=sublimotionibiza
Relaxing
Like I said, Ibiza is so much more than partying. It's also one of the relaxation hotspots of the world, and for good reason. Gorgeous coastal towns such as Santa Eulalia operate at a decidedly chilled out pace compared to the mayhem of San Antonio. Resorts such as Es Cana offer abundant golden sands and palm trees as well as the famous hippy markets, such as Punta Arabi, where you can buy crafts, clothes and fresh paella, without a shot of sambuca in sight.
https://www.instagram.com/p/BnCS9nQD_oX/?hl=en&tagged=santaeulalia
Ibiza Town, a UNESCO World Heritage Site, is a lovely place to grab dinner and watch the world go by, surrounded by whitewashed castles, cobbled streets and world class panoramas. As you sip on your sangria you'll soon realise that Ibiza is an island that will constantly surprise you. No matter what you're looking for, you'll find paradise here.
https://www.instagram.com/p/BotaqwmFQqK/?hl=en&tagged=ibizatown