It was about 7am local time, but my body ached with the time difference from my journey from Rhode Island, USA, to Northern Ireland. There'd been layovers and a lot of travel, and our eyes were dry and sticky from broken sleep at altitude. The sun had risen at some point while we were above the Atlantic, but all I could see out the window was gray — an impenetrable thick layer of gray.  We broke below the cloud layer to see expanses of rolling green hills stretching into the distance, with small houses and stone walls lightly bathed in overcast morning light.  Even in this gray, the magic of the lush green countryside was abundantly apparent.  No wonder they call Northern Ireland the Emerald Isle.  
Out of my three travel companions — my sister Kelsey, my surfer friend Kevin, and fellow photographer Cody — Kelsey had been to Northern Ireland before during a study abroad, and Cody had visited London.  But especially for Kevin and myself, this was a maiden voyage to the region where we could all trace ancestral roots. 
However, this wasn't an average international vacation.  We were on a trans-oceanic adventure in search of waves along foreign coasts.  The itinerary was light on tourist attractions, and heavily focused on two goals — explore the rugged Northern Irish coast, and find some waves.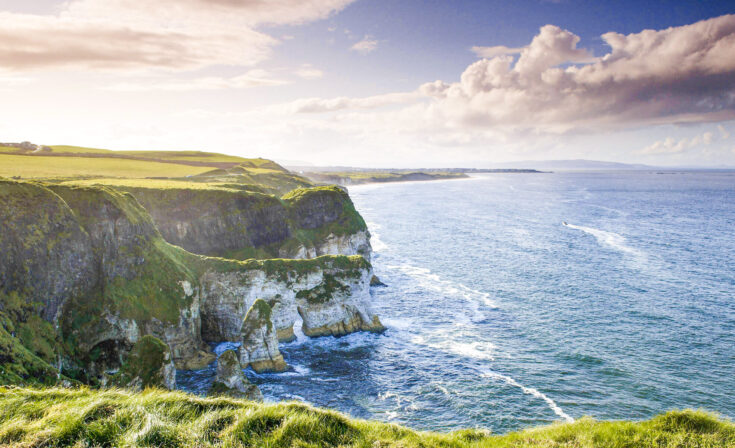 Like any surf trip, we did a fair amount of research before our visit, but it would mostly be up to Mother Nature whether we truly scored or not.
As we began our journey, we drove through little towns that were steeped in both history and welcome.  Within our first hours on Northern Irish soil, we were greeted by a restaurant owner who exuded warmth and hospitality as seasoned and established as the well-worn country roads that were woven throughout the region.  The restaurant-bar was quiet given the off-season, but the walls were lined with bottles of whisky from all over Ireland, some older than any of us, and the food menu was delightful with seasonal ingredients, from land and sea, warm comforting soups, and home cooked flair.  We swapped stories with our host of how we each had family that once immigrated to the Americas, while he shared his own connections of family back in Boston.  We even had some mutual acquaintances.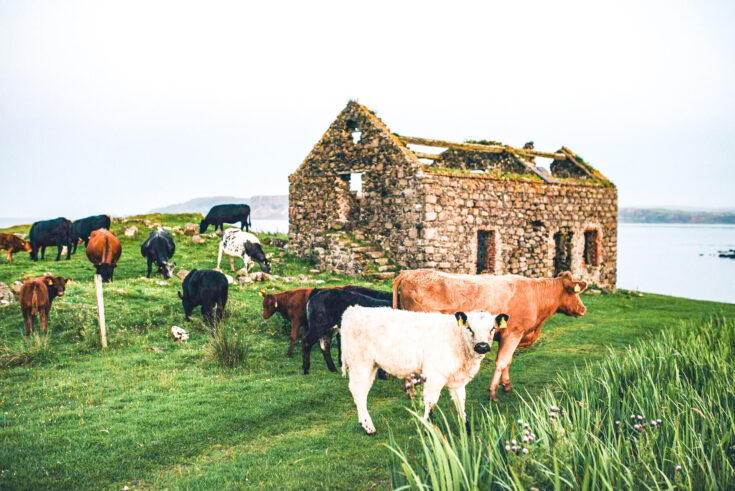 Our days were filled with cool autumnal temperatures, sometimes rain, and sometimes a lot of wind.  Midday breaks between explorations, mostly around Portrush on the north coast of County Antrim, were filled with Irish ciders or Guinness, and terrific food, which just about always featured Irish lamb and locally grown produce.  The sun rose late and lingered lower in the sky given our high latitude.  When we thought we had been out for only an hour, it turned out to be more like three, and before we knew it the sun would be sinking down for sunset.  Time managed to stand still in this place, and we welcomed it.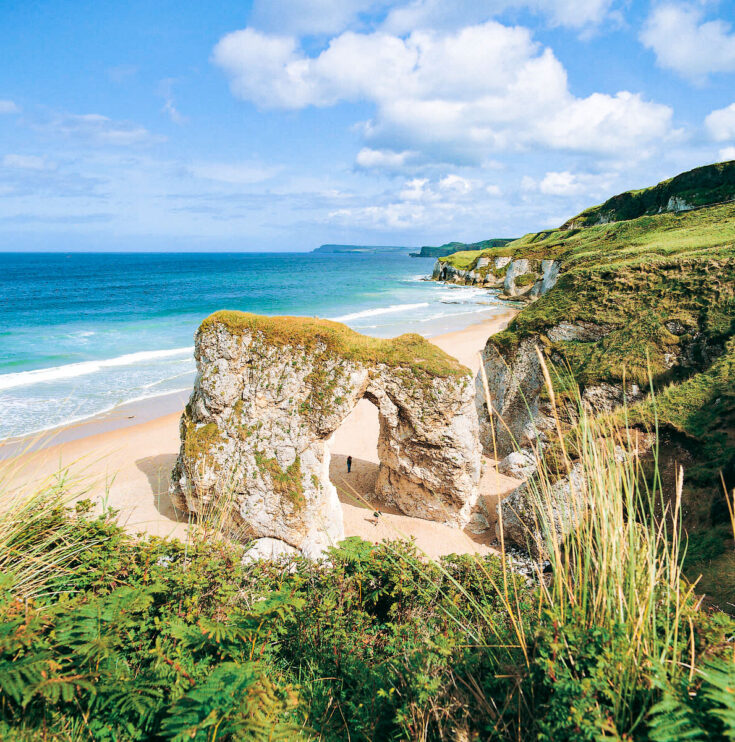 We drove up and down the coast in search of waves, stumbling upon spots where the locals told tales of past season swells, with furious waves wild enough to instil fear in the hearts of seasoned surf veterans.  Our little adventure troop sought out more manageable sized surf, finding waves worthy of climbing in the chilly North Atlantic ocean for.  While Kevin surfed, Cody and I would photograph from land or in the water.  As I bobbed between waves, watching the clouds part and the sun break, I would be captured by the mystical feeling of this place all over again, half expecting a selkie — a mythical human / seal creature from Celtic lore — to pop up next to me in the water.  I felt like if mermaids were real, they must certainly come from a place as ancient and awe-inspiring as this, where time moved slower and experiences were richer.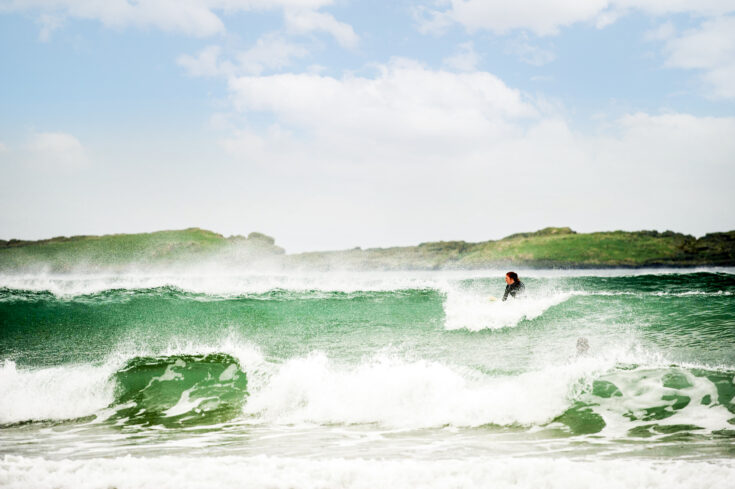 When the waves weren't working, we would travel to the city or walk the nature trails along the bluffs over and over again, with rocky views from Dunseverick to Giant's Causeway, or beachy coastal paths in Whiterocks.  Repeat walks in sun, rain, wind, or for dusky sunsets never dulled the mysticism the landscape provided.  Tired from driving, salty from the ocean, or hungry for another meal, no matter what we were still drawn to the landscape of this place.  Words barely capture the way the green carpet of earth stretched across our entire view to the horizon.  The air would be quiet while the breeze brought whispers from the tall grasses, and we would look on patiently waiting to watch the sun sink down to where ocean met sky.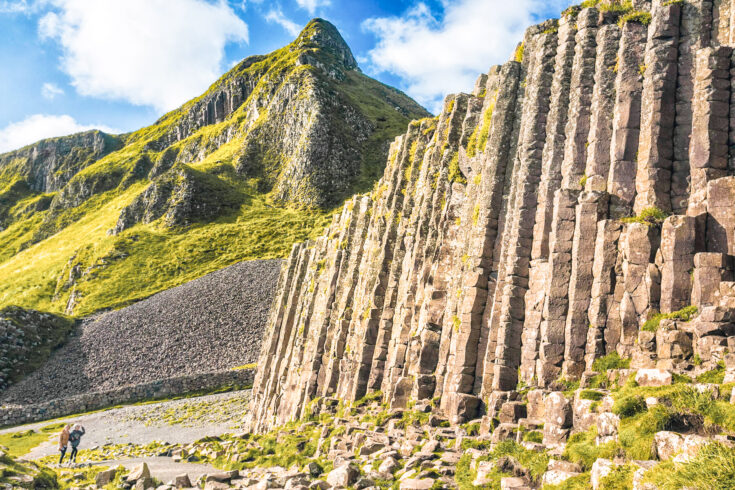 As our travels drew to a close, we found ourselves exploring waves around Portrush once again.  On one of our last days, with daylight fading, Kevin made his last efforts for good rides on Irish waves.  I was back at the car, putting away my wet gear and sharing laughs with new friends, when a rainbow broke across the horizon.  The light rains were passing, and this rainbow felt close enough to touch.  We had all seen rainbows on beautiful days before, but this one was different, somehow grander and more present.  The deep spirit of the whole region was reaching out to us with the warmest farewell it could.  I grabbed my camera and snapped a quick photo as Kevin climbed out of the water and before the color faded.  We knew we had discovered something uniquely beautiful here, but none of us quite knew how to say it.  All we knew was, we would surely be back.

In partnership with Tourism Northern Ireland