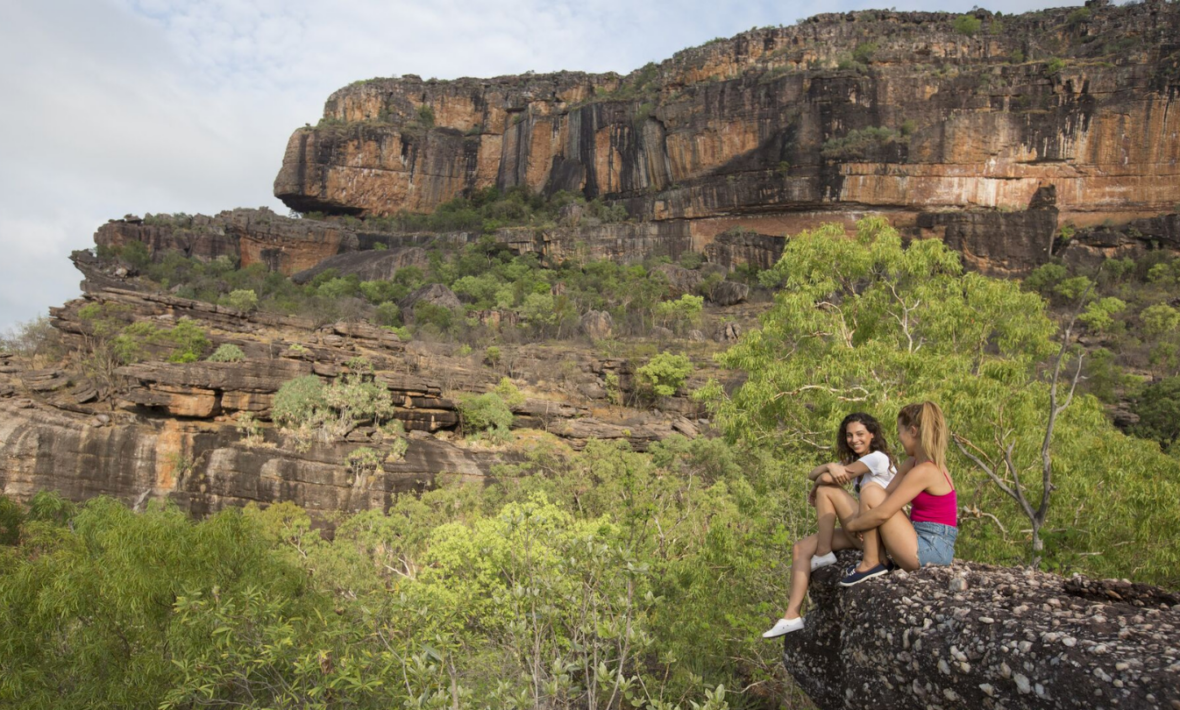 Welcome to Kakadu National Park, home of the Bininj and Mungguy people, the traditional owners of the land. Many of the Northern Territory's most incredible natural wonders are inside Kakadu's borders, with the park's ground covering nearly 20,000 square kilometres, it's one of Australia's largest national parks.
There are so many reasons to visit Kakadu National Park; from the exotic wildlife to vibrant indigenous rock art sites and plunging waterfalls. I think everyone should experience the environmental marvels and historical and cultural significance of this UNESCO World Heritage listed national park!
Wet and wild waterfalls
One of the top reasons to visit Kakadu National Park is the wild variety of epic waterfalls and picturesque swimming locations, perfect for cooling off during the dry season. The wet season sees even warmer weather arrive, with high humidity and crazy thunderstorms contributing to dramatic waterfalls and vibrant flora throughout the park.
Gunlom Falls and Plunge Pool
Gunlom Falls is a seasonal waterfall within Kakadu National Park, flowing into a tranquil plunge pool below to create the perfect swimming spot. From the carpark, it is an easy 100-metre stroll to the lower plunge pool, or for a more challenging trek, take the Gunlom Lookout Walk to the top of the falls, where a natural infinity pool and an unbeatable view is waiting for you.
Jim Jim Falls
The flow of the 200-metre-high Jim Jim Falls can range between a small trickle during the dry season, to a full-on raging waterfall in the Northern Territory's wet season – but no matter the season, boy is it a sight to see! During the dry season a four-wheel drive track leads adventure seekers close to the base of the falls, and a 900m walk across the rocks is 100% worth it to dive into the clear, freshwater pool below.
Twin Falls
Getting to the magnificent Twin Falls is certainly an adventure! During the dry season, you will need to board a boat shuttle to cross Jim Jim Creek, before walking along a semi-rough track to get to the boardwalk that leads to the white sands of the gorge. By this point, you've gone to a fair amount of effort to experience the magic of Twin Falls gorge, so make sure you're prepared with food, drinks, sunblock, and your swimmers to really enjoy your day surrounded by the landscapes of Kakadu.
Due to flooding, it isn't possible to access Twin Falls during the wet season, but take to the skies in a scenic flight to see the falls in full flow!
Maguk Gorge And Plunge Pool
Maguk Gorge, previously known as Barramundi Gorge, is simply nature at it's finest. From the very beginning of your journey through lush rainforest on the Maguk Walk, to the pristine water of the gorge's plunge pool waiting for you at the end, you'll feel in touch with the earth like never before. Spot distinctive Australian wildlife like the spangled drongo and rainbow pitta, whose wild names *almost* capture their uniqueness.
Kakadu is a wild place – here are some tips from Parks Australia to help you be Crocwise and stay safe, particularly near waterways! Always check the Parks Australia website for updates on track closures or current access issues.
Discover rich Indigenous culture
The indigenous land of Kakadu National Park has been home to Aboriginal people for more than 65,000 years. In the north of the park the Aboriginal people are called Bininj, and in the south they are called the Mungguy. The traditional owners lease their land to the Director of National Parks to be jointly managed as a national park. The purpose of this arrangement is to allow the Bininj/Mungguy people and Parks Australia to work together and exchange knowledge, skills, and information, which keeps the park well-protected and allows us as visitors on their land to experience the wonder of this ancient landscape.
Ubirr rock art site
Ubirr is one of Kakadu National Park's most well-known Indigenous rock art galleries, with three main sites of rock art to experience. Considered as some of the best examples in the world, Ubirr's rock art frequently features local fauna including fish, turtles, and goanna. One of the most interesting artworks is a painting of the now extinct Tasmanian tiger, which has been wiped out from mainland Australia for over 2000 years (this gives you an idea of how old some of this art really is!).
Burrungkuy (Nourlangie) rock art site
The Burrungkuy (Nourlangie) rock art site is absolutely one of the top reasons to visit Kakadu National Park. It's unmissable and deserves a place on your Kakadu itinerary.
The local indigenous people used the walls of this site as a canvas for their stories for thousands of years, and the now Heritage-listed art is worthy of the attention it receives both around Australia and globally. During the dry season, park rangers lead guided walk'n'talks where they will teach you about rock art sites and their connection to the local Bininj people, offering a special insight into local aboriginal culture.
Bush foods
From fruits like anmorlak (Kakadu plum), andjarduk (red bush apple), and andjurrugumarlba (blackcurrent berries) to gunganj (meat) and djeni (fish), Kakadu is rich in bush foods that have nourished aboriginal people for thousands of years. To learn about the traditional uses of Kakadu's flora and fauna, join an Aboriginal cultural tour of Kakadu or plan your visit to align with the annual Taste of Kakadu food festival.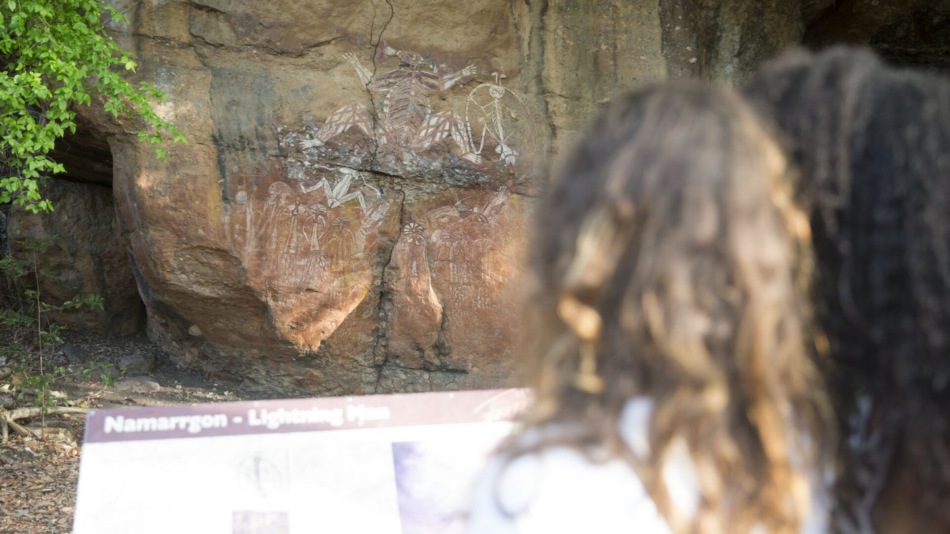 Image source:Contiki
Putting the 'wild' in wildlife
First things first, let's get the crocodile warning out of the way. While yes, seeing these fearsome predators in the wild is definitely a reason to visit Kakadu National Park, it is also something to be mindful of at all times. Saltwater crocodiles usually hunt by staying submerged and can attack in knee-deep water, so even wading can be dangerous. If you'd like to snap a obligatory Northern Territory croc pic, we suggest you do it from the safety of a boat like a guided cruise on the Yellow Water or East Alligator River.
Saltwater crocodiles aren't Kakadu's only impressive wildlife… there are plenty more iconic Aussie animals that are a bit less snappy! Wallabies, dingoes, brolgas, bandicoots, snakes, and turtles are all regularly seen in the area. Kakadu Nation Park was also once voted the number one birdwatching destination in Australia by Australian Geographic!
Tips for watching wildlife in Kakadu National Park
If you want to increase your odds of spotting these animals, while staying safe and acting responsibly and respectfully while on indigenous land, keep these tips from Parks Australia in mind.
Early bird catches the worm! Early morning and sunset are ideal times to spot wildlife.
Torches can come in handy when searching for nocturnal animals at night, but please be polite and do not shine strong spotlights as other wildlife are sleeping.
Put your Sherlock skills to the test and look for clues like tracks, droppings, and scratchings.
Pack your binoculars for a closer view.
Listen closely… Animals are often heard before they are seen, so tread softly and keep an eye out for movement.
Please do not approach, disturb or feed wildlife.
Image source:Karl Helin @ Unsplash
What is Kakadu National Park famous for?
Kakadu National Park is famous for it's breathtaking ancient landscapes, epic waterfalls, unique wildlife and Indigenous cultural significance.
How many days do you need in Kakadu?
You should spend at least three days in Kakadu National Park to fully experience what this diverse region has to offer. Your itinerary will vary depending on if you visit during the wet season or the dry season, but not to be missed are witnessing the magnificent Jim Jim Falls, and visiting one of the Indigenous rock art sites, Ubirr or Burrungkuy (Nourlangie).
How far is Kakadu National Park from Darwin?
You can drive from Darwin to Kakadu National Park in just under three hours. 260 kilometres from Darwin, Kakadu is the ideal distance for a day trip, or you could stay overnight at Jabiru, the main township of Kakadu National Park.