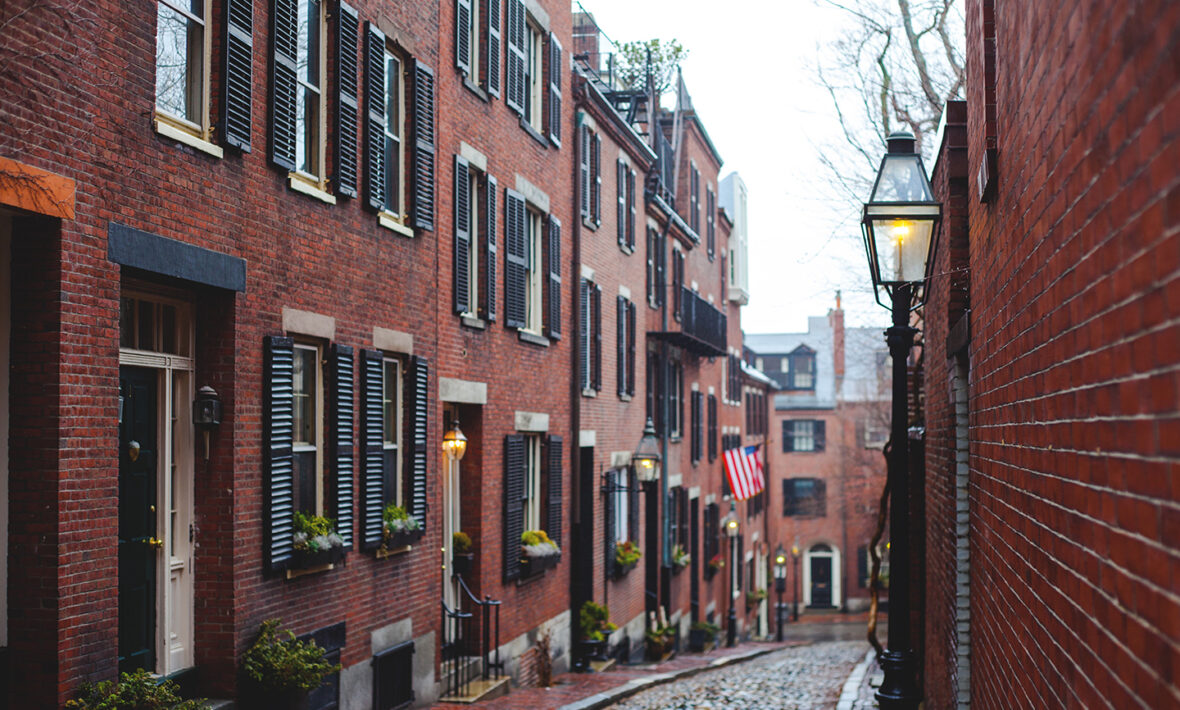 Let's be real. If you plan your trips around where you can snap your next Insta pic, you're not alone. We all low-key love exploring new destinations that will get us the coolest content.
Known as one of the most historic cities in the US, Boston is full of great food, sports events, and some of the best museums. Heading to Boston soon? Well, you're in luck, because Boston will give you the most beautiful grid content – oh and an amazing vacation. Here's our countdown of the most Instagrammable places in Boston…
16. Boston Public Garden
View this post on Instagram
A walk through the Boston Public Garden will give you posts for days. Exploring this garden and expect beautiful backdrops for your pics no matter the season. Stop by the iconic bridge, the famous duckling statues or hop on swan boats across the lagoon. If you are visiting in spring or summertime this garden is a dream, full of thousands of blooming tulips and roses!
Go there:

15. Isabella Stewart Gardner Museum
View this post on Instagram
If you love art, the Gardner Museum is just the place for you. This iconic museum holds Isabella Stewart Gardner's art collection full of European, Asian, and American pieces. Be sure to stop by the courtyard, where the plant display changes monthly and over 10,000 plants grow in a greenhouse waiting for their turn at the museum.
Go there:

14. Citrus & Salt
View this post on Instagram
Hello pastel pink boho-chic interiors, flower-patterned floors, and eclectic barstools. If you are looking for Insta-worthy restaurants, be sure to pop over to Citrus & Salt for delicious Mexicali food and stay for an impromptu photoshoot. This place is incredibly popular and built with IG in mind, so much so the bathrooms are the perfect place for a mirror selfie.
Go there:

13. Acorn Street
View this post on Instagram
Rumor has it, Acorn Street is the most photographed street in Boston. That alone makes it worth visiting but this charming narrow street actually lives up to the hype. If you are looking for Boston, you'll find it in this cobblestone street with cute window boxes and historic brick homes. Pro tip: it is a touristy spot so show up early and maybe don't wear heels.
Go there:

12. Tatte Bakery
View this post on Instagram
Step up your Insta-game by stopping by this lovely café. Tatte Bakery has a dozen locations in the Boston area so you'll definitely encounter one around town. Each bakery is bright and airy inside with black and white subway tiles, fun flooring and marbled bistro tables. And the glass displays of handmade pastries are both drool-worthy and picture-worthy.
Go there:

11. Fenway Park
View this post on Instagram
Fenway Park is the oldest baseball stadium in the US. Enough said. Even if you aren't a fan of the sport or have no idea what baseball is… it is a must-see as it's officially one of the most Instagrammable places in Boston.
Go there:

10. Terra at Eataly
View this post on Instagram
Head to the third floor of Eataly and get all the houseplant inspo you need. With hanging plants galore and wood accents, visiting Terra is like transporting yourself to a tropical destination (or a greenhouse). Skylight ceilings mean you'll get A+ lighting and greenery-filled snaps, plus it's the perfect place to escape the chilly Boston winter.
Go there:

9. Harvard Square
View this post on Instagram
This square is located right by Harvard, the oldest university in the US and one of the most prestigious in the world. Hop in and out of shops, restaurants and theaters. Although technically this is located in Cambridge – the short ride from the city is worth it.
Go there:

8. Blackbird Doughnuts
View this post on Instagram
Boston and doughnuts go hand in hand. So much so, there's an entire donut named after the city and we're talking about the Boston Crème. Seriously, you can't leave this city without trying one and stopping at infamous Blackbird Doughnuts won't disappoint. The shop front is all modern monochrome with pops of pink. It's totally gram-worthy but the handcrafted donuts take center stage.
Go there:

7. Boston Harborwalk
View this post on Instagram
Walk the waterfront and stop wherever you want. The Boston Harborwalk is an almost continuous, 43-mile linear park along Boston's shoreline. You can do some many things as the Harborwalk connects you to a dozen museums, over 40 parks, seven beaches and tons of restaurants and stores.
Go there:

6. Café Susu
View this post on Instagram
Café Susu is a 100% one of the most Instagrammable cafes in Boston, located downstairs in Suit Supply. Green velvet seats + funky wallpaper = picture-perfect. A visit to this hideout will give you a whole lot of of lattés and likes.
Go there:

5. Dewey Square
View this post on Instagram
Dewey Square Park has rotating mural installations that make it perfect for street art lovers. Located at the end of Rose Kennedy Greenway park, it's a hotspot during the summer and beautiful for year-round feed photos.
Go there:

4. Bunker Hill Monument
View this post on Instagram
The Bunker Hill Monument stands 221 feet tall and is a stop along the Freedom Trail, which marks the site of the first major battle in the American Revolution. You can climb the 294 steps to the top and get an amazing view of the Boston skyline. What's better than taking in some local history while enjoying one of the most Instagrammable places in Boston?!
Go there:

3. Boston Common
View this post on Instagram
Boston Common is the oldest park in the US! Noticing a trend? Boston has a LOT of history. This urban park has a jaw-dropping garden, monuments and Frog Pond. Don't miss this one, it's packed with Instagrammable spots and the pond turns into an ice rink during winter.
Go there:

2. Lookout Rooftop
View this post on Instagram
Take in some of THE best panoramic views of the Boston skyline and harbor, all while sipping on handcrafted cocktails. During winter, this outdoor rooftop bar doesn't close – they just add heated igloos of course… It's seriously the coolest!
Go there:

1. Commonwealth Avenue Mall
View this post on Instagram
It's our number ONE most Instagrammable place in Boston for a reason. Get away from the tourists and go totally local with a stroll down Commonwealth Avenue. Visiting this area is awesome if you're looking for a quiet spot to get some chill vibes in such a busy city. The gorgeous homes are #goals and these IG pics will give all your friends complete FOMO.
Go there: