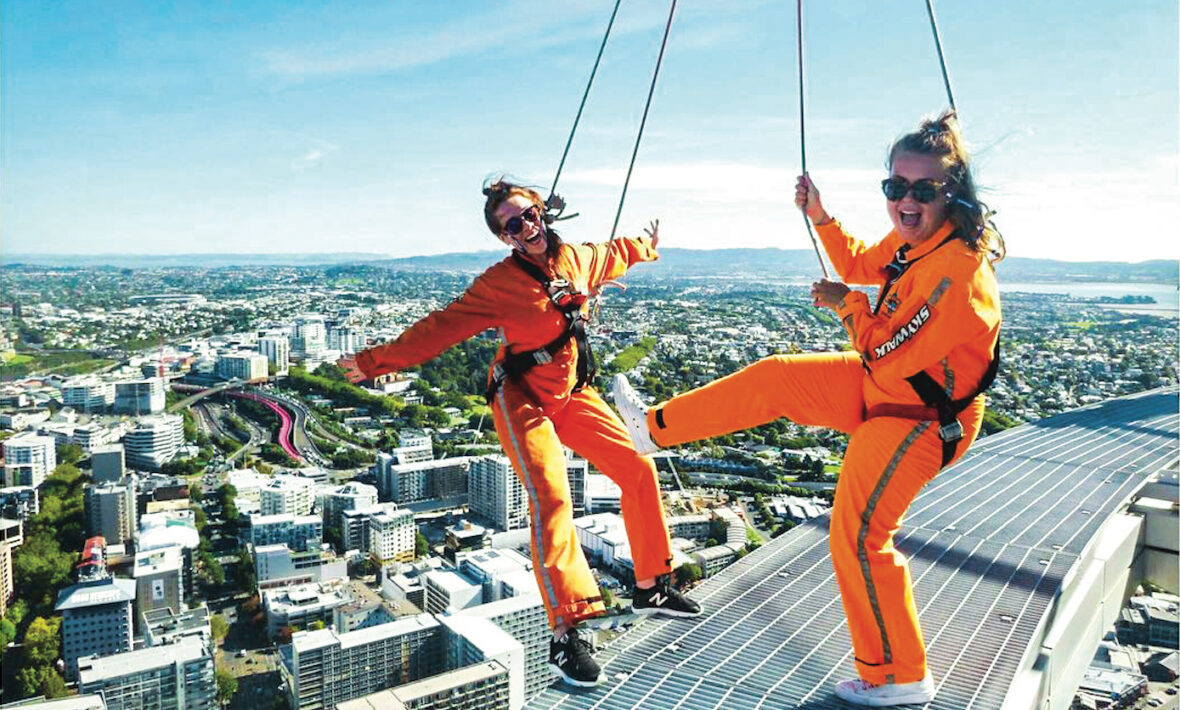 Get your blood pumping, get your hair raising, get your adrenaline rushing through you this summer (or winter, we should say) season! Of all the things to do in New Zealand, daredevil and scream-inducing activities are the obvious choice. New Zealand adventures are the most memorable this side of the southern hemisphere.
Much of New Zealand's tourism comes from these thrill heavy activities which should clue you into the fact this is the country to be in for all things extreme! Forget relaxing by the beach, we're soaking up the sunny rays while racing down some rapids or jumping head first into ravines.
Read on for our top 10 New Zealand adventures which will inspire you to take your own trip to New Zealand.
Bungee jump off Kawarau Suspension Bridge
Starting off bold (you know us), huddle together with your buddies, get a supportive pep talk going, maybe even a cheer squad, and dive head first into adventure! We're talking bungee jumping off the Kawarau Suspension Bridge just outside of Queenstown.
The expert team there will provide you with all the reassurance and security you need, so all you have to do is get into that zen place and breathe. Below you, the waters are a gorgeous opaline blue, it'll be like jumping right into the sky.
View Fox Glacier from a helicopter
Speaking of the sky, let's get a different perspective on life, shall we? It may seem counterintuitive that New Zealand, a sizzling island in the southern hemisphere, is home to glaciers, but it is! And you can view them up close for some truly unique sightseeing.
Hop aboard a helicopter and fly over a glistening snowy landscape. You'll catch views of frosty peaks, ice caves, and rock formations. Land at the peak and you'll be taken on a guided tour through naturally formed ice arches. And for those who don't mind the bite of the cold, take a hike through the glacier itself!
Image source:Colin Watts / Unsplash
Biking around the Mackenzie Basin
Dialling it down a little, how does a bike ride around the lapping shores of Mackenzie Basin sound? You'll cycle around a mirror-like lake which holds the reflection on Mount Cook, though at this point you two are already well acquainted.
Let the sounds of the water soothe your nerves and relax on this easy tour. Take in the views, marvel at New Zealand's raw and natural beauty. Take a group selfie in the basin's reflection to commemorate this momentous occasion.
Hike through Hooker Valley
Remember the Great Grass Sea the Dothraki occupied in Game of Thrones? Well it wasn't filmed here (we'll tell you where though), but Hooker Valley is basically that, just bigger, and greener, and better! The valley is endless plains of green grass, sloping hills, and rolling mist, with a trail that ends on exceptional views of Aoraki National Park. A gorgeous background for a tranquil hike with friends.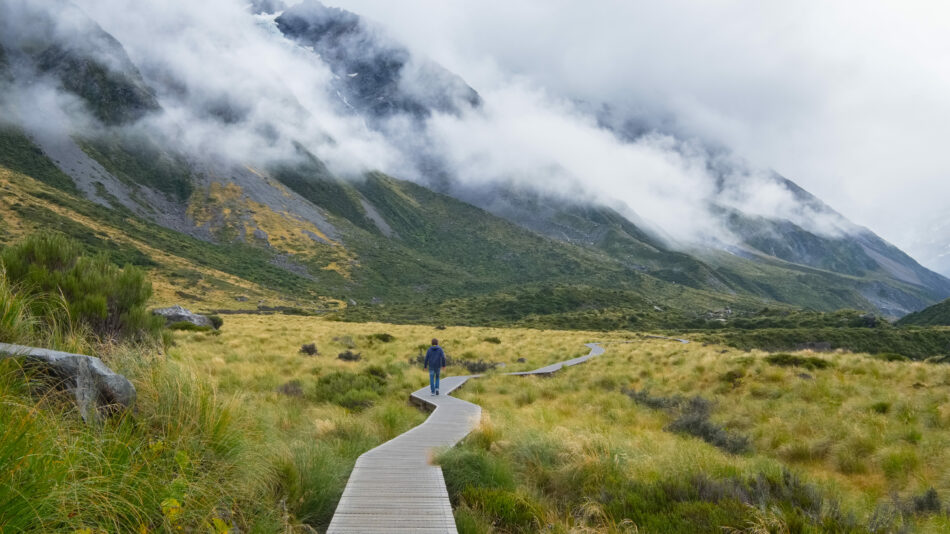 Image source:Contiki
Blast off into the sky at the Nevis Catapult
When someone says 'Hey, let's go on some New Zealand adventures' what do you picture? The usual suspects like bungee jumping and water rafting, right? How about being literally catapulted into the sky!
That's right, at the Nevis Catapult you'll be strapped in extra tight for the most insane ride of your life. 150m high. 100kms in 1.5 seconds. 3Gs of force!!! Not for the faint of heart, but if you can stomach the trip across Nevis Valley your Contiki pals will give you their respect forever! So, whaddya say? Active New Zealand is waiting for you.
Go spelunking in Waitomo Caves
Okay, back on the crazy sh*t now. Waitomo is a village on the North Island of New Zealand known for its extensive cave system. But what's really magical about Waitomo caves is that a trip in the evening will treat you to a passage lit up by thousands of glow worms.
Their ethereal turquoise glow attracts tourists from all over, and they serve as a great guide should you get lost! (That's a joke, please do not venture into the caves without an EXPERT GUIDE!) Easily one of the most beautiful New Zealand adventures, you'll wanna add this to your thrill-seeker bucket list.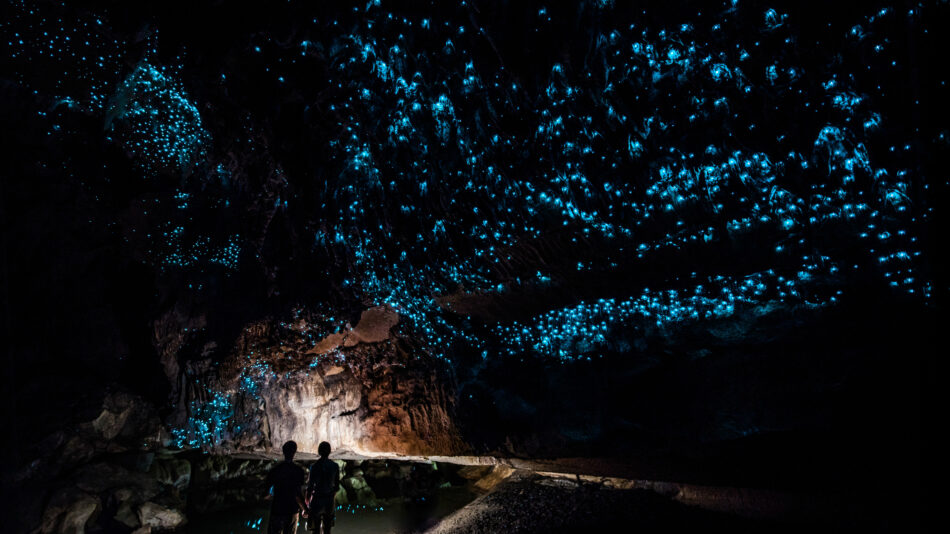 Image source:Contiki
Kaituna white water rafting
White water rafting, one of the most popular forms of adventure holiday activity. Gather a group of extreme besties and prepare for some intense boat action. You'll be swiftly transported down rapids, bumping and bouncing around the place, flanked by lush jungle-like sceneries. There are worse fates for adrenaline junkies.
Kayak in the Tasman Glacier Lake
We've really got an aquatic theme going here, but may as well stay in the water while our hair's wet. Back in Aoraki National Park (this place really is the adventure hub of NZ, huh?) take a kayaking tour and meander through a maze of glaciers. That's right: a maze of glaciers! Active New Zealand has all the cool stops, don't worry.
Mount Cook will loom over you as your paddle cuts through the still surface and takes you further and further into the depths. Tasman Glacier Lake is huge, and a magical place indeed as well – truly a one of a kind experience!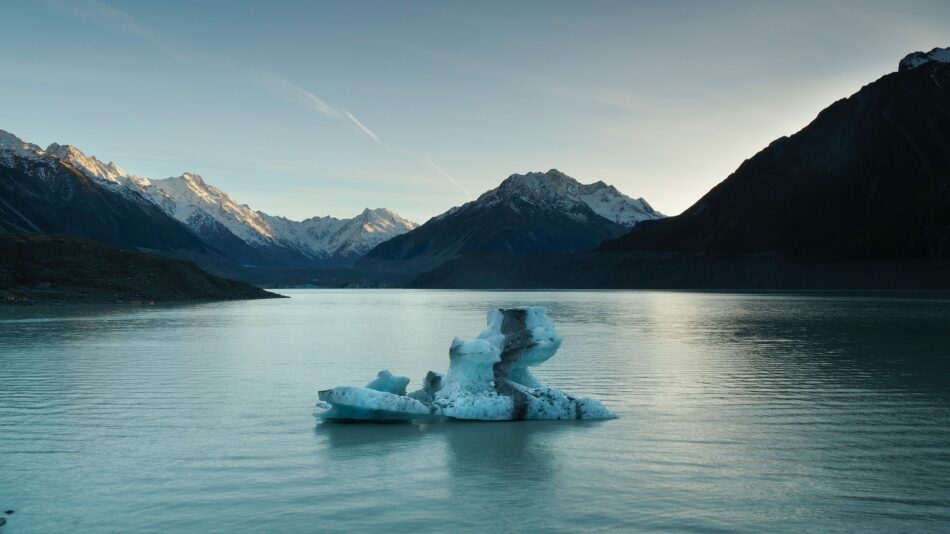 Image source:Kuno Schweizer / Unsplash
Take a jet boat ride in Queenstown
Got a need for speed (or maybe more aquatic extracurriculars)? The Shotover Jet boat ride in Queenstown will shoot you across the waters of New Zealand at the speed of (almost) light! You'll be going so fast it'll feel like the boat is just barely skimming the river. We recommend leaving all valuables safely back on the docks.
Skydive over Mount Cook
Okay so, a gentle helicopter ride suddenly pales in comparison to this epic journey. This is the New Zealand adventure to end all New Zealand adventures. Take Mount Cook, a stunning landmark in the middle of Aoraki National Park, and imagine plunging right into the top of it face first!
Okay, I'm exaggerating a little, but still, skydiving is no small feat, especially in the face of such icons! Luckily, if you hop on Contiki's Active New Zealand you'll have a gaggle of friendly faces cheering you on at the top of their lungs!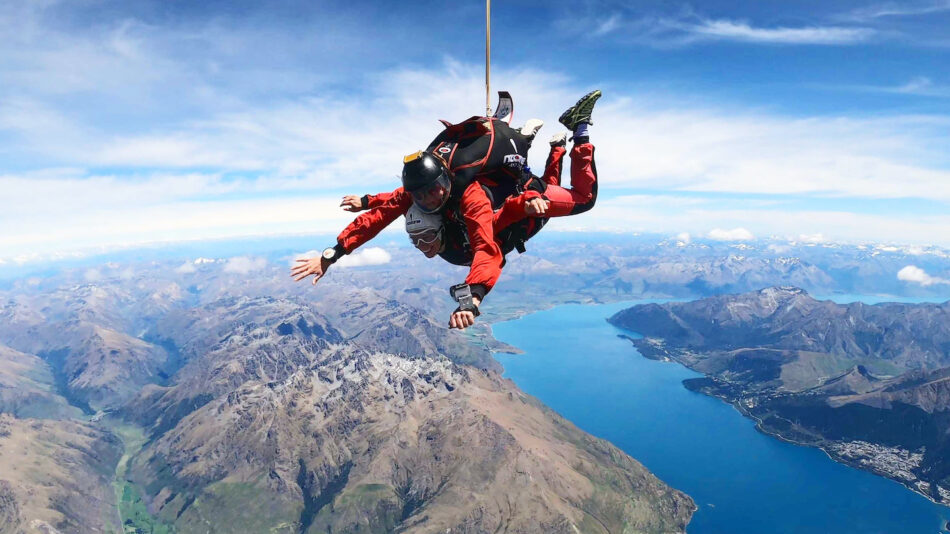 Image source:Contiki
What is the most adventurous place in New Zealand?
Queenstown has been dubbed 'Adventure Capital of the World' and for good reason! The town and its surroundings are just chock full of attractions of daredevils of all inclinations. Aoraki National Park with all its natural variety allows for lots of types of adventure as well and the two locations aren't too far from each other either…
Which adventure sports are popular in New Zealand?
Any adventure sport is fair game in New Zealand! But to name a few of the most popular ones: jet boating, zip lining, rafting, bungee jumping. Anything with out of this world speeds basically!
Ready to start your New Zealand adventure? Check out Contiki's group trips to New Zealand and book your favorite one today.