Famed for its fairytale esque architecture, bohemian culture and hedonistic party scene (thanks, of course, to the cheap, cheap beer), Prague is something of a travelling no brainer. But what if you're not after a permanent Pilsner moustache? What if you want to experience a little bit of the real Prague, and swim against the tourist tide? In those instances, it's best to look to those who live and breathe Prague every single day, and know all the little quirks and tricks of the trade. We're talking of course, about its local residents. This is Prague, as told by locals…
Pay a visit to Vojan Gardens (Vojanovy Sady)
Everyone loves a little touch of tranquillity amongst the mayhem, and they don't come much more tranquil than this. Not too far from Lesser Town Square and close to the much more famous, and much busier Wallestein Gardens, you'll find the little green paradise of Vojanovy Sady, a well maintained green reserve that is home to  muster of local peacocks, no less. Bring a coffee, a picnic or a good book, and enjoy taking ten in this idyllic setting.
Go downtown and look up
Prague's café scene is no tourist secret, but head downtown and look up – the first floor cafes above some of the best known museums are total period goldmines…and relatively unknown by most tourists. Our particular favourites include the Grand Café Orient above the Cubist Museum, and Café Louvre, where famous regulars included Franz Kafka and even Albert Einstein. Well if it's good enough for Einstein…
Get a natural high at Divoká Šárka
Looking to get a little nature hit during your Prague city break? Head on over to Divoká Šárka, a hidden valley and nature reserve on the north western outskirts of Prague, just 35 minutes from the city centre. Named after the beautiful female warrior Šárka, the park is well frequented by locals who use it for hiking, sunbathing, and even swimming during the warmer summer months.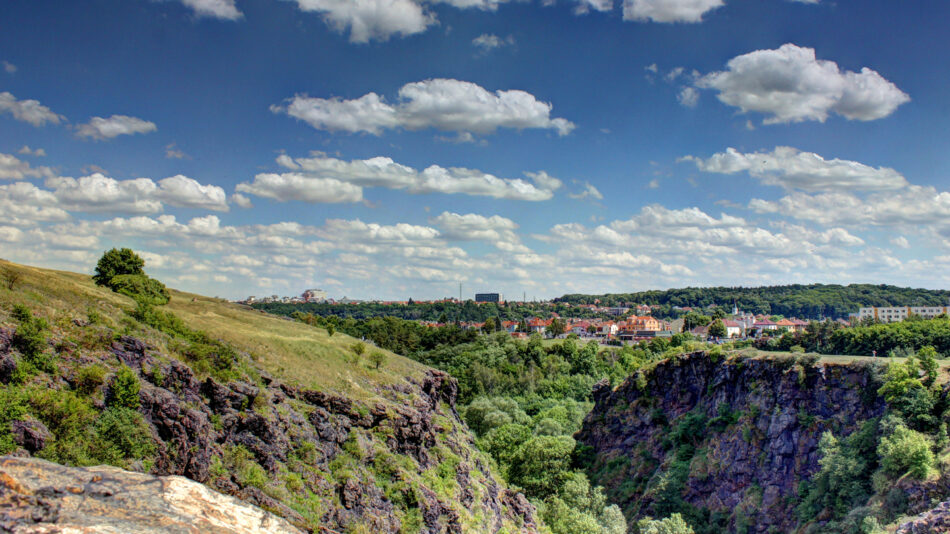 Catch a movie at an Arthouse cinema
Czech cinema made a splash in the 1960's with its plethora of experimental Czechoslovak New Wave movies, and to this day the Czech's remain keen movie goers. Of course Prague has its big brash multiplexes, but look carefully and you'll still find a handful of small arthouse cinemas screening everything from indie flicks to the latest movies doing the festival rounds, and of course new releases. Our personal favourite is Bio Oko, a cosy café come cinema where seating is sporadic and perfectly kitsch (deck chairs and a car forego regular cinema seating). And don't stress if your Czech is no good – the cinema regularly features English friendly films.
Check out some of Prague's best known contemporary art
Ok so not so secret, but Prague is famed for its bohemian art scene so whilst you're in town, why not indulge your creative side. Of course there is the Lennon Wall that tourists know and love, but this being a post-Soviet city, graffiti is an art form that is prominent throughout the city. The Florenc bus station has a number of stencilled masterpieces worth checking out, as does the Holešovice neighbourhood, where colourful murals pop up in unexpected places. Perhaps the most unusual of Prague's artwork are David Černý's dozen giant babies who crawl along the Žižkov TV Tower, or perhaps it's his life-size Sigmund Freud hanging one handed from a pole on a roof in the Old Town.
Do as the locals do at Náplavka
As the warm nights begin to roll in, the Prague locals all have one word on their lips – Náplavka. Náplavka is the name of a part of the riverbank under the Jiráskův bridge where locals come to walk along the river, roller-skate, ride a bike, drink a beer in the sunshine and even dance late into the warm summer nights. This little spot along the riverbank is a microcosm of all that's good in Prague, from the coolest bars to the trendiest restaurants, and of course attracts the trendiest kids of the city. The food is good, the beer is cheap, and open air concerts and late night dance parties happen on the regular.