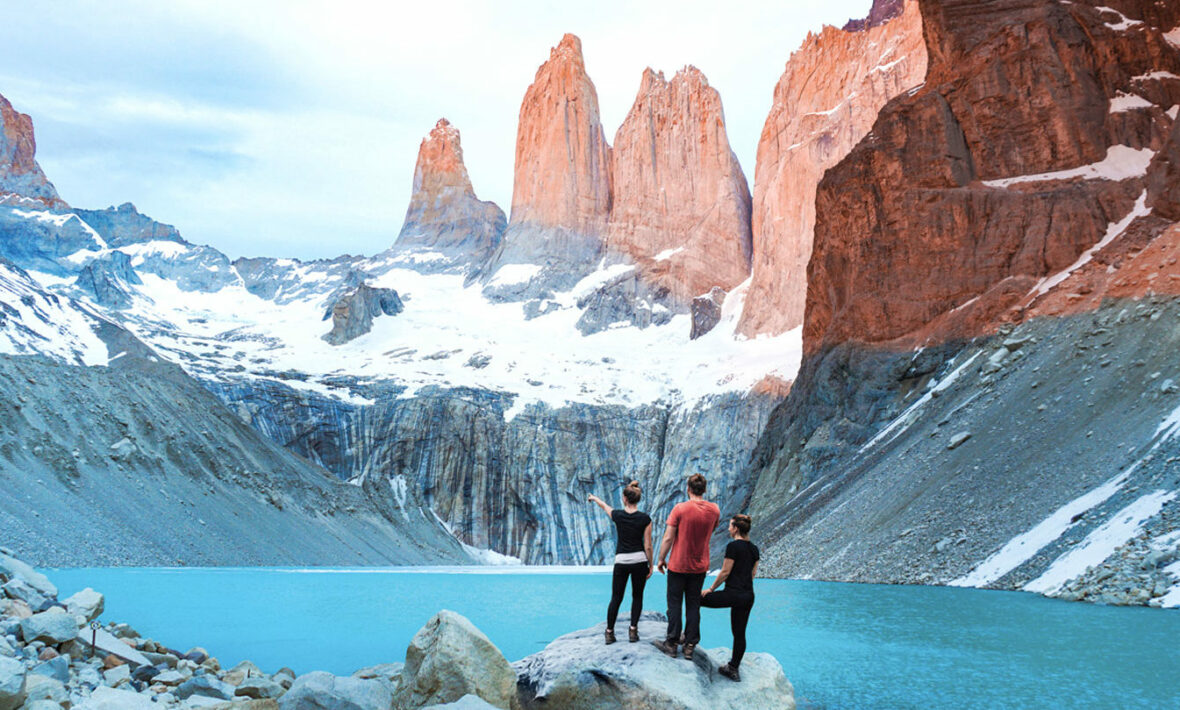 Jagged glaciers, snow-topped peaks, glittering turquoise lakes and lively beech forests make Patagonia one of the most dramatically beautiful landscapes in the world. Shared across Argentina and Chile, this wild and barren land is a treasure trove of unique natural beauty.
We're more than a bit excited to be sharing this incredible region with our travellers for the very first time, with our exciting new trips in Patagonia going live very, very soon. So, here's why we're going to Patagonia (and why you should, too).
Torres Del Paine National Park
One place we couldn't miss on our Patagonian adventure is the Chilean Torres Del Paine National Park. Encompassing lakes, rivers, mountains and glaciers, it's one of the most recognisable symbols of Patagonia's natural beauty. A backpack and some comfy boots are all that's needed for a unique hiking adventure, as you dive deep into a UNESCO World Biosphere Reserve. With 17 hours of daylight during the summer months, watching the Torres Del Paine horns reach into the sky, glowing furious violets and reds as the sun sets, is an experience that has no comparison. Keep a look out for foxes, condors deer and maybe even the elusive puma.

You can experience the Gaucho way of life
Want to get away from the crowds and enjoy some authentic, rustic Patagonian culture? Gaucho culture and Estancias (working farms) are a large part of Patagonian life, and the Estancias provide excellent starting points for various hikes and wildlife trips. The best way to experience the Gaucho way of life? By soaking up all that scenery atop a noble steed, of course. Estancias host many single or multi-day horse-riding trips, where you can spot wildlife and traverse mind boggling terrains.
Mount Fitz Roy and Laguana De Los Tres
When in El Chaltén, checking out the rugged, sky-puncturing peaks of Mount Fitz Roy -the most iconic symbols of Patagonia- is a must, and on our latest trip we also trek to the famous viewpoint of Laguana De los Tres, with the sparkling blue lagoon, granite walls and pure white De los Tres glacier giving us a feast for the eyes unmatched anywhere in the world.
You can go ice climbing
You've admired the icy glaciers of Patagonia, but how about picking up a pair of axes and climbing one? In Patagonia, you can climb icefalls, frozen waterfalls and cliffs and rocks, as well as glittering glaciers, as the rivers around you carve new paths in the ice. 
The wildlife
A lovely way to while away a few hours in El Calafate – aside from admiring the snow-capped mountains as they're reflected in the water – is to peacefully gaze at the pink flamingos as they flock to the edge of the lagoon, dancing and bickering on the horizon. But Patagonia isn't just home to flamingos. Pumas, skunks, grey foxes, deer, armadillos, eagles, condors are just some of the fascinating creatures you can spot here.
The food
With its intense, rich flavours and colourful presentation, Patagonian cuisine is as spectacular as its landscapes. Roasted lamb is huge in Patagonia, and you can find it on everything – from pizzas to burgers – throughout the region. The classic preparation is striking, in which the lamb is essentially crucified (not alive, thankfully) over a wood fire on a great iron cross. Argentina also has some of the best steak in the world, so a sizzling meat BBQ on the Argentine side is a foodie essential.