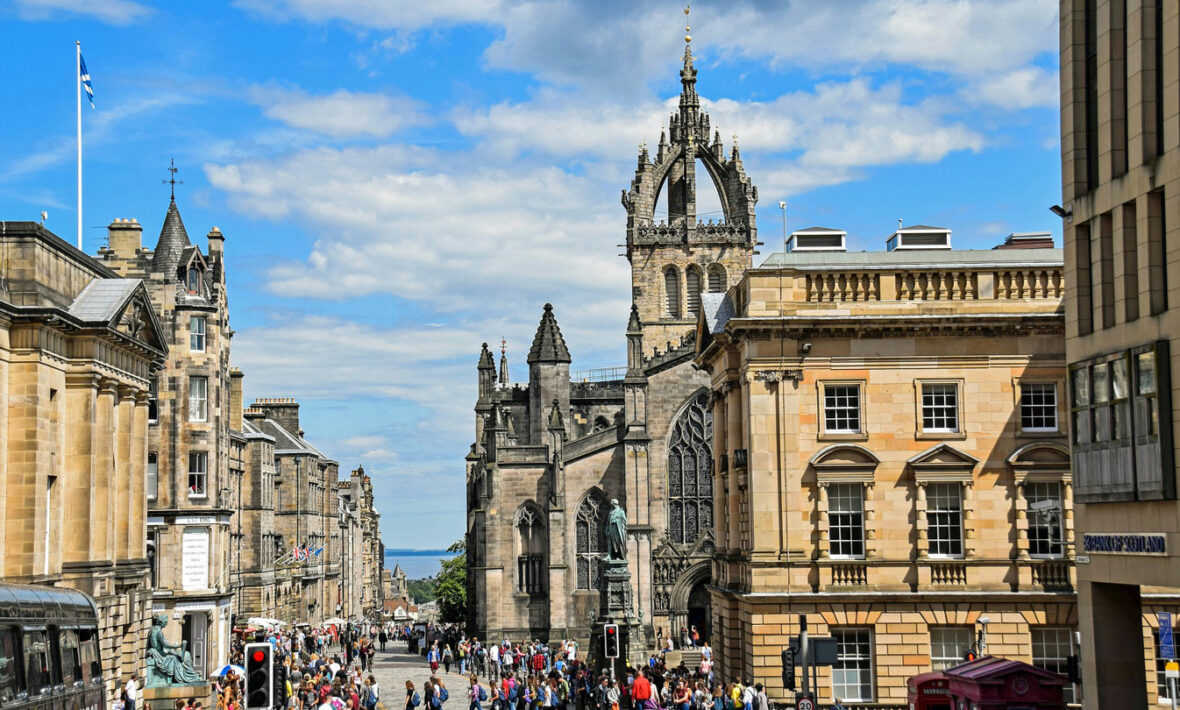 When I upped sticks to Edinburgh, my view of Scottish food was informed by years of jokes about sheep bladders, the virtues of Irn-Bru, and deep-fried…well, everything. And, while the Scottish are (rightly) proud of their culinary heritage when it comes to these big hitters – because there really is no better hangover cure than a cold can of the orange nectar – I figured that as a vegan, it was going to be a choice between supermarkets and splurging on specialist shops and restaurants. In fact, when I first heard there was a Scottish Vegan festival, it sounded like an oxymoron.
Yet once I was in the charming Scottish capital, I realised just how wrong I was. Of course, I'd expected there to be some vegan spots serving up the usual fare: Asian-inspired dishes, plant-based junk food imitating treats that are so processed there's a big chance they are already vegan (i.e. nuggets), and the unending slew of non-meat burgers that vary from eerily life-like to sloppily formed bean varieties. Edinburgh is a small but international city, with a relatively diverse population, so I knew I wouldn't be in a food desert. But little did I know just how brilliant and wide-ranging the options would be – even when it came to traditional Scottish dishes where meat is at the heart of the meal (and I mean that literally – blood is a massive component in a lot of classics).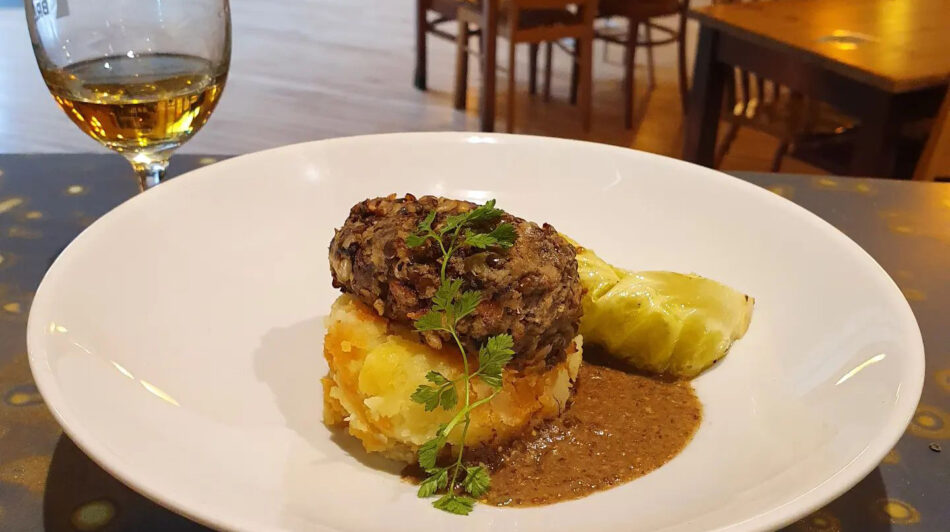 The thing is, I shouldn't have been surprised. Scotland's smaller population and vast spread of farming lands mean that, generally speaking, even the city-dwellers have more of a sense of where their food comes from than most English folk do. The idea of a farm-to-table food culture is definitely slightly more ingrained in the Scottish psyche than many other parts of the UK, especially in the Scottish capital, where culinary excellence is not hard to find. This also translates to more general awareness of the treatment of animals, and how factory farming damages not just the poor creatures subject to it but the land we rely on. While there's no doubt I was among more left-wing, progressive Scots by virtue of being in a city, this was an attitude most of my meat-eating, farm-raised local friends shared too.
As it turns out, Scotland does have a long history of using plant-based substitutes for their most famous dishes. While nowadays meat is abundant, most times throughout history it was saved for special celebrations. Meat alternatives have long been a part of the Scottish diet, and as veganism has become more and more popular, old techniques and recipes are being mass-produced so everyone can enjoy meat-free versions of their favourites more easily.
View this post on Instagram
Nothing symbolises this more than the abundance of vegan haggis in Scotland. Almost every pub and restaurant you go into will offer a plant-based version of the famous dish, usually using lentils to bulk it up – although sometimes mushrooms are preferred for their umami flavour, and of course some places use seitan or tofu. The spicing remains the same, so you're getting a similar flavour hit to the original dish, without any of the guilt. A similar winner for veganised Scottish dishes is the famous Lorne-sausage. The ideal shape to be slid into a butty, many cafes and breakfast spots will offer up plant-based versions of this square delight. Add a hash brown and a bit of brown sauce, and you've got the breakfast of champions.
There are also plenty of vegan Scottish favourites that aren't reimaginings of meat dishes, but plant-based by nature. Skirlie – spiced oats fried with onions in butter or animal fat –  is often made with margarine or oil so it can be enjoyed by those of all diets. The fairytale-character-sounding rumbledethumps – made with root vegetables and potatoes, and named so because of the sound the ingredients make as they're thumped around by a wooden spoon in a baking dish – is another classic that can have cheese on it, but just as delicious served without, or with a healthy helping (read: dousing) of vegetarian gravy. Neeps and tatties are a relatively healthy side-dish for a roast but can be eaten alone too. And, of course, the delightfully moreish tattie scones are a vegan local favourite. A kind of potato bread, these Scotch classics can be topped with everything from salt and oil to savoury chutneys and jams, or even used to mop up baked beans after a hearty breakfast, as I did on many mornings after a night out.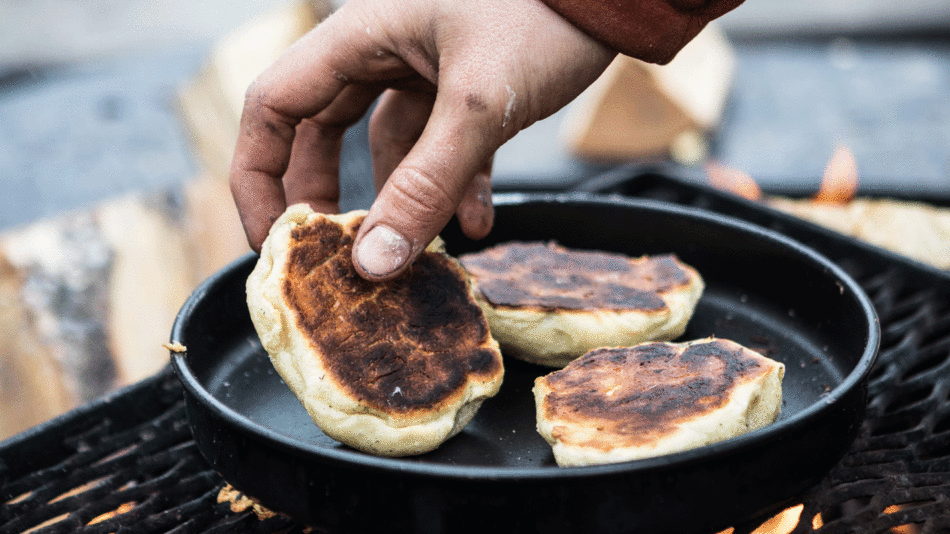 Outside of more traditional dishes, Scotland's innovative restaurant culture means plenty of vegan options from outside the local cuisine. There are specialist vegan grocers, delis, and restaurants to discover in the cities, and not just Edinburgh and Glasgow. The late 19th and early 20th wave of immigration from Italy that brought us Paolo Nutini and deep-fried pizza also means a plethora of vegan Italian options. Many of the best guard their unique recipes for the notoriously hard to perfect vegan cheese as tightly as they do for their marinara sauce.
Even in the dramatic scenery of the Highlands and other wilder parts of Scotland, the importance of tourism means you're never likely to be too far from somewhere with plant-based options. And, if all else fails, Scotland's love of soups means you'll end up with a steaming bowl of something delicious to reinvigorate you after a long day of hiking through blooming thistles and jagged peaks.
Scotland's vegan delights don't just stop at food, either. The spiritual home of whisky, the country has dozens of distilleries producing the amber delight. Unlike some other types of booze, which often use animal products in the distilling process, whisky is all vegan. The only exceptions would generally be those flavoured with non-vegan items, like honey or chocolate. Even if you're not big on having a dram or two, after a day spent in the whipping Scottish wind you'll be glad to feel a gulp of the sizzling liquid sliding down your chest. And, more importantly, this is one item that you'll never be far from.
With this all said, I'm not claiming that Scotland is a vegan mecca. You can still go to a supermarket and get a slab of meat that took an entire lifetime to create for a disturbingly cheap amount, and, like much of the West, many people are not educated about where their food comes from. But with veganism becoming more popular, as shown by the growth of events like the Scottish Vegan Festival, the Scots are drawing on the wealth of their own knowledge to create more opportunities for plant-based food to gain popularity and even thrive – something that is vital to helping with the looming nature and climate crisis. And, in the end, that deserves all the support it can get.