My guide to traveling the USA as a solo female traveller (with anxiety)
Share
In three weeks, I went from a girl who'd never traveled alone and needed to 'nervy poo' every five minutes to feeling completely free and easy. I'm sure there are many more solo female travelers out there itching to go to America with no one to go with. So here are my top solo travel tips* for you…
*I'm not an expert but I did it and I'm alive and very well!
1. Go on a Contiki tour
If there's one way to stop those solo travel nerves in their tracks, it's to join a Contiki trip! I did the Best of USA tour, which as the name suggests covers four of the best US cities (Los Angeles, Las Vegas, Miami and New York) over 13 days. The tour will help to alleviates all of the worries you're probably having. It's safe, includes domestic flights and coaches, accommodation is sorted and you have a literal human guide leading you every step of the way (including how to tip – yes I know you're anxious about that, too).
I'll admit it has the added fear of meeting a new group of people, but I can assure you there WILL be other solo (anxious) girls in your group. And you'll make friends within the first 24 hours, guaranteed. Just be yourself.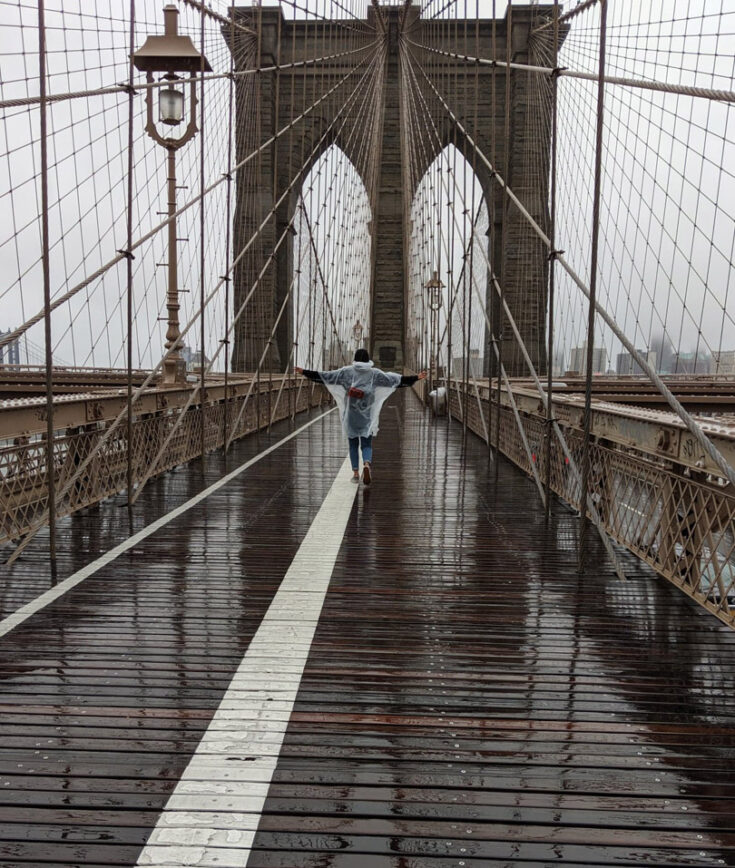 2. Don't go on a tour
But wait – you just said to go on a tour?! Yes I know, but it's not a solo trip without actually going solo, right? It's still safe for a solo female traveler, just be sensible. Once the tour is over you'll be filled with newfound confidence and wanderlust, so don't go home yet. I highly recommend spending another week by yourself, whether it's staying on in the final stop of the tour (New York), spending extra time in your departing city (LA for me), exploring a new city on your own (see tip no. 5) or all of the above like me! Initially, it IS scary being alone, especially after two weeks with a group, but it's also oddly empowering. I have always thought that the idea of 'finding yourself' was a bit of a cliché, but it's true, you really do! Solitude is such a powerful thing; don't mistake it for loneliness!
3. Use dating apps
Using an online dating app probably sounds like the opposite of what an anxious girl should do when traveling solo. But it's the best thing I ever did. It's an easy way to make friends and find local tour guides. Even if you don't meet up, you'll get some great tips. Just make your intentions clear, meet in public places at appropriate times and let someone know where you are and who you're with (I shared my GPS location with friends)! The highlight of my trip was going to Six Flags Magic Mountain with a random match and having the best day ever. It was completely platonic and they're now a friend for life. A feeling of connectedness is food for the soul.
4. Be your own boss (you do you, boo)
During my Contiki, the universe sent me the best room mate you could possibly imagine. Her name is Zoe, and she gave me the best advice. Zoe said: "do everything you want to do on this trip. Don't worry about anyone else or about doing it alone, just do it and you won't regret it." I took that advice and I definitely don't regret it. That's all I will say here, you know what to do.
5. Go to New Orleans
I saved the best tip for (almost) last. Discovering New Orleans as a solo female traveler was one of the highlights of my trip. There is no place like it! I was there for Halloween, which was insane. If you can line up your trip with Halloween or Mardi Gras then definitely do it. There's so much to see and do, that you won't have the time to feel anxious or lonely. And now for a list within a list, some might even call it… listception.
Stay in the French Quarter – there's plenty of people around and you're walking distance to all the main attractions.
I would avoid Bourbon Street if you are alone. I didn't feel safe and received A LOT of cat calls, and this was during the day when I was straight off a plane in my active wear with no make up on.
However, you can't go to New Orleans without experiencing the nightlife and live music. Check out Frenchman Street, it feels much safer and the jazz bars are amazing. There is also a super cute corner bookstore that's open late.
I just want to stop here for a moment to say that nightlife and bars do NOT mean you have to drink alcohol. It's completely fine not to. I had no more than two alcoholic drinks on a single night. You'll still have plenty of fun without it.
Eat lots of food. There are heaps of amazing cafes and restaurants around. Be sure to try Gumbo and Beignets!
Do a Whitney Plantation tour and any other spooky walking tour (I did the St Louis Cemetery tour). The Whitney Plantation tour takes about half a day but it will give you a moving insight into the history of slavery in Louisiana and America, I consider it a must-do.
Get a psychic reading. Whether you're a skeptic or not, it's part of the New Orleans experience!
6. Practice mindfulness on the go
Mindfulness can be defined as, "a mental state achieved by focusing one's awareness on the present moment, while calmly acknowledging and accepting one's feelings, thoughts, and bodily sensations, used as a therapeutic technique". So, why not try meditation apps or just go for a walk without look at your phone. Not only will a little mindfulness alleviate symptoms of anxiety, but it will allow you to appreciate your traveling experience on another level. And that is my parting gift to you.