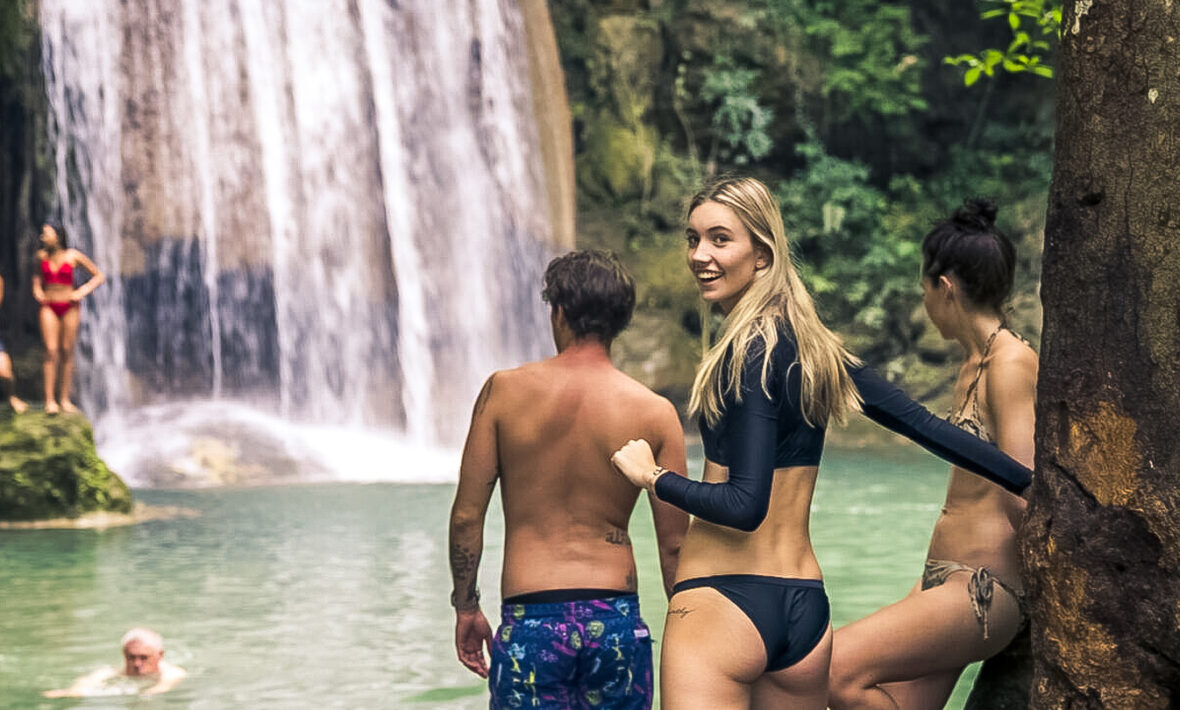 Ever look in the mirror and ask yourself: why listen to noisy neighbours when you could listen to the swish of the Andaman sea? Or, why spend another week bingeing Netflix when you could binge coconutty khao yam on a beach that's fluffier than a fresh-groomed Poodle? Oh Thailand. It's a mood, alright. And, on Thai Island Hopper West, you'll spend a week sailing between its paradise islands.
That's 7 days of blue seas, jagged cliffs, mountaintop greenery, giant quadrupeds and cheeky little monkeys (literally) – all with a band of fellow 18-35s to tell you your outfit looks nice and hold your drink for you while you pop your loose change back in your money belt (true friendship). It's time to live the Discovery Channel… with a hint of Ibiza as you hit the Holy Grail of island nightlife. Those in favor, say 'Thai…'
Paradise found…
Gather round, Thai adventurers. Your week of hardcore heaven starts in Phuket with a local dinner. You can use this time to get to know your new BFFs (while trying not to enjoy your authentic Thai cuisine too loudly.) Next day, you can admire the local Chinese-inspired architecture and encounter elephants ethically before heading to the famous Bangla Road for some hearty hedonism.
Then, it's the Phi Phi islands – home to the famous Maya Bay from The Beach (starring Leo himself). You'll have plenty of time to explore the island's beaches and beauty spots, followed by a 'Day on the Bay' where you'll come as close as possible to literal 'island hopping'. On Krabi, you'll enjoy a buffet with a view, channel your inner 007 on a speedboat cruise to Phang Nga Bay, AKA James Bond island, and even get the chance to go rock climbing before jetting home with a head full of memories.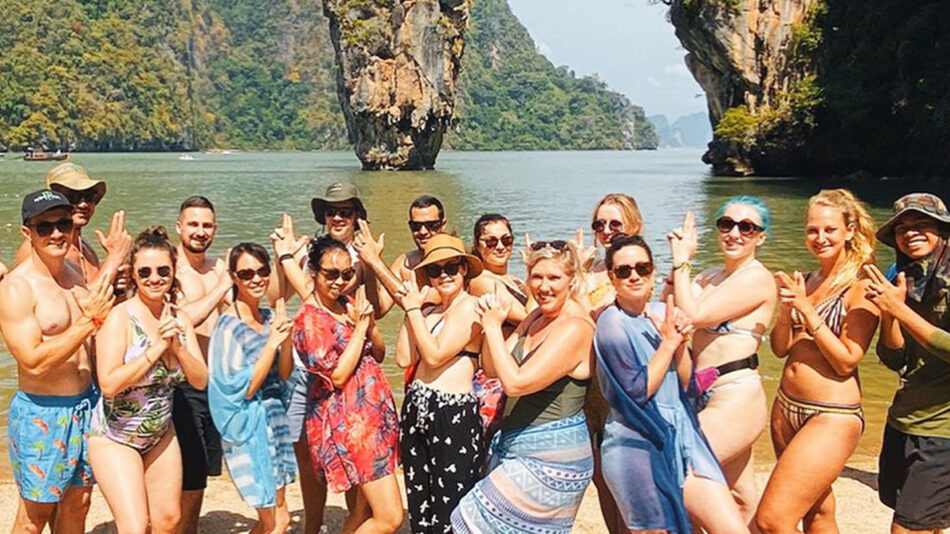 Your adventure (should you choose to accept it)
This trip's all about relaxing. You'll have plenty of days to kick back on the beach, explore at your own pace… or mix between the two…

Go gentle on Asia's giants
Know when you encounter a beautiful, majestic animal and you're in total awe but then there's a niggling worry in the back of your mind about the conditions the animal has had to live in and the trauma they've endured just to be here? Well, at Phuket Elephant Sanctuary, you can kiss your worries goodbye! These elephants have been rescued from cruel conditions and are now free to live out their lives however they like – with plenty of space to roam and behave like normal elephants. On this MAKE TRAVEL MATTER ® experience, you'll meet the elephants, hear their stories and even feed them some snacks. Talk about Happily Ever After.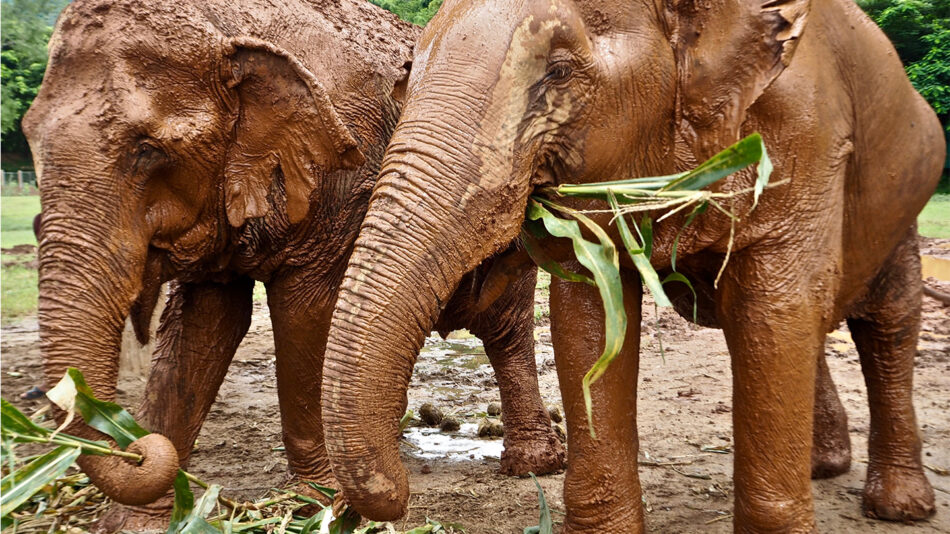 Cruise with your crew
The Phi Phi day cruise is a true highlight of the trip. Not only do you hang out on a boat with your new besties, enjoying top tunes and an included dinner – you'll also witness spectacular scenery, including the Pileh Lagoon and Viking Cave. Add in snorkel and swimming opportunities in water that's clear as glass and you've really got yourself a treat.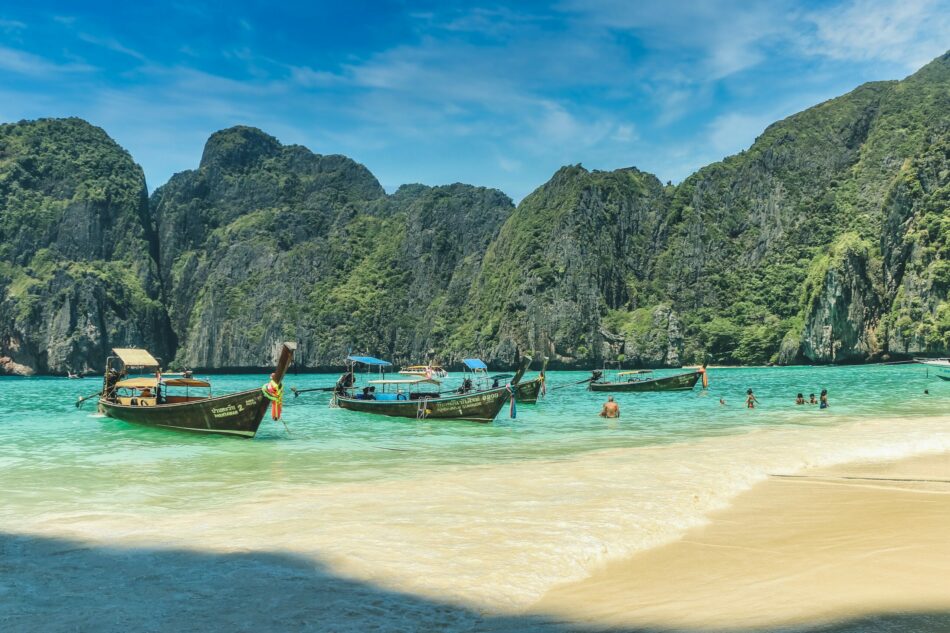 Zero planning? Sounds like a plan
Finally getting settled on the beach, closing your eyes for a sec, tilting your head back and suddenly realising: 'I didn't check what bus I need to get tomorrow!' Oh, please. You're here to switch off, right? Visiting Thailand with Contiki means all the fun and none of the humdrum. You'll stay in tried and tested accommodation (often with sparkling sea views). You'll learn from local guides and sleep easy knowing all your internal transport is sorted. There'll also be a Trip Manager on hand to keep you right and answer any questions. It's officially official: it's Thailand time.