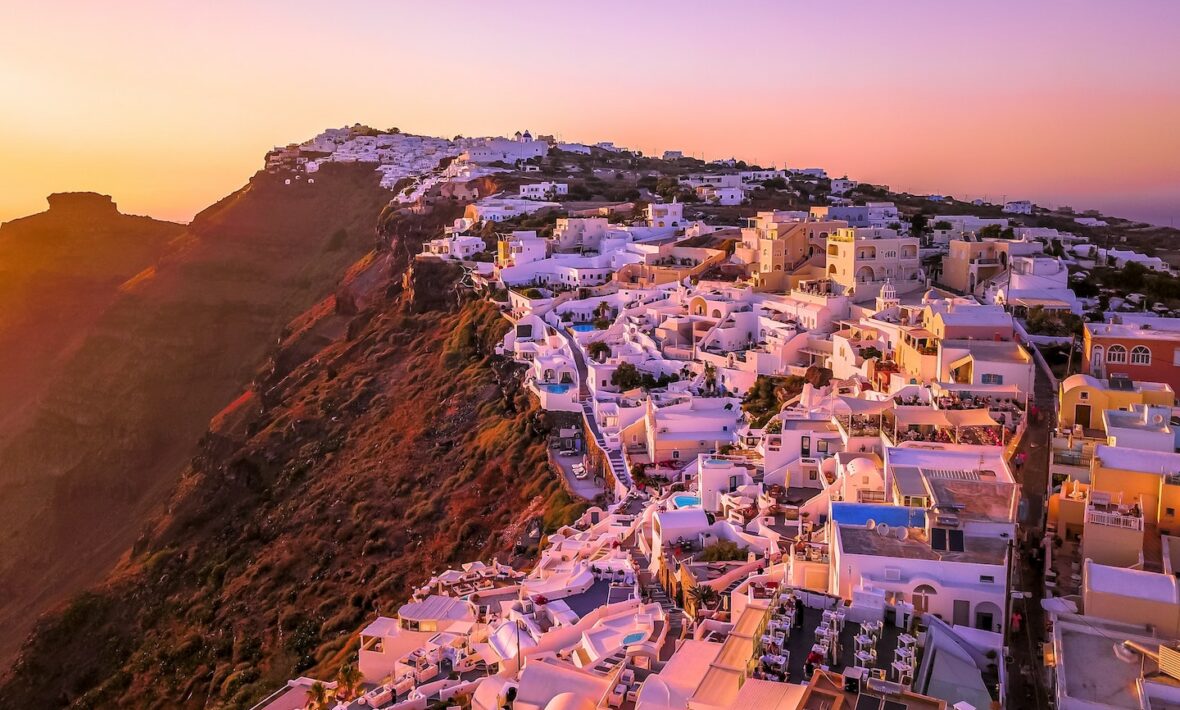 This iconic Greek Island is one of the most beautiful and popular spots in the Aegean Sea, known for its whitewashed houses, churches and vibrant nightlife of its main towns Fira and Oia. It's an amazing place to both explore and unwind, not only because of the endless sea-blue views, but also because of the delicious local cuisine and historical attractions. If it's your first time there, here are 14 of the best things to do in Santorini…
1. Catch some sun on the Red Beach
The Red Beach is one of the most unique beaches in the world, especially because of its sand colour. It's located near the ancient village of Akrotiri and is composed of red and black pulverized volcanic rock from the nearby Santorini caldera.
There are many different ways to get there, from booking a private transfer from the airport, renting a car or even taking a bus. You can catch a bus to Akrotiri every 1.5 hours and from there it's only a short 10-15 minute walk to the Red Beach. You can check the up to date timetable of the buses here.
2. Go on a cable-car ride
One of the most touristy things you can do in Santorini is to go on a cable-car ride, which is great not only if you want to travel from the old port to Fira, but also if you want to admire and enjoy the stunning views of the caldera, the volcano and the sea from 220 metres altitude. You can catch one every 20 minutes and the price is 6€  per person.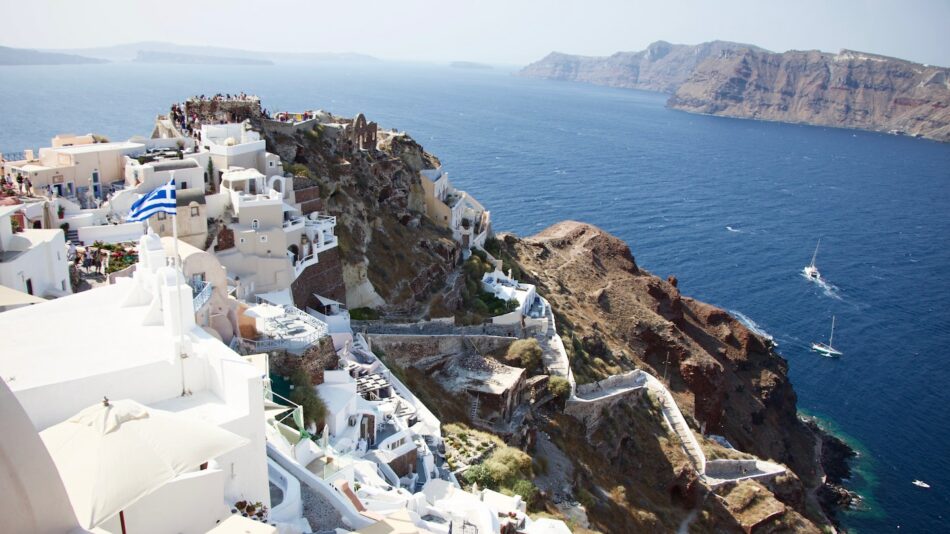 Image source:Kartik Singhal / Unsplash
3. Check out the Akrotiri Archaeological Site
You've relaxed on the beach, now it's time to explore the most important archaeological site on the island. Often referred to as the 'Greek Pompeii', this Bronze Age settlement that was covered in volcanic ash was once one of the main ports and urban centres in the Aegean Sea, so it's definitely worth checking out, especially since it's in such an excellent state of preservation.
The site is open daily, between 08:00 – 20:00 and the entrance fee is 12€ per person.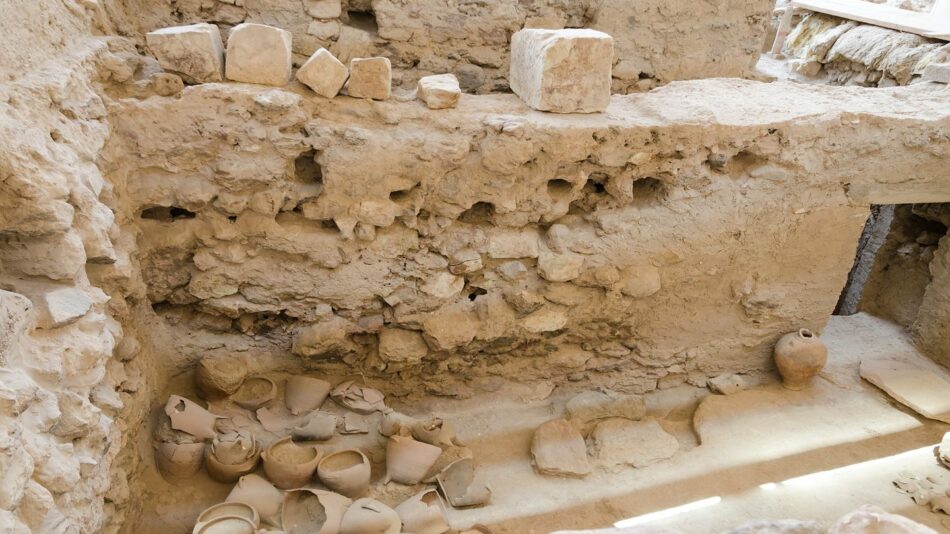 Image source:Wikimedia
4. Go on Kamari Beach
The clear blue waters of Kamari and the multitude of beachside bars, restaurants and hotels are all part of what makes this beach so popular. It's located around 4 miles southeast of Fira and features the largest stretch of black sand in Santorini. Due to its pebbly terrain, it can be quite difficult to navigate, so make sure you bring some sandals or water shoes with you, to protect your feet.
Aside from the many beach amenities, there's also a diving center nearby, where you can try snorkelling, as well as a lovely parallel promenade that's perfect for afternoon strolls.
5. Visit Fira
Fira is Santorini's main town and one of those places that you just have to experience by foot. The chance to walk past those white iced houses and churches is uniquely enjoyable. The town is nested on 260-metre high cliff and it's where most of the restaurants, hotels and dance clubs are located. While you're there, try some of the local wine and feast on authentic Greek specialties, like moussaka, fava or kleftiko.
Discover it on our Greek Island Hopping trip.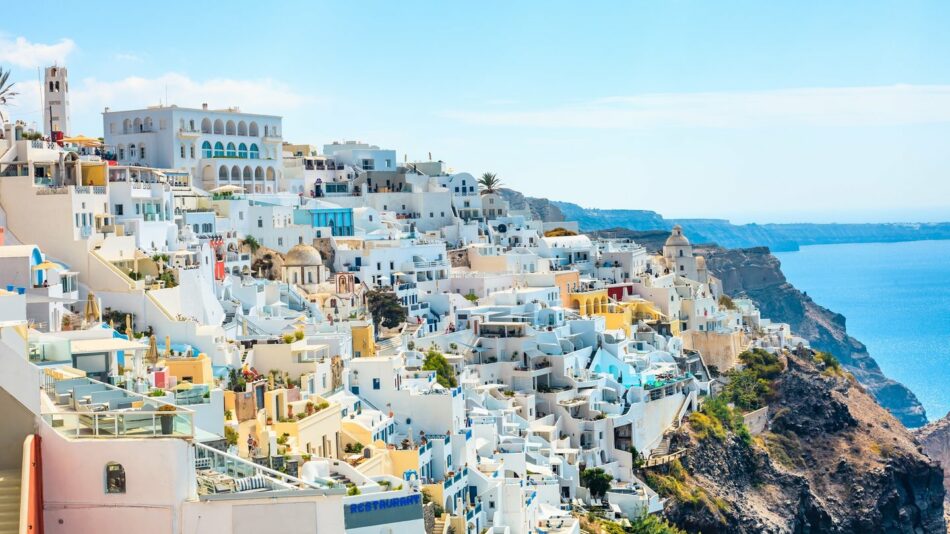 Image source:Chronis Yan / Unsplash
6. Go on a wine tour
Unsurprisingly, Santorini is one of the premiere wine destinations in Europe. Because the soil in which the wine grows is partly made up of volcanic sediment, the resulting flavor is quite unique and difficult to replicate. 
Wineries are scattered all over the island, which means going on a wine tour is quite accessible in this area. Some of the most popular ones are:
Santo Wines in Pyrgos

Domaine Sigalas in Oia

Venetsanos Winery in Megalochori
Alternatively, there's also a labyrinth-shaped Wine Museum, which beautifully presents the history of wine in Santorini from 1660 – 1970, along with all the stages of the wine-making process. And yes, there's also a wine-tasting area, where you get to enjoy four of the best wines produced in the area today. What more could you wish for?
7. Visit the Museum of Prehistoric Thera
If you're a true history buff, then visiting the Museum of prehistoric Thira is an absolute must. This archaeological site houses ruins from the Hellenistic, Roman and Byzantine eras, such as ancient religious sites, old administrative buildings, a theater and many more. The site is open from Tuesday – Sunday between 8:00 am and 3:00 pm and costs €4 per person.
8. Visit Pyrgos
Take a day trip to Pyrgos – a remote Santorini village – to get an authentic feel for how the locals live. It's got splendid views, a hilltop lined up with whitewashed homes and churches aaand…for the cherry on top, a Venetian castle. Enjoy an afternoon out at one of the many cafes or restaurants, set against one of the most scenic Greek backdrops.
9. Explore Nea Kameni island
This beautiful volcanic island was formed by a series of eruptions over the past two millennia, which has remained dormant over the last 70 years or so. It's a huge point of attraction for tourists coming to Santorini, especially because of its healing hot springs. The yellowy waters contain lots of sulphur, known for its therapeutic purposes. 
You can visit Nea Kameni by boat, sailing from the old port of Fira or from Athinios, depending on your preferred route.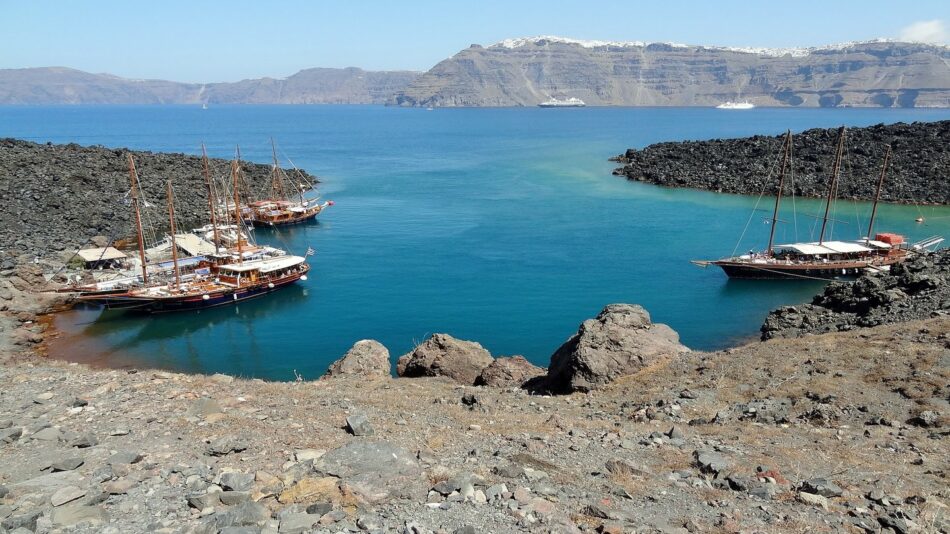 Image source:Wikimedia
10. Check out the open-air cinema in Kamari
For a cute evening outdoors, enjoy a good movie at the open-air cinema in Kamari. The usual starting time for movies is 9:30 pm, but we'd recommend getting there at least half an hour earlier to reserve a seat, as it quickly fills up during peak season. Getting there is quite easy, as there's a bus stop directly across the street, with buses going to and from Fira on a regular basis.
11. Discover the beautiful village of Oia
Oia is a beautiful coastal town on the northwestern side of Santorini known for its charming whitewashed houses overlooking a vast caldera. Some of its main attractions are the fabulous sunset views, the Maritime Museum and the blue-domed churches.
Discover it on our Greek Island Hopping trip.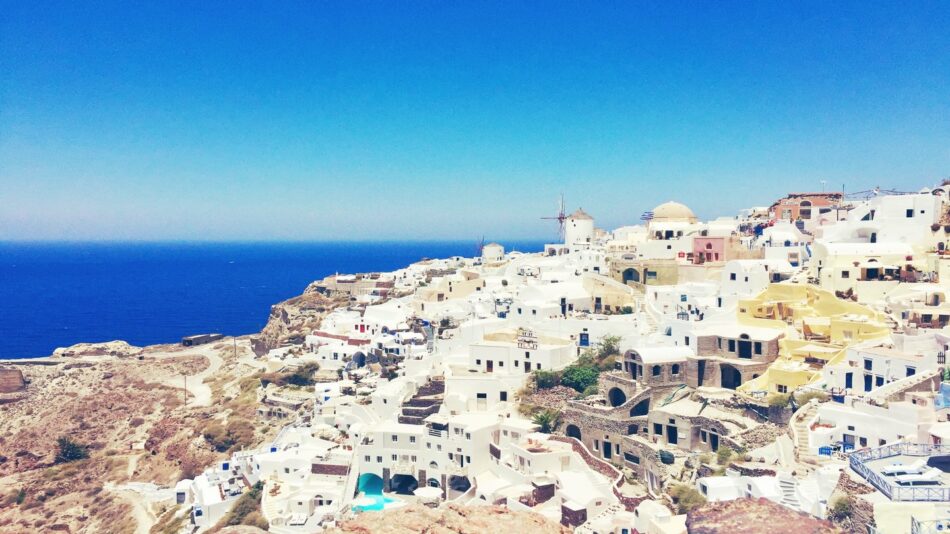 Image source:Michal Sevcik / Unsplash
12. Climb the Skaros rock
Skaros is a rock formation and a collection of ruins in Santorini and one of the most spectacular spots on the island. It was created by volcanic activity and dates back to 68,000 BC. However, Skaros isn't only important due to its geology, but also because of the role it played in the 15th century. It served as the very first fortress (Kasteli) that was built in medieval Santorini in order to protect the island from pirate attacks.
If you're attempting to hike there, make sure you wear comfortable shoes and pack a bottle of water, as it's a bit of a journey. There are 300 stairs you'll need to climb in order to reach Skaros base and 200 more to Theoskepasti church.
13. Go on a boat tour
Going on a boat tour is one of the best things you can do as a tourist in Santorini. The chance to experience Santorini's coastline from the water and take in the lovely views of the caldera is a worthwhile experience. There are numerous boat touring companies to choose from and almost all of them provide meals onboard and include swimming, diving or snorkeling experiences.
Try it on our Mykonos & Santorini Island Escape trip.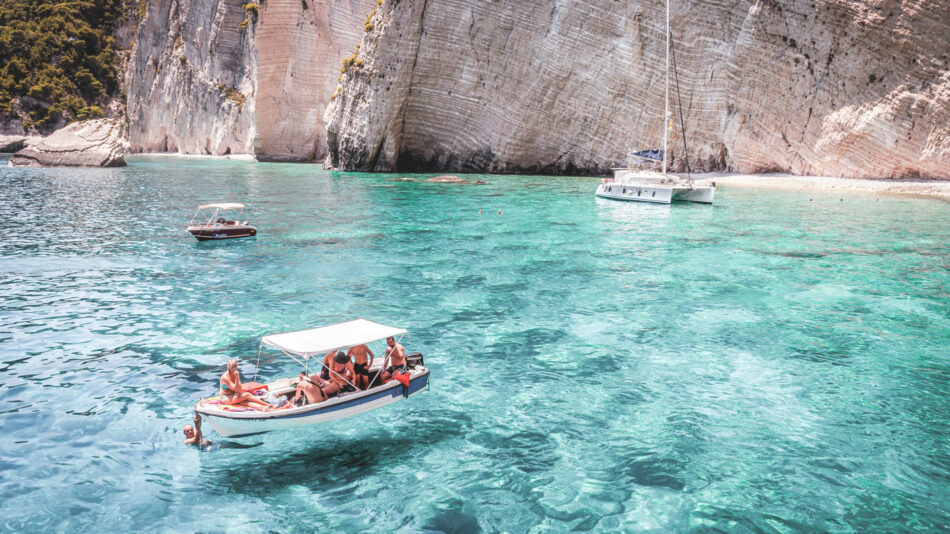 Image source:Contiki
14. Go scuba diving
Turns out there are quite a few centers for scuba diving and snorkeling in Santorini, so if you're looking for a slice of adventure during your trip, this has just the right ingredients. Whether you're an amateur or an experienced diver, the underwater haven of Santorini has a wide range of options, such as deep diving, wall diving, wreck diving etc.
Some of the best scuba diving clubs in Santorini are:
Caldera Diving Center

Santorini Dive Center

Volcano Dive Center
So there we have it: our 14 best things to do in Santorini on your next trip. Which are your favorite ones? Drop us a comment below and let us know what we've missed!