I grew up as a pretty sheltered kid, wrapped in cotton wool, with a laser-like focus on climbing the standard 'ladder of life'.

But then my first solo trip back in April 2014 completely changed how I saw the world, and how I saw myself.
I'd always been interested in geography, modern history, football and travel itself, so naturally it was a dream of mine to one day visit the UK and Ireland. After realising that the way I thought my life was going to play out was not quite coming to fruition, I stepped down from halfway up the 'ladder of life' and saved up enough money from my first job out of university to go.
I wasn't comfortable with the thought of going it alone, so I was on the lookout for someone to accompany me on the journey. However, try as I might, anyone who was mildly interested in the concept either didn't have the cash or the time. So after a lot of thinking, I realised "if I'm going to wait for someone, I'll never end up going." I'd never flown anywhere on my own before, so it was with a slight feeling of apprehension, despite knowing deep down that this is what I wanted to do, that I booked a ticket on Contiki's 'Great Britain and Ireland' tour.
So, without having any idea of what to expect, or what lay in front of me, I set off for Sydney airport. Fast forward to the first night I met my new Contiki family in London – my mind was put at ease straight away, by just how warm, approachable and like-minded my fellow travellers were, not to mention many who were in a similar position in life to where I was at that moment in time.
For 16 of the best days, we traversed England, Scotland, Ireland, Northern Ireland and Wales and shared some awesome times I'll never forget with a bunch of people that will live long in my memory.
RELATED: I TRACED MY ROOTS BACK TO IRELAND AND DISCOVERED PEACE 
Away from the poignant but pertinent life lessons of the city streets, the Emerald Isle served up some of the most spectacular natural scenery I've seen. Some of which include Giant's Causeway with its 40,000 interlocking hexagonal basalt columns, the Aran Islands off the coast of Galway and the Cliffs of Moher – all breathtaking places which stun you into silence.
After a whirlwind couple of weeks, everything I had learned from my trek around the British Isles came to the fore as I sat alone once again at London Heathrow, waiting to head back to reality, but finally able to gather my thoughts. Experiencing this part of the world was incredible enough, but I'd gained so much more than I'd ever bargained for, thanks to the people I'd met along the way, and the great times we shared.
It turns out I wasn't the only one feeling a little lost in a world where everyone else seemingly has it all figured out and heading in the right direction. I learned that it's ok for your 'grand plan' not to come off, because it causes you to stop and re-evaluate the direction you're headed. As they say, "you can't change the wind, but you can set your sails". And that's what I did – I sailed away from my comfort zone to avoid comfortably arriving at a dead-end. Yes, there were moments of self-doubt as I re-calibrated my path, but I found that this was the best thing I've done for myself.
For someone who was initially afraid to deviate from the norm, from what I'd always known in my comfort zone, the travel bug bit pretty hard. I decided that trying to continue to climb that 'ladder of life' and following the conventional path just wasn't going to work for me, so I decided to live life on my terms, and not bother to try and keep up with the Joneses. It was important to start doing what actually does work for me.
RELATED: SOLO TRAVEL NOT YOUR THING? I THOUGHT THAT TOO…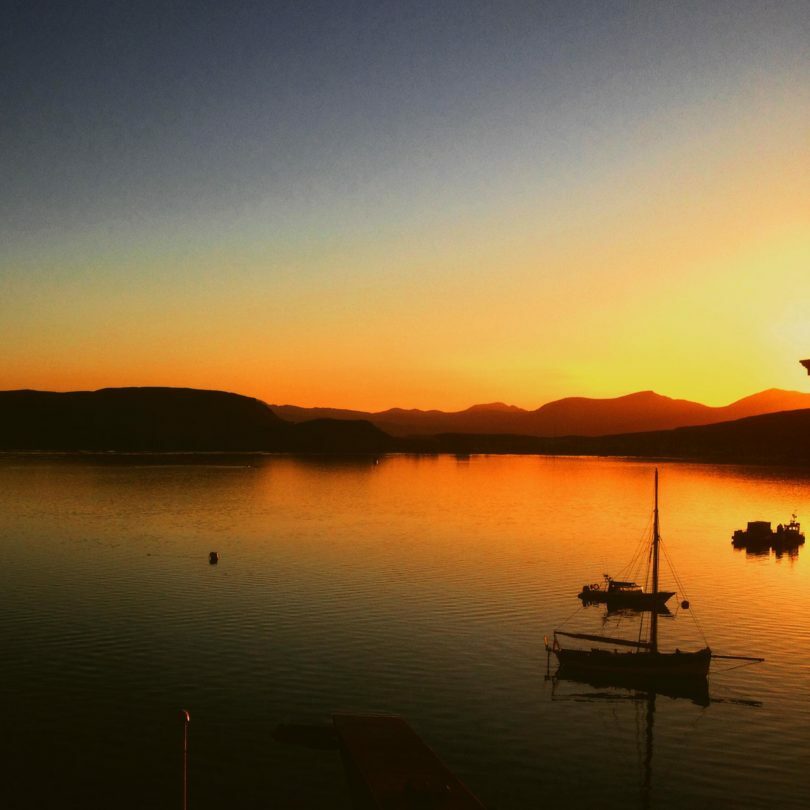 The amazing places I visited across the UK and Ireland showed me that the world is such a big place and there's so many places to experience in the little time we have on Earth. This sounds so cliché, but it's true – travel while you can, to see, learn and do as much as you can because the opportunity to do so won't be there forever. These days while I still work as hard as ever, the importance to take some time out occasionally and live a little is no longer lost on me.
Going it alone and embarking on an adventure solo has taught me how to be ok with my own company, whether I've liked it or not – which is something the majority of us are not very good at. But hey, you find that despite walking out the door, thinking you're going to take on the world on your own, you're never actually alone for very long at all, because there are always some like-minded travellers ready to cross your path.
What they say is true – "travel is the only thing you buy that makes you richer".
Has travel challenged you in some way, or shown you a different perspective? Share your stories with us here and you could see your work published on six-two…