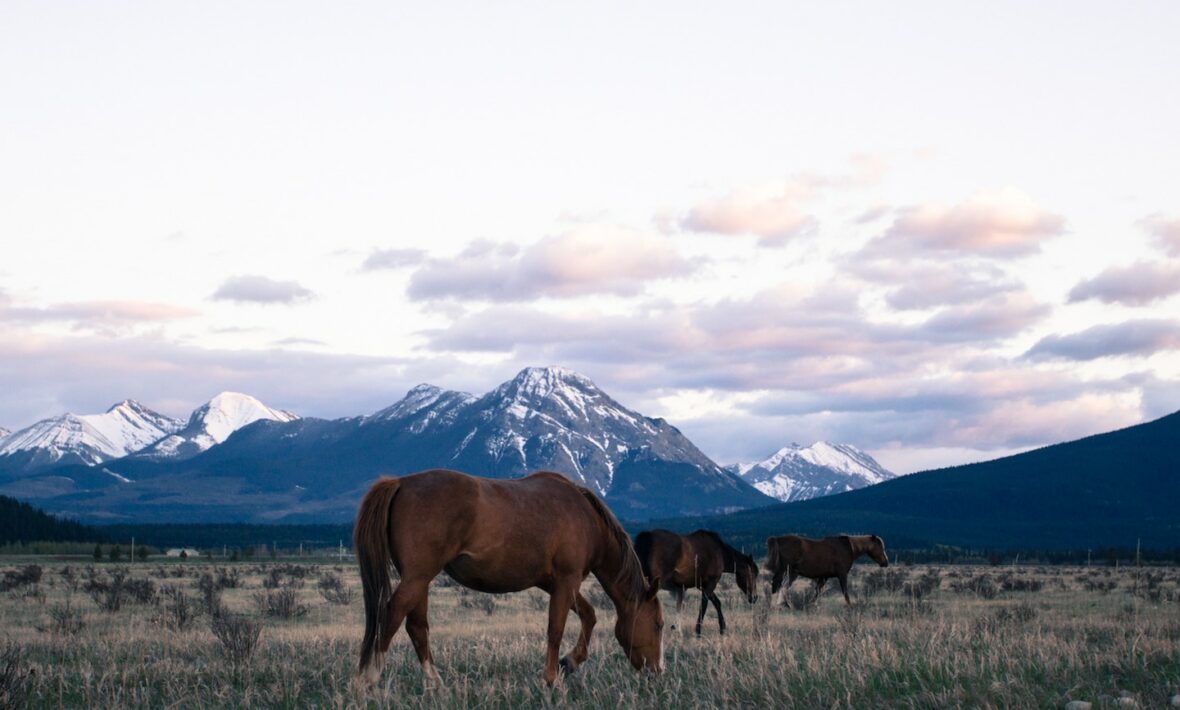 Grab your hat and boots and get ready to saddle up – these destinations make the ideal trips for horse lovers everywhere. Whether you're an Olympic show jumper, a working wrangler or a total beginner, there's a horseback adventure out there that's made for you. Check out my pick of the best equine-filled adventures… giddy up!
1. Chincoteague Island, Virginia, USA
The small island off the eastern shore of Virginia is home to the infamous Misty of Chincoteague. With a landmass of less than 100 square kilometres, Chincoteague Island and the northern Assateague Island are home to over 150 wild Chincoteague ponies. The ponies live in the Chincoteague National Wildlife Refuge, which is actually located on Assateague Island.
In order to maintain the herd, every July, a group of ponies are wrangled up and swim to the mainland to be auctioned off to the public. The mares and stallions swim back to the island while the foals remain in corrals to be auctioned off. This world-famous event draws in huge crowds every year with people looking to adopt or just soak up the cuteness.
https://www.instagram.com/p/B0WvaSkAN0c/?utm_source=ig_web_copy_link
2. Reykjavik, Iceland
Home of the small-statured and sturdy Icelandic Horse, Iceland is a horse lovers paradise. Wild horses roam the lands among icecaps and fjords, through ancient lava flows and across icy hills. Known as the 'five-gaited horse,' the breed has two unique gaits – the 'tölt' and the 'flying pace'. As a beginner, there's no need to go quicker than a walk to enjoy the experience, but for those of us who grew up in the saddle, there's no better feeling than going for a quick run across a remote Icelandic volcano basin. Treks are offered in all shapes and sizes, from short three-hour sightseeing trail rides to week-long camping adventures.
https://www.instagram.com/p/B3ZF6I5FuZ1/?utm_source=ig_web_copy_link
3. Palm Beach, Florida, USA
Ocala may be the horse capital of the world, but southern neighbor Palm Beach is an equine force to be reckoned with. Between Ocala's World Equestrian Center and Palm Beach's Winter Equestrian Festival, there's no lack of equines in the Sunshine State.
For non-horsemen (and women), you can watch some of top riding in the world without having to pay Olympic prices, during the 12-week long Winter Equestrian Festival at the Palm Beach International Equestrian Center (PBIEC). 12 weeks of children, junior, adult amateur and professional competitions across all different disciplines start in January and run through the end of March. Each week runs from Wednesday nights through Sunday, with the top Grand Prix's taking place on the weekends.
On the days there's no show, take advantage of the Atlantic coast's crystal blue waters and manatee-filled inlets. PBIEC is also home to the Adequan Global Dressage Festival and International Polo Club.
https://www.instagram.com/p/B3VDSeBAYGC/?utm_source=ig_web_copy_link
4. Banff, Alberta, Canada
Best known for its picturesque turquoise waters and towering treelines, Banff in Canada is best explored by horseback. Whether it be from the saddle or a sleigh, the snow-covered fields have been left undisturbed except for hoofprints and offer unique views of the stunning sights.
'Cowboy up,' as they say, and start planning your adventure today. Banff is home to a few different tour groups that all offer unique experiences, such as Timberline Tours' Overnight Rides, Banff Trail Riders' Winter Sleigh Rides or check out Contiki's Grand Canadian trip, which includes the Calgary stampede and rodeo.
https://www.instagram.com/p/BzgvCR7o2WD/?utm_source=ig_web_copy_link
5. Cody, Wyoming, USA
Trust me, this ain't my first rodeo. Throw on your boots and grab your hat because we're heading out West, partner. Cody in Wyoming, nestled just East of Yellowstone National Park, is named after Buffalo Bill (sound familiar?) who founded the town in the late 1890s. Since then, it has become a cowboy hub and central location for all things 'western'.
If you're looking for an authentic dude ranch experience, Cody is calling your name. There are also plenty of opportunities for trail rides, day ranches and rodeos!
https://www.instagram.com/p/B2nH6O5FeNo/?utm_source=ig_web_copy_link
6. Ibiza, Spain
Wait…what? Party capital of the world Ibiza has a little-known gem hidden at its northern end – Ibiza Horse Valley. The horse sanctuary is located a short 40-minute drive from San Antonio, making it an easy day experience. Though offered to all riding levels, I'd recommend this one for those with at least a bit of saddle time. Each day trip starts prior to sunset and takes riders on a long ride around the valley. If you're lucky enough, you'll finish atop the mountain as the sun is about to set!
For those who are confident in the saddle (which at Ibiza Horse Valley is a bareback pad with stirrups), you can split off with one of the guides to go for some gallop sets up the mountain. If you're a bit nervous, there are plenty of opportunities to go at your own pace, whether that's a walk, trot or short canter.
https://www.instagram.com/p/B0fg482i0Ok/?utm_source=ig_web_copy_link
7. South Africa
A dream destination for many, Africa is far too big to narrow down to one specific place to saddle up. Lucky for us, the possibilities in big game land are endless. There's Wineland tours in Cape Town,  Polo treks on the Nile and Epic Namibia Desert Rides where you'll ride alongside wild lions, elephants and zebras.
If you're looking for a more interactive equine experience, they also offer working holidays in both South Africa and Zimbabwe, where you get the opportunity to volunteer at a reserve and learn the ins and outs of stable management, learn to play polocrosse and ride in competitions.
https://www.instagram.com/p/ByhYc4pHBYq/?utm_source=ig_web_copy_link
So, what are you waiting for? Time to saddle up and "ride til you can't no more."