If you're anything like us, you'll have spent most of the last couple of months eagerly waiting for the ever so slightly eerie gurgling theme tune signalling the start of The White Lotus at the end of every week. And after you've stopped fist pumping to that absolute banger (no? maybe that's just us…), then it's on to discovering what scandals have befallen the guests of this bougie hotel chain, which is gaining a slightly unfortunate rep for having nearly as many deaths happen onsite as there are stars on the door.
Look beyond that though and you'll see the stripped back beauty of Sicily everywhere you look. Here are some of our fave filming locations so you can follow in the footsteps of Tanya Mc-Kwaaad, Harper and co.
Taormina
The hilltop town of Taormina in the north-east of Sicily is where you'll find the White Lotus or to give its name IRL, the San Domenico Palace, which was originally a convent. But have no fear, you don't need to be the queen of Sicily to enjoy Taormina (soz Tanya, we love you really). Check out some of the filming locations we love which you can visit:
Ancient Theatre of Taormina 
One of the first stops on the Di Grasso family's doomed trip to Sicily and it's an imperious old theatre. We know, you think you've seen one amphitheatre, and you've seen them all. We politely disagree. This one's been beautifully preserved for hundreds of years, and if you sit in the right spot, the back of the stage becomes a window to see Mount Etna looming large in the background.
Come at the right time of the year, and you can even catch a performance and do culture like it's the third century BC.
Bam Bar
This cute lil café-bar is where Valentina enjoys a quick early morning espresso before attempting to not chuck an Aperol at different guests on a daily basis. While the coffee is delicious here, we'd recommend this place's staple which is granita – sorbet's cooler cousin with a crystal-like texture. Come here for breakfast and it's traditional to have it with brioche and whipped cream. And we think that chomping on one of these while looking over the gorgeous sun-themed tilework is a pretty dreamy way to start your day.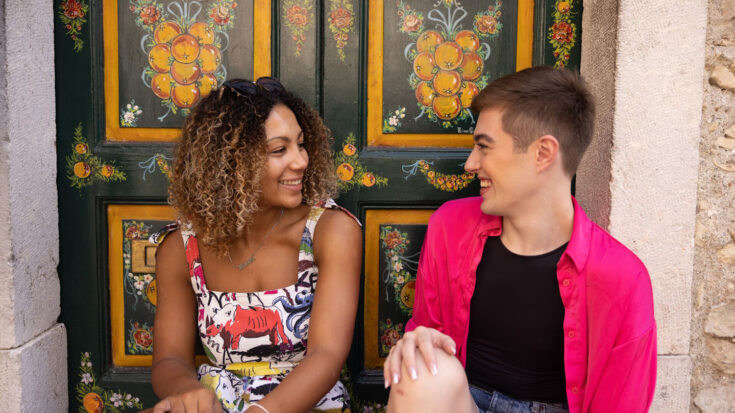 Isola Bella
Remember that creepy story Quentin told about a little island just off the beach? It's called Isola Bella, but it's also known as the Pearl of the Ionian Sea. And boy does it live up to its name with lush green trees and old rockforms that look like they could tell a thousand stories. Unfortunately it's currently closed to the public, but get yourself on a cable car from town down to the beach, and drink in the sun or a refreshing authentic Sicilian lemonade at one of the bars on the front.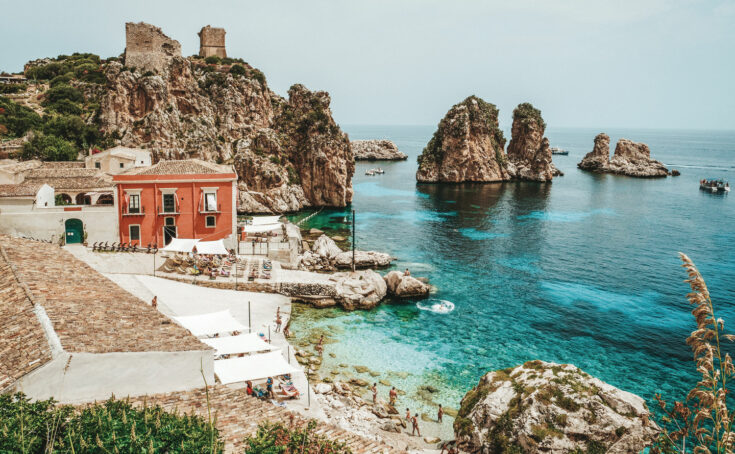 Corso Umberto 
We mainly see Ethan blowing off steam with an early morning run down a deserted Corso Umberto, but typically this road is brimming with locals and tourists alike browsing cute boutiques. Head to Piazza Duomo to get yourself a suitably large scoop of gelato and cast your eye over the Ionian Sea. Or if you wanted a swankier secret viewpoint, go slightly uphill to the Continental Hotel and wander up to the Sky Rooftop Bar. It's got massive White Lotus vibes, but you don't need to be a guest of the hotel to grab a drink there.
So sit down, watch the sun set and sip on the appropriately named Etna Samba or a Negroni Beer Mistake (it's not an error though really, trust us)…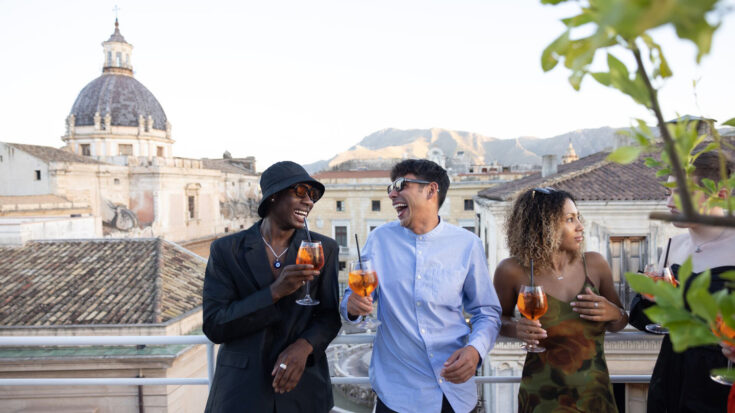 Palermo
You may not be able to go to one of Quentin's decadent parties, but you can explore Palermo. There is plenty to see in the city by day including the botanical gardens of Villa Giulia, but as Jack promises Portia, it's at night when Palermo really kicks into gear. You can pack your showstopper of an outfit for an evening at the Teatro Massimo to watch the opera to match Tanya's energy, or jump straight into the action in the many bars of the Old Town. You may just find yourself wishing the sun would never come up again…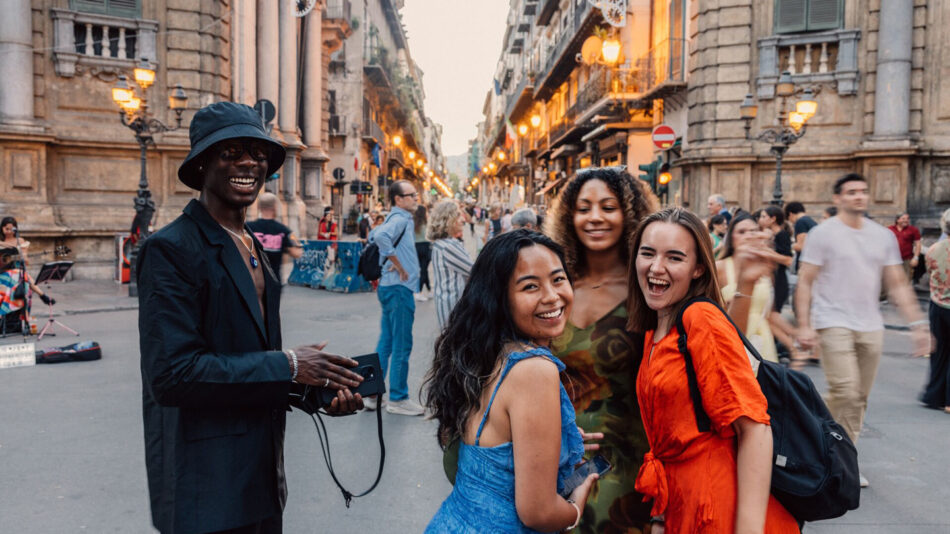 Noto
If unlike Harper you can find someone you actually want to go to Noto with, it is 100% worth it. It's a small city dominated by its pale yellow churches which are so pretty you'll wanna take a photo of every single one (probs from every side too), but also dotted around are chilled coffee shops and restaurants where you can spend hours people watching. Who needs a palazzo when you have the daily hustle and bustle of a Sicilian city to keep you entertained?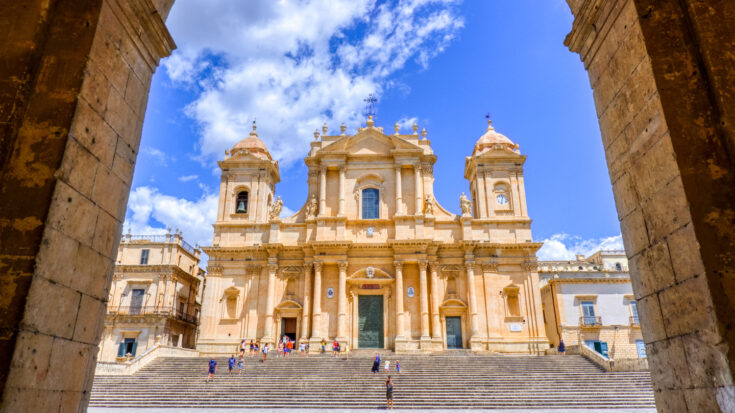 Wanna do it for real?
Ok, so we don't offer accommodation at the White Lotus. But what about our Real Sicily trip? Featuring all the places we've mentioned, plus Catania, Syracuse, Agrigento and Cefalu including unique Contiki experiences such as a 4×4 tour of Mount Etna and arancini making classes, we'd argue it may be even better…