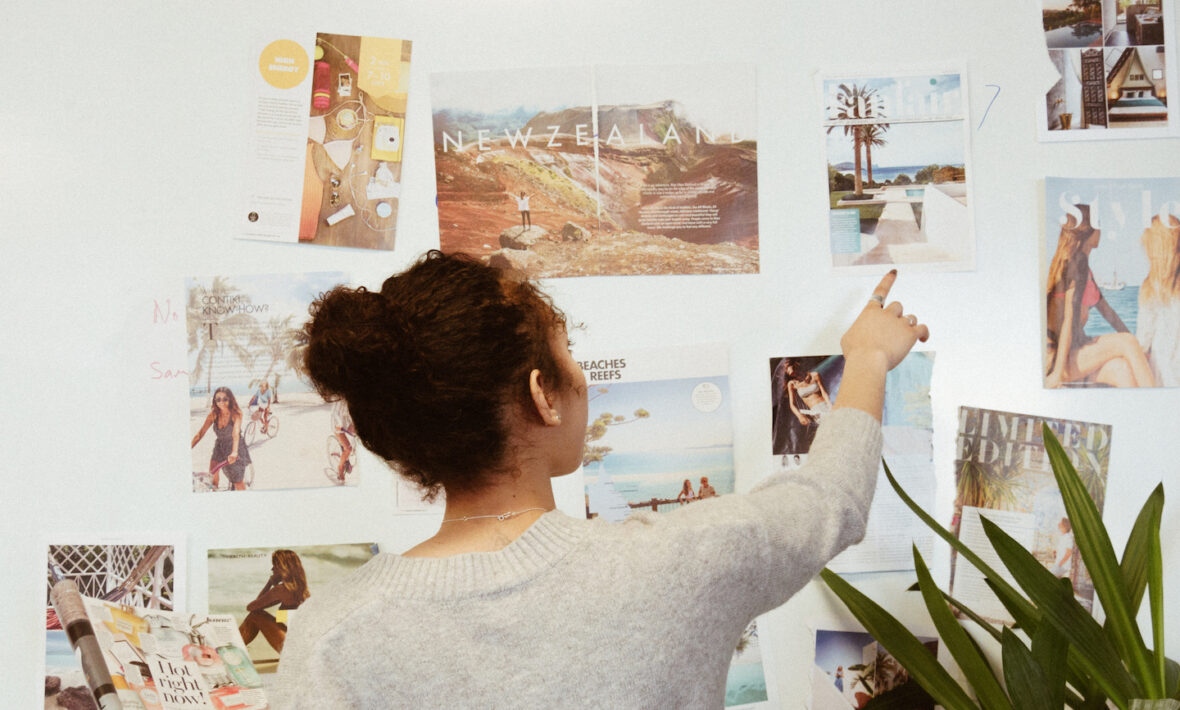 Women have always held a strong place in the travel industry – they make around 80% of the world's travel decisions and account for two-thirds of all travellers, according to Travel Pulse. And yet when it comes to the people actually working in the industry, gender disparity is still a huge issue. 
Fortunately at Contiki women hold 66% of the executive leader positions and 68% of the global senior leadership teams are female. So, this International Women's Day, we sat down with four of Contiki's inspiring female leaders around the world: Toni Ambler, Chief Marketing Officer; Abbey Schoenberg, VP Marketing and Communications (US); Kirsten Bain, Contiki VP Operations (The Americas) and Kele Scheppers, Marketing Manager at The Travel Corporation (South Africa). 
Here, we ask them the biggest questions – what does the future of work look like for women? How can we all drive gender equality in the workplace? Which traits do you need to work in travel? Read on for their personal career journeys and advice on how to thrive and excel at work (and in life)… 
Tell us about your career journey to date…
Toni: 
My dad worked for Contiki in the late 60-70s and I was always inspired by his amazing travels around the world – from the overland trips they took through the Middle East to visiting East Berlin under communist rule. When the opportunity to work for Contiki in their HQ in London as Brand Manager came up, I jumped on it. Before joining Contiki I worked for a big advertising agency – ad-land back then was the ultimate boy's club and as a young female exec starting straight out of university I had to work so hard to prove my worth.
Abbey:
I've been lucky to work for brands that are surrounded by passionate customers – from my role with Forever 21 during the fast fashion boom back in the late 2000s and my transition into Oakley, where I saw true brand loyalty up close and personal, to joining Contiki where we facilitate and inspire young people to travel every day. I've discovered that loving and believing in what you do is the most important tool for delivering your best work. I was also blessed to have a ton of strong female leaders supporting me – so I try to do the same for the women on my team.
Kirsten:
My journey was completely down to fate! I was working in the UK as a teacher and had kept in contact with my Contiki Trip Manager. When he emailed me to say there were TM roles open and that I should apply, I chose travel over teaching… and the rest is history. I spent three years working as a TM, two years as supervisor in the Europe office, then I became Head of Operations, working across Europe and then onto Australia and Asia. Now I'm VP of Operations in The Americas, based in LA. I just wanted to see more of Europe for a year or so!
Kele:
My career started off in journalism, with a focus on online media. I started out writing for South Africa's biggest women's website, Women24, across their lifestyle sections. My shift into content marketing came with a role at the Gauteng Tourism Authority at iProspect, which sparked my addiction for travel. Here, I discovered how powerful digital media – how data can help us make decisions and inspire ideas. Working at Contiki allows me to be creative and analytic, all while discovering more about the world through our travellers' eyes.
What does the future of work mean to you?
Toni:
I'd like to see the future become more outcome rather than input-focused. For me, it's about the delivery of the work and results achieved for the business beyond anything else. I also believe the roles of HR and Head of People will become increasingly important as the new younger workforce faces more pressures than ever before. How businesses adapt and change to their employees' needs will separate the great from the good.  
Kele:
I agree – flexible work environments will be more prominent in the future. More companies will trust employees to work from home and we'll have more flexible office hours – I think we're evolving past the 9-5 desk tradition. This is great news for those with side hustles or working mothers who can adjust their hours to suit the responsibilities of their home and family.  
Also, with all the data available to us, travel companies may need employees who are more analytical and can connect the dots between data and behaviour to help drive business success. It's not about gathering more data, it's about determining which data is most relevant and drawing insights that can help businesses grow.
Which qualities make a great worker for you?
Toni:
Passion and commitment for the greater cause, beyond just getting through the day's tasks and no matter your level of seniority. A great worker for me is someone who is happy to step outside of their box and who challenges everything. Working for a young brand, things are always changing, so I love it when people challenge the norm and are happy to stretch themselves beyond their job spec or do to list. 
But the most important traits for me are respect and collaboration. Nothing makes me happier than seeing teams come together to solve problems, listening and respecting one another's varied opinions. Strong team work always results in a better outcome for the business I think. 
Abbey:
If you're a strong collaborator and can check your ego at the door, I'll welcome you into my team with open arms. The world of travel marketing is always changing, so what we do today may not be what we need someone to do tomorrow – flexibility and the ability to move with change is important. 
Another big one for me is sharing success as a team. One of my favorite quotes by Harry Truman is: "It's incredible what you can accomplish if you don't care who gets the credit," and that's how I like to guide myself and my team. We're in this together. We all have our roles to play, but you don't have to have all the answers. Being able to embrace and celebrate diverse strengths on the team is important.
What key things need to change for us to achieve gender equality in the workplace?
Kele:
Actively seeking diversity at work is a must – making sure that interview panels are aware of the company's gender ratios and are looking to balance it with new hires. Fair compensation is the other aspect. On average, women earn 85% of what men earn, and we cannot work towards gender equality if we don't acknowledge this gap and work towards narrowing it.
Toni:
I think there's still this underlying sentiment; can a woman do all that a man can? Will they be able to put in enough hours, will their family get in the way? Fortunately, this isn't the case at TTC and Contiki but it is within businesses globally. 
We need to focus more on all the things that working mothers can bring to senior roles. The emotional intelligence they contribute when running a team, coupled with the ability to prioritise what matters in a day (knowing they have a deadline to get home), means that working mothers are some of the most productive talent you'll get in the workforce today. 
Abbey:
I feel the same! From inconsistent maternity leave standards in the US to the double standards that exist between men and women – this creates a huge issue for working moms. This is a big conversation in the US right now as we get ready for the next presidential election – so I'm hoping to see improved support for women…
Kirsten:
Overall, I also think that there needs to be more appreciation for the emotional power women bring to their roles – our emotions and instincts don't hold us back, they're what makes us successful. 
"Our emotions don't hold us back, they're what makes us successful." – Kirsten, Contiki VP Operations (The Americas)
What steps are you taking to drive gender equality on your team?
Toni:
I'm doing all I can to pave the way for my heavily female-skewed team by proving that you can have a successful career and be a present mother at home (if that's what you want). Sometimes I'm a hot mess and feel guilty – am I giving enough to my team and work? Am I giving enough to my girls at home? Despite the chaos, I hope I'm inspiring the team at Contiki to know that they can continue to have very successful careers and start a family if they want to. The two aren't mutually exclusive. 
And most importantly, I hope my girls know that when they grow up they can be a mum and run a Fortune 500 company if they want to. The best way to achieve this balance is changing the narrative slowly and having a strong team around you. Support for each other and transparency are key.   
Kirsten:
I reward gut instinct and calculated risk. These are traits that I see women shy away from, while men seem to manage them exceptionally well. We also ensure that any team activities aren't gender specific (as there are more females than males). We also promote from within where possible – based on merit, not gender.
"I hope that I'm inspiring the team at Contiki to know that they can continue to have very successful careers and start a family if they want to. The two are not mutually exclusive." – Toni Ambler, Contiki CMO
Work culture is more important than ever – how can we all help to shape a fun and productive one?
Kirsten:
As a leader, I think it's important to set aside time each day just to hang out with your team. I try to be in tune with what's happening in their lives outside work and support that. I've found that your team will pay you back tenfold in loyalty and work ethic if they feel you're there for them as people, not just workers.
Toni:
Agreed. I think it's crucial to cultivate an environment at work where people can be their whole self. Our personal lives and professional lives are so interconnected these days that it's important to know your teammates outside of office time and have fun together. 
Another big one is building trust. It's important to get to know each other, regardless of seniority and find out what makes each other tick. Building this trust together should ultimately result in a sense of community accomplishment. And accomplishment is what motivates us to all get out of bed in the morning!
Abbey:
For me, it's about less emails and more face time and brainstorms. I walk around our office and see people buried in their computer screens all day. A few times a month I try to get the team together to step away and look at the big picture. I think it's so important to create these sessions to provide a platform to be creative and share learning, trends and ideas. Yes, we will all need to get behind a screen and get stuff done, but cultivating an environment where all ideas are welcomed and appreciated helps us all connect better.
Who are your other 'women in power' to follow?
Abbey:
I tend to lean toward women that I can relate to. Women who have carved their own paths and have discovered how to embrace success – that's inspiring for me. 
Emily Weiss is a huge inspiration – 34 years old and the founder of a huge, successful make-up brand (Glossier, if you haven't heard of it). She's proof that an antiquated industry can be reinvented with a fresh perspective. 
View this post on Instagram
I also love Karena Dawn and Katrina Scott – the women behind the Tone it Up brand. I was introduced to them during my time at Oakley and I'm inspired by the way they motivate a huge community of women. They turned their passion into a multi-million-dollar business, yet remain down to earth and connected to their community.
Toni:
I look up to any working mother in a senior role. Like Abbey, I'm also a big fan of Emily Weiss, and the founder of Bumble Whitney Heard – both women have changed the narrative around start-ups and are powerful female figure disrupting industries. 
As much as it's all about strong women changing the narrative around women's equality, it's also about progressive-thinking men too. I look up to my CEOs, my husband and my dad, who all encourage me to do everything I want and give me the support to achieve it – whether it be flexible hours or more support at home. 
Kirsten:
Michelle Obama, Christiane Amanpour and Toni Ambler!
"Women who have carved their own paths – that's inspiring." – Abbey, Contiki VP Marketing USA
This International Women's Day – and every day – we're calling on all the female travellers, employees and leaders around the world to realise just how much power you hold. Whether you work in travel or just love exploring the world, your passions and decisions will help to bridge the gender equality gap and drive a force for good. So, what are you waiting for? Be the change whenever and wherever you can.