Contiki is passionate about reducing waste, I'm passionate about reducing waste, and so is my friend Lottie Dalziel (she's even a zero waste ambassador and founder of online eco-store Banish). So when we decided to go on the Contiki Turkish Sailing trip for a much needed digital detox and chill holiday, we also tasked ourselves with putting zero waste travel to the test.

How did we do? Read on…

Zero-waste prepping
Lottie and I are already well-stocked when it comes to zero-waste gear. Lottie's left arm is basically a keep cup and her toes are beeswax wraps (I joke… maybe). We both brought our trusty keep cups, reusable cutlery (mine were sadly plastic but Lottie had some great bamboo ones), stainless steel drink bottles, canvas bags and eco-friendly produce bags (the brand we had is ONYA).
Getting there
Airports are a minefield for waste. Everything is so shiny and tempting, but also disposable. We stayed strong and were pleased to find water refilling stations and recycling points in both Sydney and Singapore airports. Singapore even had hot water if you wanted to make tea! Lottie used her ONYA bag at airport security instead of the plastic ziplock bags – now that's dedication!
Once we got on the plane though things got harder. Some airlines use stainless steel cutlery, but some still use plastic, and either way they come in a plastic packet. The food has plastic coverings, the cups are plastic and if you ask for water it's in plastic. We did our best and asked for drinks in the keep cups, but short of turning down all food, we had to suck it up and use some plastic. For a true zero waste flying experience you'd have to come fully prepared with meals, snacks and plenty of water.
Welcome to Turkey
We knew we were going to have problems with plastic once we got to Turkey. Why? Because you can't drink the tap water there, which means bottled water errrrryday. This didn't thrill us but we had high hopes there would be filtered water on board – which we could use to refill our metal drink bottles. The good news is there was… but only at meal times, and we both drink a lot of water so we did have to purchase bottles here and there.
We always tried to get the BIGGEST one possible so it lasted longer. In hindsight, we should have bought those high-end filter bottles that people take with them when they go trekking through the jungle. Those bad boys filter out germs, dirt and any nasties that would make you sick. We could have seriously reduced our plastic and drank tap water with those! Next time we're 100% doing that and, insider scoop, they'll soon be available to buy direct from Contiki…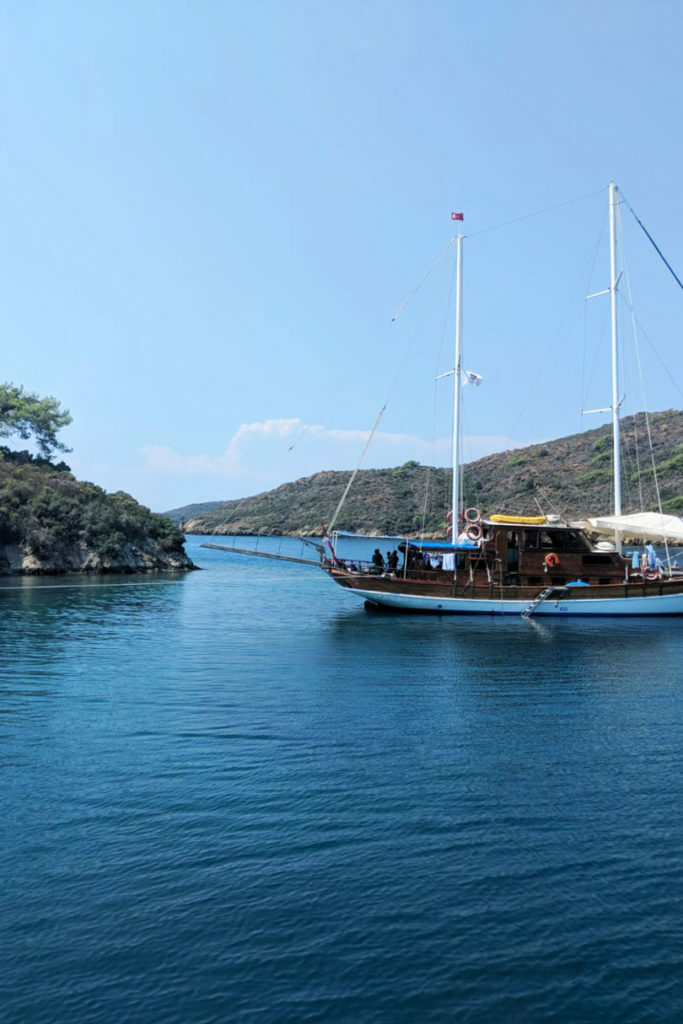 Eating and drinking
One of the best things about our Turkish Sailing trip was the fresh food. All our meals were included and the crew were seriously impressive cooks. We're talking fresh fish, stuffed capsicums, salads and tasty Turkish stews. Drinking was 50/50, we drank beer from recyclable aluminium cans, so not plastic but not totally zero waste. We also had the odd bottle of wine, again, not zero-waste but a better choice than plastic. When it came to eating and drinking it was relatively easy to be zero waste, except for one little thing… ice creams.
Lottie is a big fan of the ice cold treats and when you're on the boat in the middle of the ocean, basking in the sun, it's exactly what you feel like. It makes it hard to say no when the ice cream boat comes around (yes, this is a real thing and such a joy). We did have waste after our Oreo ice cream sandwiches and Magnums. Sorry Mother Nature, we're weak!
When we were on land we saw so many easy ways to be eco-friendly. For example, we went to the markets before we got on the boat to stock up on zero waste snacks. Using the ONYA bags we grabbed lots of nuts (there were so many choices), dates, and fresh fruit (again, so many choices!). The guys at the markets were confused when we kept saying no to plastic and kept asking them to put our goodies in the bags and keep cups, but once they figured it out they were really enthusiastic about it and congratulated us on doing the right thing! We also noticed plenty of bakeries where you could have grabbed a super cheap pretzel or roll wrapped only in paper, or you could always dine in somewhere to avoid plastic! When we weren't on the boat we also got ice cream in cones instead of plastic (see we really tried!).
Making a difference
One of the most special moments on the trip was how behind the mission everyone else on our boat became. Our Contiki squad were AMAZING and so open to hearing about how to reduce waste. Lottie's business, Banish, donates 1% of all profits to Take 3 For The Sea (an organisation that aims to clean up plastics from our oceans) so naturally, every time we went for a swim or hit a beach we'd pick up as much plastic as physically possible.
Sadly, this was super easy because even in this slice of paradise, there were bucketloads of straws, bottles, nylon boat ropes, thongs and you-name-it types of plastic on the beautiful beaches. Everyone on our trip noticed us swimming back with trash (obviously) and everyone was picking Lottie's brain about her business, zero waste and how they can help. Soon enough, almost our entire boat was grabbing a few pieces of rubbish when they went for a swim! One day we even had a big beach clean up after finding an idyllic little 20 metre beach that had over 178 bottle caps on it! Yep, we counted. Everyone was pretty shocked and I think a lot of people on our trip went home thinking more eco-friendly. After all, if only 20% of plastic floats and ends up on beaches, can you imagine what happens to the other 80%? It's sitting on the ocean floor.
Final verdict
Is zero waste travel possible? Of course. You just need to be very prepared and disciplined (which as you can see we could have done a lot better). There will be some awkward moments, especially when there's a language barrier, but once you get through them you'll get a smile. We didn't once have anyone refuse to not use our bags or be weird about it. Everyone always smiled and said we were doing the right thing. Every little bit helps and we'll be even more prepared for our next trip!