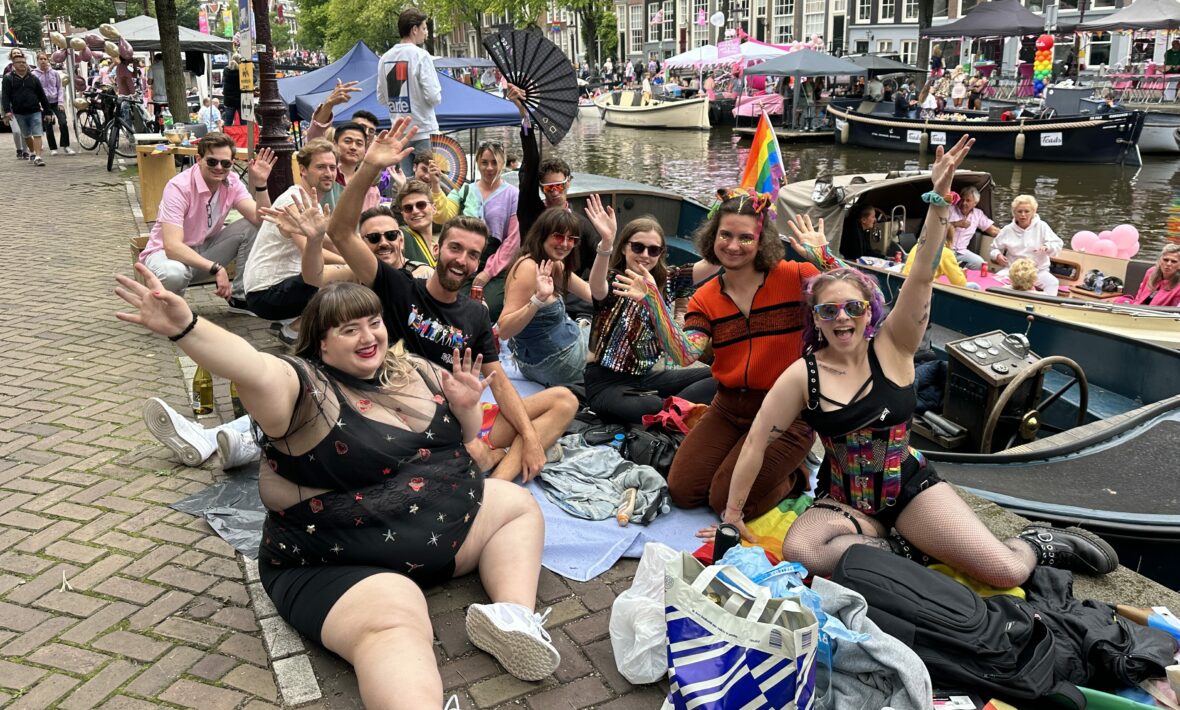 In case you didn't already know, Amsterdam is widely considered one of the most LGBTQIA+ friendly cities in the world – and for that, we love it there! Home to many gay-bars and Queer friendly boathouses, special accommodations and Pink Point – an information and souvenir centre for members of the LGBTQIA+ community – as well as of course the most iconic Pride celebration right on the Amsterdam Canal! 
Don't you want to experience all the Queer love and festivities for yourself? Here's an LGBTQIA guide to Amsterdam for all things Queer in this inclusive city. It includes everything from cafes to restaurants, to events and the Queer quarter. So, if you're planning a trip to Amsterdam anytime soon then you'll know exactly where to get started. 
What is Pride like in Amsterdam? What should I expect?
Pride in Amsterdam had such a good vibe! It's definitely more joyful and playful than any other parade I've been to in Europe. The celebration is on the water and each float is a boat blasting out Queer tunes with everyone waving flags and singing from the banks of the canal. It lasts all of the afternoon and you should definitely get there early to secure a spot!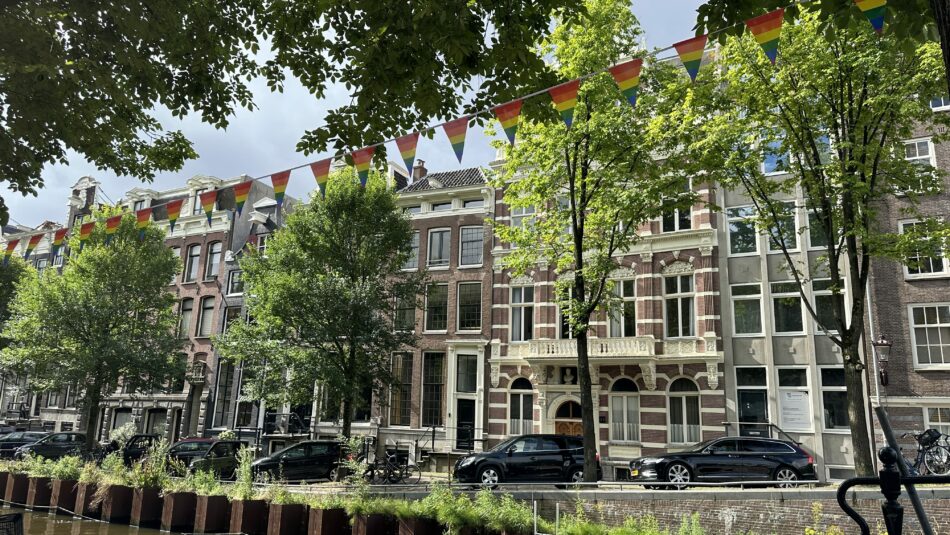 Image source:Rosie Turner
What should I wear?
Wear whatever makes you feel comfortable and good in yourself! It did rain whilst we were there so I'd recommend packing a poncho or an umbrella just in case. The weather in the Netherlands can vary quite a bit, even in the summer, so a jumper or light jacket is probably also a good idea!
What kind of events can I expect?
An LGBTQIA+ guide to Amsterdam wouldn't be complete without setting a few expectations!
There are loads of street parties going on during the weekend as well as club nights and parties at the bars. Contiki joined a silent disco, and we also had official after party tickets for Pride, so there are plenty of options to suit your taste. The vibe is also very relaxed, so if you want to split into smaller groups or you end up meeting other friends along the way, you're 100% free to do your own thing!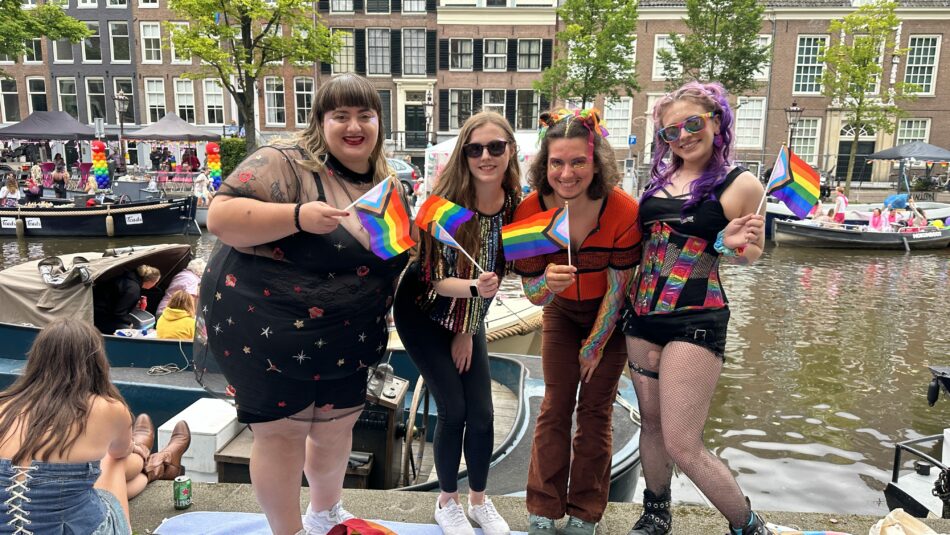 Image source:Rosie Turner
What's the best LGBTQIA+ cafe to visit? 
I'd be surprised if any cafe in Amsterdam 'wasn't' LGBTQIA+ friendly, but if you're looking for cosy relaxed vibes then I would recommend Wandu (it's a little walk outside of the centre but worth it). Otherwise you can visit La Place which has 3 floors full of tables and seating, so there's plenty of room to grab coffee or snacks and spread out with the group. 
Can you describe Amsterdam's Queer quarter in 3 words?
Vibrant, friendly and fun! 
What was the LGBTQIA+ walking tour like? What are some things that you learn? 
Who better for an LGBTQIA+ guide to Amsterdam than an LGBTQIA+ guide himself? I have to admit, I don't often enjoy walking tours as I feel they can sometimes be a little repetitive… HOWEVER, the LGBTQIA+ tour that we took during our first day was incredible!
Our guide was so enthusiastic and knowledgeable and that made us all want to listen and soak up as much information as possible. We walked around some important monuments and learned about the first gay bars to pop up around the city, as well as the history of the canals and even the drinking water!
Would recommend.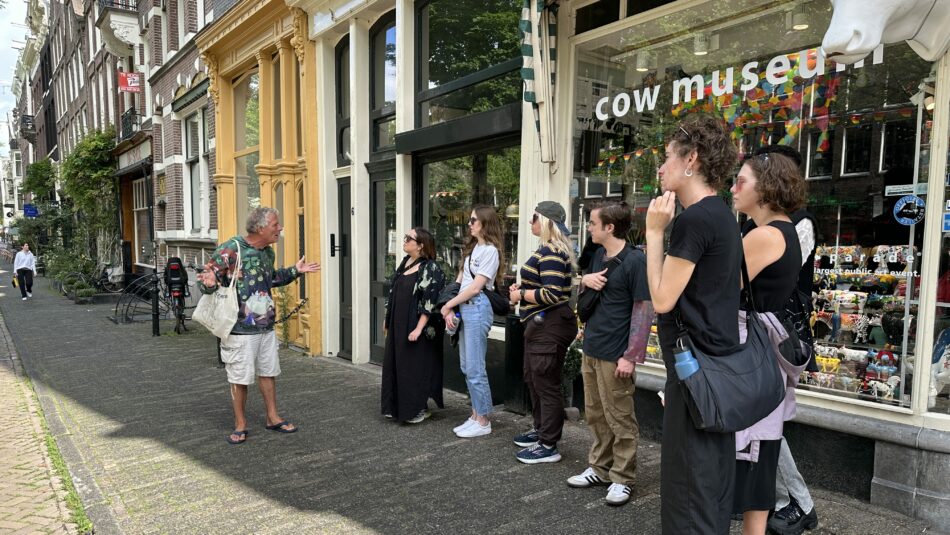 Image source:Rosie Turner
Are there any special shows? 
There are many, many shows that cater to all kinds of tastes! Amsterdam is a melting pot of Queer culture so whatever you fancy, you can pretty much find! Obviously, Amsterdam has quite a reputation around the Red Light District (which we were not allowed to be guided around or take photos in as it's very restricted) but there is much more to see and do than just this area!
What are some staple Queer places I should visit in Amsterdam?
During Pride the whole of the city becomes Queer led, so pretty much anywhere you go you are going to find other people like you! The main Queer street is called Reguliersdwarsstraat, so anywhere along here would be great to check out! 
Contiki took us to a bar called Belushi's on the first night which was loads of fun. They have pool tables and an outdoor terrace, and that's where we all officially met and started forming connections.
The official Contiki Pride after party is at Disco Dolly in the centre of town, so this would also be a great place to hit up! If your vibe is more relaxed you can check out some of the great cocktail bars such as Super Lyan and Tales & Spirits. 
What's Unique about Amsterdam's Queer scene and Pride?
Amsterdam is a very inclusive city and this was felt throughout: from all the LGBTQIA+ decorations adorning the streets, to all different types of businesses, cafes and bars. Some Pride parades in other cities feel restricted to only one small area, but because Amsterdam isn't too big and the festivities take over the canal, it feels like the whole city embraces the weekend and really goes for it! 
I would also say that it's a very international Pride: we met so many Aussies, Americans, Europeans and people from all across the globe ready to share the love!