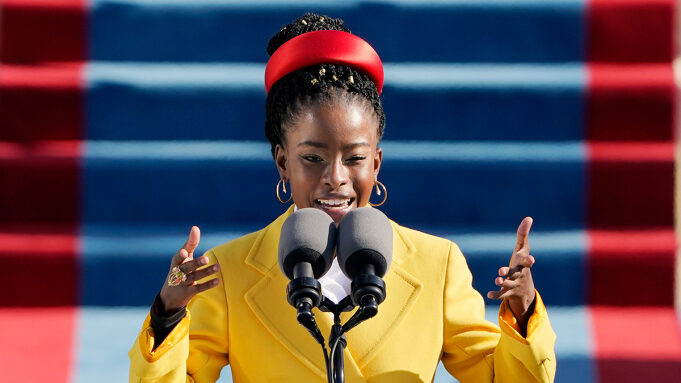 On 20 January, youth poet laureate Amanda Gorman delivered her spine-tingling poem The Hill We Climb to an international audience of millions to mark US Inauguration Day.
On Sunday 7 February, she became the first poet to perform at the NFL Super Bowl – ever.
America's most-watched sports event has historically seen the likes of Beyoncé and Lady Gaga take to the stage; this time, it was Gorman, the spoken-word artist delivering her recital of Chorus of the Captain and striking a chord amongst the nation yet again. The piece was a dedication to the NFL's 'honorary captains', three essential workers and the sacrifices they've made to support their community during the global pandemic:
"Let us walk with these warriors / Charge on with these champions / And carry forth the call of our captains"
The message of hope echoed that of The Hill We Climb:
"Somehow we've weathered and witnessed a nation that isn't broken / but simply unfinished"
In essence, hope is what Gorman has come to represent.
Just as Kamala Harris signifies the possibility for girls of our future, Amanda Gorman is the voice of the future – and of today. As the USA celebrates Black History Month throughout February, the spotlight is on both historic and modern day figures and their profound impact on the world. Gorman is one such figure.
So what else can we learn about this trailblazing female, the poet and activist with the killer wardrobe who's still only 22 years old?
She's got a speech impediment
It's hard to believe that a woman who recites poetry for a living might find it difficult to express words aloud, particularly if you've heard her exceptional – often cited "flawless" – deliveries, but Gorman's very open about her struggles.
She explains she has most difficult pronouncing the letter R.
"I'd want to say 'girls can change the world,' but I cannot say so many letters in that statement, so I'd say things like 'young women can shape the globe,'" she told Harvard Gazette.
But she uses writing to overcome this. When interviewed by Anderson Cooper of CNN she told him:
"The more that I recited out loud, the more in which I practiced spoken word and that tradition, the more I was able to teach myself how to pronounce these letters which for so long had been my greatest impediment."
She's a twin
Amanda's twin sister, Gabrielle, is both filmmaker and activist. She lives in LA, where they both grew up, and recently graduated from the University of California as a film major.
Creative talent clearly runs in the family. Gabrielle's been named one of the top seven filmmakers in the country by National YoungArts Foundation, she's worked with the likes of Lana Del Ray and The Game, as well as writing, directing, producing and starring in her own screenplay.
Occasionally the two work together. Amanda and her sis recently collaborated on a film – shot by Gabrielle, with the poetry reading Rise Up As One by Amanda.
View this post on Instagram
She's using language to reconcile change
"Poetry is the language of reconciliation," Amanda Gorman told Vatican News – and she's using hers to represent the voice of the people and drive change:
"A country that is bruised but whole / benevolent but bold / fierce and free" (The Hill We Climb)
Musicians and pop artists inspire us with their sounds and lyrics, and Gorman does the same with spoken word. Even if a political speech doesn't rouse you, it's hard not to feel stirred by the passionate way Gorman delivers her pieces. In previous speeches she's argued how poetry is inherently political – and it has the means to incite action.
She's a modern-day great, both artist and activist, lifting up the next generation in the process:
"Young people, especially young women, around the world are rising up and taking their place in history. For every Amanda, there are countless more like me. I may be unique, but I am in no way alone. The world is being rocked and changed by the next generation, and it's time we listen to them" (Vatican News)
View this post on Instagram
Celebrities love her
She's been interviewed by Michelle Obama, Barack and Oprah are tweeting about her, and Reece Witherspoon is swooning over her (to name but a few small moguls). With a cool 3.5million Insta followers and an appearance across most global media outlets, Amanda Gorman is a celeb in her own right. But she's getting a ton of positive press from other industry names too.
Oprah Winfrey, who gifted her with a caged-bird ring to symbolise previous inaugural poet Maya Angelou (I Know Why The Caged Bird Sings) tweeted on Inauguration Day:
"I have never been prouder to see another young woman rise! Brava Brava, Amanda Gorman. Maya Angelou is cheering—and so am I."
View this post on Instagram
She's using fashion to express her identity and heritage
Amanda Gorman's wardrobe has stolen the show on more than one occasion. 'Yellow coat' was trending the day after she did her Inauguration Day recital, dressed head to toe in Prada with that killer blazer and satin red headband. Then she busted out the pearl-studded powder-blue Moschino coat for the Super Bowl reading. Followed by the Greta Constantine coat for her appearance on the front cover of Time magazine, and the hot-pink gown by Aliétte that featured in the same piece.
Her bold, bright, colourful choices are complements to the identity she's forging as a poet – and considered ones, too. She described to Harpers Bazaar how she loves "loud, regal-looking dresses" that reflect her pride as a Black woman.
And speaking to Vogue she said: "There's this idea of the poor, suffering poet, and I try to exhibit that the poet can be stylish, too."
View this post on Instagram
She's a best selling author – of not one, but two books
No surprise that after her recital for Inauguration Day, demand for Gorman's poetry skyrocketed. Her publisher Penguin announced they'd release a hardcover of a book containing the poem by spring; copies sold out almost immediately, and shot to the top of Amazon's bestseller list. But it's not the only thing she's written. Amanda's first book, Change Sings: A Children's Anthem, aims to empower children to make positive change. She wrote it in 2020 and after her performance earlier this year, it's become another bestseller just behind The Hill We Climb.
Still trying to figure out if there's anything this phenomenal woman can't cut her teeth at…
View this post on Instagram
She's already an iconic figure in living Black History
To celebrate Black History Month, two Michigan parents recently dressed up their daughters in the same clothing Amanda Gorman wore on Inauguration Day to both celebrate "living black history" and "honor" Gorman. She might be only 22 years old but this woman is already an icon and revered Black figure, inspiring millions across every demographic globally.
In 2017, she said she intended to run for president in 2036. Then, in The Hill We Climb, she nods to this again:
"We, the successors of a country and a time where a skinny Black girl descended from slaves and raised by a single mother can dream of becoming president, only to find herself reciting for one."
Watch this space.
View this post on Instagram
And her words sizzle. "Life is a pitch….But to be a Girlboss is to toss your sauciness at the world that gives you its salt, to find the beauty in your faults and to see the wisdom and the fearlessness in your own sour"
She addressed an audience of women on the Girlboss stage and shared these empowering words on what it means to be a badass, fearless, and female. Everything she says we want to turn into a quote to hang on our wall. Pure poetry.
Amanda Gorman, we can't get enough of you.