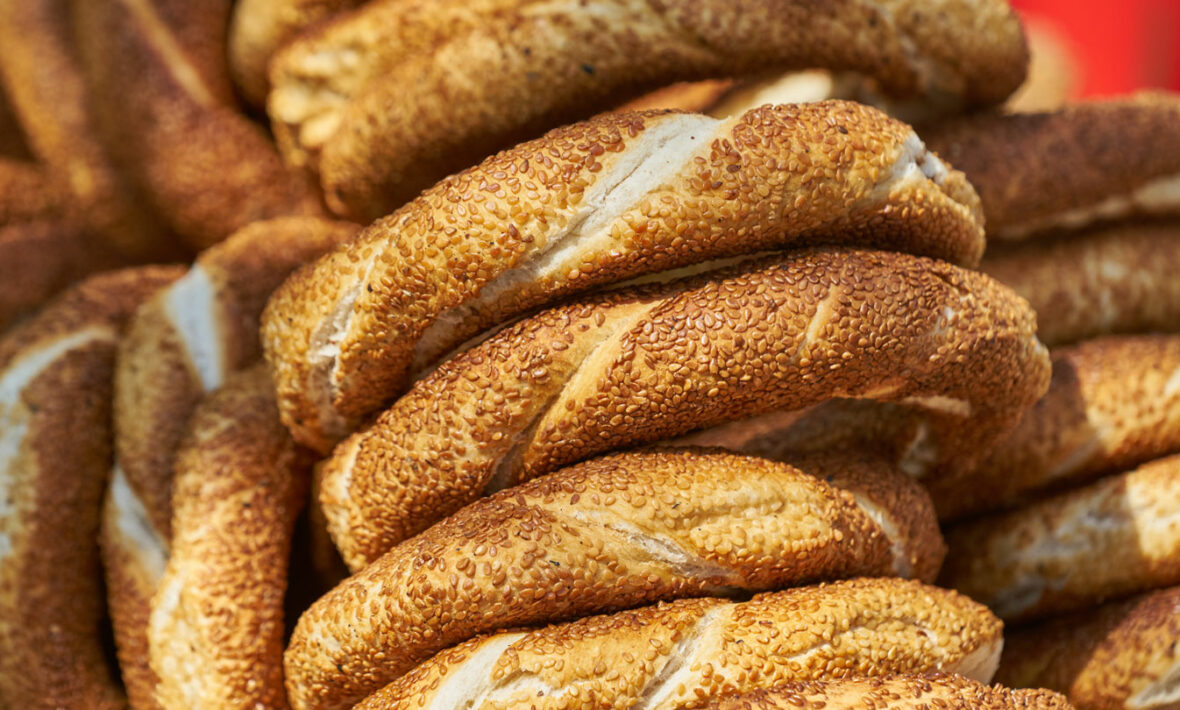 Montreal is one of the BIGGEST foodie destinations in Canada. With culinary options like poutine, smoked meat sandwiches and maple syrup, it's no wonder that foodies flock to this French Canadian city. Montreal's culinary scene is HUGE, with bagels at the top of the list. So, if you're planning a trip there, read on to discover our top picks for the best bagels in Montreal.
The history of the Montreal bagel
Today there's a lot of debate around the exact origin of this delicious bake – with some saying that the bagel originated in Poland. The sweet dough may have made its way to Montreal with Jewish immigrants from Eastern Europe coming to Canada in the 1900s. We DO know that the first bagel bakery in Montreal opened around 1919 – on St-Laurent Boulevard. If you're visiting the city of Montreal, it's one of the meals you won't want to miss. Not only is it delicious, but it's one of the city's oldest foodie traditions.
If you want to eat a Montreal bagel just like how the locals do, you've got to eat it fresh out of the bag. Don't forget to add in a schmear of cream cheese, of course. Because bagels are such a staple in the city, they're very easy to find. From brunch restaurants to dedicated bagel shops, here are seven of the best places to find Montreal bagels in the city…
1. Hinnawi Bros Bagel & Café
At Hinnawi Bros Bagel & Café, you can make the bagel into the perfect sandwich. There are 17 different bagel sandwiches and lots of topping options like avocado, pulled pork, braised beef and much more. There are multiple locations throughout the city, making it easy for you to get your bagel fill while on the go.
View this post on Instagram
2. Fairmount Bagel
If you're in the Mile End neighbourhood, stop by Fairmount Bagel. This spot is a family-owned business that dates back to 1919 and has been around for over three generations. It's a local fave to grab fresh hand made bagels. You'll find a variety of flavours with lots of toppings and cream cheese options.
3. St-Viateur Bagel & Café
This is a great spot for to dine-in and enjoy the perfect Montreal bagel! With locations across Montreal, you can easily find a spot to grab a bite to eat. With several locations throughout the city, expect a wide variety of Montreal bagels, ranging from traditional bagels with lox to BLTs and smoked meat.
View this post on Instagram
4. Bagel Etc.
One of the best places for Montreal bagels is Bagel Etc. They put the bagel up front and centre with a full menu of bagel-centric dishes. Expect Eggs Benedict with bagels instead of English muffins and omelettes with a side bagel.
5. Beautys Luncheonette
This restaurant has been a local fave since 1942. Grab the Beautys Special, which consists of cream cheese, smoked salmon, tomatoes and onions. It's the TRUE Montreal bagel experience. Don't just take it from us, it was featured meal on Anthony Bourdain's TV show The Layover.
6. Snowdon Deli
At Snowdon Deli you'll find some of the best eats in Montreal. This deli puts Montreal smoked meat and Montreal bagels together in one! You can also get bagel breakfast sandwiches or classic lox bagels to go.
7. MTL Bagel Shop
This local bagel shop makes more than 2,500 bagels a day! You can buy these individually, by the dozen or wholesale. They do breakfast and lunch combos with their bagels helping you satisfy all of your bagel cravings.
And there you have it! We've only listed seven of our faves, but really you can't go wrong with grabbing a fresh bagel anywhere in Montreal. You may even leave the city looking at bagels a completely different way…
Why are Montreal bagels the best?
Bagels in Montreal have become a MAJOR staple. Each bagel is hand made. The dough is kneaded and carefully twisted into the classic bagel "O-shape" before it's poached in honey water and baked in a wood-fire oven.
Unlike the New York-style bagels that are made with sourdough, the Montreal-style bagels are much sweeter and crunchier thanks to the way they're made. You can expect a beautiful golden colour, sweetness from the honey and crisp crust from the wood-fire oven. There's a distinct chewiness about Montreal-style bagels that make them unique, which is something we've all come to love.