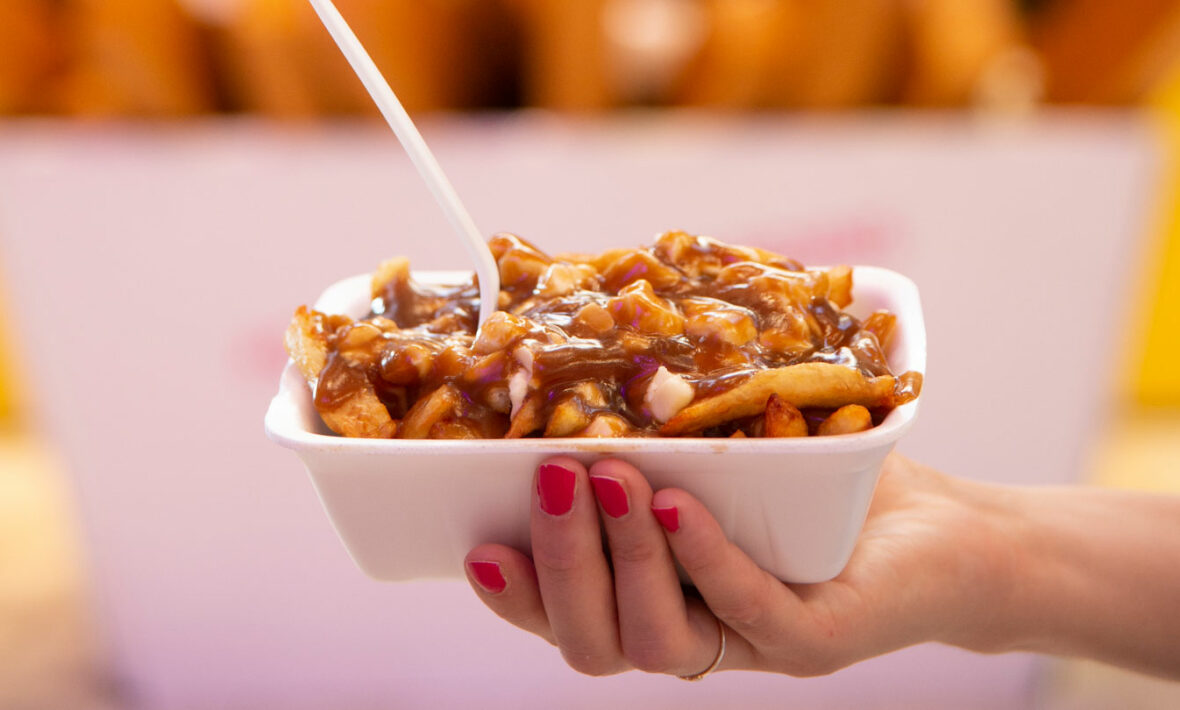 Bonjour Montreal! We love you for your French-Canadian Québécois culture and cobblestone streets in Old Port of Montreal. Most of all, we love your food. You bring loads of delicious meals to Canada, such as smoked meat sandwiches and Montreal bagels, but taking the top spot is a truly Canadian dish – poutine. Made of French fries, cheese curds and gravy, poutine is a dish you MUST try when visiting Quebec. I mean, what could be better? There are tons of restaurants to find the best poutine in Montreal with some spots offering up their own personal twist to the classic Canadian dish. So, bring your appetite because you'll want to taste all the poutine you can at once…
Where was poutine invented?
There's no better place in Canada to try an authentic poutine than in Quebec – that's because it was created here! A short two-hour drive outside of Montreal, in Warwick, Quebec, is where poutine was born. In 1957, French Canadian restaurant owner, Fernand Lachance invented poutine by adding cheese curds to his fries.
In Quebec, poutine is slang for "a mess", which if you've eaten the dish before you'll know can be very true!
The best poutine in Montreal
Not sure where to eat poutine in Montreal? You can grab poutine in almost any restaurant in the city, or at the annual Great Poutinefest Montreal held in August. Since we only have so much space in our stomach, we've pulled together a list of our top 9 places to find the best poutine in Montreal…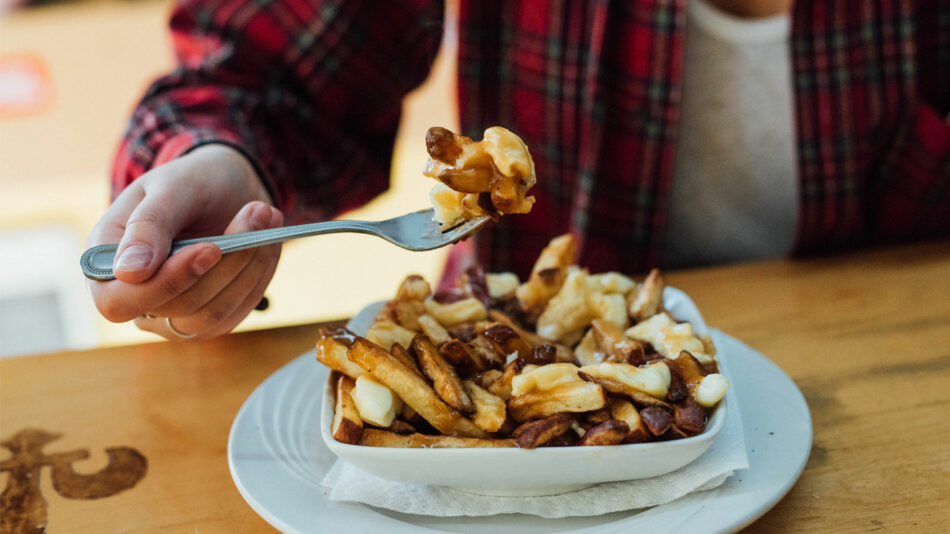 Image source:Photo from Tourisme Montréal by Alison Slattery
9. Paul Patates
This old school diner serves some GOOD poutine in Montreal. In the heart of Montreal's Pointe Sainte Charles neighbourhood, Paul Patates is a major favourite among locals. Grab a bottle of in-house brewed spruce beer and the barebones poutine for the full experience. They even serve a veggie poutine option for those who want a plant-friendly experience.
8. Gibreau Orange Julep
Driving through Quebec? The Gibreau Orange Julep is a Montreal landmark that can be seen on the Décarie Expressway. Its iconic orange-shaped concrete building is definitely hard to miss. Luckily for us, not only does the Gibreau Orange Julep serve the creamy orange drink, it also serves up some mean poutine!
View this post on Instagram
7. Montreal Pool Room
Talk about greasy spoon at its greasiest. The Montreal Pool Room is a restaurant favourite among locals for Montreal-style hot dogs and fries. Unfortunately, you won't find any pool tables here, but you will find some of the best poutine in downtown Montreal.
6. Poutineville
This Montreal-operated chain offers build-your-own poutine service. They specialize solely in poutines. With multiple locations across the city, it is an easy way to get your poutine-fill while you're on the go. They even offer the best delivery poutine you can find in the city.
View this post on Instagram
5. Le Garde-Manger
If you're in Old Montreal, head over to Le Garde-Manger. Run by Canadian Iron Chef, Chuck Hughes, Le Garde-Manger is where you can find the city's best lobster poutine. The restaurant is cozy and lineups are common, so we'd recommend making a reservation.
4. Au Pied de Cochon
Looking for a poutine that pulls out all the stops? Au Pied de Cochon offers the city's fanciest poutine. Their poutine dish features foie gras (made with duck or goose's liver) gravy and chunks of foie gras on top of a bed of fries. Reservations are highly recommended as this spot fills up fast. Drawing in locals and tourist from across the country, this dish is like a right of passage in the poutine world in Montreal.
3. Frite Alors!
This Montreal spot blends Belgium-style fries with Canadian poutine to make one memorable dish. It may be tough to decide what to eat here as they have an extensive menu of options for their poutines, including vegan alternatives.
 

 

 

View this post on Instagram

 

 
2. Patati Patata
This fast food joint may have limited seating, but offers up some of the best poutine in Montreal. Expect skinny fries and fresh cheese curds here. Their signature dish is the 'patatine', a poutine with mushrooms, peppers and onions.
1. La Banquise
No trip to Montreal is complete without a stop at La Banquise for poutine. With a selection of over 30 different types of poutines and meat and vegan gravy options, La Banquise tops our list. If you're looking for bars that serve poutine, La Banquise is the spot. This restaurant is open 24/7, making it a great late-night snack to enjoy with a microbrewery beer. Expect lineups here as it's 100% the best place for poutine in Montreal.
 

 

 

View this post on Instagram

 

 
There are tons of poutine places in Montreal where you can find this delicious Canadian favourite! Enjoying a poutine is one of the many things to do when you're visiting Montreal. Don't forget to add in a smoked meat sandwich and some time to explore the Old Montreal for the full experience of Montreal.