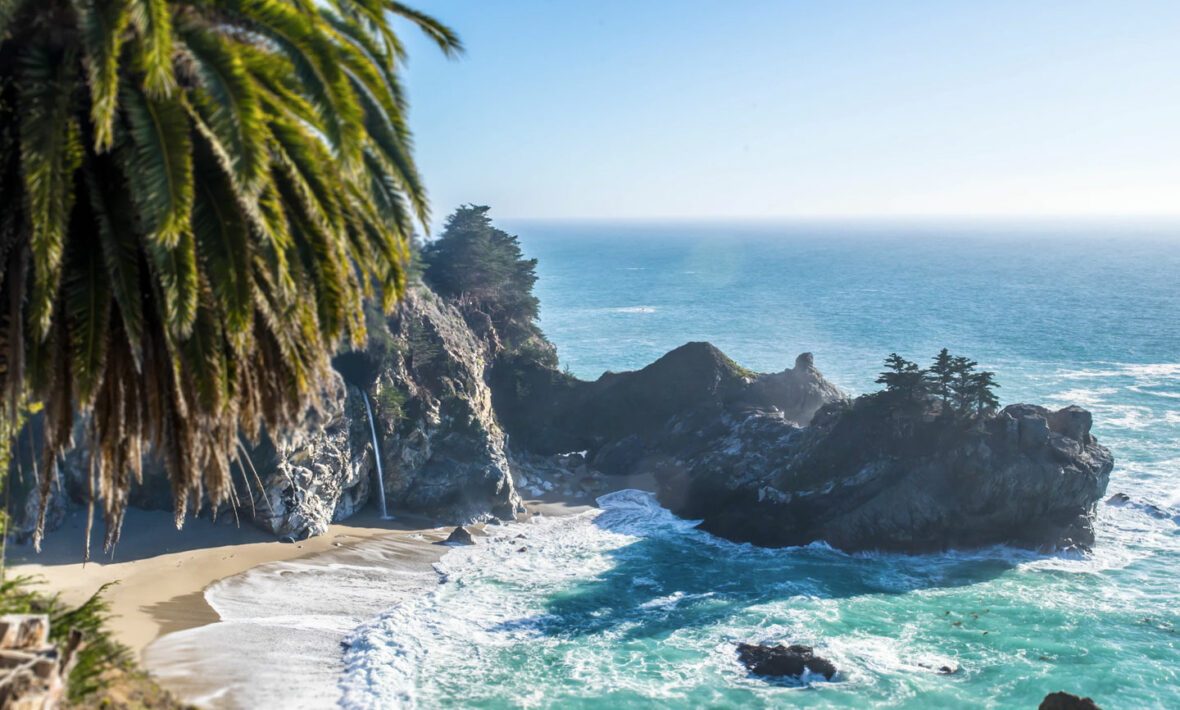 Not all beaches are created equal, and we're here for it. It makes for some pretty amazing beach days, and definitely some unique ones. Volcanic beaches, cotton candy sand, beach penguins, shape changing lagoons, swimming with pigs – if these don't describe your beach bucket list, it will. We scoured the internet, surveyed travel journalists, agencies, and bloggers alike to bring you our top 15 best beaches in the world you need to visit. Beaches were ranked out of 10 according to untouched beauty, remoteness, sand and water quality, average temperature and how much sunshine they get each day. Here, we've outlined the top 15 beaches in no particular order. Read below and let us know which of these 15 beaches you want to travel to next!
1. Perissa Black Sand Beach, Santorini
Most of Santorini sits on the rim of a volcano and this beach is sure to remind you of just that. Perissa Beach's dark sand against its clear and blue waters makes for a unique, picturesque backdrop for all your Instagram aesthetic dreams. It's average annual temperature of 22 degrees is perfect for lounging in the sun and swimming in the water 227 (annual days of sunshine) days a year. A word to the wise, bring a lounge chair and a good pair of flip flops, dark sand absorbs more heat so be careful with your feet.
2. Maya Bay, Phi Phi, Phuket
If this beach isn't on your bucket list destinations yet, it should be. It's easy to see why Maya Bay scored a 10/10 on sand and water quality. With its turquoise bay and pillow-like sands, this beach has been the backdrop to countless international films (i.e. Star Wars Episode III, Bridget Jones: The Edge of Reason, the 9th James Bond movie). Experience true paradise and see for yourself why this is one of the best beaches in the world.
3. Waikiki Beach, Hawaii, USA
Known back in the day as the premier spot for Hawaiian royalty to relax and surf, Waikiki Beach is still exactly that, a prime beach for chill vibes and choice surf. This famous beach boasts soft, honey-colored sand and pristine waters that offer incredible waves throughout the year. With an annual average temperature of 26 degrees celsius, there's no denying that this island has some of the best beach days around. Mahalo!
4. Bondi beach, Australia
G'days are sure to be had at Bondi beach. One of the most popular beaches in Australia, Bondi beach is all about the laid back coastal lifestyle. Its glistening ocean, pristine sands and gnarly waves attracts beach-goers from all over the world. If you can hang 10, make sure you add this to your travel bucket list. Bondi beach is definitely known as one of the top surfing destinations in the world.
5. Boulders Beach, Cape Town, South Africa
Soft white sand, massive granite boulders and warm waters are definitely staples of this Cape Town Oasis, but it's not just the beach that makes Boulder Beach iconic. Tourists from all over the world come to visit it's local residents – the African penguins. You will definitely get caught up observing these magnificent birds as they waddle around, sunbathe, and go about their daily lives torpedoing into the waters of the Indian Ocean. While you can't touch the penguins, make sure you have your camera on you as they love to pose for pictures. After all, they were born in a tuxedo.
6. Pink Sands Beach, Bahamas
Heard of cotton candy skies? What about a cotton candy beach? On Pink Sands Beach, you get both! This beach is pastel pink and deserves its 10/10 score for sand and water quality. On top of the awe-striking beach, a magnificent coral reef cradles the beach and creates the perfect opportunity for snorkelling. The Bahamas is dreamy and this beach is like something out of a fairy tale.
7. Railay Beach, Thailand
Arguably one of the best beaches in Thailand, Railay beach is sure to impress. This beach paradise is surrounded by gorgeous limestone cliffs and is only accessible by boat. With its white sand and clear waters, Railay beach scores high for sand and water quality, perfect for those looking for chill vibes and much needed relaxation. There are so many things to take advantage of while you're on the island, make sure you don't miss out on the remarkable lagoon that changes shape according to the rise of the tide. If you're as obsessed with this Thai beach as we are, we recommend visiting the stunning Ao Nang beach too. It's definitely worth the short boat ride.
8. Navagio Beach, Greece
The views of Navagio Beach (also known as Shipwreck Beach) on the small Ionian island of Zakynthos are iconic. The sheer white cliffs surrounding the tranquil bay are incredibly popular on Instagram. The average temperature is a cooler 19 degrees which may be why people prefer the view from above than in the water, but there's no denying it's a gorgeous beach to visit.
9. Baia Dos Porcos, Brazil
You may know Baia Dos Porcos by another name, Bay of Pigs. Yep, this is the unique beach where you can swim in turquoise waters with pigs! There is a lot of wildlife here including sea turtles and it's a great place to explore 258 days a year (that's when it's sunny).
10. Hidden Beach, Mexico
This hidden oasis lies on the island of Marietas off the coast of Puerto Vallarta. As the name suggests, finding your way to this beach requires a bit of know-how, since the only way to get to the beach is to swim or kayak through a natural tunnel. Once inside you'll see the cavern is open at the top, creating a perfectly sunny and sheltered beach. The beach cave was created by Mexican forces practicing bombing tactics during World War I and only has space for a few people at a time (so it's perfect for privacy lovers if you're lucky enough to find it empty).
11. Anse Lazio, Seychelles
Located in an archipelagic island country in the Indian Ocean, this tropical paradise stretches for miles of beach with an average water temperature of 27 degrees Celsius (on the sand it's 29 degrees) so it's perfect for anyone who only likes to swim when the water is warm. Its lush coconut palms flanked by towering granite boulders offer a tropical oasis. With its perfect landscapes for exploration and adventure, this beach is undeniably one of the best beaches in the world.
12. Trunk Bay, US Virgin Islands
The water at Trunk Bay is clear, the sand is soft and the scenery is jaw dropping. This island gem has a 205-metre snorkelling trail just waiting to be discovered and plenty of beach space for everyone. The beach has been protected since it was donated to the National Park Service over 50 years ago, so expect this beach to stay perfect for years to come.
13. Aguas Blancas, Ibiza, Spain
Miles of beach with dark-colored sand surrounded by characteristic limestone cliffs describe Aguas Blancas in Ibiza. The untouched and unspoiled sapphire waters of this beach will call to you as you find nearby rocks and caves to explore. No wonder it scored a 9/10 in sheer untouched beauty.
14. Manuel Antonio Beach, Costa Rica
Ride some of Costa Rica's most famous waves at Manuel Antonio Beach. Perfect for relaxing and adventure-seekers alike, this beach located within Manuel Antonio National Park has a lot to offer. You can hike the rainforest and hang with the monkeys and sloths, then soak up the rays at the beach or catch the perfect wave. With a sand and water quality rating of 9/10 we know this beach won't disappoint.
15. Cannon Beach, Oregon, USA
Probably one of the most Instagrammed beaches of the Pacific Northwest. This majestic beach is known for Haystack Rock, a massive rock formation close to the shores of the sea. While the water is at a chilly annual average temperature of 17 degrees celsius, it scores a 8/10 on sand and water quality. Its silky smooth shore is perfect for long walks on the beach, sand castle competitions, and practicing your photography skills over picturesque landscape spots.