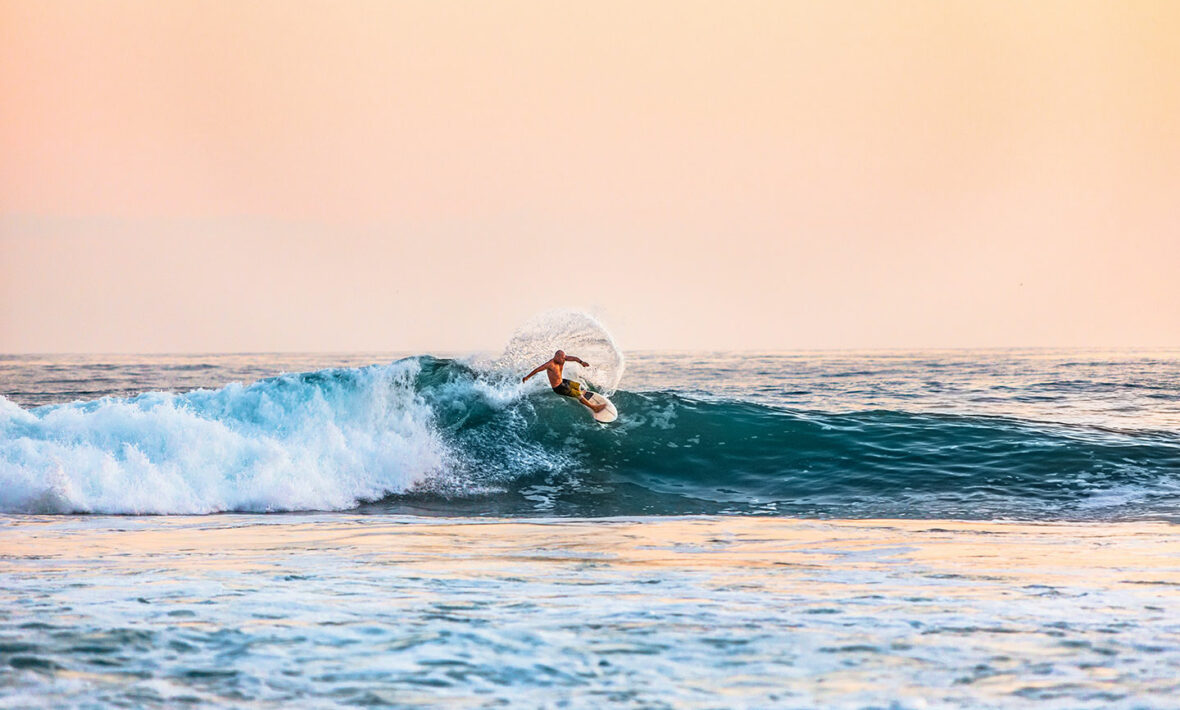 Any surfer will tell you there's nothing better than diving into the ocean at the start (or end) of the day and paddling out into the deep blue to catch a few waves. And there's no reason travelling the world should keep you from your surfing passion! There are SO many amazing spots to hang ten around the world, but we've narrowed it down to 12 of the best surfing beaches in the world. Consider this your travel to-do list. 
Portugal
Portugal is paradise for anyone, but that's even more true for surfers. With surf beaches stretching kilometres such as Pedra Branca Ericeira, north of Lisbon. This beach is known for three-metre waves and a near perfect sheltered left-hand break, it's a surfer's dream (and we don't say that lightly).
Hawaii
When someone says surfing, Hawaii normally comes to mind and for good reason – Hawaii is packed with epic surfing spots. From the iconic North Shore Pipeline, to expert haunts in Oahu, and the MASSIVE reef break affectionately known as Jaws in Maui, Hawaii has a swell for every skill level.
Costa Rica
Costa Rica is heaven on earth for beach lovers and our favourite spot is Tamarindo Beach. Great for beginners and experts, it's a stone's throw from the jungle and all the beautiful nature Costa Rica has to enjoy.
Pro tip: if you want to learn to surf, you can usually find really cheap lessons in Costa Rica.
Canada
Canada might be more synonymous with snowboarding and skiing but it also has great surfing spots in rivers and on the west coast. Tofino is a popular favourite BUT remember to pack a thick wetsuit, it's chilly out in the waters.
Germany
Germany is landlocked you say? True, but in Eisbach in Munich, you can go river surfing and yes, we're serious. It's a unique way to ride a surfboard but a lot of fun to test your skills. The one-metre wave repeats by hitting a large rock, so you'll stay in the same place and ride until you fall off. Warning: prepare yourself for an audience.
Thailand
When you're done relaxing on the beaches of Thailand, grab a board and head out into the warm waters for an easy, breezy surf in the turquoise waters. Surin Beach in Phuket is a hot spot loved by locals and tourists.
California
There isn't really a bad spot to surf in California. It's no surprise they have a huge surf culture considering the near-perfect weather and waves year-round. Hit up Black's Beach in San Diego for powerful swells, or battle the crowds and go Beach Boys style at Surfrider Beach in Malibu with a long board. For the TRULY daring (and let's be real, experienced surfer), head straight to 25-metre waves at Mavericks.
Sri Lanka
For a secluded surf spot, Sri Lanka has the goods. Weligama Beach is perfect to learn at, whilst Arugam Bay has a stellar right-hand peak AND here you'll share the sandy strip with local wildlife like monkeys and elephants.
Australia
Nobody beats Australia when it comes to the best surfing beaches (yes I'm Australian, don't @ me). Between famous spots like Byron Bay and Bondi, there's a spot to suit everyone's skill levels. Trust me, you won't ever want to leave.
Brazil
Brazil is bliss for surfers and those who don't surf, because there are a lot of beachside bars to watch the pumping waves from! Sao Francisco do Sul is where a lot of surfing competitions are held and worth a paddle out to the sandbar for.
France
You may not know this but France is actually considered the surfing capital of Europe! The tubes rival Hawaii in Hossegor (and the houses rival Hollywood), while the surf never stops in Biarritz.
South Africa
According to surfing experts, the best right-hand ride in the world is in South Africa, at Supertubes in Jeffrey's Bay. It's a big open bay divided into three sections so you can work your way up, PLUS, rides can last 300 metres!