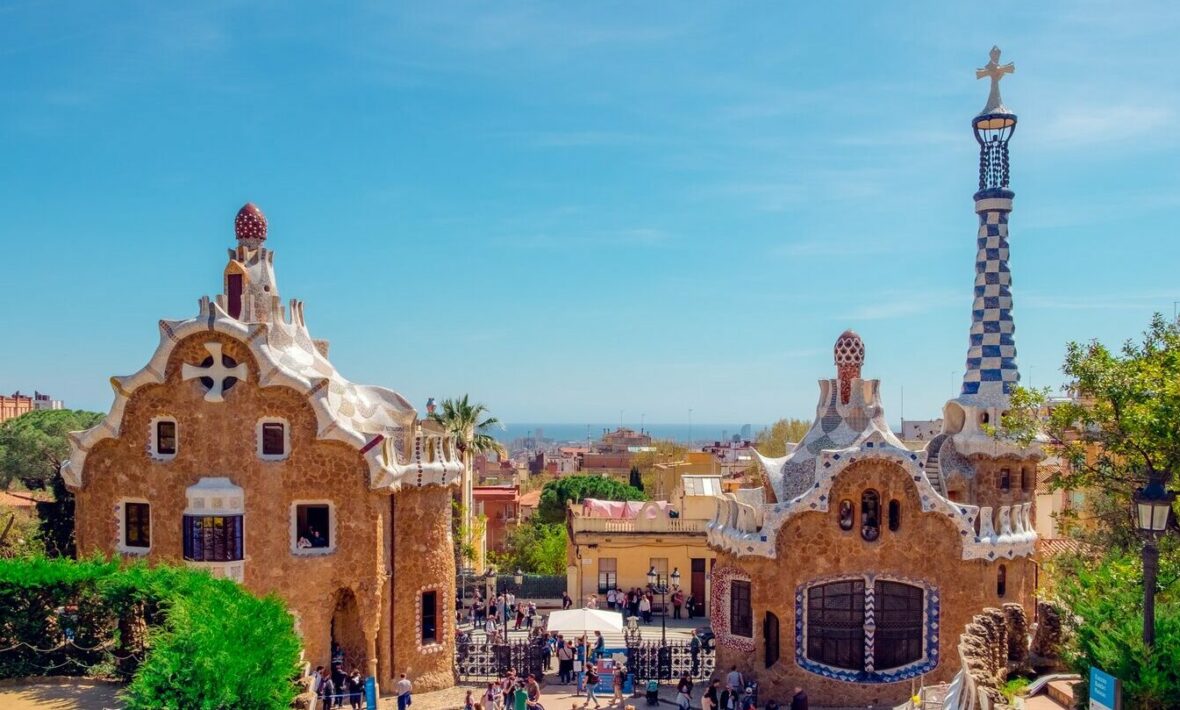 Counting reasons why you should include Spain in your next trip will seem to be endless when you think of its vibrant main cities and small charming villages. Whether you are in for nature, culture, food or shopping… Spain will surely charm and win your heart.
That said, here are our top picks for the best cities to visit in Spain, where you can switch off from your daily routine, discover delicious cuisine and immerse yourself in the local culture:
1. Valencia
Most famously known as the birthplace of paella and home to futuristic sights like the City of Arts and Sciences, Valencia is the third largest city in Spain and one of the most attractive destinations in the world.
Things to do in Valencia:
Visit the City of Arts and Sciences

Check out La Lonja de Seda, a stunning Gothic structure built in the 15th century, currently listed as a UNESCO World Heritage site

Take a stroll through Plaza de la Virgen

Visit the Catedral de Valencia
Interesting fact: the Holy Grail, the cup from which Jesus drank at The Last Supper, is thought to be kept in a chapel inside Valencia's cathedral. If that's not reason enough to visit, we don't know what is.
Image source:Photo by zebbache djoubair
2. Barcelona
Barcelona, the capital city of Catalonia, is one of the most popular Spanish cities among tourists and for good reason. For starters, it's got one of the most amazing architectures in the world. The city's most iconic landmarks (like La Sagrada Familia, Casa Batllo, and Park Güell) were designed by the famous Antoni Gaudi, a Spanish architect known for his innovative buildings, influenced by neo-gothic styles, modernism and art nouveau. Aside from its unique architectural style, Barcelona charms through its delightful weather, delicious food and incredibly friendly locals.
Things to do in Barcelona:
Visit La Sagrada Familia, designed by famed architect Antoni Gaudi

Visit the Picasso Museum (spread over three stories, the museum has a collection of over 4,300 artworks by Pablo Picasso from 1890-1957)

Check out the hip district of El Poble-sec, one of Barcelona's liveliest neighborhoods with a good selection of taverns, wine bars and even live theatre.

Lose yourself in the Parc del Laberinto de Horta, an actual outdoor maze and Barcelona's oldest garden

Go to a tapas bar (some of the top-rated ones are Bar Alegria, Palosanto, El Puestu, Tapeo and Bar

Cañete

)
Interesting fact: Barcelona is one of the most bike-friendly cities in the world, with 180 km of bicycle lanes and one of the most well-thought-out bike-sharing programs out there.
Check out this article to learn more about Barcelona and why you should visit: https://www.spain.info/en/route/barcelona-two-days/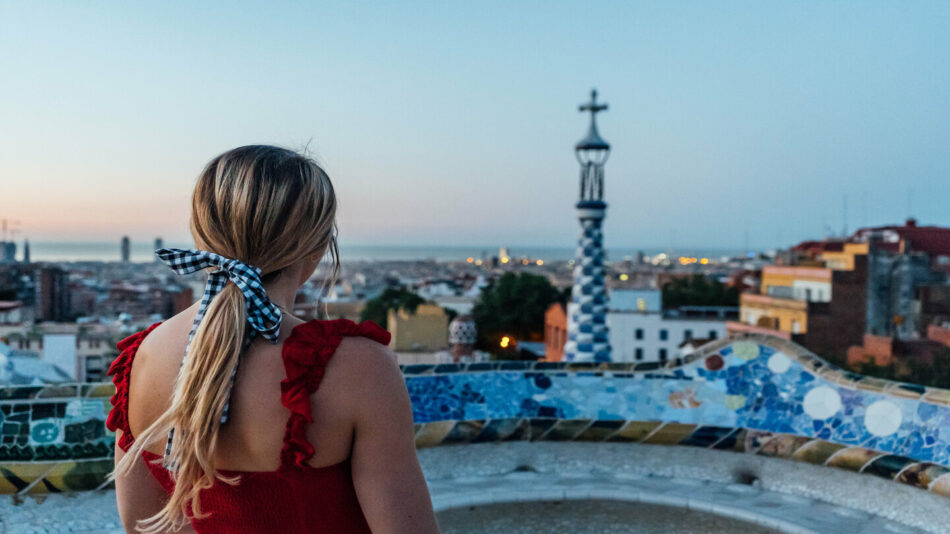 Image source:Contiki
3. Madrid
With extraordinary architecture, countless galleries, amazing cuisine and vibrant nightlife, Spain's capital does know how to capture the hearts of tourists worldwide, which makes it one of the best cities to visit in Spain.
Stumped for ideas? Here are some of the best things you can do in Madrid: 
Check out the Royal Palace (the official residence of the Spanish royal family, the largest in Western Europe)

Visit the Prado Museum, Spain's most important art museum.

Eat at the world's oldest restaurant – Sobrino de Botin, founded in 1725 and still serving to this day

Discover the city's oldest Arab baths, built over a three-hundred-year-old cistern

Visit the Reina Sofia, the most important contemporary art museum in Madrid (for a chance to see Picasso's Guernica and many other works of art)

Have a drink at The Hat, one of the most popular rooftop terraces in Madrid, and take in the sights from up top
Interesting fact: Madrid is on its way to becoming one of the greenest cities in Europe. The authorities have banned all diesel cars from the city centre and the municipal government has a strategic plan to use plant power to tackle climate change.
Image source:Photo by Alex Vasey on Unsplash
4. Seville
Probably one of the most beautiful and enchanting cities in Spain, Seville is one Spanish destination you will not want to miss. With vibrant neighborhoods and historic buildings at every corner, but also loads of delicious tapas and fun evening activities, your trip here is guaranteed to be a success.
Things to do in Seville:
Go to a Flamenco show (with Seville being the birthplace of flamenco, it's an absolute bucket list experience to go watch a flamenco show while you're there. Some of the best places to go for this are Casa de la Memoria, Casa del Flamenco and T de Triana)

Visit Seville Cathedral

Check out the Alcazar of Seville (an official Royal Residence, where the King of Spain lives when he comes to Seville)
Interesting fact: Seville was one of the filming locations for Game of Thrones and Star Wars: Episode II – Attack of the Clones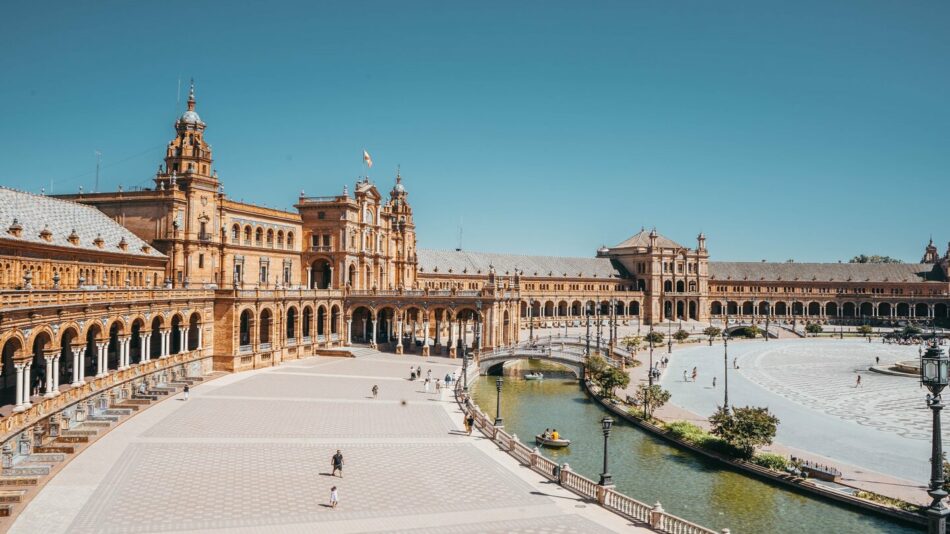 Image source:Photo by Joan Oger on Unsplash
5. Cordoba
While it's not necessarily on the bucket list of many people who visit Spain, this beautiful Andalusian city should not be overlooked. It features all the best cultural aspects of Spain, but without the crowds of tourists that usually go along with it. If you're a fan of Roman ruins, Cordoba has a few iconic landmarks that you need to check out, like the Roman Bridge over the Guadalquivir river or the Roman Temple.
The best time to visit Cordoba is in the spring or autumn, when the temperatures are mild, as opposed to summertime when the temperatures can easily exceed 40C.
Things to do in Cordoba:
Check out the Roman Temple

Take a stroll through the historic center

Starving? Try the salmorejo, one of Cordoba's most popular dishes, which is a cold soup made of tomato, garlic, olive oil and bread

Visit the Royal Stables of Cordoba and attend a horse show

Visit the Mosque Cathedral, a UNESCO World Heritage site and a stunning reminder of the city's Arab, Christian and Visigothic past.

Check out the Bridge Gate
Interesting fact: it's the place of birth of the great philosopher Seneca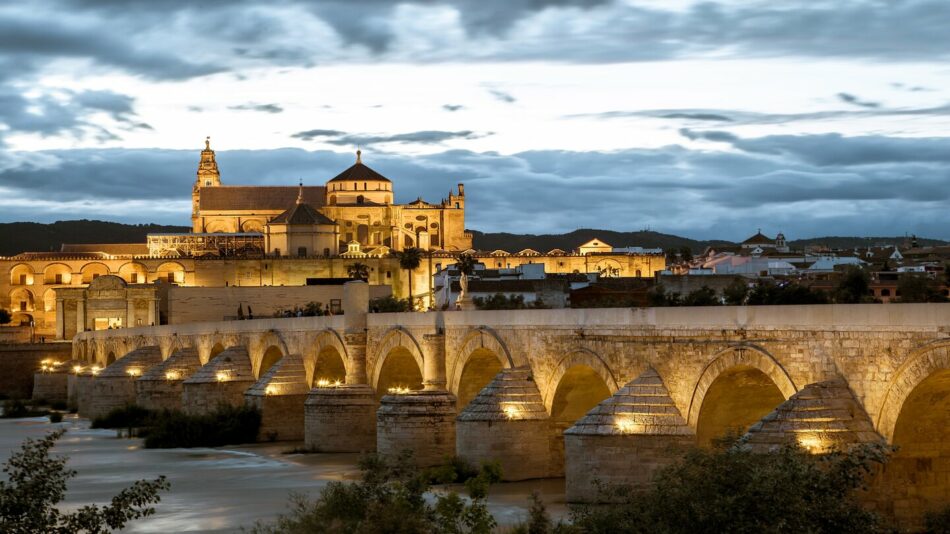 Image source:Photo by Saad Chaudhry on Unsplash
6. Granada
Located at the foot of the Sierra Nevada mountains, Granada is an enchanting city located in the south of Spain, which offers the type of travel experience you will not easily encounter anywhere else.
Things to do in Granada:
Visit Alhambra, a UNESCO World Heritage site. Spend a day here exploring the royal chambers and magnificent courtyards of this place and you will not regret it.

Visit San Jeronimo monastery, the city's first Catholic monastery, famed for its Renaissance style architecture

Take a walk through Albayzin, the old Arab part of the city, which is the oldest quarter in Granada boasting a number of small plazas perfect to relax in and take in the local atmosphere
Interesting fact: Granada was a Muslim kingdom for 800 years
Check out this article to learn more about Granada and why you should visit: https://www.spain.info/en/destination/granada/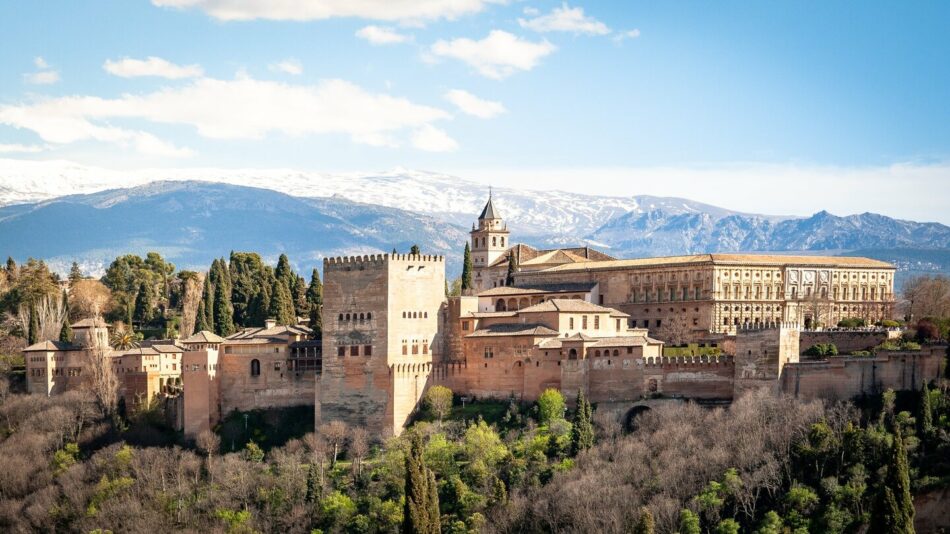 Image source:Photo by Dimitry B on Unsplash
7. Ibiza
While there's a lot of hype about its music mecca status and the quality of clubbing and socializing that goes on in Ibiza, there's more to this Spanish island than just its party scene. Ibiza boasts beautiful, pristine beaches, some amazing restaurants, gorgeous scenery and delightful weather (for more than eight months of the year). What's more, the island is actually a World Heritage site, partly because of the exceptional interaction between its coastal and marine ecosystems, but also because of its cultural and historical value.
Things to do in Ibiza:
Enjoy the sunset from Cala Comte, Cala Basse or the famous Es Vedra island

Take a stroll around Ibiza's port

Go to one of the six main clubs: Amnesia, Space, Pacha, Eden, Privilege or Es Paradis

Take a tour of Dalt Vila, Ibiza's fortified old town, currently a UNESCO World Heritage listed site

Pamper yourself with a spa treatment

Try your hand at one of the many water sports available on the island (stand-up paddle boarding, parasailing, kayaking etc.)
Interesting fact: there's sunshine on the island 10 hours a day, 300 days a year.
Check out this article to learn more about Ibiza and why you should visit: https://www.spain.info/en/top/ibiza-fun-nights/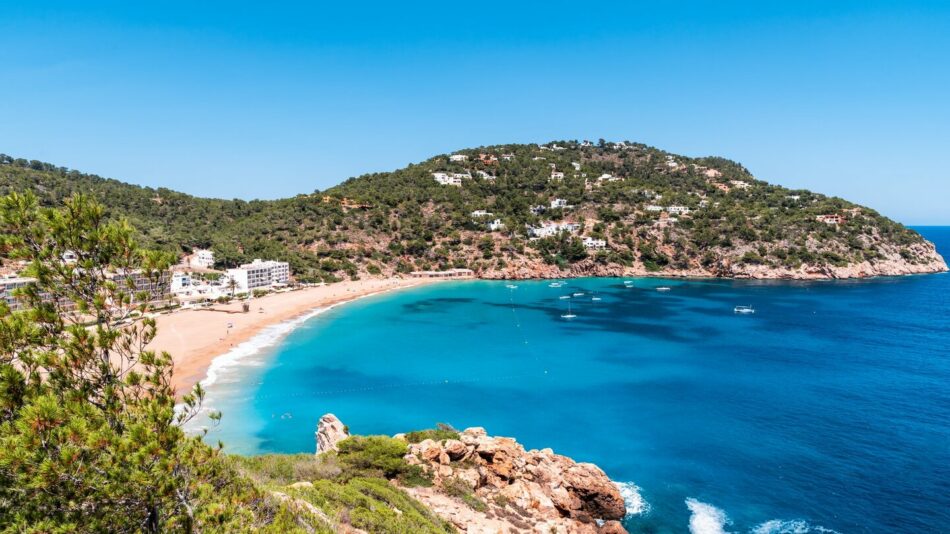 Image source:Photo by Michael Tomlinson on Unsplash
8. San Sebastian
San Sebastian is one of the most beautiful cities to visit in Spain, blessed with golden beaches, exquisite architecture and amazing dining options. Surprisingly or not, many people actually come to San Sebastian for the pintxos (pronounced as pinchos). These are sort of like tapas (small snacks typically eaten in bars), but fancier. Some of our top recommendations for pintxos are Borda Berri, Bar Zabaleta, A Fuego Negro.
Things to do in San Sebastian:
Take a stroll through the Old Town and discover the charming little tapas bars, restaurants and galleries lining the cobblestone streets

If you're a movie aficionado, you have to check out the San Sebastian Film Festival – it takes place every year in September and attracts lots of big names like Kevin Costner, Anthony Hopkins and many more. This year it's scheduled for 17-25 September.

Relax on Playa de la Concha, one of the city's three beaches, renowned for its beautiful shorelines

Visit Museo de San Telmo, the largest museum dedicated to the Basque society

Try some delicious pinchos
Interesting fact: San Sebastian has more Michelin stars per square meter than any other city in the world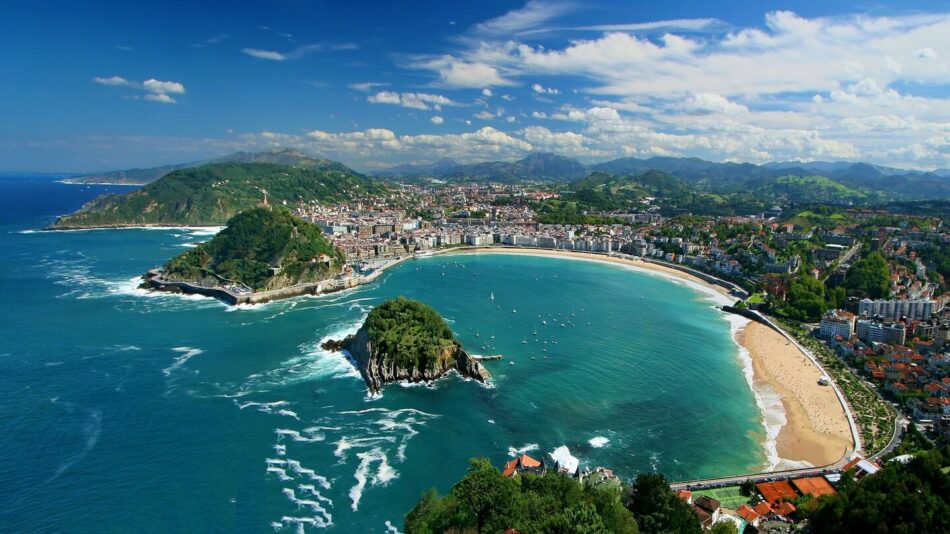 Image source:Photo by ultrash ricco on Unsplash
9. Santiago de Compostela
Last but not least on our list of best cities to vist in Spain is Santiago de Compostela. Santiago de Compostela is the capital of Galicia and is located in the far north-west of Spain. It's a famous Catholic pilgrimage site, but that's not all it's got going for it. The Galician cuisine is famous in its own right. Most of the dishes served there are prepared naturally to retain their freshness and unique aromas. Some of the most popular foods and ingredients are empanadas, seafood, cheese or tortilla de patatas. 
Things to do in Santiago de Compostela:
Visit The Catedral de Santiago de Compostela (it is said this is where St. James is buried)

Visit the Monastery of San Martino Pinario, founded in the 9th century by a group of Benedictine monks

Discover Praza da Quintana, founded in the 800s to look after the tomb of St. James

Walk the Camino de Santiago, a unique physical and spiritual experience, known as a haven for self-discovery. This is a network of many different routes, all taking pilgrims to Santiago de Compostela. The most famous one is the Camino Frances, which is 800km long and takes approximately 5 weeks to complete.
Interesting fact: Santiago de Compostela produced the world's first guidebook, which offered guidance to pilgrims on their holy pilgrimage to the Cathedral.
For more and updated Travel Safe information about Spain, please visit: https://travelsafe.spain.info/en/
Ready to plan your trip to Spain? Check out Contiki's in-depth group trips and book your favorite one today. Exclusively for 18-35 year olds.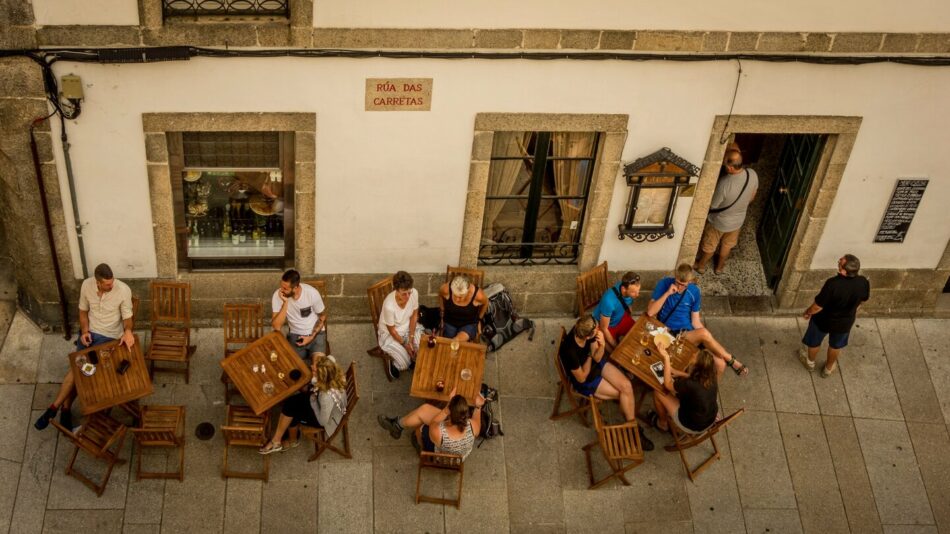 Image source:Photo by Gunnar Ridderstrom on Unsplash