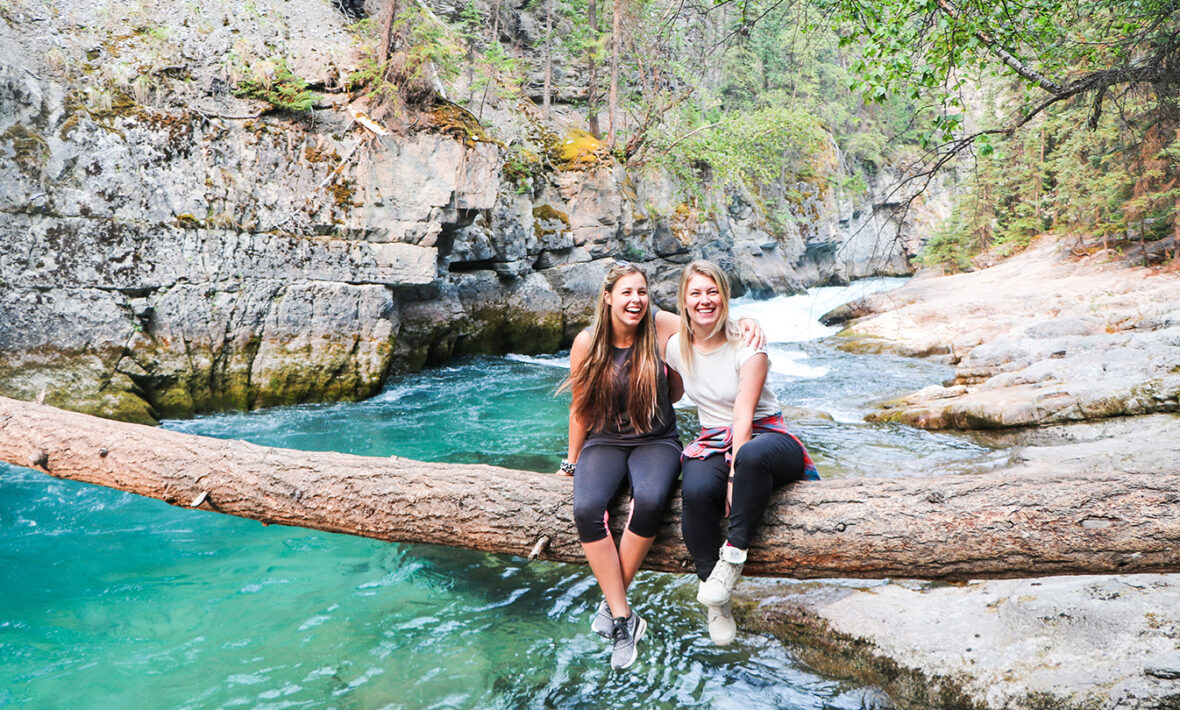 Whether you're heading out for adventures in the mountains, or taking in the cultural sites of the town, there's bound to be one thing on your mind at the end of a long day of exploring Whistler: food. But roaming the streets of the village while hungry is no fun for a weary traveller! So, we've compiled a list of the best restaurants in Whistler, Canada, to help you on your next visit.
From indulgent eats, to light snacks, we've got you covered on the best places to dine in Whistler year-round! Hot tip from us to you: If you're visiting this bustling town in the shoulder seasons of spring or autumn, many of the local restaurants and bars are known to offer dining deals to the smaller crowds.
Scroll through to see our pick of the 13 best restaurants and bars in Whistler…
1. Splitz Grill
Locals and travellers alike recognize the burgers at Splitz grill as being the best in Whistler. It's also a great place to try a Caesar! With plenty of epic, customizable choices – vegan options included – Splitz is definitely worth the visit.
View this post on Instagram
2. Pizzeria Antico
If you're craving a delicious slice of wood fire baked pizza pie, you're going to want to visit Pizzeria Antico. It's right in the heart of Whistler village with a rustic vibe, and during Happy Hour (daily from 3-5 pm) pints of craft beer go for only $4!
3. Ingrids
This cute café, also found in Whistler village, serves up scrumptious sandwiches, salads and soups. Ingrid's also has vegan and gluten free items on the menu, so there's several options for the whole Contiki crew.
4. Garibaldi Lift Co.
Known by the locals as GLC, this spot is recognized worldwide as one of the best places to après. As the heart of Whistler's social scene, it provides perfect views of skiers on the slopes in the winter. In the summer, it overlooks the bike park so you can watch riders tackle the wicked GLC drops – three cliff-drops down to a dirt landing pad. Who can say no to an epic patio?
View this post on Instagram
5. Purebread
Head to Purebread for all things sweet, savoury and homemade. This family established café serves up fresh baked bread, pies, croissants, cakes, loaded buns and delicious sustainably sourced coffee. It's a great spot for breakfast, brunch or lunch whether you stop by its Whistler Village or Function Junction location!
6. Whistler Brewing Co.
British Colombia has a booming craft beer scene. If you're into locally brewed pints and chill vibes, visit this brewery in Function Junction to taste the unique beers they have on tap. Whistler Brewing Co. also offers tours and tastings so you can get a behind-the-scenes look at craft beer making.
7. Wild Wood Café
Eggs benny, French toast and fresh baked goodies are just a few of the delicious items on Wild Wood's menu. Located in the cool neighbourhood of Function Junction, Wild Wood is the place to be for brunch.
View this post on Instagram
8. Merlin's Bar & Grill
Right at the base of Blackcomb Mountain, head to Merlin's for a legendary après. You'll need to bring the whole crew with you if you plan on ordering the epic mountain-high nachos. It also offers pub style fare, with vegan and gluten free options available.
9. Longhorn Saloon
The Longhorn Saloon is a Whistler après staple and a great spot to unwind after a day of biking, skiing, hiking or exploring. At the base of Whistler and Blackcomb gondolas, take advantage of the daily deals on offer. Enjoy some live music, sip a classic cocktail or a freshly poured pint and share stories and sharing plates while making memories to last a lifetime.
10. COWS
If you fancy a scoop of ice cream on a sunny spring day, hit up COWS for drool-worthy handmade ice cream in a waffle cone. With flavours like Brownie Explosion and Sea Salted Toffee up for your consideration, how can you say no?
View this post on Instagram
11. Hunter Gather Eatery & Taphouse
After a long day of exploring, this is the perfect spot to load up on 18 hour smoked beef brisket and poutine. Once you're sufficiently stuffed, you can try one of the many local craft beers Hunter Gather has on tap.
12. Zog's Dogs
Indulge in Canada's signature dish – poutine – at Zog's in Whistler. Toasty warm French fries and cheese curds, smothered in gravy? Sign us up! This restaurant is also known for its delicious burgers and hot dogs, if its name didn't give that away.
13. Umbrella Bar
Overlooking Whistler Mountain from the summit, the views from Umbrella Bar at Roundhouse Lodge are breathtaking. The menu ranges from fresh-made soups and sandwiches to noodle bowls and classic Canadian poutine. Sit and watch the sunset while you toast to another beautiful day on the mountain.
View this post on Instagram