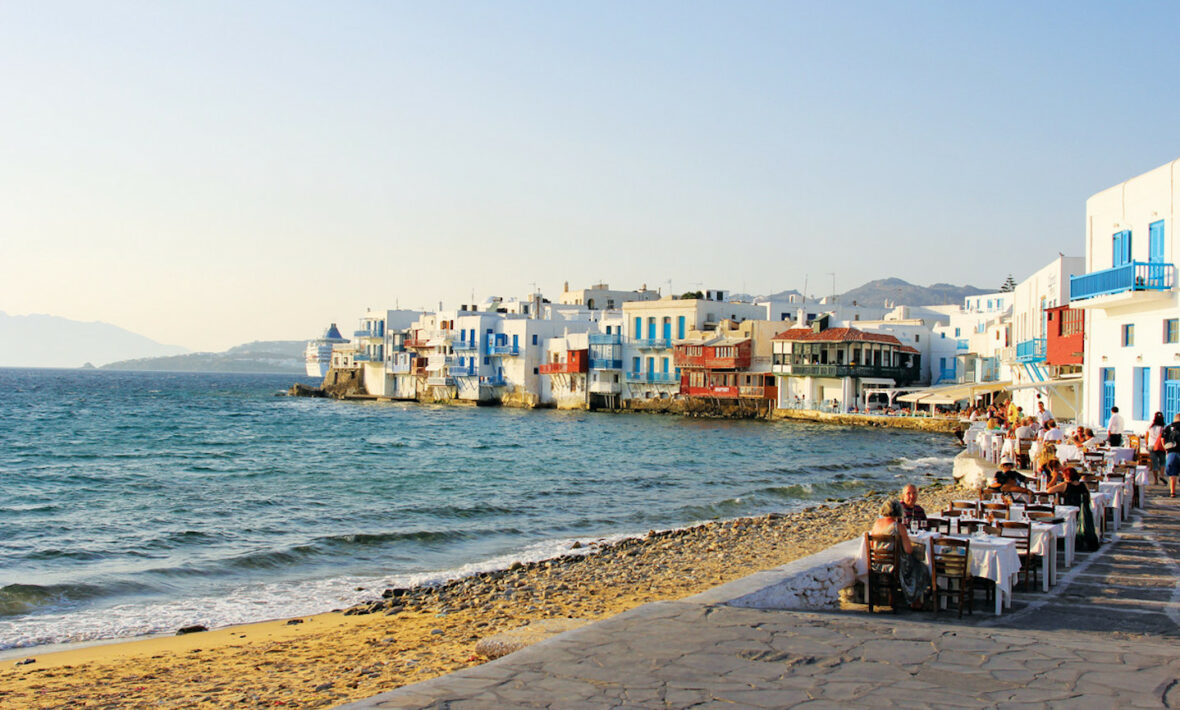 The idyllic isle of Mykonos is home to amazing beaches, picturesque blue-and-white villages and an amazing nightlife. There's no better way to get a feel for a new place than to soak up the local vibes and eat your way around the picturesque streets. Luckily, the restaurants in Mykonos Town is next level. Think local ingredients, unlimited gyros, fresh seafood, tangy feta and more… order up, this is our best pick.
Jimmy's – $
Gyros is a must when in Mykonos and Jimmy's is said to have the best of the best. This Greek fave is essentially a wrap with meat cooked on a vertical rotisserie. Foodies also rave about the fresh tomatoes and the delicious, creamy tzatziki. If you're looking to grab an affordable quick bite and keep exploring, Jimmy's is the place for you.
View this post on Instagram
D'Angelo Mykonos – $$
D'Angelos serves traditional Mediterranean-Italian dishes and they're rated for serving the best eats on the whole island. Located just steps away from the famous Windmills of Mykonos, stop in for noteworthy cocktails, amazing wine selection, pizza – and a Snickers dessert (for those with a sweet tooth).
Nice n Easy – $$
Nice n Easy is all about 'the two O's' – organic ingredients and oceanfront views. Bliss! The food is from almost exclusively Greek producers and you can tuck into the freshest seafood, right there on the beach. Plus, the menu considers plenty of dietary restrictions including veggie-friendly, vegan, and gluten-free.
View this post on Instagram
Kastro's – $$$
Seafood lovers, this is the spot for you. Located in Little Venice, Kastro's is a tucked away hotspot with wonderful views of the windmills and stunning sunsets. The food is delectable – think grilled octopus, local Mykonian cheese and honey, and of course moussaka. Plus this sunny spot has been serving 'the best cocktails in Mykonos' for over 37 years. We'll take their word for it.
M-eating – $$$$
A well-kept secret in Mykonos Town, M-eating is known for its cool atmosphere and Instagram-worthy dishes. Go here for modern Greek food with flair such as rolled sea bass fillet, fig salads and seafood ragout. Be sure to make a reservation!
View this post on Instagram
Thioni Restaurant – $$$$
If you're into splurging on amazing food experiences, try Thioni Restaurant. Located inside the 5-star Semeli Hotel overlooking the pool this open-air restaurant is a bit special. Chef Ioannis Parikos makes everything from scratch, including the lamb rack with smoked eggplant and the scampi and mushroom risotto with Greek ouzo (you have to try it!).
Thinking about heading to Mykonos now? If the restaurants in Mykonos Town didn't convince you that it's worth the trip, there are tons of other reasons why a trip to Greece is a MUST this year.