The 10 best Greek Islands you need to visit
Share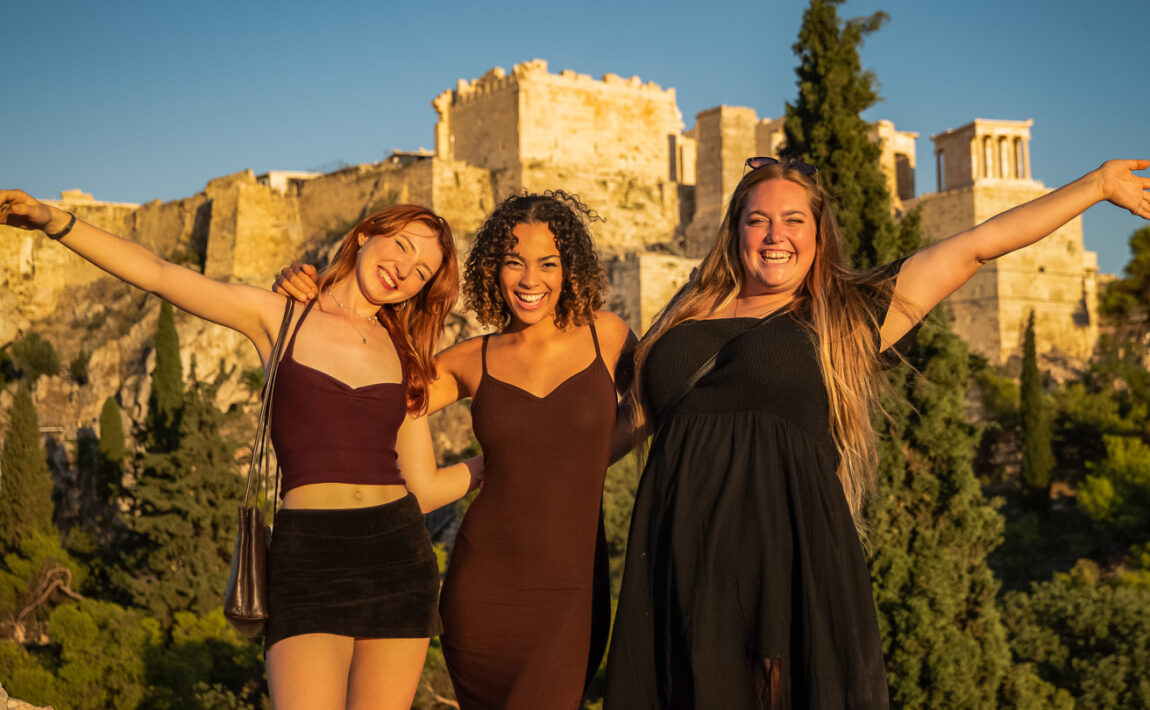 Striking blue waters. Volcanic hot springs. Lush green forests. It's hard to imagine a landscape as breathtaking and diverse as the Greek Islands.
The islands are a travel hot spot year-round, with travellers flocking to the archipelago for a slice of Greek life. Of course, islands like Mykonos, Santorini and Crete are some of the most iconic – but there are so many more to discover! So, what do you need to know before planning your next trip to the Greek Islands? Here's our ultimate guide…
When is the best time to travel to the Greek Islands?
The most popular time to visit the Greek Islands – also known as the high season – is from mid June until early September.
The summer brings warm temperatures and relaxing days at the beach, thought it also brings bigger crowds. But with so many islands to choose from, there's space for all travellers to enjoy the remarkable beauty of the region. If crowds aren't your thing, the shoulder seasons of spring and autumn could be a perfect fit! In particular, June and September are ideal for warm weather and smaller crowds.
It's important to note that outside of the high season some shops, hotels and restaurants might be closed and transport such as ferries and planes may be harder to come by – so planning is essential.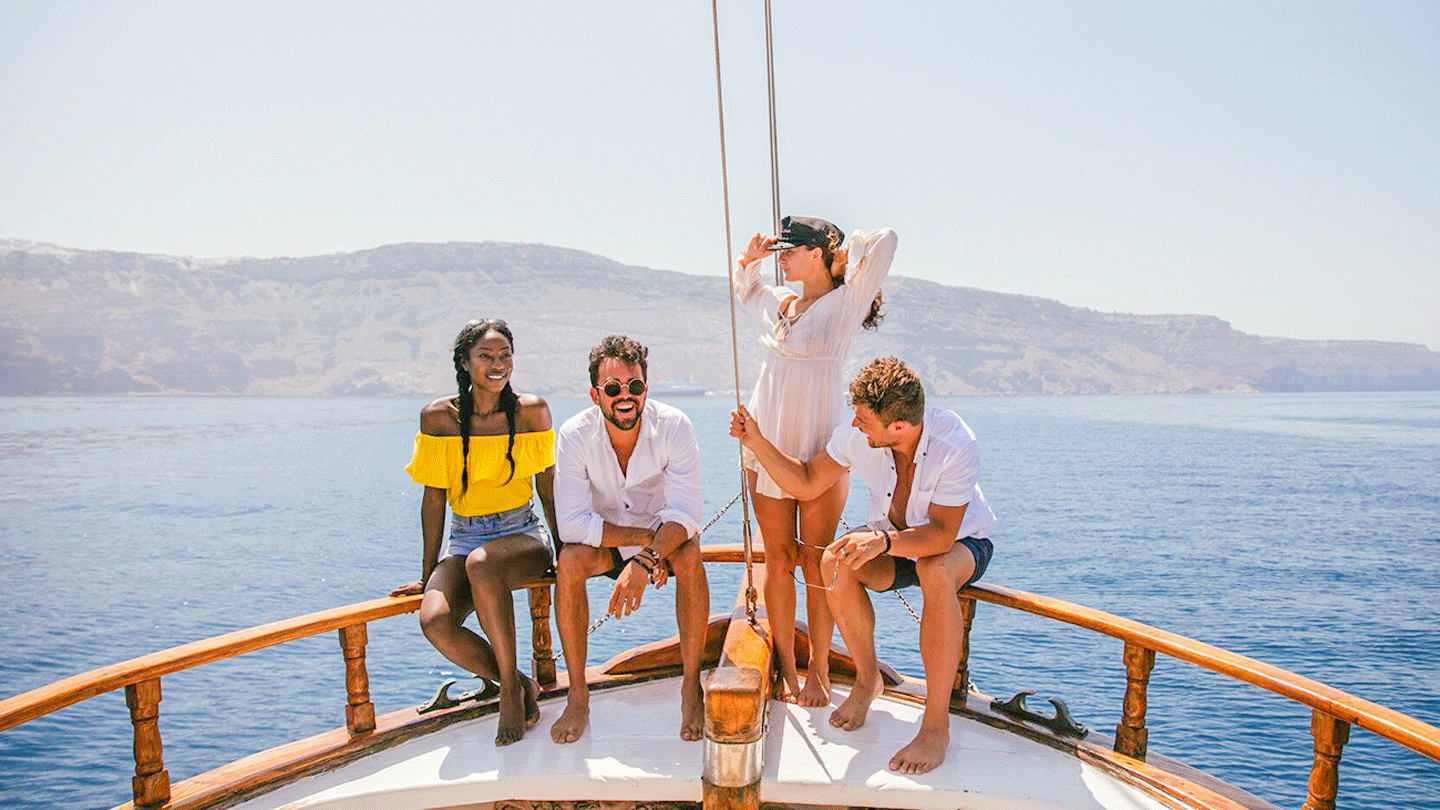 How many Greek Islands are there?
It's estimated there are more than 3,000 Greek Islands, with a reported 227 of those stunning landscapes inhabited and available to visit.
The islands are divided in to seven different groups; the Argo-Saronic Islands, the Cyclades, the North Aegean Islands, the Dodecanese, the Sporades, the Ionian Islands and the Cretan Islands. With more than 200 Greek Islands to choose from, a traveller's greatest challenge is deciding where to begin.
What's the best way to visit the Greek Islands?
The cheapest and most popular way to visit the Greek Islands is by sea. All the large islands – and lots of the smaller ones – can be reached by ferry, catamarans or hydrofoils.
Smaller islands can also be reached by boat, though you'll need to do some research to find your way there. Popular ferry companies include Blue Star, Minoan and Aegean Speed. You can book ferries in advance on several sites, including ferryhopper.com and greekferries.gr.
Another way to reach the islands is by plane – many of the larger islands like Santorini, Rhodes, Corfu and Naxos have their own airports.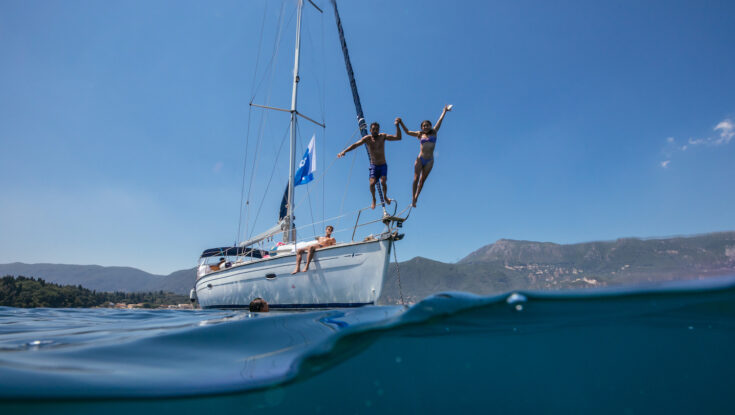 Which Greek Island is the least touristy?
With so many regions to choose from, it's no wonder there are still a bunch of islands you've probably never heard of! But which one should you head to for a little peace and quiet?
The small island of Halki boasts beautiful beaches, friendly locals and picturesque hamlets. The island of Symi is another quiet favourite, known for its old-world charm and colourful homes along the island's picturesque hillside. Both Symi and Halki can be reached by ferry from Rhodes, for a day trip or longer stay. Plus, they have the undeniable charm of the most Instagrammed islands, without as many people.
If you're into windsurfing and love rugged landscapes, then you need to discover Paros and neighbouring Naxos in the Cylades. These islands are blissful and chilled out. You can get to them via Athens or Mykonos.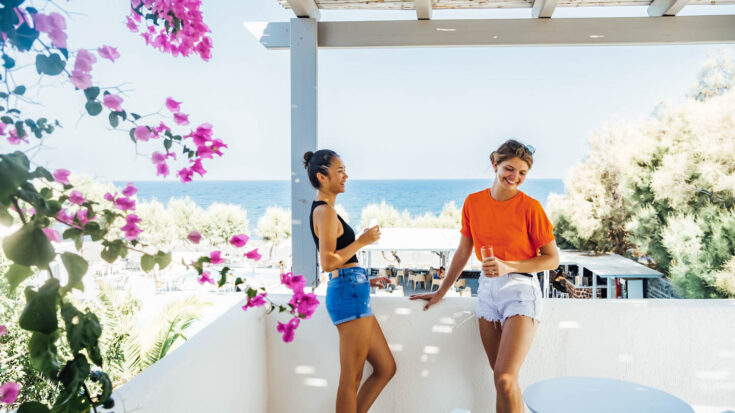 What Greek Island has the best beaches?
In a region known for its sensational shores, picking an island with the best beaches feels a little like choosing your favourite child. Though, we must admit that the often-underrated island of Cephalonia boasts some of the most incredible beaches, with Petani Beach and Myrtos Beach among the best in the world.
Meanwhile, Crete is known for it's famed Elafonisi lagoon with shimmering pink sand and crystal clear waters. But there's more to this island than one stunning sandy bay. Other popular beaches like Falassarna, Balos and Kommos will just as quickly win you over.
Now that we've ticked off a few need-to-know basics, scroll through to see our list of the best Greek Islands you need to visit in 2020…
10. Rhodes
The main island in the Dodecanese region, Rhodes Island is known for its old world charm, architectural attractions and, of course, striking beaches! Steeped in rich history and glorious scenery, Rhodes Island is a treasure trove for nerds and beach goers alike.
So, what is there to do in Rhodes Island? First things first, see the historic Rhodes Old Town. Declared a World Heritage City by UNESCO in 1988, this medieval town retains its original charm with the Palace of the Grand Master, the Ippokratous Square, the Street of the Knights, Our Lady of the Castle church and the Archaeological Museum.
One of the most popular places to see is the village of Lindos, where you can check out the 3rd century BC Acropolis, with the Temple of Athena and the Castle of the Knights of St John. Next up, a dip in the blue waters of course! Some of our favourite spots include Ladiko, Tsambika, Prassonissi and Agios Pavlos beaches.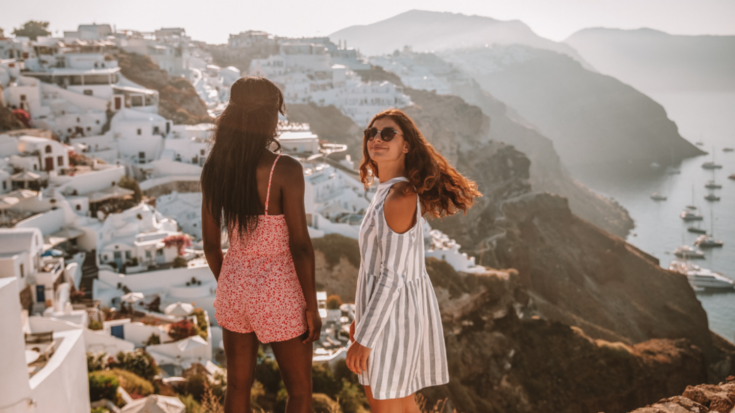 9. Lefkada
Lefkada is one of the few islands connected to mainland Greece by a causeway, meaning you can drive or bus your way there. Despite ease of access, Lefkada remains relatively untouched by tourists and is one of the less crowded Ionian Islands.
It's also home to plenty of picturesque spots for a dip, with some of the most beautiful beaches in Greece. Pay a visit to stunning spots like Porto Katsiki, Porto Heli and Egremni, Kathisma, Perfkoulia and Agiofili beaches. When you grow tired of the beaches (as if that's possible!) check out some of the other epic natural sites like Nydri Waterfalls, the cliffs of Cape Lefkatas and mountain bike trails.
The island is also brimming with cultural sights to visit. From the Monastery of Panagia Faneromeni, to the Archaeological Museum of Lefkada, there are plenty of places to take in the local history.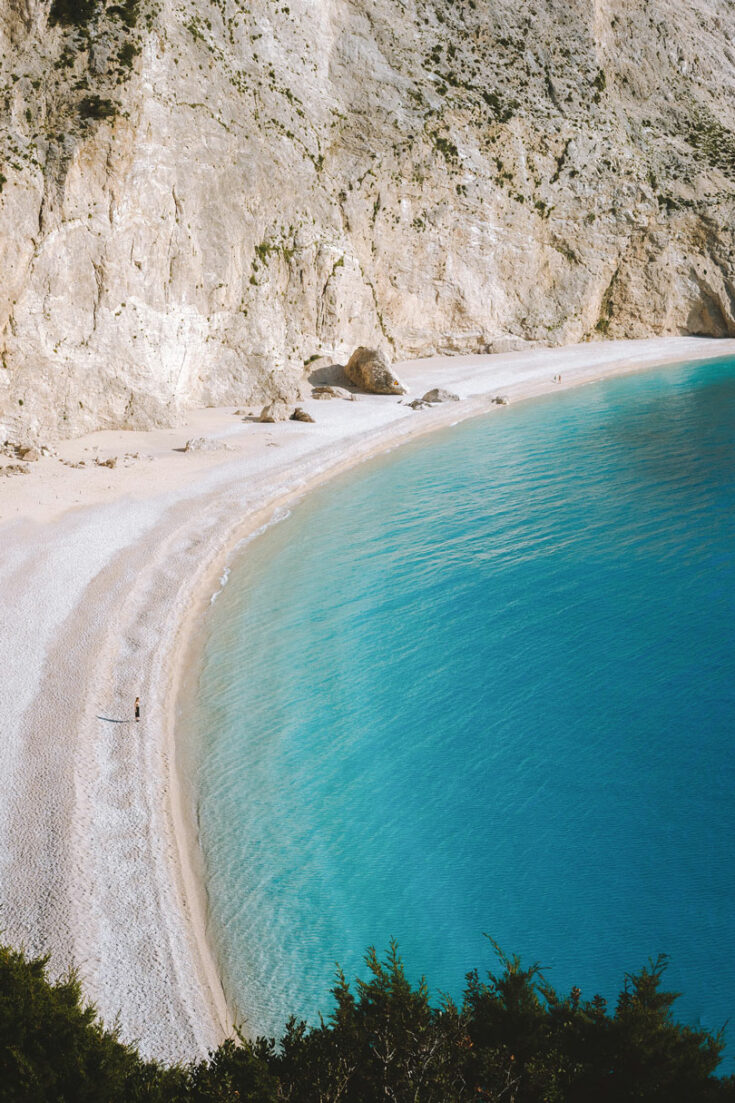 Image source:Valdemaras D / Unsplash
8. Ithaki
Sometimes called Ithaca, Ithaki or Ithaka, this rugged island is known as the home place of Odysseus. Tourists seek out history in hot spots like the School of Homer, Maritime & Folklore Museum and Stavros Archaeological Museum. History buffs, take note.
Ithaki isn't known for endless beaches like some of the other islands, though it does have a few spots loved by the locals. White pebble beach Gidaki is a must-visit, along with Skinos Bay and Sarakiniko Bay.
View this post on Instagram
7. Skiathos
Skiathos Island is one of the most popular of the Sporades, and it's not hard to see why. The lush landscape is dotted with forests of pine and olive trees. And the greenery is only complimented by pristine white sand beaches and sapphire waters.
Yep, the beaches in Skiathos are some of the best in the region. Koukounaries Beach is the most famous and popular, with Banana Beach, Lalaria Beach, Kastro Beach and Kehria Beach also on our bucket list.
Pay a visit to Kounistras Monastery, Moni Evangelistrias, Agios Nikolaos Church, the ruins of the old capital Kastro, and the museum Skiathitiko Spiti for a different kind of breathtaking experience.
Dine and drink along the water in Skiathos Town, where people gather to celebrate and enjoy their evenings in style. Or, take a stroll away from the waterfront, heading to the hillside old town, to experience a more local slice of life.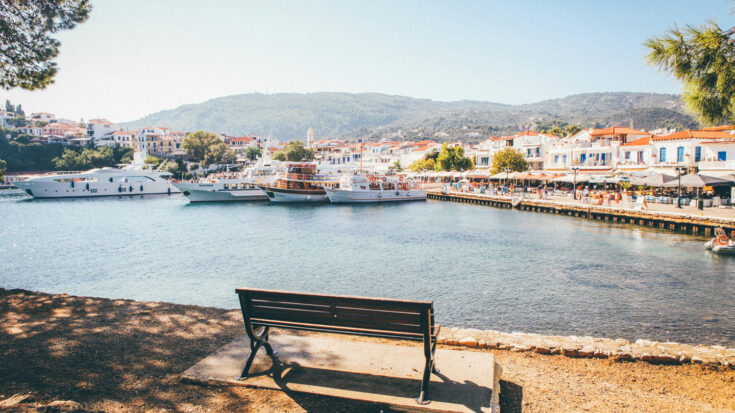 Image source:Skiathos / Unsplash
6. Cephalonia
The Island of Cephalonia (or Kefalonia) is a colourful oasis in the Ionian Sea, right next to Ithaki. When you pull up to shore and see the rows of vibrant houses dotted along the hills, you'll be forgiven for thinking you've accidentally stumbled across the Italian Riviera.
Take a stroll through the cobbled streets of the capital, Argostoli, where you can check out cafes, bars and local markets. Spend your days along the sunny coast at some of the island's best beaches, like Petani, Myrtos, Xi, Lourdas and the Melissani Cave.
Taking time to visit Moni Agiou Gerasimou, a monastery maintained by nuns, is a must. As is the 16th century Venetian castle Agios Georgios Kastro, the tiny port of Assos and the 'black mountain' Mt. Enos.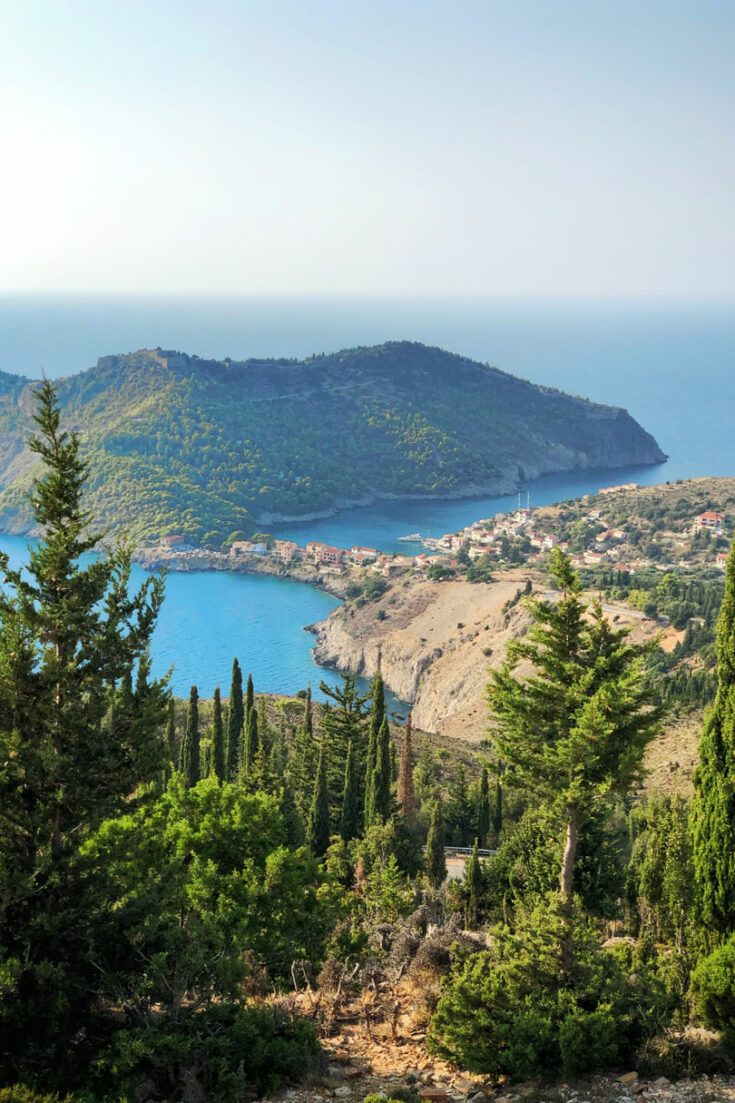 Image source:Victor Malyushev / Unsplash
5. Corfu
Another treasure in the Ionian Sea, Corfu Island is a perfect mix of culture and natural wonders.
Steeped in rich history, the island has been home to the Venetians, French, English, Russians and, of course, Greeks. The diverse culture left today is a point of pride for locals, who cherish their charming island's past. The Old Town of Corfu is a UNESCO World Heritage-listed site, with the Palace of St Michael and St Georgiou, the Liston Arcade and the Reading Society among the notable sites to see.
Not to mention, the island is dotted with fabulous beaches and coves. Head to Glyfada, Dasia, Paleokastritsa and Sidari. While you're there, you'll also need to indulge in local dishes like pastitsada (beef in a rich tomato sauce with pasta) and sofrito (battered beef cooked in olive oil and wine).
4. Crete
Crete is the largest of the Greek Islands at 8,336 km², and is home to more than 630,000 people. Known for its enchanting villages, spectacular beaches and friendly locals, the island is one of our top recommendations for first-timers.
There's no shortage of fun things to do in Crete. For history lovers, the Minoan palaces of Knossos, Phaistos, Malia and Kato Zakros are must-see. The Iraklio and Hania Archaeological Museums, Arkadi Monastery and ancient ruins of Aptera should also be on your bucket list.
Adventure can be found in the Samaria Gorge or the Ha Gorge in the Thripti Mountains, while dreamy beaches like Elafonisi Beach and Balos Beach provide the perfect spaces to relax.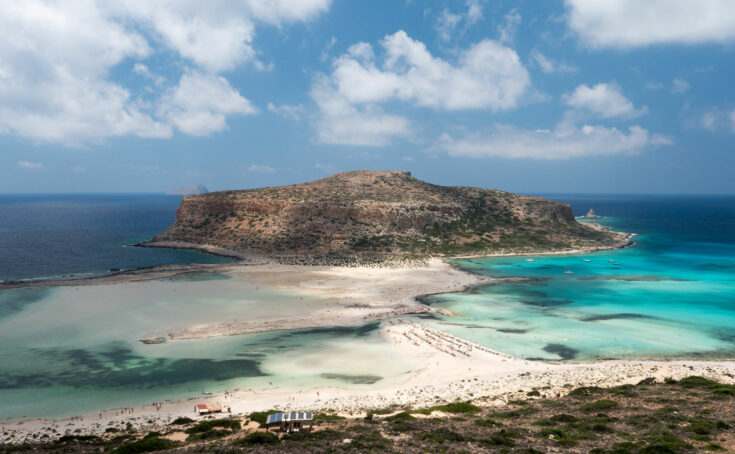 3. Ios
Sand, sea and socialising! This joyous island is known for fun-filled beach days and evenings out in the vibrant town of Chora.
Take a break from the local bars and restaurants of Ios by taking a trip to Homer's Tomb, visiting the church Panagia Gremniotissa or checking out the prehistoric site of Skarkos.
When you're ready to cool off after a day in the sunshine, dive in to the emerald waters of Milopotas and check out the beaches like Manganari, Psathi and Agia Theodoti.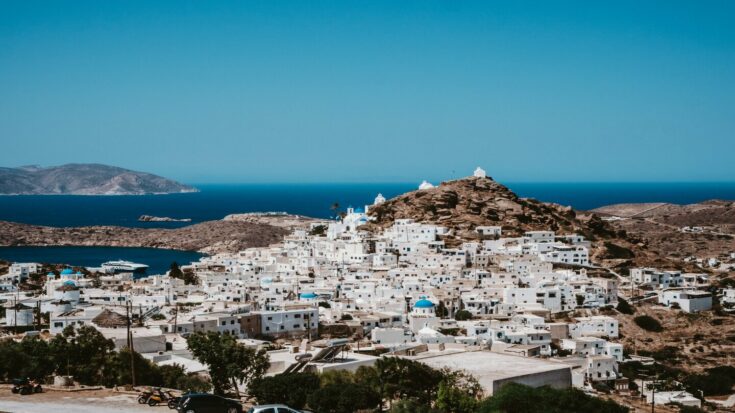 2. Mykonos
Arguably the most famous of the Greek Islands, Mykonos is a lively island in the Cyclades. The party capital of Greece, Mykonos is home to an endless number of options for a night cap, with many of the bars – like Cavo Paradiso – playing host to the world's biggest DJs on a regular basis. But if you're after a more relaxed experience, Mykonos doesn't disappoint.
From the picturesque restaurants and iconic windmills of Little Venice, to the cobble-stoned maze of Hora, there's plenty of charm on this island. Likewise, travellers can take their pick when it comes to beaches. After a bustling promenade and rows of lounge chairs along the sand? Try Paraga and Psarou. Want something more secluded? Give Fokos or Agios Sostis a go.
1. Santorini
What can we say about this romantic island? Santorini is one of the most recognisable and most-photographed tourist destinations in the world. But that doesn't mean you'll be underwhelmed when you set foot in this iconic island. Trust us when we say, no photograph or InstaStory could do justice to a Santorini sunset.
You can spend hours strolling the cobble-stoned streets, heading to cafe's frequented by locals to try signature dishes like Saganaki (fried cheese in filo pastry covered in honey) and the freshest Greek salads of your life. Head to the region's wineries in Finika, Kamari or along the Caldera to try a local drop.
Spend time hiking the famous Caldera from Fira to Oia, a walk that takes 2-5 hours depending how many stops you choose to make along the way. Or you can take a stroll on the Pyrgos to Ancient Thira trail, which is about 1 -2 hours and includes a stop at the Monastery of Profitis Ilias. Of course, no visit to Santorini is complete without a trip to the volcano Nea Kameni – taking a day trip out to the volcano is definitely a bucket list item.