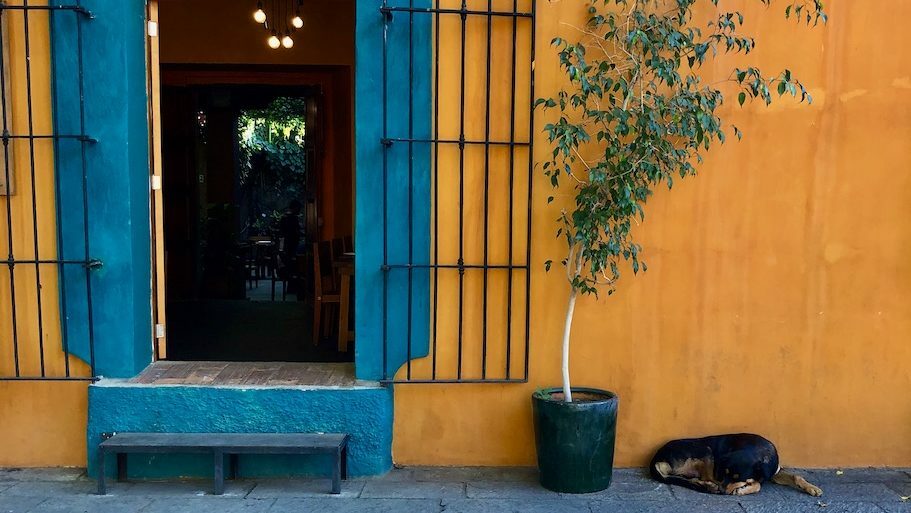 Oaxaca City is hands down one of my favourite places to visit in Mexico. It just feels different to anywhere elese in the world. The atmosphere is relaxed yet vibrant and alive. I remember one evening, I heard some music and decided to follow it. I stumbled into a huge and very loud street parade. It was December and everyone was feeling the festive spirit, it was amazing.
The city is also INCREDIBLY pretty, with dark paved stone roads complemented by colourful bright buildings. I loved wandering along the pedestrianised streets, finding little shops and mezcal bars – oh and of course meeting all the street pups. Here are all the best things to do in Oaxaca City, Mexico, in no particular order, but first food!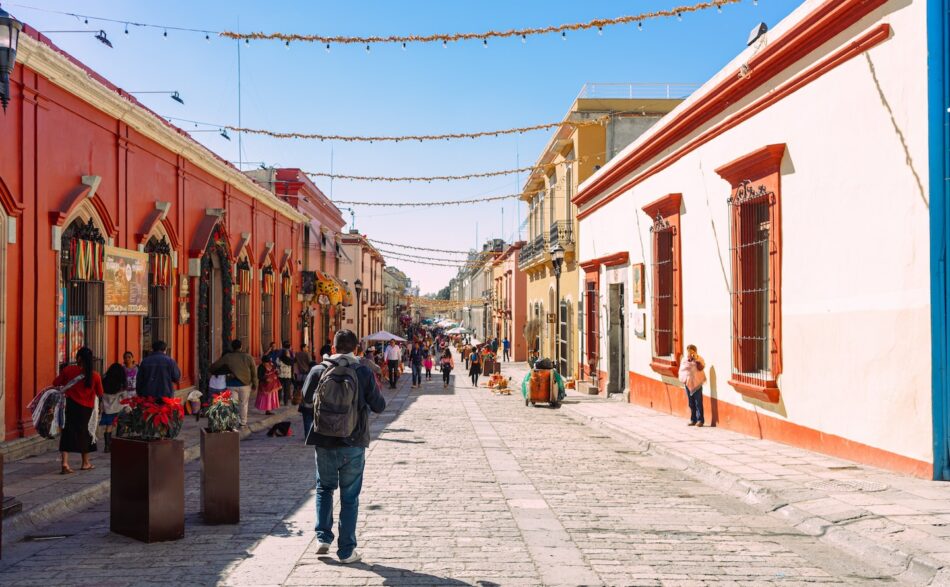 Image source:Roman Lopez / Unsplash
Food and mezcal
Eat at one of the city's best restaurants…
Tastavins
A very cute and tiny Spanish-influenced restaurant. Offering tasty glasses of Spanish wine from just 25 pesos, which includes a small tapa. Plus all (tried and tested) the other food is delicious, the mixed croquettes are deliciously authentic.
Pan:am
I almost don't want to tell you about this place but that would be selfish. This is the best breakfast place in Oaxaca. An artisan bakery with a cafe in the back courtyard. Pastries are circled around the courtyard as you decide on your main plate. The chorizo and goats cheese omelette was unbelievable! Expect a queue though.
Café Brújula
Another courtyard cafe off of one of the main streets. Surrounded by a library, find a shady spot out of the sun or embrace the heat. Order a coffee, a fruit tea or try the traditional hot chocolate, although it can be served cold too. The food is also worth a taste.
View this post on Instagram
Then hit the Mezcal bars
You will be spoilt for choice. Most offer some sort of tasting menu or session for you to get to grips with what mezcal really tastes like. La Mezclarita is one that kept coming up in conversations.
Or a rooftop bar!
One of my favourite things to do whilst I was in Oaxaca was find a rooftop bar at dusk and watch the city turn a dusky pink as the sun sets behind the mountains. Most rooftop bars are expensive but who says you can't enjoy the view with a glass of local wine or limonada? La Mezcalteca is a beautiful spot but there are many more choices.
Explore the markets
There are an amazing selection of markets in Oaxaca city. Some may seem intimidating and extremely busy, but I would highly recommend the Mercado Sanchez Pascuas. It's a smaller quaint market where you can buy fresh food. This area of the city is a great little get away from the main plazas, too.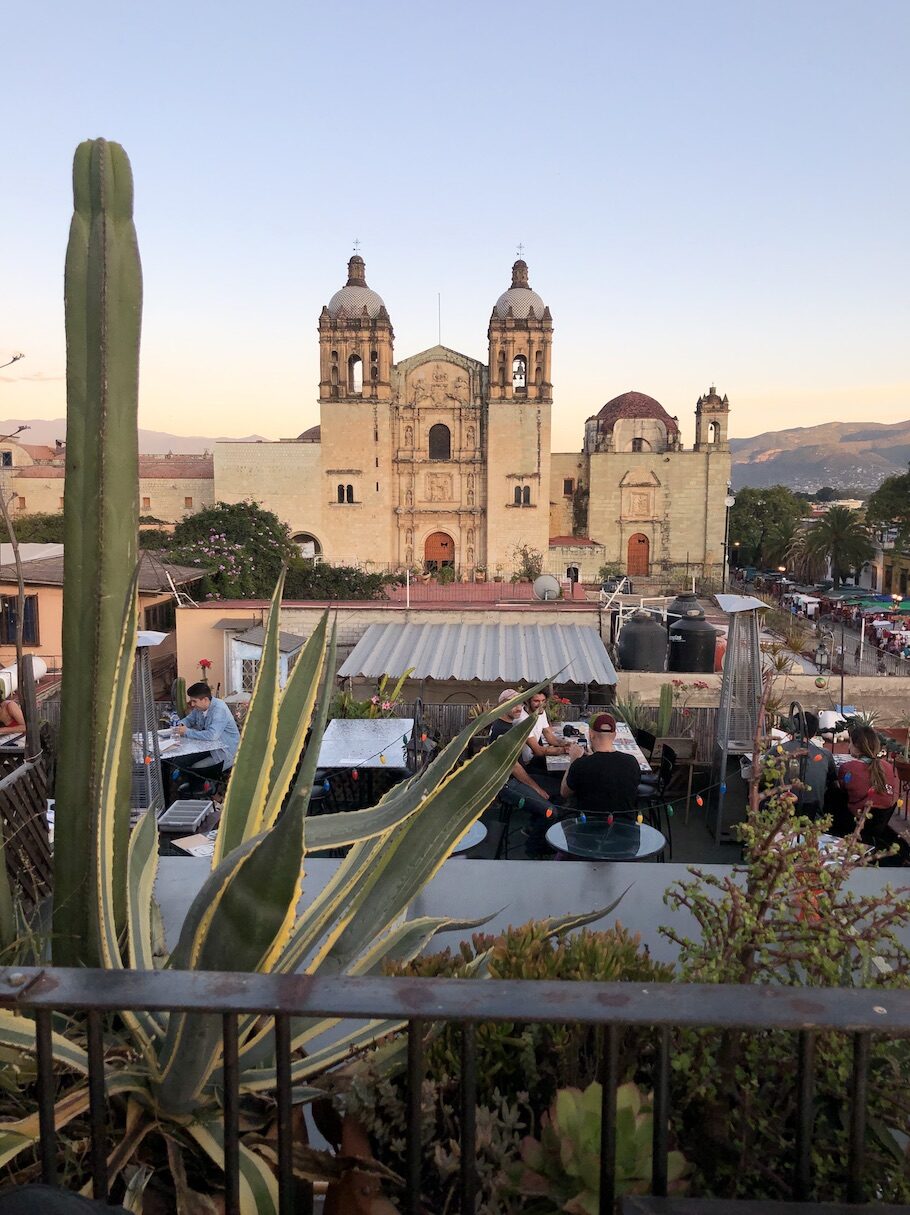 City adventures
Try a cooking class
The food in Oaxaca is amazing, or that's what everyone will tell you who's been! So, why not take a cooking class while you're in the capital of Mexican food and learn to cook some yourself? Classes vary in price as to how involved and detailed you want your class to be.
Take a walking tour
Ah, the classic walking tour. Casa del Angel hostel hosts a very good walking tour, for which you can give a donation to the tour guide after if you wish. Wander through the markets and try some local foods, this walking tour is a great introduction to Oaxaca City ad will show you spots you'll want to go back for a second look.
Visit the Botanical Gardens
Maybe one for those who like a bit of nature. Spend a few hours wandering around this relatively small botanical gardens. Tours are available in Spanish and English, so why not try the Spanish to improve your listening skills? Stroll through tropical plants and gaze into the magical mirror of 'saguaro cacti' – the tall and slender cacti found all over Oaxaca.
 

 

 

View this post on Instagram

 

 
Go all in for arts and crafts
Arts, crafts, textiles and fabrics are VERY popular in Mexico but more so in Oaxaca. If you look for them, you'll find art galleries and art schools all over the city. Go in and take a look or get involved and participate in a workshop.
Join a street parade
What Mexicans do best – party and dance! Check out Los Lunes del Cerro festival for a huge party.
Take a salsa class
Start learning to dance now because you'll want to know how to Salsa if you're travelling around the rest of Latin America or Mexico. Casa del Angel hostel runs a lot of salsa classes.
See the Dia de los Muertos celebrations
I can't not mention the huge fiesta Day of the Dead. If you're visiting Mexico at the beginning of November, then Oaxaca is a fantastic place to experience this festival.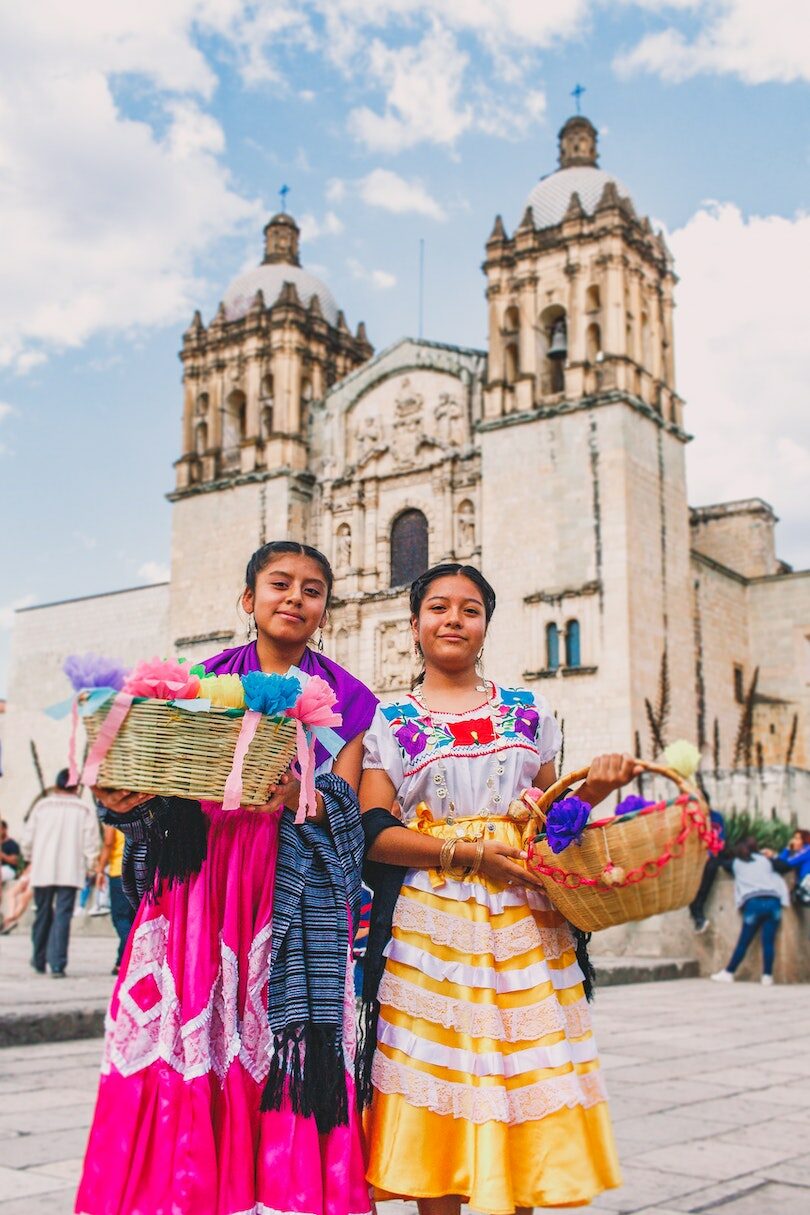 Image source:Marisol CasBen / Unsplash
The best day trips
See Hierve del Agua
Visit a 'petrified' waterfall – a natural rock formation that resembles a waterfall, found up in the mountains just outside Oaxaca City. Explore the pools at the top of the waterfall that look out over the endless mountains on the horizon. Make sure to wander down to the bottom of the waterfall so you can gaze up and admire what you came to see. The waterfall's rock formation almost looks like wax running down a candlestick. It's a challenging and long day trip but one worth doing. Either venture to the waterfall yourself on public transport, it's doable with a bit of Spanish, or grab a tour that takes you there.
Visit a mezcal distillery
Of course you should go and visit a mezcal distillery whilst in Oaxaca! There are various distilleries you can visit with a tour or by yourself and learn how mezcal is different from Tequila. A lot of mezcal is produced in small towns or pueblos just outside of the city – check out the town of Matatlan, a 45-minute drive from Oaxaca (or easy bus ride).
Learn the art of weaving
There are numerous tours which take you to learn how traditional weaving is done from start to finish, as well as the variations in methods.
See some ancient ruins
I'd recommend visiting the ancient ruins of Monte Alban, Yagul and Milta. Monte Alban is the largest Zapotec urban center and a UNESCO World Heritage Site, while Yagul and Mitla are great examples of Zapotec architecture too.
View this post on Instagram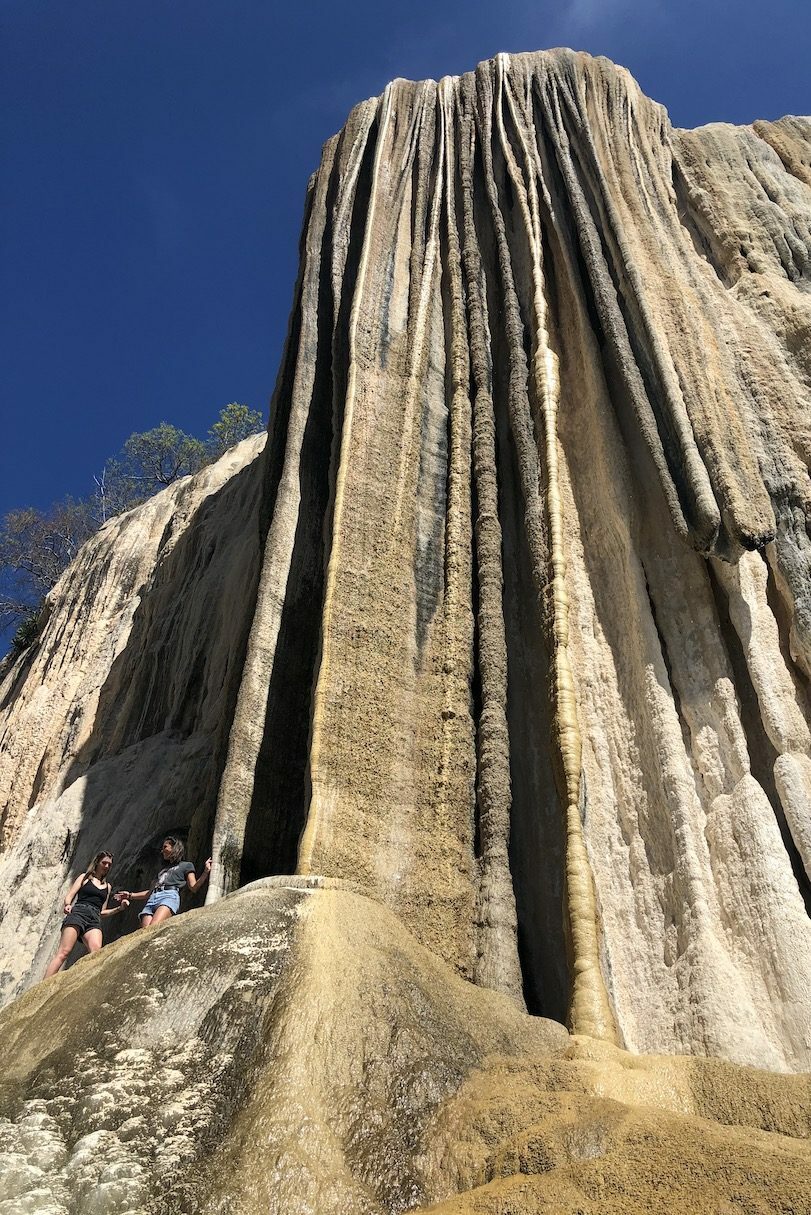 Image source:Pippa Silver
Mountain adventures
By now you should have realised that you'll probably need to spent at least a week in Oaxaca City, before heading to Puerto Escondido (but that's another post…). If you're a keen hiker or are itching to get out of the city and see those mountains then travel to some of these places…
The Sierre Norte mountains
Located near to the town of Tlacolula and not too far out of the city, it's a slightly weird sensation going from the warmth of Oaxaca City to having to catch your breath due to the altitude and feeling a tad chilly. There are numerous villages up here where you can visit or stay the night if you are doing an overnight hike.
Visit the village of Benito Juarez
Walk the short distance (approx 2-3km) to a beautiful wooden bridge that hosts a great viewpoint. Visiting Benito Juarez can be done in a day – again you can get there yourself with public transport (albeit a little tricky as you'll need some Spanish to get a colectivo or truck from Tlacolula to the mountains. Remember to check with the tourist hut)the time of a truck or colectivo going back to Oaxaca City though, there's no timetable.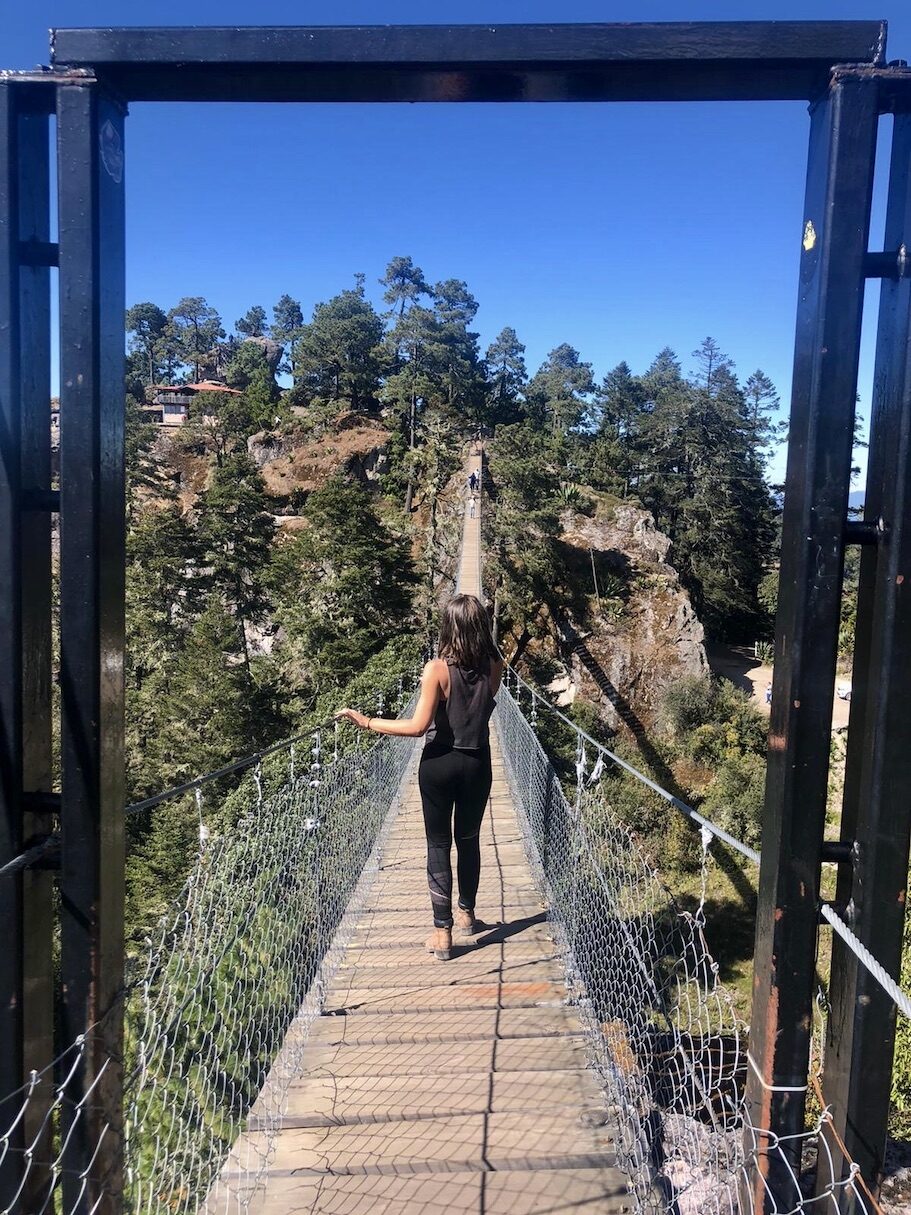 Image source:Pippa Silver
Feeling inspired? Check out my blog Travel With Pip to read more about my recent trip to Mexico and discover plenty more tips! Or, browse Contiki's trips to Mexico and Latin America.