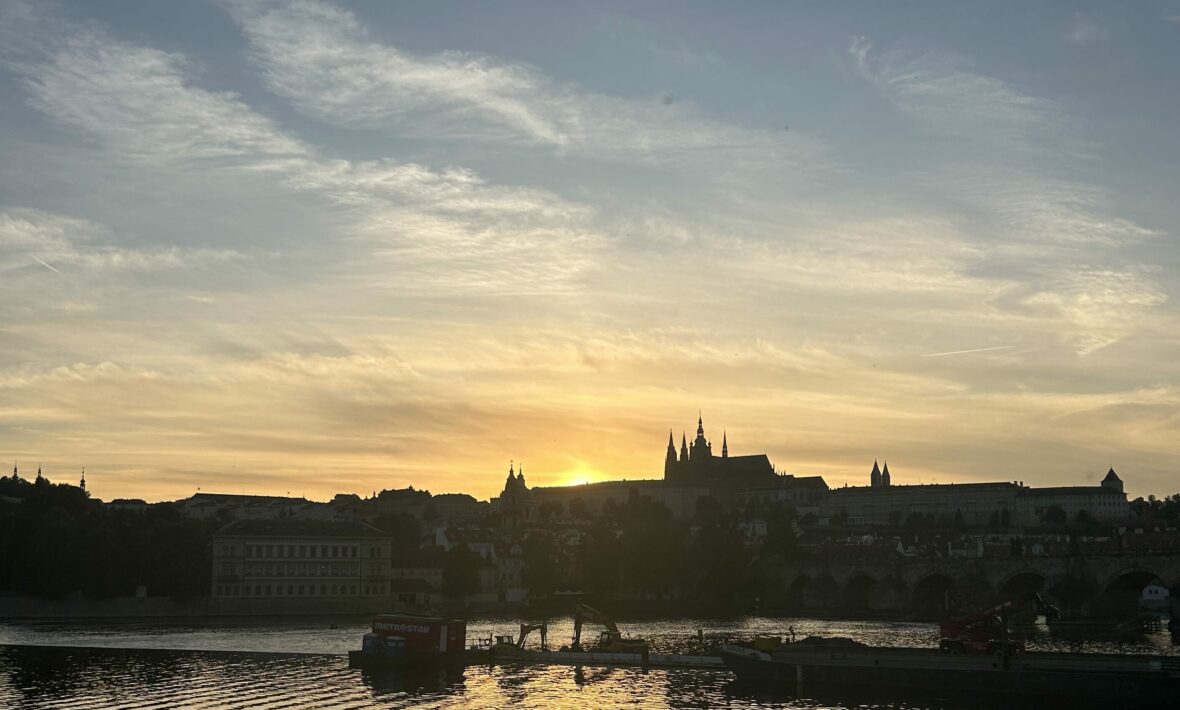 Prague. The capital of the Czech Republic (a.k.a. The Castle Capital of Europe).
By day the city boasts an impressive blend of historical charm from its alluring Old Town Square, to the New Town, but there are so many things to do in Prague at night as it bustles with energy from the lively music and tourists that come to embrace the Bohemian culture and all Prague has to offer!
Mouth-watering street food, tucked away cafes, quirky boutiques, stone staircases that ascend to the Hradčany and a mesmerising district perched upon the Castle Hill – this is a must-see destination for panoramic views of the city in all of its baroque glory.
Sounds incredible, right? I'd say it's Prague-ably one of the best cities in the world.
But as the sun sets over the city and casts a luminous glow on the landscape, the city transforms into one with an indescribable ambience, brought to life by reflections that light up the river, its lively nightlife, trendy clubs, underground bars and music that echoes in the streets.
Exploring Prague at night time is not to be missed, so here's a list of 10 things to Czech out after dark!
1. Pub Crawl
As the inventors of Pilsner and the world's top consumers of beer per-capita, a pub crawl is at the top of the list (FYI: They drink 160 litres of beer per person, per year. That's one bottle for every single person in the Czech Republic every… single… day). Fortunately, beer is cheap (and by cheap I mean cheaper than water in some places!), so a pub crawl isn't going to burn a hole in your pocket! Just make sure you branch out from the traditional Pilsner, because beer, the lifeblood of the Czechs, comes in all shapes, flavours and sizes!
Not sure where to start? Don't stress! You can find pubs EVERYWHERE! Just say 'ahoj!' to a local bar tender and they'll guide you in the right direction or kick start your own pub crawl in Old Town Square after marvelling at the astronomical clock as it comes to life with an animated procession of apostles every hour!
Two bars that are not to be missed include: Hemingway Bar, renowned for its liberation from Nazis by Ernest Hemingway in 1944 and Anonymous Bar, an atmospheric, themed bar in the centre of Old Town. If you like Anonymous Bar, be sure to visit its sister bar 'The Anonymous Shrink's Office' – a secret underground bar that offers a memorable experience, but be sure to book a reservation so you don't miss out!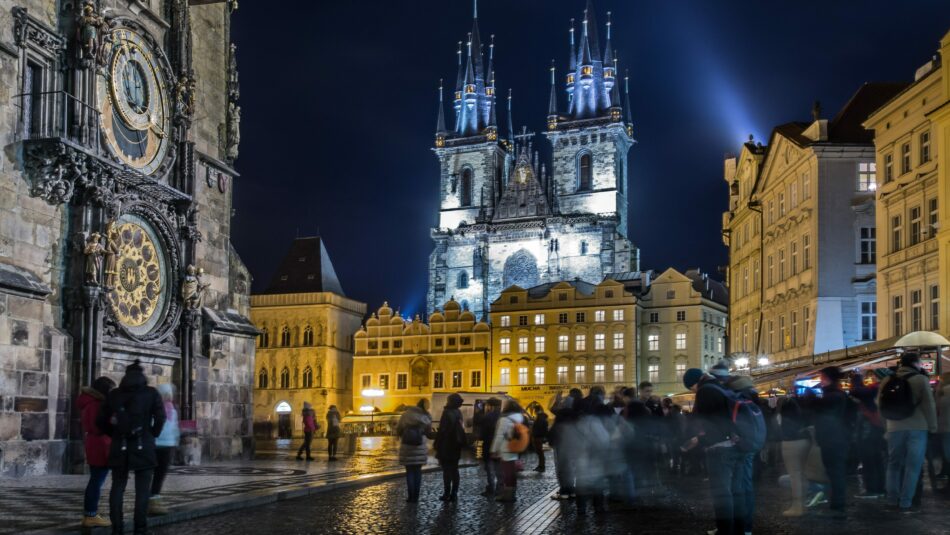 Image source:Raúl Cacho Oses / unsplash
2. Beer spa
Speaking of beer… if you're seeking an adventure that combines relaxation, the benefits of beer and a unique twist on traditional spa treatments, look no further than beer spas! Yes, you read that right! Beer spas are a real deal in Prague! Supposedly, the ingredients used to make beer (namely hops and barley) have many favourable health benefits including: reducing wrinkles, detoxification, skin moisturising properties and nourishment for the hair! So not just a novelty!
How does a 'beer spa' work you ask? It depends on where you go, but in a nutshell, you pay to bask in a literal spa bath filled with and enjoy an endless supply of beer on tap accessible from your spa. Cheers to a memorable and rejuvenating experience!
3. Visit the Prague beer museum
After literally diving into the city's brewing scene, a stop at the Prague Beer Museum is required to truly understand the significance of beer in Czech culture. The Beer Museum pays homage to the rich cultural heritage and significance of Czech beers and their brewing traditions. Are you a beer enthusiast, but not a fan of traditional 'museums' with ancient artefacts and dusty, old relics? Then trust me on this one, because the aim of this museum is to educate visitors in a unique and engaging way, through interactive exhibits and displays, and of course no beer museum would be complete without… tastings! This is the place to go for a real taste of Czech history and culture!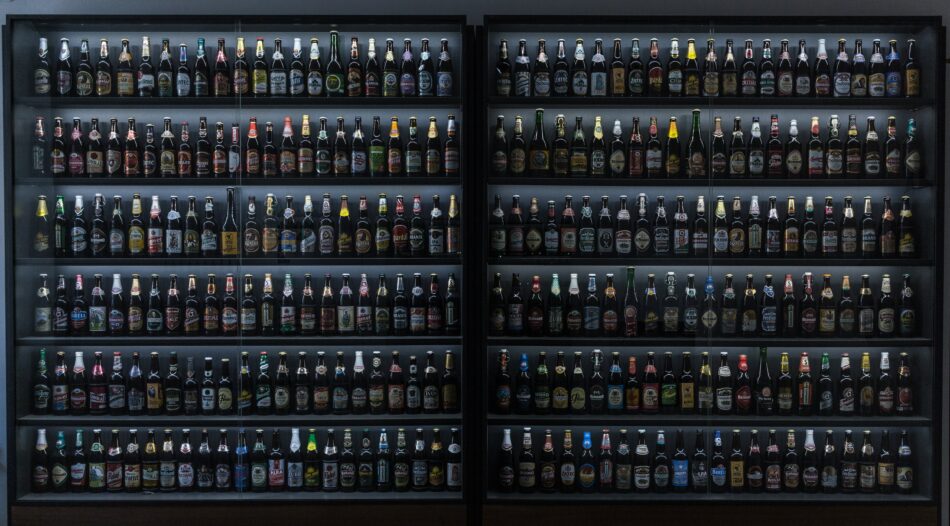 Image source:Alban Martel / unsplash
4. Hop on a river cruise
Straddling the Vltava river, Prague's picturesque town is graced by swans and boats that glide by. So why not jump on board a romantic, sight-seeing or dinner cruise? One thing they all have in common is the luxury of exploring more of Prague's night time tranquillity. Here you will also discover islands dotted along the middle of the river. Why not visit Střelecký ostrov (Střelecký island) after your cruise for another unique experience. If you're lucky, you might even catch some live jazz music or have a wildlife encounter in a true green haven away from the hustle of the city centre!
5. Explore Jazz Dock
Missed out on the jazz belting buskers? Cruise on over to one of the most popular clubs in Prague called Jazz Dock. Not only was this place titled the 'best club' in the Czech Bar Awards, but it has the best views a club can offer, right on the bank of the Vltava River, a short stroll from Střelecký ostrov! Here they host a series of open air, intimate and larger productions of jazz music, so again… there really is something for everyone!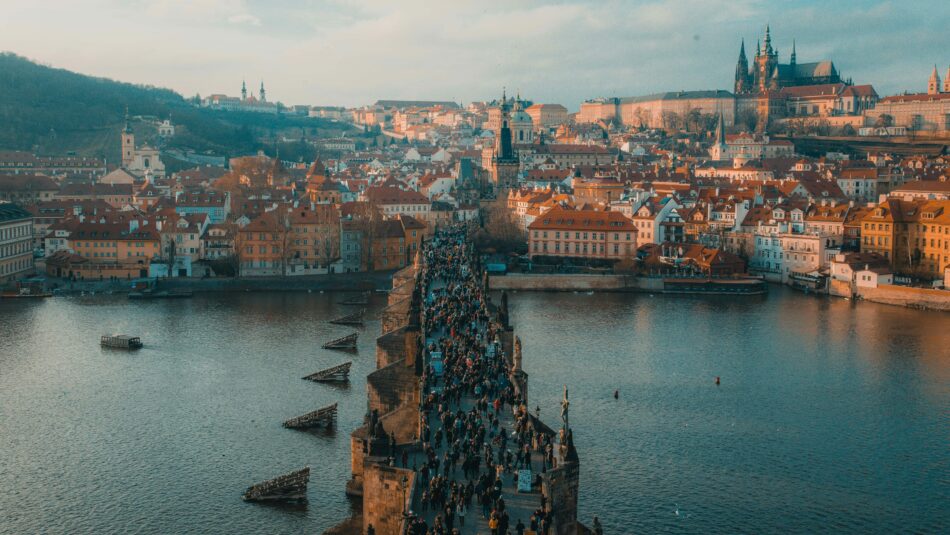 Image source:Anthony Delanoix / unsplash
6. Party at Karlovy Lázně (the biggest music club in Central Europe)
Not so much a fan of jazz? Fear not! Prague is also home to the biggest music club in Central Europe – Karlovy Lázně! Renowned for its unique design: five floors, each dedicated to a different style of music and ambiance, offering a different genre of music so there truly is something for everyone. Its multi-floor setup allows visitors to choose the music that suits their preferences and enjoy a variety of experiences within the same venue!
7. Try not to freak out on a ghost tour
Ghost tours are more than just 'another tour'. They're an immersive experience that transcend time and reality. This is your chance to get a glimpse into the depths of Prague's history, to uncover the mysteries that have haunted its streets for generations. Picture yourself walking under the flickering gas lamps, guided by an enigmatic storyteller dressed in attire reminiscent of a bygone era.
Ancient buildings bear witness to the turbulent events that have unfolded within their walls. With every step, you'll hear whispers of lost souls, tragic love stories, and unfulfilled destinies that have left an indelible mark on Prague's landscape.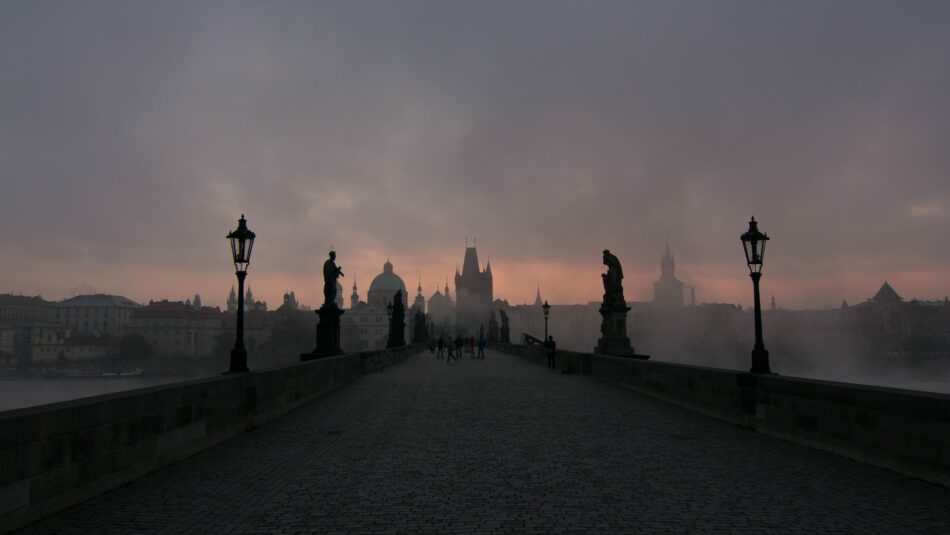 Image source:Ryan Lum / unsplash
8. Try a trdelnik
There are lots of conflicting opinions and arguments about the 'trdelnik' (a.k.a. Chimney cake) and its origins. Trdelnik has a long history in Central European cuisine including in the Czech Republic, Slovakia and Hungary. But… what is it? It's a dough that is wrapped around a cylindrical mould, roasted over an open flame or hot coals, which is then coated with various toppings like cinnamon, sugar, nuts, chocolate and sometimes cream! The caramelization process creates a mouthwatering aroma that you will not miss when roaming through the streets of Prague late at night. Traditional Czech treat or not, it's a must try when in Prague!
9. Visit the Manifesto market
Off the beaten track – slightly on the outskirts of town, this is by far one of our favourite bars in Prague! Built almost entirely from shipping containers, this place mixes a modern, urban design, with some of the best food and cocktails around, they host different live events and the market even has its own swimming pool smack bang in the middle!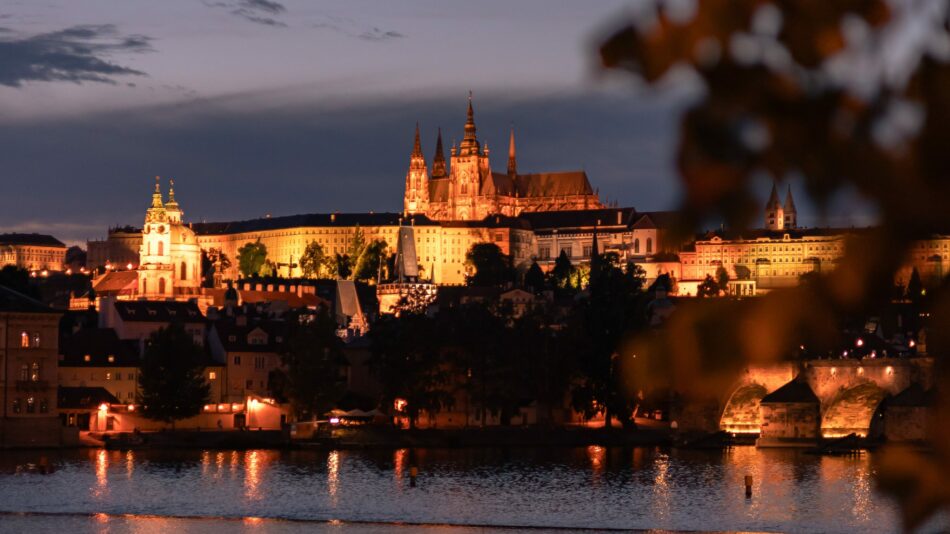 Image source:Andre Morales Kalamar / unsplash
10. Climb Petrin Hill
Petrin Hill boasts some of the most incredible views over Prague in the daytime (especially from its funicular ride), but if you're looking to beat the heat and still want to get a glimpse of the city's impressive historical sites, climb Petrin Hill at night! Prague's charm extends well after sunset, so you won't be disappointed if you didn't get time in the day to visit. From up above you can see the boats cruising below, the city's impressive skyline, twinkling lights along the river. You could spend hours here gazing at Prague's spires and bridges as they become bathed in the golden hues of sunset. The city's beauty takes on a new dimension from the water and at night you'll experience a much more romantic atmosphere up here than you would in the day!
Prague beckons with its timeless charm and captivating aura. When you visitit is like stepping straight into a fairytale where history whispers through the streets and hidden gems are waiting to be discovered in courtyards and cobblestone streets. Whether you are seeking to explore the city's musical heritage, haunted history, architectural delights or culinary traditions, I can almost guarantee a visit to Prague after sunset will not disappoint!