15 genius flight hacks you need to know
Share
Along with the excitement of choosing your dream destination and planning out your days for your next holiday, comes the all-too-real task of… sorting out flights. When is the cheapest time to fly? How do you pick the right seat? What about upgrading that seat for free? There's no one-size-fits-all approach, but we've pull together our expert hints and flight hacks for securing the best flight and easiest journey for your next trip…
Our top booking hacks
If you're in the planning stage, here are the best flight booking hacks you need to know…
1. Jan-Feb might be the best time of year to book your flight
While local sales and plenty of research can score you a good deal at any time of the year, the best time of year to book your flight is generally said to be in January and February.
There's also an ideal timeline for booking your holiday, regardless of the month. Based on booking data, Skyscanner recommends securing your international flights at least 4-6 months before you plan to travel. They reveal that the same time period of around 4-5 months prior is best for booking domestic flights, though booking just 2-3 weeks before departure can help you score great last-minute deals, if you can wait until then!
Image source:Photo: element5-digital / Unsplash
2. There's even an optimum time of day to book your flights…
Tuesday has long been touted as the best day of the week to book flights, but in recent years some travel experts have claimed there's not really much of a difference. Traditionally, airlines would announce sales on Monday nights or Tuesday mornings, prompting competing airlines to lower fares on Tuesday.
Skyscanner also recommends booking flights around 5am on any given day for your best chance at a cheaper flight, while noting that you should avoid peak times such as 7pm to 10pm.
3. Try comparing prices across different flight booking sites
Skyscanner is one of the most popular sites for booking flights. Other favourites include Google Flights, Travelocity, CheapOair, Kayak, Momondo and Expedia. The trick is to make sure you compare pricing across different websites, in order to find the best deal of the moment.
4. Keep an eye out for mistake airfares
Fun fact: just because a flight was meant to be $2,300, it doesn't mean you need to pay that if it's listed as $230! A mistake airfare is when a flight is listed as significantly cheaper than it should be, either due to technical glitches or human error, and they are every traveller's dream! If you spot a mistake airfare, you'll want to jump on it quickly before it's rectified or scooped up by someone else.
5. Clear your browser
When you're searching for flights, the fare can increase and change with each search or refresh. Clear your cookies and try searching in 'incognito mode' in your browser to keep the price as low as possible.
Image source:Photo: redcharlie / Unsplash
6. Choose the day you fly carefully
Just like there's a best day to book your flight, there's also a best day to depart! Flights leaving on Tuesday or Wednesday will typically be cheaper than flights on other days of the week, with Sunday being the most expensive. Take this in to account, along with our tricks on booking at the right time, and you'll land your cheapest flight possible.
7. Consider a multi-stop flight
Sure, travelling with minimal – or no – stopovers is ideal. But a few carefully curated stops can significantly reduce your ticket price, leaving you with extra dollars to spend on your adventure. Using a site like Google Flights or WebJet will help you put together a multi-stop itinerary for your next flight. If you've got the time, and it makes a significant difference to your finances, then why the hell not?
8. Take a free stopover
You can also opt to do a 'free' stopover with some airlines like Air Canada, Emirates and Qatar Airways. If you've got a lengthy connection, these airlines will allow you to spend a night or more in the city before catching your next flight, charging you the same price for your ticket as if you'd boarded directly on to the next plane. Some airlines even comp accommodation for an evening. It's a win-win because this gives you a break between flights and time for sightseeing in another city.
9. If you can, choose the best airport for your layover
You can't always choose where you stop to make a connection, but when you have the chance to be selective, you may as well. From IMAX theatres to aquariums and endless dining options, there's a lot to keep you entertained in some of the world's best airports.
Dubai International Airport, Amsterdam Airport Schiphol, Keflavík International Airport in Iceland, Changi Airport in Singapore and Vancouver International Airport – if you have the chance, these airports are worth checking out and are known for being the coolest stop-offs in the world.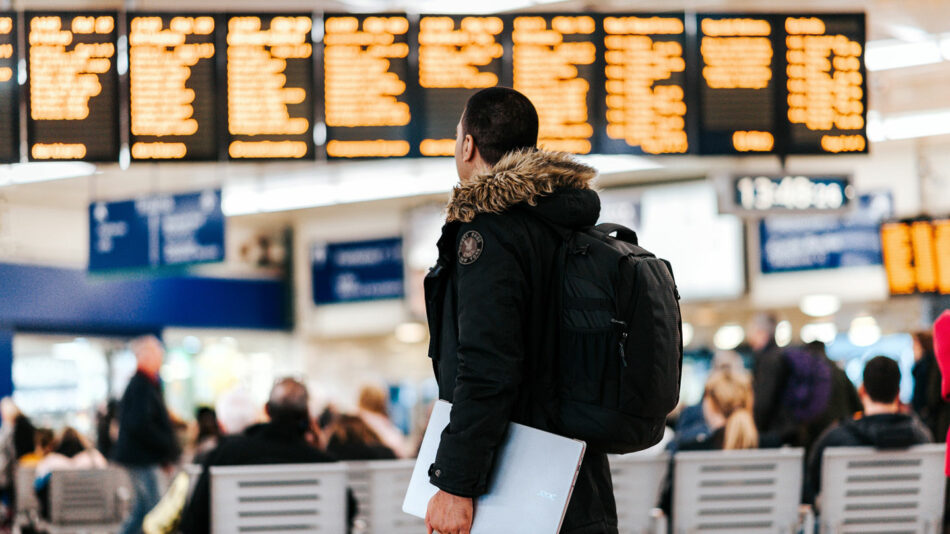 Image source:Photo: anete-lusina / Unsplash
Our top flight hacks
You've booked your holiday, you're on the way to the airport, life is gooooood! So, here are all the tips you need to know to keep that momentum going…
10. You can volunteer to get bumped up
When flights are overbooked, the airline will typically ask passengers to give up their seats in exchange for perks. From credit with the airline to a first-class upgrade on your re-booked flight, there are varying levels of these 'rewards'. If you're flexible on time, be the first to put your hand up when the air hostess calls for volunteers. Just be sure to confirm the terms and conditions before agreeing to give up your flight.
11. Download FlightBoard or your airline's app on your phone
When you're constantly trying to keep the departure board in your eye line, it can make waiting for your flight kinda dull. If you download an app like FlightBoard or the official app of your chosen airline onto your phone, you can sign up for updates and receive alerts about any changes and boarding information. Then you're free to wander the airport without worrying about constantly checking in on.
12. Consider marking your baggage as fragile
Okay, so there's no way to put this other than to say it's a little selfish. But the best way to increase the chance of your luggage coming out first the other side is to kindly ask the check-in staff to mark your luggage as 'fragile'. At no point do you have to prove your luggage is fragile, but it may just work out in your favour, as it sometimes means that handlers will treat your belongings with more care. Plus, it means your bag will usually be one of the last on to the plane and therefore one of the first out on the carousel.
Image source:Photo: suhyeon-choi / Unsplash
13. Bring your own snacks
Airlines typically serve meals in accordance with the destination you're heading to, meaning your natural body clock might be out of whack with the plane's mealtime. Bring some snacks with you and you'll be able to satisfy any food cravings you have. Diet has a big impact on jet lag, so bringing your own healthy snacks is a great way to keep on top of what's going into your body, giving you the best chance of beating the clock.
The combination of dry plane air and jet lag can also dehydrate you and slow down your gastrointestinal system, so try eating some antioxidant and fiber-rich foods like berries, bananas, trail mix and granola bars and don't forget to keep hydrated.
14. Bring a reusable water bottle…
When you reach the security checkpoint at most international airports, you'll be told to throw away any full plastic water bottles. But, if you come prepared with a reusable water bottle, you can pass through security with it empty and fill it up pre-flight at a filtered water station.
Fill it up right before your flight, so you start your journey with a big reserve of water. When you're on the plane, you can ask flight attendants to fill your bottle again for you, and some airlines like Emirates even have water stations for passengers to use on the plane.
15. Create your own lumbar support!
The c-shaped seats on planes don't really offer the lumbar support we need for long-haul flights, so it's no wonder we often walk off the plane with a crick in our neck or a sore lower back. Instead of spending 10 hours sitting uncomfortably, many travellers choose to buy lumbar support cushions. But, if you don't want to bring an actual device, create your own by rolling your jacket or blanket and placing it between the seat and your lower back. You'll likely sit (and sleep) more comfortably.
And there you have it, our guide to the best flight hacks out there. Take note of a few of these – depending on the stage of holiday planning you're at – and you won't regret it. Safe travels!