Find your people: how to make friends when travelling solo
Share
When it comes to must-have experiences in life, solo travel is definitely up there. Pack a bag and hit the road, get ready for some quality me-time, and prepare for all that wonderful self reflection. Honestly it's soooo worth it, but it can be a little scary, eh? None of us like being truly alone, a buddy would be nice. Luckily you won't be the only one wondering how to make friends when travelling solo.
Meeting people while travelling is as easy as pie, maybe sharing a slice is the first step?
Get on the Apps
Not those apps. Did you know that there are actually loads of apps out there designed for solo travellers just like you to find their perfect travel companions? Well, that's a lie, they're apps for finding new friends, BUT you can totally use them to form the ultimate group of holiday fanatics. We've made a list of all the best ones before but it's worth reiterating here.
Another great idea before you set off to your dream destination is to hop onto some Facebook groups. There's loads of groups out there dedicated to helping solo travellers find like-minded people you can either link up with once you're there, or plan the whole trip together! This is especially helpful for solo female travellers who may be wary of venturing into an unknown country alone.
Social media in general is your friend – use it to its fullest potential to find your next travel buddy!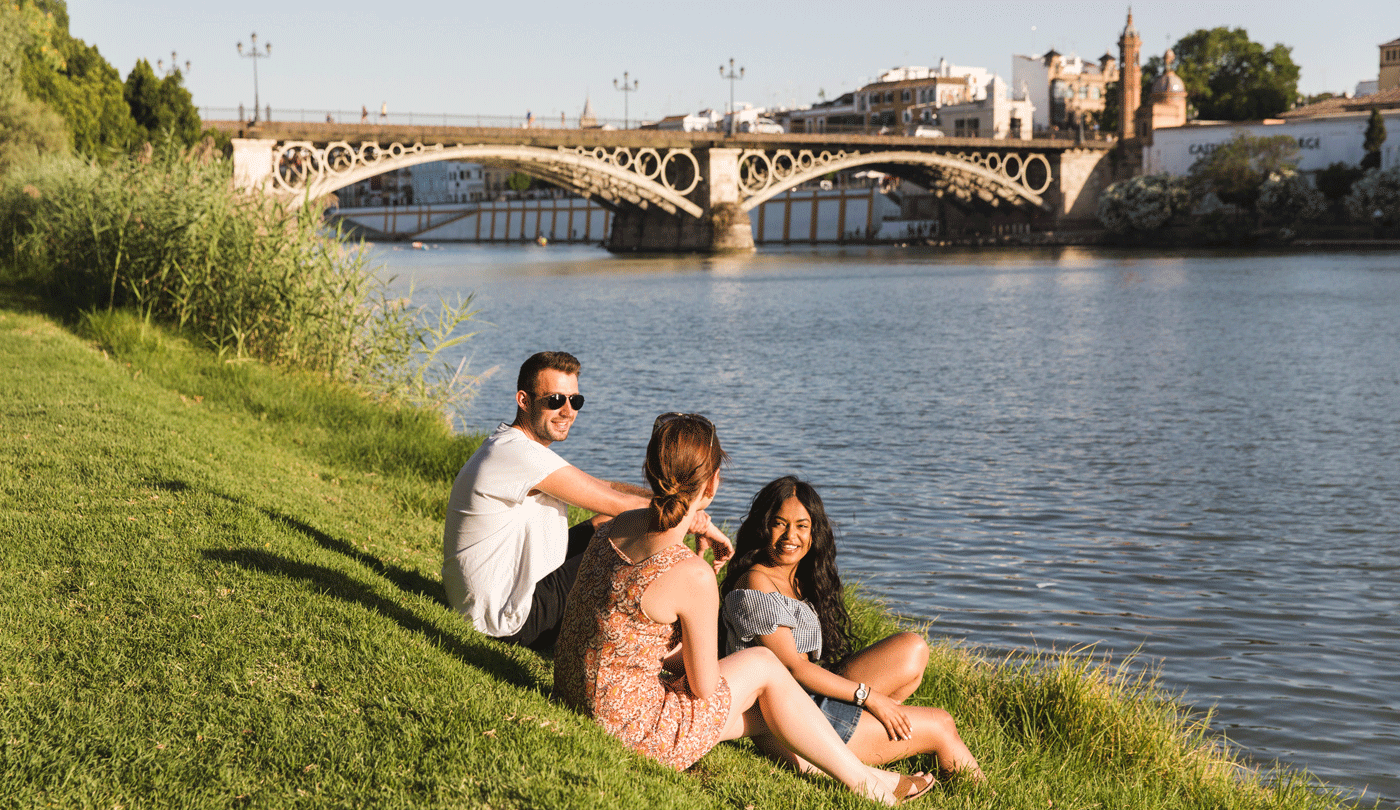 Image source:Contiki
Hostels are your friend
Sure you could stay in a fancy hotel with your lonely private room and included breakfasts and all that… but this isn't about luxury, this is about making memories! Not only are hostels cheaper than your traditional hotels, they're also full of fellow travellers just like you. When you're in a room full of people, sharing a private space, there's really no reason to be shy.
Staying in a hostel is a great way to get comfy in a new place. You're all in the same boat here: new, eager, and probably a bit lost. Strike up a conversation, you've got nothing to lose and everything to gain. Maybe a fellow traveller will have more 'how to make friends when solo travelling' to give you! Plus, some buddies in communal living is always a good idea to make some of those shared nights a little less awkward.
Join a Walking Tour
Okay, so maybe you've already booked a hotel with a non-refundable deposit, and maybe it's too late to download the apps… That's okay, there's no time like the present. If you're out and about gawking at famous architecture or taking notes at a historical site, it's very very likely that you'll also stumble upon a walking tour – how lucky!
Small group tours are excellent conversation starters and friendship makers. "I always imagined I'd hear angels sing as I walked through the Sistine Chapel," you'll say, coyly, to the person walking next to you. They'll laugh, say something clever back, maybe "Did you get that line from Contiki's 'how to make friends while solo travelling' article?", and before you know it you're chatting all throughout the walk and quietly forming some very strong bonds.
Image source:Contiki
Get Involved
Now that you've found some super cool new peeps to make friends with, it's time to get started on those memories. Seek out those dazzling activities – maybe there's a cooking class you guys can take to learn the local cuisine and bring it back home? Or an artisan workshop where you can gift each other a trinket made from your own sweat and blood.
Let's not forget the heaps of local restaurants and bars waiting to welcome your party of besties for an evening of pure magic and fun. Get to know each other some more, find points in common, spill the hot goss (secrets create strong bonds). Sparks will fly, platonically, of course. If nothing else, you'll at least fall in love with divine food and dreamy views.
Honestly, just be honest!
Nothing is more charming than an open and inviting person, ready to embrace whatever comes their way. There's no point holding back. Best case scenario, you're going to be making a new friend for life, and one you can hopefully go on many more adventures with. Worst case scenario, this is a holiday fling, and you won't be seeing them again. Either way, make the most out of it – leave no stone unturned. Take that silly photo together, swap social media deets, and share as many dazzling experiences together as you can! It's all for the plot, baby.
Whether you see each other again or not, who knows, but if anything, just remember that there's someone on the other side of the world who shares the same beautiful memories as you – and isn't that something special?
Book a Social Holiday next time
Had a blast and don't want to waste any time next round? Well, not to brag or anything, but social travel is kind of what we do here at Contiki… What is social travel, we hear you asking? It's basically as cool and sexy as solo travel, doing all the fantastic things we just talked about, but you get to meet your new besties at the airport, and share every. single. moment. together, from start to finish, and kick start that friendship a lot sooner!
It's the perfect way to get the best of both worlds. The escape from your regular life that travel always promises, while avoiding those feelings of loneliness or anxiety, surrounded by a huddle of chummy fellow travellers, who at some point were wondering the same thing: how can I make friends on my solo travels?
Image source:Contiki