Island hopping in Thailand: beginner's guide
Share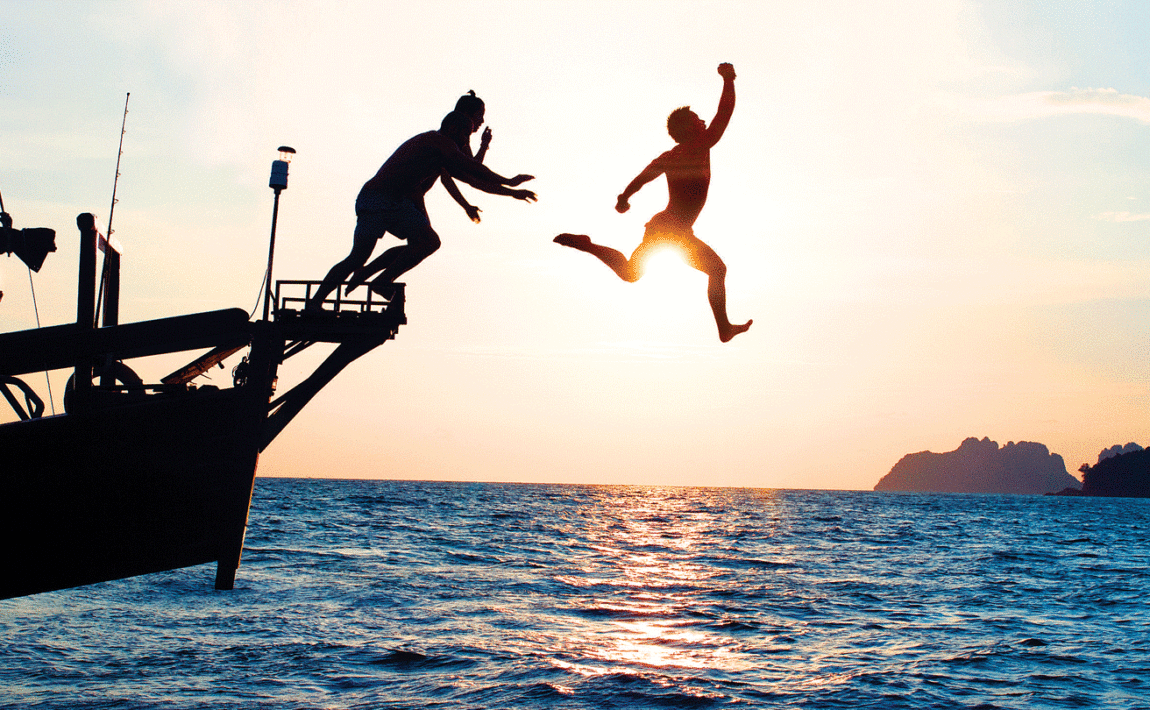 Thai. Island. Hopping. There is something about these words that just roll off the tongue… Put them all together and just like something straight outta Hazza P, you'll be instantly transported into the realm of pure bliss and carefree living. So, get your wand (credit card) out, give it a wave, and make some magic happen.
Hopping, by definition, is active or lively. And while that's definitely on the itinerary, you should expect to lay completely motionless on tranquil white beaches, watching long-tail boats float into shore… This can only be described as paradise. We've embraced both the tortoise and the hare.
So, without further ado, here is our guide for island hopping in Thailand: from which islands to crash, to useful packing tips, to the best times to visit, and more.
Image source:Contiki
Best islands for island hopping in Thailand
1. Phuket
The biggest of the Thai Islands, somewhat of a hub between islands, Phuket is the perfect place to kick off your Thai adventure. Loads to see, loads to do, and there's a couple elephants to pet for good measure whilst visiting the Phuket Elephant Sanctuary. Lovely.
2. Phi Phi Islands
If it's good enough for Leonardo DiCaprio, it's good enough for us. Home to the famous beach from the movie The Beach, you can take in the beauty of the coral reefs and incredible marine life. Oh, and if you fancy a bucket or two, it ain't half bad for a night out (It's really very, very good!)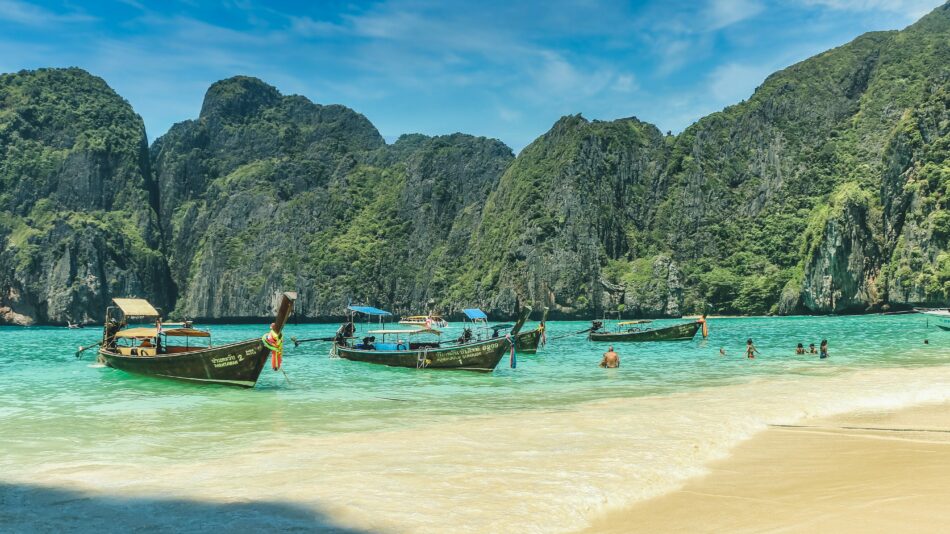 Image source:Contiki
3. Krabi
More of a collection of islands (200 to be exact!!), Krabi has been described as one of the most relaxing parts of Thailand to spend your time in. Home to some of the country's most beautiful scenery and pure white beaches that stretch on for so long they border into optical illusion territory. Beaches, caves, boats, natural parks, forests, temples, hot springs, and so much more. Krabi me up.
4. Koh Tao
Surrounded by stunning coral reefs, Koh Tao is often labelled as a favourite by many frequent Thai-travellers . Dubbed as Thailand's "Divers Paradise", this is the place to get some diving action in during your hopping journey! The Island is slightly less touristy than popular Koh Samui, so this will give you the chance to escape hectic crowds if some quality alone time is what you're after. As the Island is only 21 km in length you can get around pretty easily and explore in your own time, so make sure you go check out the night markets, temples and next level hikes. Views for days.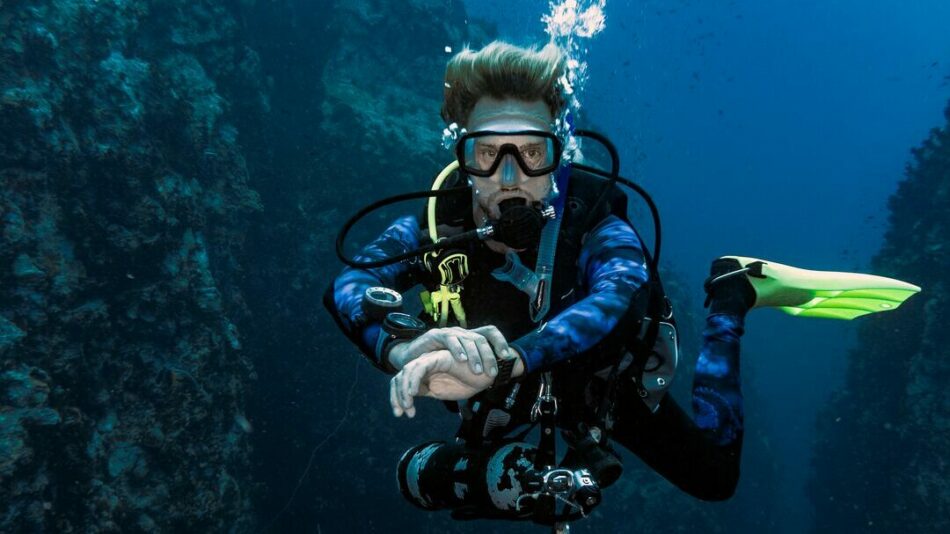 Image source:Contiki
5. Koh Samui
Let's head to the East coast, somewhere at the top of most travellers island hopping itineraries. You might have heard of Koh Samui before, or at least seen photos all over Instagram – it has quite the legendary reputation. Known for its huge beach parties back in the day, called 'full moon parties' by old school backpackers, Koh Samui was not for the faint of heart.
However, if you can look past all that, it becomes apparent that you do not HAVE to have your head stuck in a bucket (probably not the bucket you are thinking of) to enjoy this beautiful island. Here you'll find beaches, rainforests, all-round stunning nature, and some of the best eats in the country. Whether sandy discos are your thing or not, there's always reason to visit Koh Samui. Would be a bit rude not to check out some of these awesome beach bars though…
6. Koh Pha Ngan
Like Koh Samui, Koh Pha Ngan is pretty famous for its monthly full moon parties which align with the lunar calendar. But, like Koh Samui, that's not all this Island has to offer. Legendary waterfalls, forests, temples and much more will await you as soon as you step foot on this island. Before you hit the full moon parties, get ya boots on and get hiking. Not only this but the island houses over 30 beaches with crystal blue water… Snorkle up!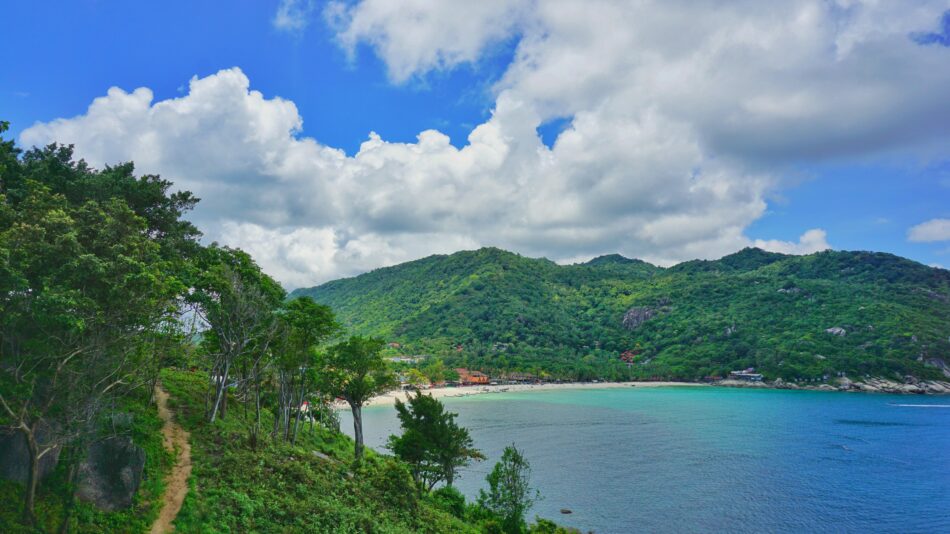 Image source:roberteklund @ Unsplash
7. Koh Yao Yai
A little quieter than the others on this list, you might find couples here on romantic getaways or families looking to escape the cities. If the words peace, quiet, and rest and relaxation resonate with you, then Koh Yao Yai will be more your vibe. But don't worry, there's still heaps to do here including kayaking trips, ATV offroading (take out that travel insurance people), big game fishing, and much more.
8. Similan Islands
First of all, it might be worth noting that there are no hotels on the Islands, so if you are planning on staying overnight you're gonna be looking at a campsite or a bungalow for the night. But, if you get the chance to get out to the island for a day trip, it is definitely worth your time!
The coral reefs that surround the island are estimated to be around 5000 years old (mental), the oldest reef in Thailand. Due to this, in 1982 the island was made a national park and declared a UNESCO World Heritage site! Not only this, but the Similan Islands are considered to be the best diving sites in the whole of Thailand, and was named amongst the top 10 most beautiful places in the world. Stunnin'.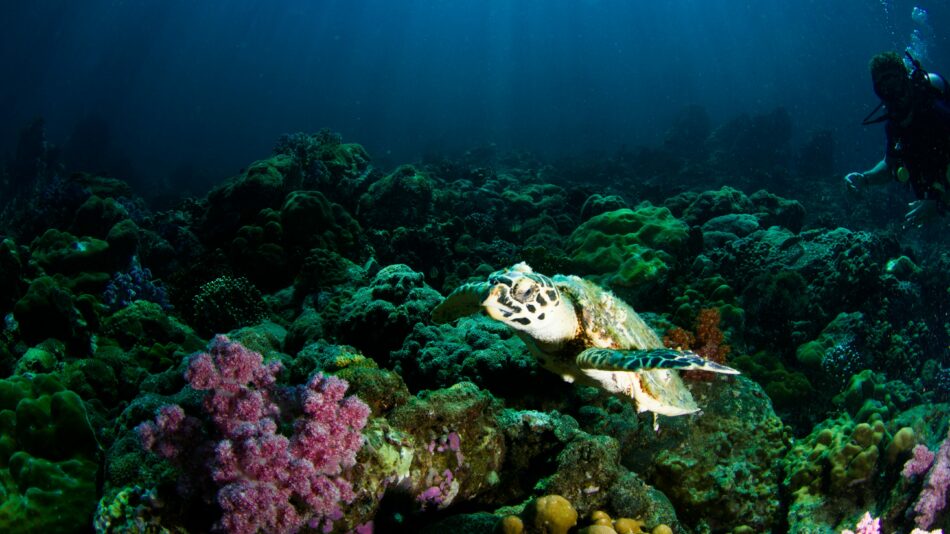 Image source:prelevicm @ Unsplash
9. Koh Lipe
It feels like we've said this a lot, and maybe that's due to the fact that Thailand is just that incredible, but you will genuinely find beaches here that Instagram will just never do justice. Don't let the frustration get to you though, you're here, for real. Take it all in, ya beautyyyyyyy. When we say turquoise blue we mean the kinda turquoise that looks so good you wanna drink it (don't drink it). Koh Lipe's big selling point is that the island is far less crowded that others, and isn't considered a party haven. Long-tail boats line the idyllic shores here, it's all just good vibes.
Need more info on Thailand's best islands to hop to? We have heaps and heaps more right here.
Before you start packing though, let's give you some more crucial information first. Speaking of packing, here is our list of essentials that you'll want to bring with you!
Packing for island hopping in Thailand: essential items to bring
1. Sunscreen, hats & sunnies (all things sun protection)
If you've done your research correctly, you would have found that the best time to visit Thailand is between the months of November and early April where temperatures will hover between 32 and 36 degrees… That's pretty bloody warm. And as you, little adventurer that you are, will be hopping across islands and moving around, you're gonna wanna make sure you're ready to defend yourself against that big yellow ball in the sky (before totally surrendering yourself to it, as you lay motionless on the beach, drink in hand, catching rays). Whatever you get up to, wear sunscreen and protect your eyes.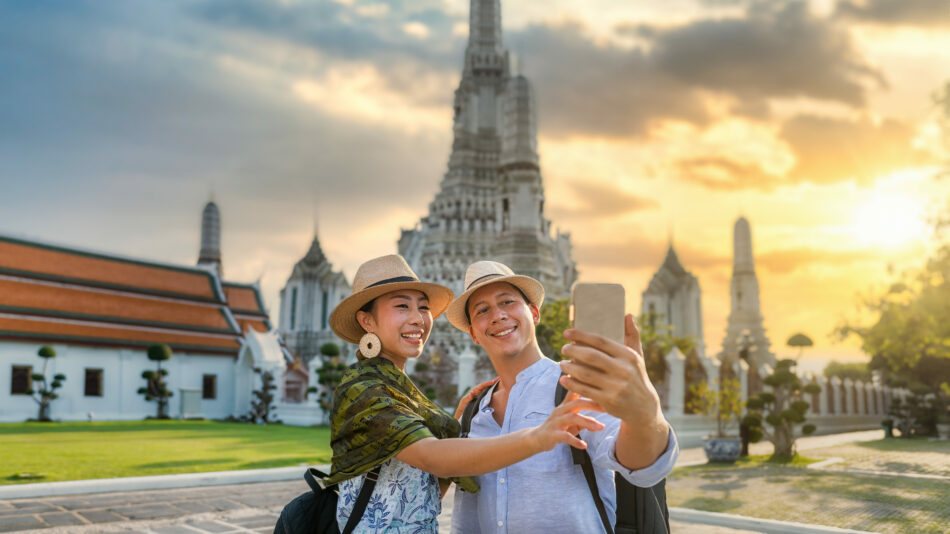 Image source:Contiki
2. Closed toe shoes
If we told you that shoes wouldn't be part of your outfits 90% of the time whilst in Thailand, we wouldn't be lying. However, hopping around and taking different modes of transportation can at times be hectic, and carrying bags on and off of boats will be some of the less attractive moments on your travels. Practicality is king here, make sure you wear trainers on your travel days. The last thing you're gonna want is smashed up toes or a head injury – cause of action – impractical footwear. Oh, and the islands host some amazing hikes, so don't do what I did and attempt to climb a mountain in a pair of $2 fake Gucci slides.
3. Dry Bag
Picture this, let's circle back to the impractical footwear situation, day trip version. You're about to grab life by the balls and get out there to experience that diving trip you've always wanted to go on. The phone comes with, so does the passport, oh, and your purse with cash in it to buy that fancy GoPro vid at the end of the day (gotta show mum something). The impractical footwear has done you dirty and you take a tumble stepping into the boat, the bag flys off and finds itself in the crystal blue water. Day, week, month ruined. Invest in a decent dry bag and this nightmare can be avoided.
4. Swimwear
Don't think we need to go into detail here.
5. Insect Repellent
Because there will be heaps of bugs, especially at night with pesky mosquitoes. You're going to want to make the most of your warm nights, spent on the beach, or hanging out in outdoor bars. So, let's keep these nuisances at bay.
6. Proper clothing for visiting the temples
The islands home some of Thailand's most iconic temples which you are going to want to visit. Make sure that you dress appropriately for these scenarios, though: cover your shoulders (leave those tank tops for another day, no matter how much gym our smashed before departure), and your knees must be covered as well, so make sure to pack some chinos or jeans at least. Leave the "I <3 full moon parties" string vest at the hotel, just for today…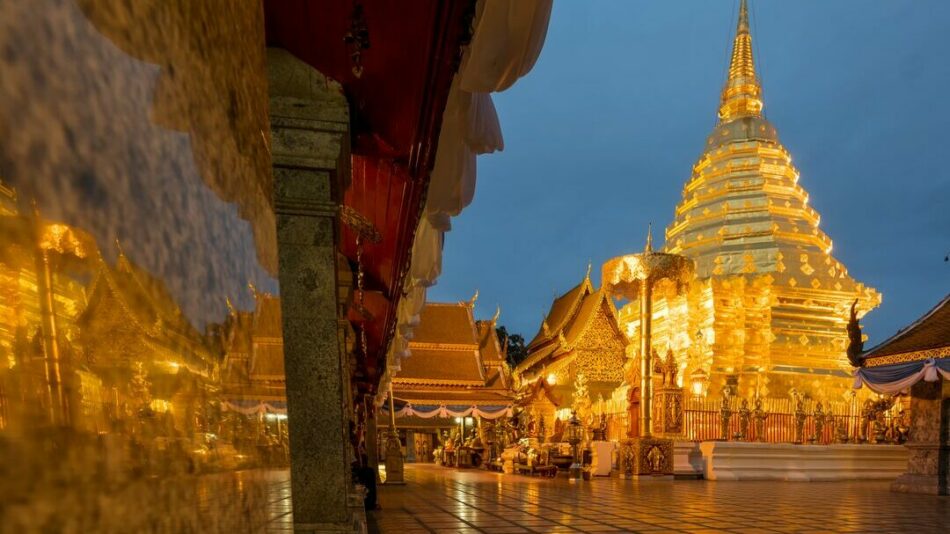 Image source:Contiki
7. Sweatshirt or a hoodie
This is a weird one, but hear us out. You look at the weather and see gorgeous 36 degrees for the next week. You may not automatically think "I should grab a sweater," but yes you should. A lot of your modes of transport will have crazy AC ramped all the way up, so for you travel days, it's not a bad idea to have a hoodie on hand just in case. If you don't use it, it can always be repurposed as a travel pillow (we got you)!
Best time to go island hopping in Thailand
If you're going by what you read, the "best" time to visit the Thai islands is between November and April. However, they're pretty bloody good whatever time of year you visit. For example, taking a visit in July isn't going to mean running for shelter 24/7 as the rain comes down. The average temperature during these months dips ever so slightly to between 29 and 32 degrees which some may argue is better and more bearable than peak summer times the heat can sky-rocket to 37. It really is kind of up to you!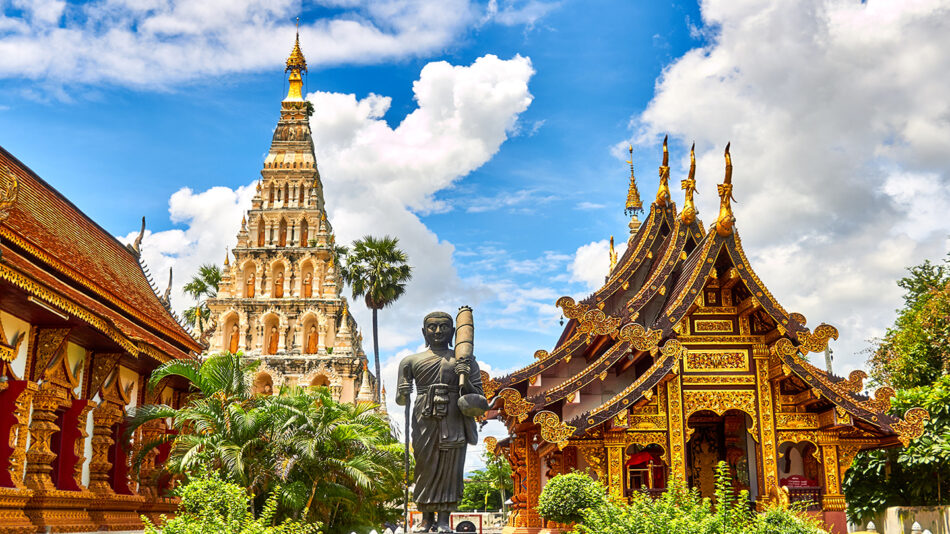 Image source:Contiki
How to get to the islands
It goes without saying that travelling by boat is going to be your best option when going between each island. On land, though, everything is easily accessible by bicycle or moped if you're feeling adventurous (GET TRAVEL INSURANCE PEOPLE!). Some of the larger islands will offer local buses etc., but hostels and other forms of accommodation are usually really good in helping out travellers with the best routes to take when reaching your destinations. Don't be afraid to ask.
As we'll be hopping across the islands and moving around a lot, it's super important to have a bit of a plan when it comes to what ports you need to be at and how to get there. In other words, plan a route and try to stick to it. Once at the ports, reaching your destinations is easy as the staff and the locals here are used to tourists making the same journey everyday.
Image source:Contiki
Tips for responsible and sustainable island hopping
Carry a reusable water bottle
Pack lightly and seek out biodegradable, cruelty free toiletries where you can
Use bicycles instead of motor vehicles and if you have to, take public transport
When booking your excursions pick reputable organisations with eco-credentials
Interact with locals
Check out any volunteering experiences you can take part in
Purchase non-toxic insect repellent such as lemon balm or citronella
Coral reef friendly sunscreen – Unfortunately this is one that is not always spoken about but many popular brands contain harmful chemicals that can cause serious damage to Thailand's protected reefs.
Eco Lodge accommodation – Thailand has some pretty awesome accommodation options and an eco lodge is one of them. These homes look to preserve the environments of which they stand, help wildlife and support local communities.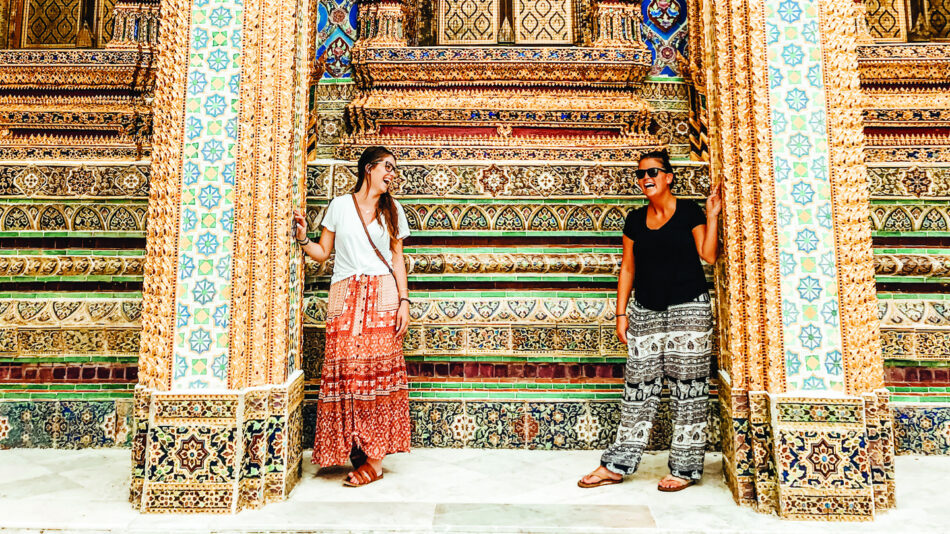 Image source:Contiki
How long does it take to island hop in Thailand?
We recommend taking your time and slowing down as much as possible to make the most of your Thai hopping experience. Luxurious languishing, you know? But the truth is you can take some of the most popular routes in less than a week and still get to experience all the best parts.
Can you island hop from Koh Samui?
Absolutely you can. In fact you're spoiled for choice: Koh Samui is made up of no less than 69 individual islands! So, if getting off the beaten track and exploring some of Thailand's lesser known islands is top of your list then look no further. Popular islands such as Koh Phanganm, Koh Tao, and Koah Mae Koh are also super easy to travel to from Koh Samui.
Planning your trip: Independent vs. Guided
What is the best way to experience these glorious Thai Islands?
Travel between the islands is easily navigated, however that's not to say that it can't be made easier. Sometimes things go wrong, and situations become a little more stressful than they have to be. For this reason, having someone there to hold your hand can make the whole experience slightly less daunting. The convenience of having your own travel organised for you after a night out can be pure bliss. Bus tickets? Sorted. Ferry? Sorted. Snacks? Contiki knows the best spots.
Sounding like a dream already? Check out our incredible Thai Island Hopping trips and get planning!