One of the many hidden treats of South Africa is the Township of Knysna. With a population of only 38,000 people, this community is a unique place of deep culture and history, and we take travellers here on our various South Africa trips as part of our MAKE TRAVEL MATTER® Experiences as a way to give back to the local communities we travel to.
Some of our Contiki team visited South Africa and had the exciting experience of being taken on the Knysna Township Tour themselves.
The tour was led by Ella, one of Knysna's very own tour guides and community workers. Ella is an integral part of the Township's community as she has been contributing to the guided tours (which have been going on for 15 years now!) and she is actively involved in aiding the local children, as well as her own.
The Contiki group had a sit down interview with Ella, as well as some friendly chats on the minibus that brought them there, to discover more about the Township's way of life and culture.
Hey Ella! Could you tell us a little about the Township and who lives here?
"Our Township is one of the smallest Townships in the country," says Ella. To start off the Knysna Township Tour Ella and a driver picked up our group in a minibus and drove them to the Township. "We have a lot of nationalities in the Township: we have people from Zimbabwe, Malawi, Nigeria, Congo, Bangladesh, etc."
"We speak three languages: English, Afrikaans and Isixhosa," Isixhosa being the language specific to Knynsa's Xhosa people.
Before they arrive, Ella teaches the group how to say 'hello' in Isixhosa. "Molong," she says. "People in my community are very friendly. They all smile. Everybody will greet you. Definitely so. So be ready to say 'Molong'."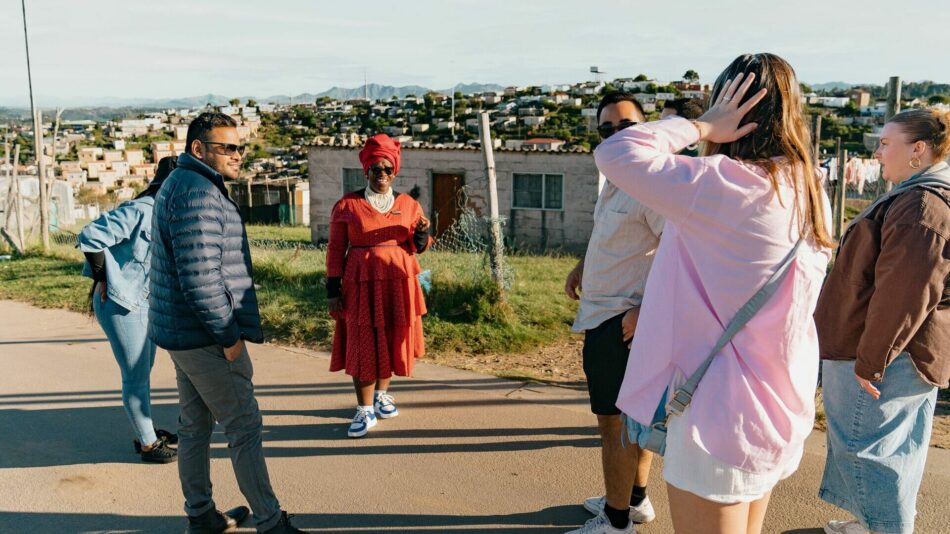 Image source:Contiki
Why is it important for travellers to visit this community, and why is this Township different to others?
"It's very important for two reasons," says Ella. "Number one: it's important to come and see and know the other side of this country [South Africa] where most of the people live. A lot of the time people think that Townships are 'no go' areas, but ours is different – people are welcomed into this loving and caring community."
"The second reason is that, when you pay to come on the Knysna Township Tour, you're supporting our community and helping us to change and touch some of the lives within. The money that you paid on the tour is given back to the community, which I think is the most important thing."
"What makes this Township different from others is that we're an involved community, we help each other out, and we accept and welcome outside guests. It's also special because this is where I live, and there's only one Ella!" she laughs.
What's living in the Township like?
As the minibus enters the Township, the group can now glimpse at the village, and there are children running alongside the bus. "We have five schools, three primary schools, and two secondary schools," says Ella. "All the children go to school, and we'll see some of them now. Those are the kids who are late," she laughs, pointing to some of the running kids, and so does the group. "I have children, and it makes me happy to see the children secured, happy and educated."
"We have a very low crime rate here," Ella explains, "because we have such a high employment rate." Because the Township is so close to a forest area, part of the Township's main income is through construction and lumber retail. This allows people to stay employed. Tourism as well. "Our bread and butter is tourism," Ella explains. Knysna Township Tours are a popular tourist attraction in South Africa, and these allow the inhabitants to be employed as tour guides, and also allows an opportunity for travellers to give back to the communities they visit.
The group drives by the Township's water purification plant, "Everybody in the Township has access to clean water. We drink clean water and our water is prepared and the electricity is prepared." she says. "Everybody got electricity. Those who don't have electricity, they share the electricity with the other ones." There is very much a spirit of collaboration and community that runs through the people living here.
Ella points out a group of men who are working on a development project. "Here," she says, "If you are South African, if you have children and a low income, then you get that house for free. It belongs to you, and your children can inherit that house." The houses have two bedrooms, with an open plan, a sitting room, a kitchen, and a bathroom. "I heard that in other countries when you die, they take their house. It belongs to the state. But here, when you die, it still belongs to you."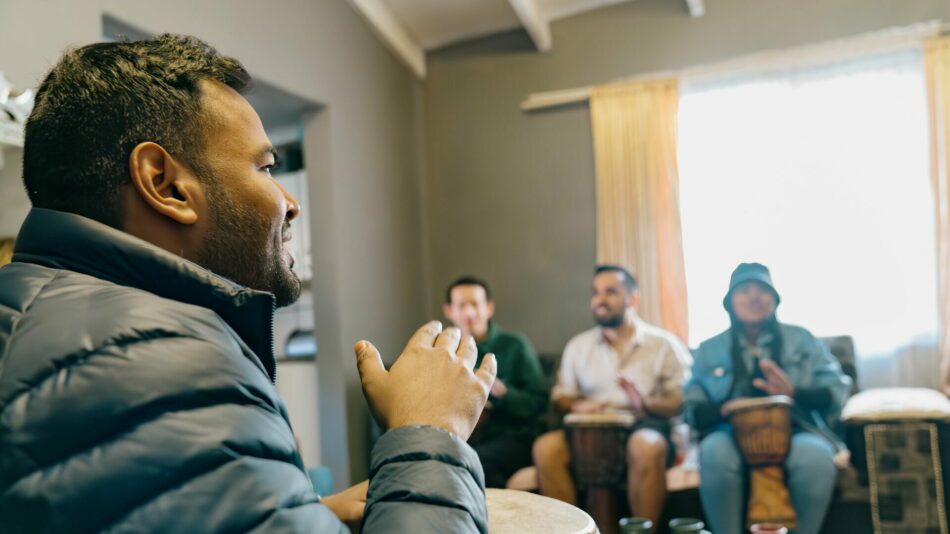 Image source:Contiki
We heard you singing before, Ella, is that something that you enjoy doing?
"Yes," says Ella. "One of the things that I like more is music, and actually it's something that is in our blood. We love music. We love singing."
"I have 16 children, and we sing together. We sing and we play games by singing together."
What's your own story? How did you find your way to the Township and why did you stay? Can you tell us a little about the community here?
"I came from the Eastern Cape to come to Knysna to better my life because I came from a similar background to a lot of the children here: a broken home due to alcoholism.
When I came to Knysna, I stayed with a friend, but the first thing I felt was security. Most of the time, entering a new community, you might feel uncertain, but I felt safe and then I decided that I'd be residing here now.
"The community here is important and there's a great sense of it. People will take care of you if you have nothing, and they will encourage and support you. You feel that courage and that applause when you do something good for yourself or for others. We also tell each other when we're wrong, we have a big mouth like that," Ella laughs. "Which is a good thing to live with.
"These are people who are able to encourage you to achieve whatever goals you have in life."
Can you tell us something you think that would surprise people when they come and visit your Township?
"I think what would surprise people is what we call Ubuntu these days, where people will welcome strangers and pray and be friendly and kind to them. I think that surprises people, because there will come someone whom you don't even know and they will welcome you with love and a big smile which, these days, is quite rare."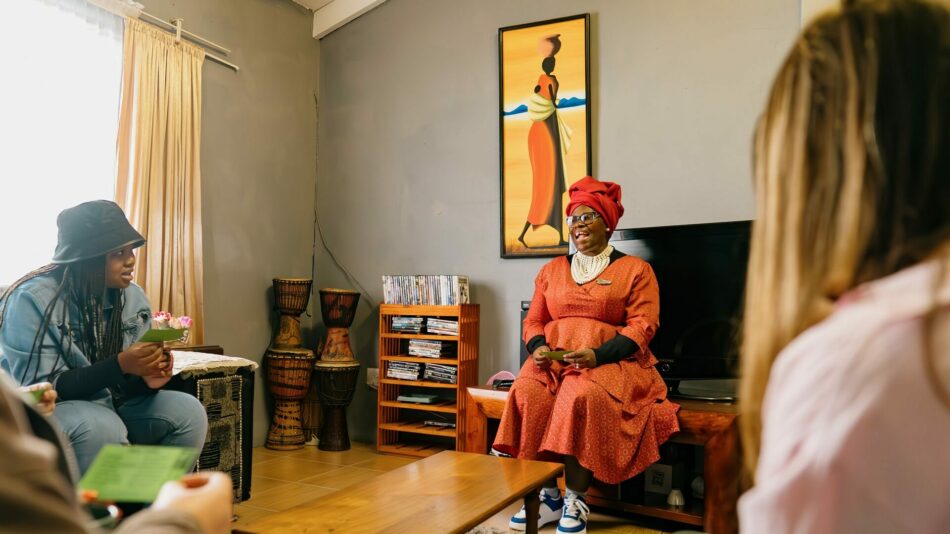 Image source:Contiki
What is the Township Big 5?
"We have our Township Big Five. So we must use our eyes and be excited," Ella and the driver laugh and it's an inside joke. In Safari terms, the Big 5 refers to lions, elephants, buffalo, leopard, and rhino.
In the Township, the Big 5 are this: "We divided the cows into two, the brown ones will be your elephants, and the black ones the buffalo. Then the spotted pigs appear and those are the leopards, and the dogs will be our lions. And then we have white rhino, which will be a goat." The group breaks out into laughter as they drive past stray dogs and herds of cattle.
"We try to encourage people in the community to take care of the animals. We also have the numbers for different animal welfare organisations and vets so when the animals get old and need care we can't provide, they can get that as well." The dogs roaming around the Township are mostly strays, but due to the care that the community provides they are all healthy and sterilised, and safe to pet and be friends with.
What are you most proud of that you're doing now?
"What I'm proud of at the moment is the fact that I get to show people from other countries the real South Africa, not the version that is always in the media."
"As a community worker here I'm also extremely proud of the help I've been able to provide the children that come from a similar background as mine, which is to say a background of family alcoholism. Being able to support them and give them the opportunity to better themselves and break the cycle is meaningful work to me."
What do you hope people will learn or come away with after the Knysna Township Tour?
"When I do the Township tours I meet all different people from all different aspects of life. And that inspired me also to know that I can do more. I hope it inspires them as well."
"What they have to take back is the joy, their peace and love. Those are very important memories."
Image source:Contiki