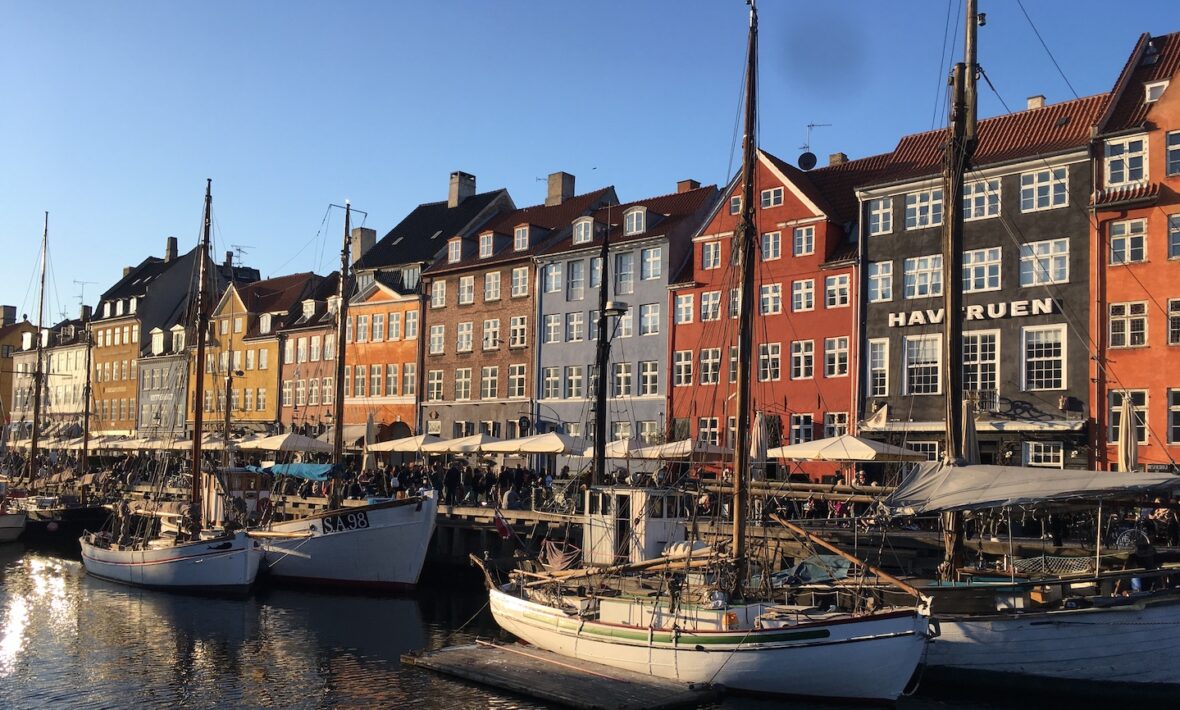 I don't know whether it's my fascination with Nordic history, the cosy concept of 'hygge' or their amazing sense of style, but there's always been something mystical about Scandinavia for me.
When booking a trip to Copenhagen, Denmark's capital, I braced myself for the cold and unpredictable weather. I expected that everything would be clean, contemporary and very functional.
Post-trip, I'm completely smitten. We learnt so much from the Nordic culture – from taking good care of their surroundings to enjoying life to the fullest. Here's how we can all be more Danish…
1. Take pride in your local area
As I'm sure many of us do, I really care about our planet, and the litter and smog of my home city always makes me sad. However, it seems that the people of Copenhagen take so much pride in their city. I saw little to no rubbish on the central streets; not even splodges of chewing gum or discarded cigarette butts.
And it's not just the pavements that are clean. I definitely felt that there were fewer cars on the road and at times it was blissfully quiet.
2. Enjoy life on two wheels
The reason for the lack of traffic? Everyone seems to bike! There are wide cycle lanes along the sides of nearly every road in the centre. There are even traffic lights specifically for cyclists, and bike racks all over the city, where you can safely lock up your bike while you take a breather.
No budget for a bike? In Copenhagen you can rent one for just a few hours using a free downloadable app called Donkey Bikes. But remember to be extra careful when crossing roads – it sounds obvious but noise-free cyclists led to a few near misses for us!
Image source:Carlo Villarica
3. Look for colour wherever you go
There's hidden colour throughout Copenhagen, all you have to do is discover it. The district of Nyhavn was one of the first places we visited and it was beautiful. The waterfront is lined with brightly coloured 17th and 18th-century buildings, now home to cafes, restaurants and bars. This is the perfect place to sit and have coffee, overlooking the canal boats and listening to the street musicians.
We found bursts of colour in Christiania, too. Known as a 'freetown', the 900 residents technically live independently from Denmark. The buildings are covered in vibrant street art – very tempting for photos, which is fine near the entrance but further into the commune, not welcomed! So, just enjoy the sights as you explore and keep all cameras safely tucked away.
4. Embrace the outdoors (even when its chilly)
When visiting in spring, we were treated to bright blue skies and cool temperatures of around 15 degrees. However, even when the weather turns, the Danes always make time to embrace the great outdoors.
Most bars and restaurants have outdoor seating areas and they're always prepared for the cold, with plenty of outdoor heaters and cosy blankets to wrap up in. This made trying delicious dishes such as Smørrebrød (hearty open sandwiches with rye bread, meat and pickled veg) and Danish pastries even more enjoyable. If that's not the epitome of 'hygge', I don't know what is!
5. Understated style rules
Copenhagen is a stylish city; there is no doubt about that. The architecture, the people and the culture are so graceful and elegant. As a regular traveller, a couple of things you get used to are tacky souvenirs and brash tour offers.
In Copenhagen, I saw only two or three shops selling typical souvenirs for tourists. One of the main attractions is the boat tours and yet there were only a few strategically-placed cabins where you could purchase tickets, instead of lots of touts or salespeople standing in your way.
Image source:Contiki
We left wanting to explore more of the city – from its sandy beaches to the Viking history. The way of life seems so different to ours and the city manages to be both vibrant and peaceful. I can't wait to go back but their life lessons will always stay with me.