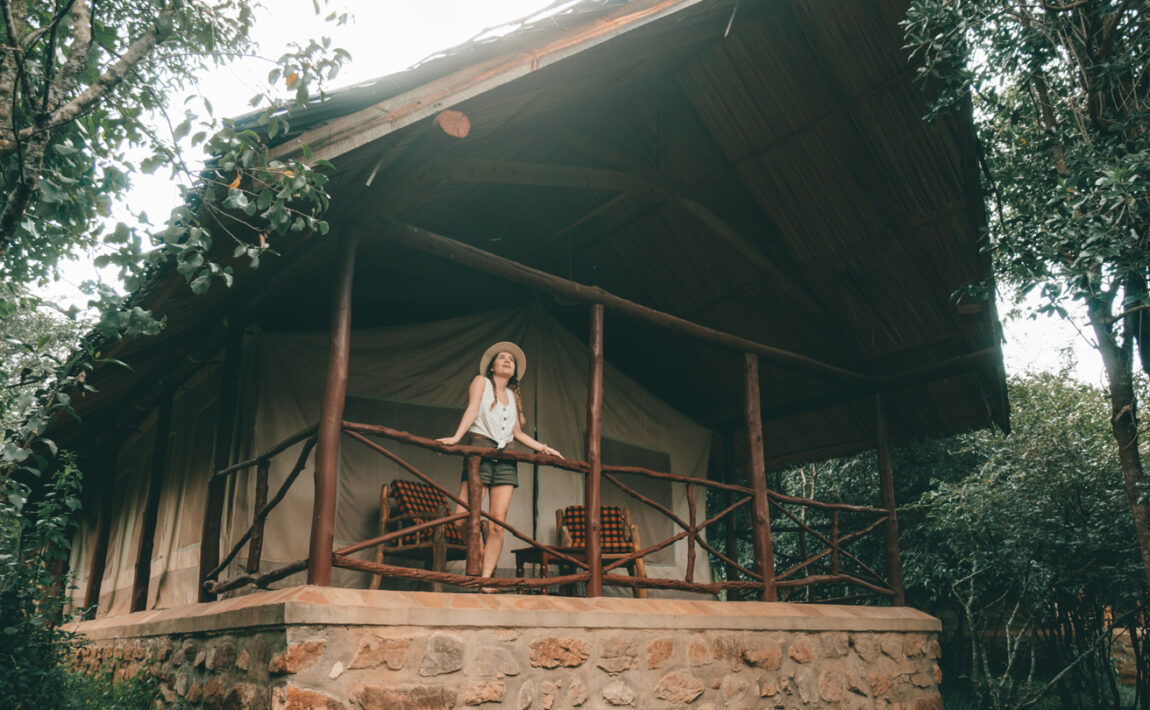 To say I was excited to pack for my 12-day Contiki East Africa Safari is an understatement. I love greens, neutrals and whites, so styling cute and functional outfits for many a safari Instagram pic is right up my alley. However, unlike other adventures, there are some extra things you need to consider when heading to East Africa, especially on safari.
Here's what I packed; the items I was very thankful for and the travel items that I wish I'd brought along…
Bags & packing
Should I take a backpack or suitcase?
Firstly, make sure you have the right type of bag! For the East Africa Safari, a soft-sided duffle or a backpack with a total weight limit of 33 pounds (15kg) is required as your checked bag. This is because the vehicles you'll be safari-ing in are 4×4 Toyota Land Cruisers. They seat seven passengers and have very limited space for stacking luggage in the back.
Secondly, most of the accommodations you're staying in don't have paved paths to your room. Some are gravel, stones, sand, grass or dirt. This means wheelie bags aren't really practical since you'll be carrying them anyways. Most of the time there'll be a porter to carry your bag to your room (for a small tip). BUT there are times where you might have to carry it yourself. You'll thank yourself later for packing light.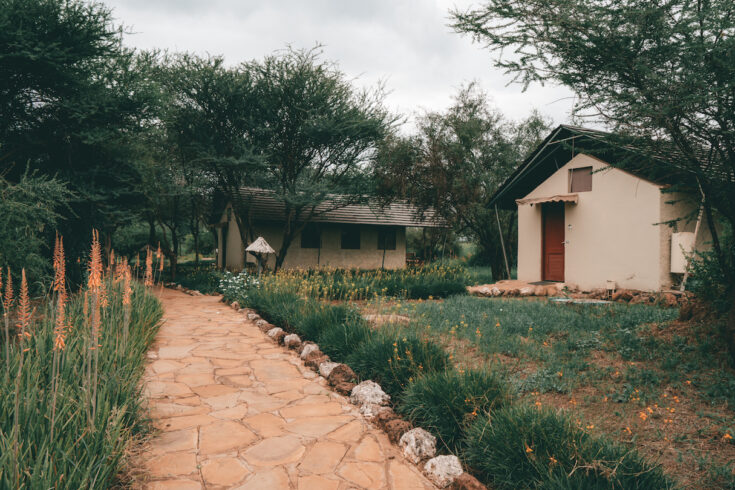 Image source:@Heynadine
What kind of day bag will I need?
There aren't many restrictions on the type of day bag you can bring. A small backpack is ideal, something to keep your valuables in which is easy to carry. I recommend avoiding any lighter colour bags. It'll be on the floor of the vehicle for most of your game drives, so it's highly likely it'll get dirty.
One of the items I wish I'd brought – that several others in my group had – was a smaller hip bag. It's super convenient for keeping your phone, cash, toilet paper or passport in for quick stops to the shops or toilets.
Cameras & kit
Bring a zoom lens
Going on a safari you'll be seeing a variety of incredible animals (fingers crossed!). While the guides will try to get you as close as possible, animals will be animals and many times they'll be farther away. I highly recommend bringing a camera with a zoom lens. If you aren't an avid photographer, you might not have one already. This is why borrowing is a great option, it's what I did!
Borrow kit from your family and friends
Or… renting gear from various camera shops in your home country is also a great option. This depends on where you live, but several shops can even ship rental cameras and lenses to your home. It's not always the cheapest option, but it's still far more affordable than buying any of the gear outright.
Phones work too!
If you don't have a camera capable of zoom and can't rent or borrow, a phone is a great choice. A large percentage of travellers use them on their safaris. Sometimes you can get pretty close to the animals, so you can snap some great animals pics with whatever device you bring.
I do, however, have a little travel hack for you. Holding up your phone's camera to the eye piece of your binoculars acts as a mini zoom lens! This is a bit tricky to master, but when you have no other option, the results can be epic.
Don't forget a camera bag
If you're planning on bringing any larger or more expensive cameras with you, make sure you have a good camera bag, case, or cube to protect it! Safari rides are very, very bumpy, and you'll be in those vehicles for long periods of time, so keep your camera safe and secure!
View this post on Instagram
Safari clothes and what to pack
The fun part! Because I was packing for the East Africa Safari and Mount Kilimanjaro afterwards, I tried to keep my wardrobe to a minimum.
Example safari packing list:
4x short sleeved shirts
2x shorts
1x short jumpsuit
1x long pair of pants
1x lightweight button up long sleeve shirt
1x swimsuit
1x warm sweater
1x sleeping pants
1x sleeping long t-shirt
1x warm sleeping shirt
1x rain jacket
Tsetse flies in Tanzania
I kept most of the colours of my clothes neutral with muted tones like white, green, yellow, beige, light blue, khaki. BUT there's no need to stick to these tones, as many of the guides and locals wore brighter colours (including red). However, in Tanzania there's a reason you'll be glad for your neutral colours: tsetse flies. These are one of the most annoying bugs that bite, and it hurts. They are attracted to dark colours, especially blues and blacks. We encountered these flies in Tarangire National Park, and oh my, they are not fun! You'll be very glad for the neutrals then.
Layers are your friend
Pick more breathable materials, avoid jeans or thicker fabrics and plan on layering. Lighter colours and more breathable fabrics are ideal in the hot African sun. Plus, about half of the game drives you do are early in the morning, which can be quite chilly regardless of what season you're travelling. Having some warm layers is nice for these situations. One of my favourite items of clothing was my light, long-sleeve shirt. I could easily pop it over a t-shirt and used it a lot in the mornings and evenings when it was feeling a bit brisk.
What to wear to sleep
Night time can be either very warm, or very cold. You spend half of the nights sleeping in large tented enclosures in the middle of these parks (which is amazing!), but they don't provide much insulation. I was very happy for my warmer sleeping layers in these cases.
Laundry
Predictably, most of your clothes will get pretty dirty and dusty on the game drives. Luckily, almost all of the accommodations have laundry service. But unless something really badly needs a wash, I recommend embracing it. Everyone will be a little dirty and stinky, and that way you help save precious water resources.
Image source:@heynadine
Shoes
I packed 2 pairs of shoes for this safari and that was plenty.
1x pair of sneakers/lightweight, waterproof trail shoes
1x sandals
Do I need boots?
Boots are not needed for this trip, and you'll probably find them too warm for most cases. You'll be sitting inside a vehicle for all of the game drives, so you can pretty much wear whatever you want. That being said, a light hiking shoe or trail runner is ideal, and sneakers are not a problem. Avoid white soles and shoes if possible, because the red dirt will dye them. If your shoes have open mesh they'll be great for breathability, but you risk them becoming filled with dust by the end of the day. And if it rains or you get stuck in the mud like us, you'll be thankful for water-resistant shoes.
Easily removable shoes are key
The roof of the safari vehicle lifts up so that you can pop your head up to get a 360 degree view around the vehicle. The guides allowed us to stand on the seats if we were too short, but only if we had taken our shoes off. So it's nice to bring a pair of shoes that you can quickly take off, especially if you're a shorter person like myself!
Having a pair of sandals was nice to wear during free time or on longer travel days, just to give your feet a break around camp.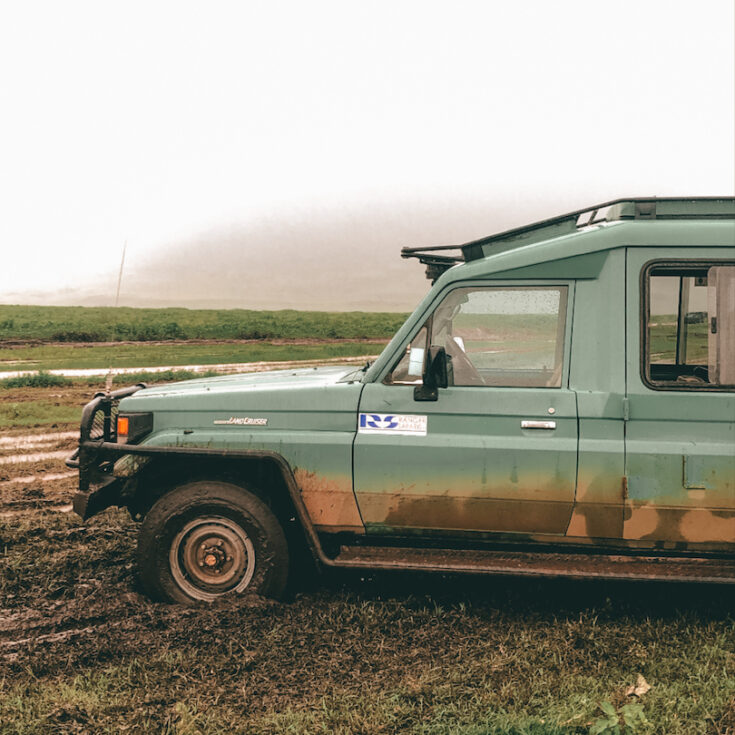 Image source:@heynadine
Accessories
A few more things you'll be very glad you packed:
1x sunhat
1x sunglasses
1x binoculars
1x bug spray – for mosquitos in the evenings and tsetse flies during the day.
1x sunscreen
1x hand sanitizer
1x power bank – for charging electronics! Some locations you stay at get their electricity from a generator and you won't always have power throughout the day.
1x water bottle – having a reusable water bottle is one of the easiest ways to reduce single-use plastics while travelling.
Pro Tip: It's also smart to bring small U.S. dollar bills. They're extremely handy for tipping porters or buying smaller items as it's very hard to get change for anything larger than a $20. Also, everywhere in Kenya and Tanzania will accept USD.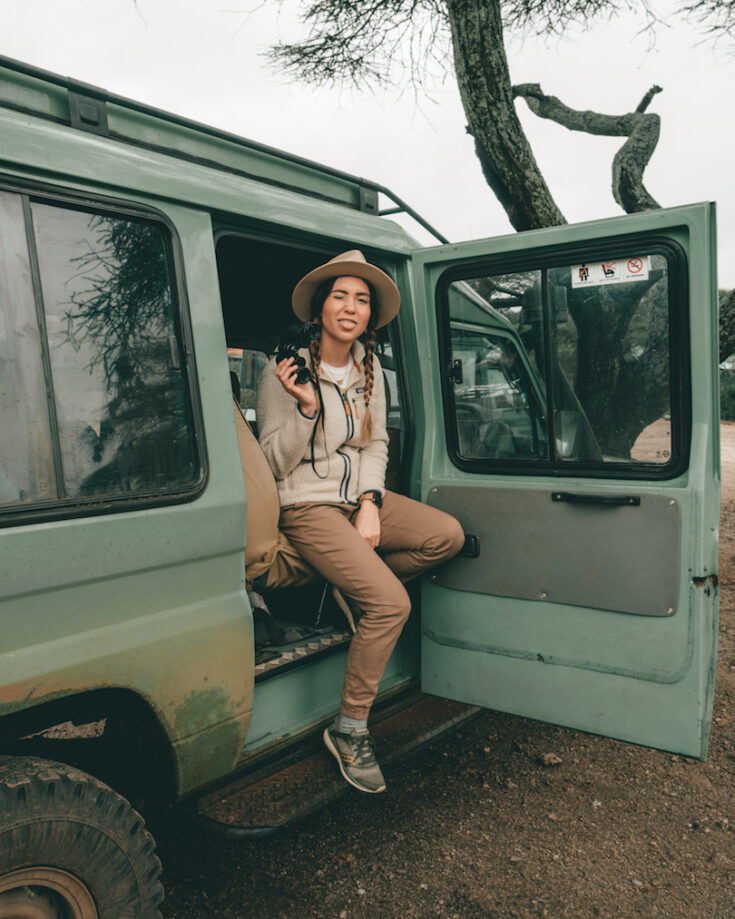 SIM cards
Don't panic! All the accommodations you stay at have Wi-Fi, but sometimes it's only available in the reception are and may have a weak signal. If you want to guarantee you'll be able to surf the web to your hearts content, or post your latest safari pics to the 'gram, there are a few local SIMS you can purchase for a very reasonable price. Purchasing a SIM card will require you to show your passport, so don't forget to bring it along when you go to purchase one!
Kenya
Safaricom – this is the SIM card I bought in Kenya. It provided great coverage and speed pretty much the entire time in Kenya, so pick one up before your adventure starts. A quick Google search will tell you where the nearest shop is!
Tanzania
Vodacom – I was told this was the best service while in Tanzania. It's available to purchase at the border between Kenya & Tanzania, just ask your guide to help you out!
Items to leave behind
If you're an over-packer, or just stressed you'll forget something, here are the things you definitely won't need:
Jewellery
Best to leave the jewellery at home, you really won't need it!
Plastic Bags & SUPs
Leave all plastic bags and single-use plastics at home. Both Kenya and Tanzania have a ban on plastic bags. Plus, Kenya is implementing a ban on single-use plastics this year.
Hairstyling tools
Leave all hair styling tools and hairdryers. As mentioned, several of the accommodations run on generators or solar power, so they can't handle the power draw of these devices. To conserve energy and prevent blowing the electrical breakers, leave these tools at home. Rest assured, you won't be completely without hairdryers. Many of the camps have them supplied, so you'll be able to style on those days. Either way, styling some braids, tying your hair up or popping on a hat will be your best options for the elements anyways. Embrace your heatless hair styles and go safari-chic!
View this post on Instagram