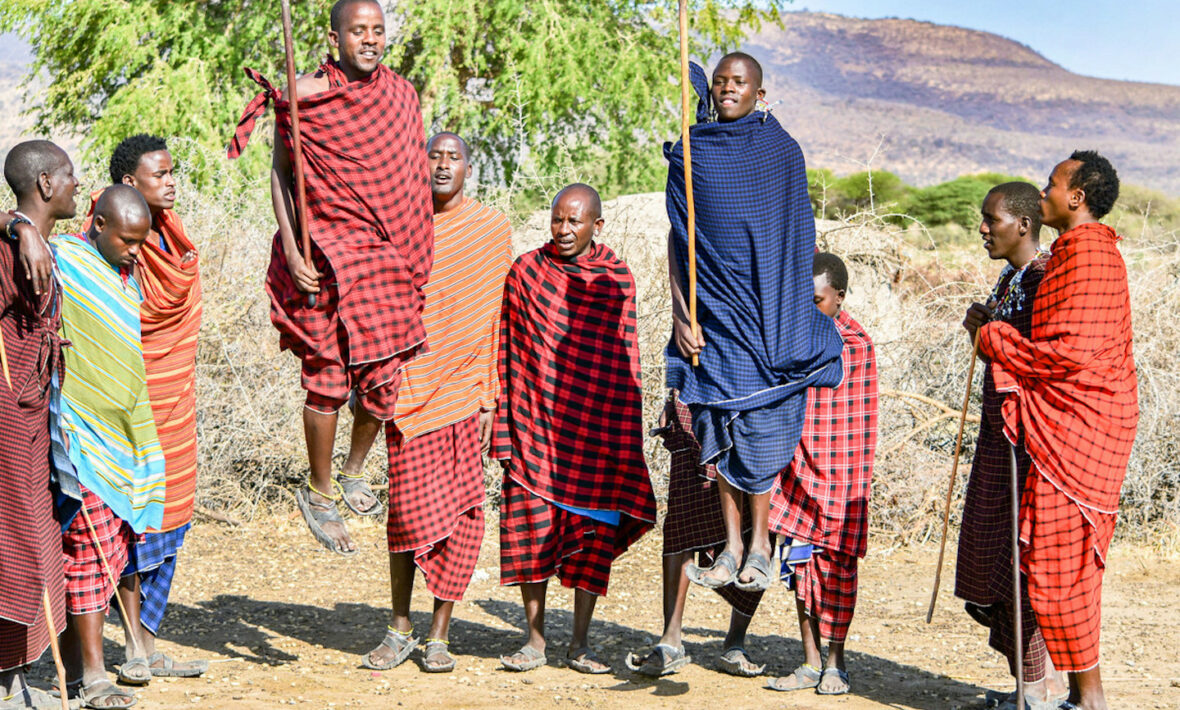 Clutching my boarding pass in one hand, passport in the other, I walk through Heathrow airport in London. In nine hours I'd be landing in Nairobi – the biggest and busiest airport in East Africa to kick off my 12-day East African Safari. 
East Africa is home to the greatest concentration and variety of large mammals in the world. We'd be visiting the Maasai Mara in Kenya and the Serengeti in Tanzania – catching a glimpse and hopefully some photos of the big five. 
Little did I know, that many of my favorite moments would have nothing at all to do with animals. The moments of connection with people who on the surface are so different from me. The feeling of inclusion in a place where my existence as a queer woman is far from celebrated. 
Visiting Kenya and Tanzania was challenging. It made me uncomfortable, it made me dig deep and challenge myself on many levels. I felt joy and connection – and I also felt guilt. So many travelers come to East Africa for the safari, but it's the people, rich culture and deep history that left their mark for me. 
Here are some of my biggest highlights…
https://www.instagram.com/p/B3sGHXpBE7q/
Check out the coffee, beaches and cities
Visiting any region of the world and limiting yourself to one activity is short-sighted. Yes, going on an East African safari is mind-blowing but what about visiting a coffee farm? In Mochi you can explore and taste some of the world's best beans. 
In Zanzibar, you can watch the crystal-blue water wash over white sand beaches and explore the narrow streets in the region's largest port, Mombasa. Make time to explore a bit more even if that means just taking a few days before or after your safari. 
https://www.instagram.com/p/B2E_kpDhALR/
East African food is amazing
Truth be told, I didn't know what to expect from the food. What I found was a cuisine packed with flavor and international influence (yes, from colonialism). Ugali an absolute staple. It's boiled cornmeal served with nearly every meal. You eat it with your hands and us it to scoop up rich stews. 
Another favorite is goat or beef barbecue. You'll see many roadside butcher shops selling select cuts. The meat is grilled and often served with salt to dip the fattier bits into. I also loved the samosas, chapati and stewed green bananas. 
It's one of the most colourful parts of the world
You might be picturing a million shades of khaki but that couldn't be further from the truth. The market streets are lined with clothing and jewelry for sale in a vibrant rainbow of colours. 
One of the most visually stunning moments of the trip was watching a group of Maasai men moving their herd of goats from one side of the valley to another, each wearing a bright red checkered 'shukra' against the dusty, tan background. The only thing brighter than the Maasai beadwork are the awe-inspiring sunsets that seem to close out each evening game drive. Seeing the national park bathed in that light left our group speechless every night. 
https://www.instagram.com/p/B11SmF1hVY9/
English is widely spoken
In fact it's the official language in Kenya, Tanzania and Uganda. While you'll hear Swahili spoken much more frequently many people do know some English. This is the case for two major reasons, the first and largest being colonialism. The second reason being the importance of the tourism industry in this region. After being invited to visit a local village we learned that primary school is taught in Swahili and secondary school in taught in English. With so many cultural differences being about to communicate allows for such a deeper level of understanding.  
Time is REALLY flexible here
Saying, "We'll arrive at 2pm" means more like, "we'll arrive some time between one and four."  Dirt roads, goat crossings and just an overall laidback attitude lead to what is affectionately referred to as "African time". 
Ask a guide what time anything is going to happen and you'll probably get a shy smile and a time range. Schedules are flexible. So, it's probably best to just adopt the slow pace and go with the flow. If you need to catch a flight, just give yourself ample time to get there! 
The accommodations are incredible
You can share your breakfast table with giraffes, if you have the budget! While a night's stay at some of Kenya's most exclusive hotels is out of reach for many of us, the quality of the more budget-friendly accommodation is insane. Tent camps right in the Serengeti where you have hot running water is totally possible. 
The two main types of accommodation on our trip were the safari lodge, which is more of a hotel-style, and tent camps. Both have their charm and staying in a mix of both makes for the ideal trip. All accommodations serve buffet-style meals for breakfast and dinner and it was a great way to try multiple local dishes in a single meal. 
https://www.instagram.com/p/B1wM5gkBYVU/
The people are eager to share their passion for the region
People want to talk, they want you to experience and fall in love with their country. Many regions have been hit with a dip in international tourism and that is directly affecting people's ability to make a living. You'll quickly learn that people genuinely want to share their country with you. 
But you can't be in this region of the world and ignore that poverty exists. That income disparity does create some situations where people are directly or indirectly asking for money. While those exchanges can be uncomfortable or often leave you with feelings of guilt.  Ask questions, treat people with respect, be open minded and you'll be blown any by what you will learn. 
You're going to be off the grid but not as often as you think
For just a few dollars you can purchase a SIM card with service that even reached a few places in the remote national parks. All of the accommodations had wifi in the reception area. In an area where access to clean drinking water is limited, I truly didn't expect to be as connected as we were. 
https://www.instagram.com/p/B2UFcg0BA4r/