How to celebrate Pride 2023 in Europe (with brand new BFFs)
Share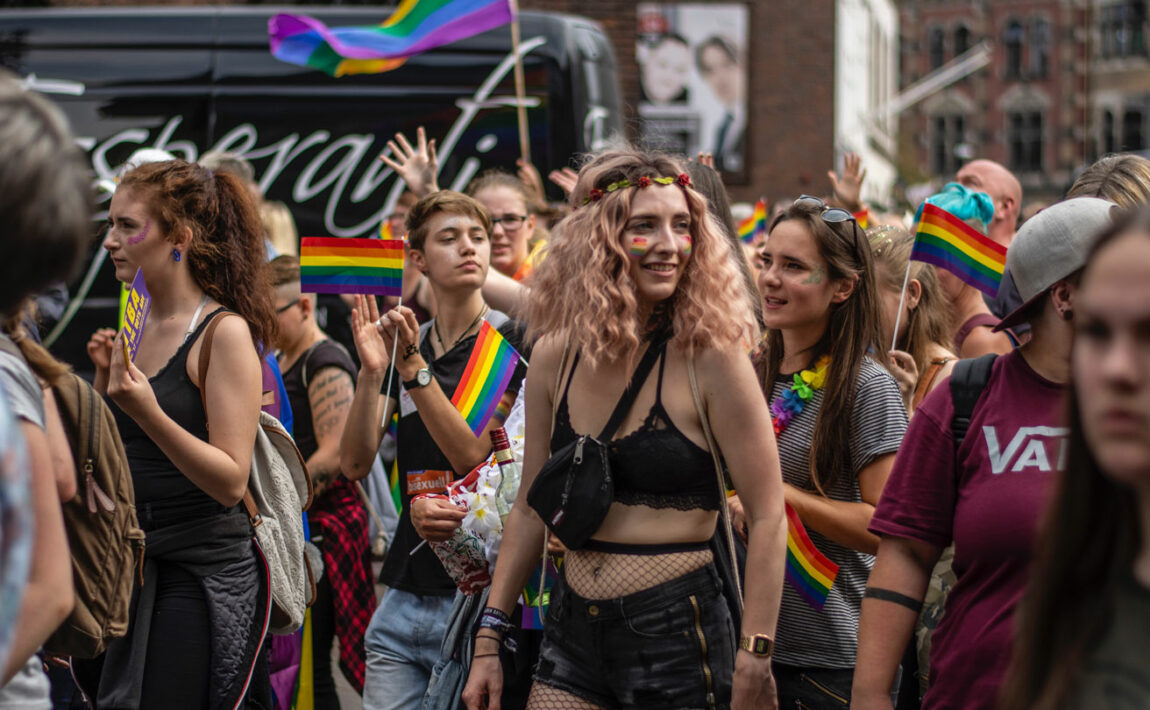 It's a new year, and a bright and beautiful European summer is almost upon us (almost.) Know what that means? 
Yup, it's time to plan your Pride trip. To some of Europe's most colourful, inclusive and downright cool cities… with a boatload of brand new BFFs from the LGBTQIA+ community and beyond. That's right kids, it's time for Pride – the Contiki way. 
With Contiki, you'll shimmy your way through some of the best Pride parties in the world, with a space to party (especially for us) and tickets to the official after-parties. But believe it or not, the parades are just the beginning. You'll also have the chance to tour London's LGBTQIA+ district, cruise the canals of Amsterdam with refugees, watch a live flamenco show in Barcelona, and much else besides. 
We're running 4 Pride trips this year – 2 large and 2 small. You have the choice between a multi-country trip and a deep-dive into everyone's favourite: sunny sunny Spain. (A little something for everyone, right?) 
Find a breakdown of each trip below:
Contiki Pride
See London, Paris and Amsterdam in 10 days (includes Amsterdam Pride + afterparty.)
Starting with the big one? Of course we are. This trip gives you a little bit of everything in three of Europe's most welcoming cities. First up, you'll explore each city's LGBTQIA+ district, while also having loads of free time to discover the tourist attractions you've read (and dreamt) about with your brand new Contiki fam.
You'll devour a bottomless brunch in London, you'll sample the prettiest patisseries of Paris before making your way to the cabaret, and you'll see Amsterdam through the eyes of refugees on a canal tour with the Lampedusa Collective. The trip finishes up with Amsterdam Pride, where your tickets to the official afterparty will be secured by us. (I know, right?)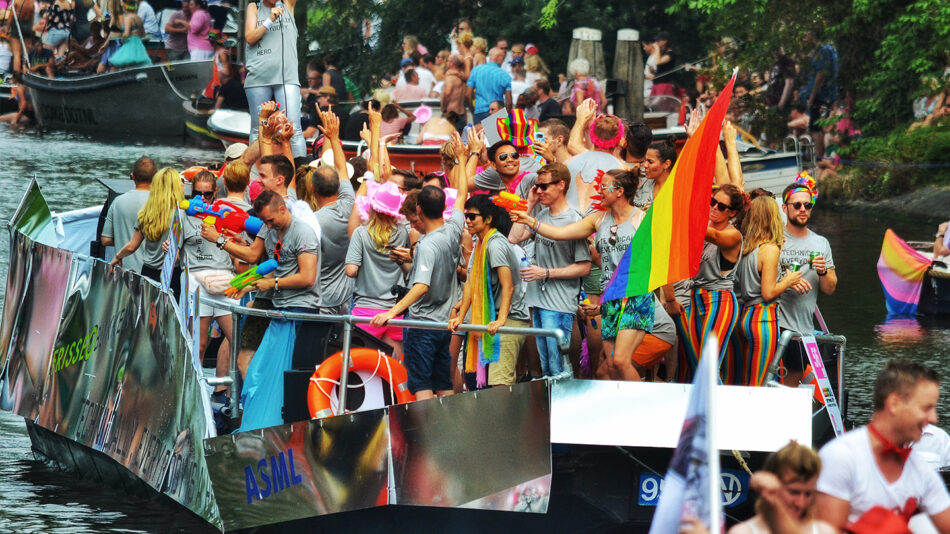 Image source:Contiki
Big on Pride but little on time?
Join our 'Amsterdam Pride' trip for 4 days (includes Pride Parade + afterparty.)
Basically, it's the final leg of the trip above. You'll skip out London and Paris, but you'll join us fresh for the main event in Amsterdam.
Link to trip: Amsterdam Pride
Spain Pride
See Madrid, Sitges and Barcelona in 10 days (includes Barcelona Pride + afterparty.)
An in-depth discovery of one of the most LGBTQIA+ friendly countries in the world, plus a chance to bask in the sweet Spanish sun – what more could you ask for? This trip gets you up close and personal with Spain's two most famous cities (and their LGBTQIA+ districts) with time to live your best beach life in Sitges in the middle.
You'll enjoy bike tours and traditional dinners in Madrid, you'll take a bombastic boat cruise in Sitges, and you'll check out the Goth-tastic architecture of Barca – all before checking in at the exclusive Contiki party area for Barcelona Pride. Then there's the afterparty… Not to mention tapas and a flamenco show before you head home.
Link to trip: Spain Pride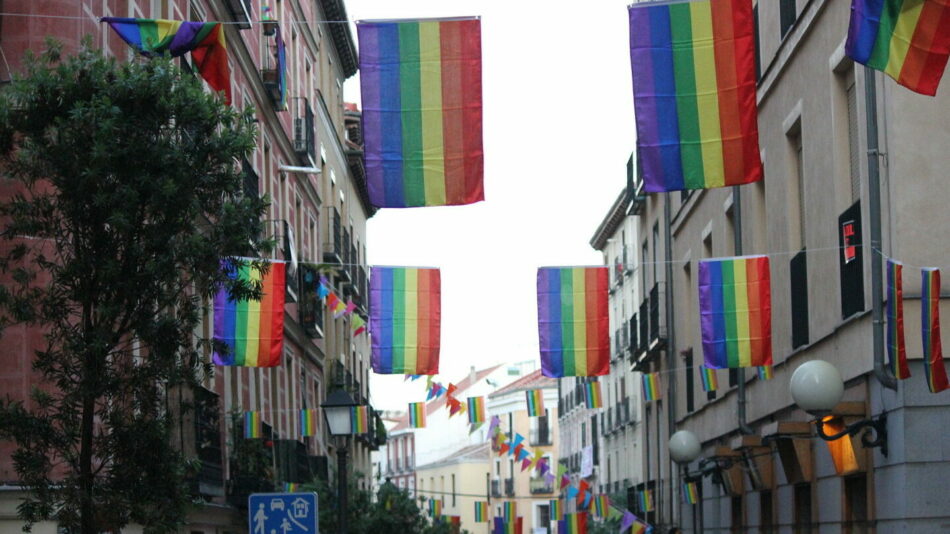 Image source:Contiki
Big on Pride but little on time?
Join our 'Barcelona Pride' trip for 4 days (includes Pride + party area access + afterparty.)
You know the drill… short on vacay days? No probs, you can skip Madrid and Sitges and meet us in Barca for the final act.
Link to trip: Barcelona Pride
Joining the final leg of a Contiki trip
We've heard it described as 'like walking into a group hug', which we love (for obvious reasons.)
Just one small thing to keep in mind though: If you hop onto Amsterdam Pride (the last 4 days of Contiki Pride) or Barcelona Pride (the last 4 days of Spain Pride), there'll be a warmer-than-warm welcome waiting for you (obvs), but you will be joining a group that have spend 6-7 days getting to know one another already. You'll all be BFFs in no time, of course, but we just thought you should know.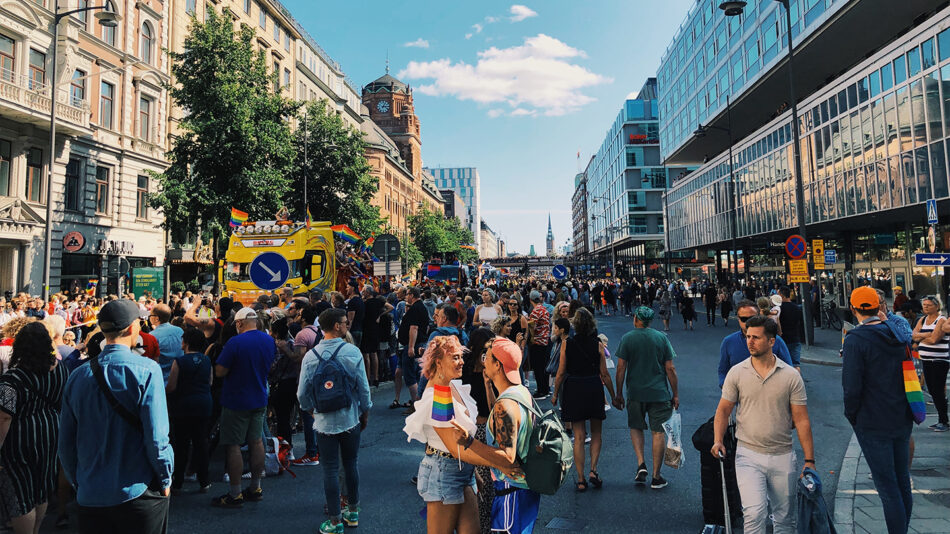 Image source:Contiki